Eric Baldwin Gets His Revenge; "Slowrolls" Matt Waxman With Aces in WSOP Event #14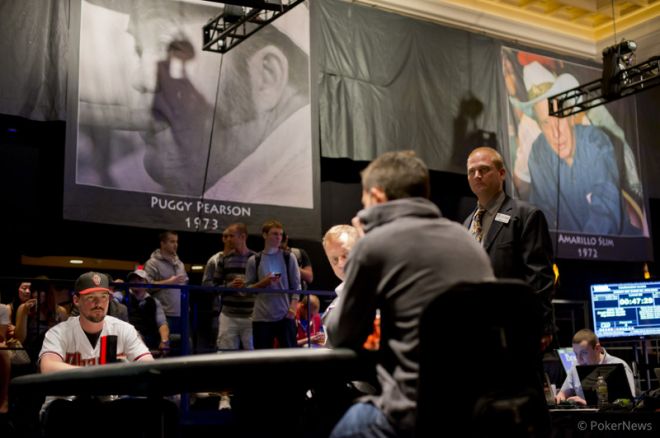 On Tuesday, Matt Waxman defeated Eric "basebaldy" Baldwin in an epic heads-up battle to win his first gold World Series of Poker bracelet.
Event #7, the $1,000 No-Limit Hold'em event, drew 1,837 players, but in the end it was veteran pros Waxman and Baldwin fighting for the hardware and $305,000. It took 187 hands and nearly seven hours for a winner to be determined, and Waxman eventually denied Baldwin of his second WSOP bracelet.
Amazingly, two days later, the two met again, this time in the $1,500 No-Limit Hold'em event.
As if 7 hours of heads-up play wasn't enough of seeing @Matthew_Waxman's ugly mug across the table from me http://t.co/oXH6XeFhmB

— Eric Baldwin (@basebaldy)
"I initially thought, 'Oh c'mon, really,'" Baldwin told PokerNews during a break on Thursday. "There weren't any negative emotions towards the situation but I was definitely amused by it. Matt and I are friends. I told him after the final hand of heads-up that I was happy for him and I truly meant it. I would have rather it been me but I was genuinely happy for him. Seeing him again was more funny than anything else."
About the same time Baldwin was posting about his run-in with his former opponent, Waxman was on the other end posting a similar Tweet.
Just got moved to a new table in the $1500 and this is the first face I see. #CantBreathe @basebaldy @Bhanks11 http://t.co/aAwctIYHU3

— Matthew Waxman (@Matthew_Waxman)
As if seeing each other after such a short period of time wasn't enough, the two faced off in a big hand which resulted in Baldwin semi-slowrolling Waxman with aces.
Picked the wrong tourney to bust @Matthew_Waxman in. Got to slowroll him with aces too cuz there was a player behind me :) #gg #ShowersBud

— Eric Baldwin (@basebaldy)
Wouldn't normally tweet my bust hand, but got down to 15 BBs and ran QQ into @basebaldy AA. Pretty funny stuff.

— Matthew Waxman (@Matthew_Waxman)
Baldwin commented further about the hand, telling PokerNews, "I opened to 800 I think it was, and the third wheel in the hand three-bet me and Matt shoved out of the big blind for like 5,700. He ended up having queens and of course I wanted to appear weak to the guy that three-bet me because if he ended up having a hand like pocket nines through queens then he calls me in that spot. That was my intent to look weak so I didn't just snap-shove it in. I wasn't doing it with any ill intent; I was doing it to try to get more chips in the pot. Then I joked afterwards that I slowrolled him. It was a fun situation."
Once Waxman saw Baldwin's aces, his reaction was instantly, "That's it!"
Revenge is a dish served cold, but according to Baldwin, revenge wasn't his intention. "I'm not a vengeful person," said Baldwin. "If we played heads-up again it would be great because that would mean were in it for another bracelet but I at all don't feel I need to seek revenge on Matt. We both understand that the match could have gone either way so I don't at all feel I have something prove."
We asked Baldwin what his reaction would be if he and Waxman were to meet again heads-up for a bracelet this summer.
"I mean that would just be even more absurd," Baldwin replied. "We would obviously have to laugh about it. Honestly, I don't think we'd bring that many reads into it because I think we were so damn exhausted by the end of the last event that we don't remember anything at all. We weren't thinking clearly, just operating at primitive level."
Get all the latest PokerNews updates on your social media outlets. Follow us on Twitter and find us both Facebook and Google+!