Poker Pro Jesse Sylvia Featured on MTV True Life: I'm A New Millionaire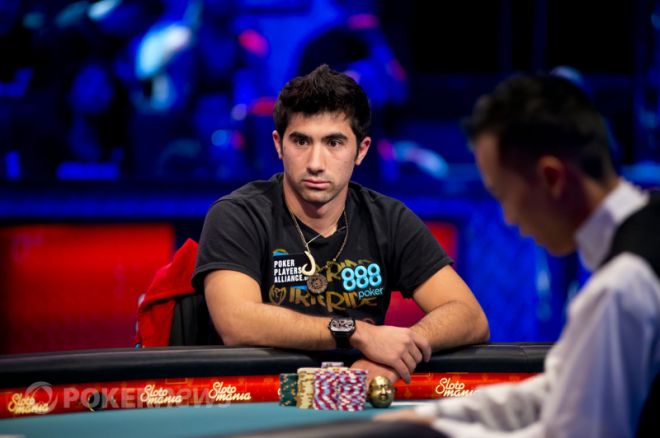 2012 World Series of Poker Main Event runner-up Jesse Sylvia is the latest addition to the MTV family. After losing his heads-up battle against eventual champion Greg Merson, Sylvia had part of his life filmed to be featured on MTV's True Life: I'm a New Millionaire.
The episode showcases Sylvia, who won $5.29 million in the WSOP Main Event, along with another young millionaire, Rob, who scored a New York lottery prize ticket of $1,000 a week for life. The focus of the episode centers on the pressures of managing newfound wealth.
Sylvia made his television debut on Jan. 4 in an episode that also featured his girlfriend Ashley and 2012 WSOP Main Event fourth-place finisher Russell Thomas. The show began with Sylvia traveling to the 2013 PokerStars Caribbean Adventure in the Bahamas, followed by the 2013 Aussie Millions in Melbourne, before spending time playing online poker Rosarito, Mexico. In addition to segmenting his poker outings, MTV included parts of Sylvia's decision making in purchasing a home for himself and his mother. Just when the show was highlighting the financial pressures from his trips and purchases, Sylvia mentioned that he bought a piece of a player who ran well in the 2013 WSOP Main Event and made about $250,000 from his investment, which put him at ease financially.
Reflecting on his experience with both the show and financial practices, Sylvia told PokerNews in an interview that he "would have taken a loan out on the second house before buying it because home equity loans don't have the same tax benefits." Sylvia continued, "I actually put a lot of money into a retirement account that they didn't talk about on the show, so its not like I wasn't being responsible with my future."
Comfortable with his financial decisions, Sylvia does wish he could go back in time to invest more money into the stock market. "The market had a huge year in 2013. Then again, that is being a bit too results oriented," he told PokerNews.
The episode not only focused attention on the struggles of Sylvia but also on the life decision with his girlfriend Ashley. Coming from a dance background Ashley has brought her aspirations to a halt to pursue poker full time. Sylvia says, "Ashley is grinding a lot by playing mostly cash games at Bellagio. She's getting really good, really fast."
Excited to have Ashley as his poker partner, Sylvia says her progression is coming at a much more rapid speed than his own progression. "It actually kind of bothers me," says Sylvia. "It took me much longer to get to the level that she is at now, and it makes me wonder what the hell I was doing when I started out."
Not yet ready to put her dance pursuits behind her, Ashley is now dancing with a company out of Austin, TX. She'll be touring in April starting in Texas before heading to New York.
One of Sylvia's big purchase options was to potentially buy an island off Panama. Hoping to buy his very own island, Sylvia still keeps his dreams alive. "I will buy an island in the next 15 years for sure. It will be in Bocas del Toro, where I will build and run a hostel. 15 years! You can quote me on that!"
To watch Sylvia and learn more about his story, check out the full episode at MTV.com.
Get all the latest PokerNews updates on your social media outlets. Follow us on Twitter and like us on Facebook now!