Five Thoughts: WSOP.com Set to Launch, Lehavot's Selling Action, Ivey's Edge, and More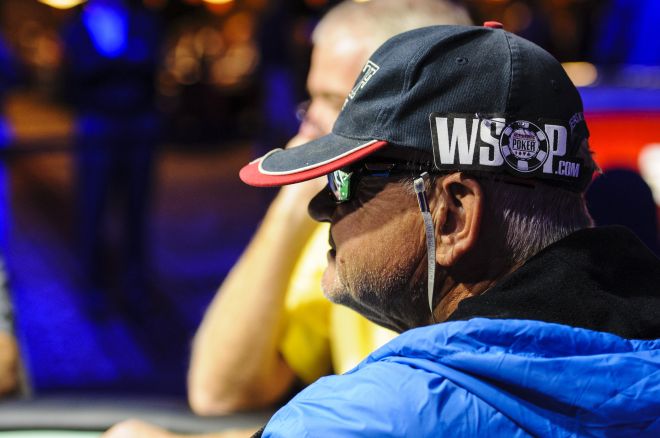 At 9:19 a.m. PDT on Thursday (9/19), the World Series of Poker will launch real-money gaming in the state of Nevada. The self-titled WSOP.com client will be the second legal and regulated poker room to launch in the United States — Ultimate Poker, which also operates in Nevada, launched in April.
In a conference call on Monday, Caesars Interactive Entertainment CEO Mitch Garber called it a, "historic moment for our company." He also added that this is the start of a domino effect in the U.S.
"This is a domino," Garber said. "How the rest of the dominos will fall, I don't know."
Garber hinted at potential shared liquidity with other smaller states, but didn't confirm whether or not WSOP.com will be available in either New Jersey or Delaware, the two other states with legalized online gaming. New Jersey's online floodgates are scheduled to open toward the end of November, and Atlantic City plays host to five Caesars properties. Both Caesars Atlantic City and Harrah's Atlantic City have WSOP-branded poker rooms and host World Series of Poker Circuit stops that residents could satellite into.
Beyond shared liquidity, Garber, WSOP.com's General Manager of Online Poker Geoffrey Stewart, and WSOP Executive Director Ty Stewart discussed a myriad of things with regards to the launch of the site on the conference call. For a full recap you can head here, but for my favorite highlights, let's move on to thought number one.
1. Three, Two, One, Launch!
When asked what the biggest hurdle was in preparing for a launch, Garber confidently said that there wasn't one. The company simply needed time. With offices in several different countries and WSOP.com's desire to launch a fully operational, modern, and Mac-compliant client with more than just Texas hold'em, the company's only enemy was the clock.
Even though it took a little longer than say Ultimate Poker, Garber wasn't worried, saying that no one would remember that they weren't operational during the 2013 WSOP. The entire team was focused on providing the best possible product from the day of the launch onward.
Beyond the multitude of games available at launch, including variants of Omaha and stud, there will also be a loyalty program named the Action Club, satellites to live events including the World Series of Poker Europe, and in October the site will host the WSOP.com Online Championships, a nine-tournament series with $500,000 in added money.
The nine winners of the Online Championships will compete in a sit-n-go titled the "Online Nine," which will coincide with the November Nine.
With satellites running immediately for a tournament like the €10,000 WSOPE Main Event, WSOP.com will accomplish two major things. First, if they haven't attained it already, they will earn instant credibility. While Ultimate's live tournament series at the Red Rock a few weeks ago was nice, and it was a big step in the right direction for their brand, WSOP.com is directly linked to one of the big three live tournament circuits and the most important live tournament each year, the Main Event. Linking the online and live brands right away is a great way of building a strong customer base that will participate in both arenas. Second, these satellites will create instant value on the site. Both professionals and amateurs alike will be immediately drawn to these — professionals looking save a little money on a tournament that they would otherwise buy into, and amateurs looking to cash in on their one time.
The Action Club is also a big plus for WSOP.com because of the company's land-based presence. The VIP program will be linked with Caesars' Total Rewards program, which has more than 43 million members, and players will be able to use their points at Caesars properties for food, hotels, and more.
In a press release distributed after the call, Caesars also said that WSOP.com will have television spots during major sporting events, and popular shows like Breaking Bad, and Jimmy Kimmel Live. The site will also have sponsorship deals with the Las Vegas Wranglers and the Las Vegas 51s.
Above everything, even the news of a Mac-compliant client, my favorite new piece of information came from Ty Stewart when someone on the conference call asked if WSOP.com would sponsor any pros to represent the brand. For the longest time there has been speculation about Phil Hellmuth or others representing the brand, but Stewart put those all to rest, saying that the WSOP wants to remain impartial. Rather than spend money on sponsoring pros, WSOP.com plans to spread that money around in the community.
This Thursday is sure to be an exciting day in Nevada, and I can't wait to head back out west for the November Nine just so I can grind online, even if it's just for a few hours. It will be interesting to see if there is any uptick in the numbers at WSOPE, or WSOPC stops near or in the state of Nevada in the coming months. Likewise, I look forward to hearing more news about expansion, particularly in New Jersey. The WSOP already has a strong presence in the Garden State, and it would only make sense if the two linked up in the near future.
2. Lehavot Selling Action
While the WSOP was proudly showing off its new toy, November Niner Amir Lehavot did something that, to my knowledge, has never been done before — at least out in the open. Lehavot, who is second in chips heading into the final table of the Main Event, tweeted that he is looking to sell 30% of his action at the final table:
In the Marketplace thread he linked to in his tweet, the WSOP bracelet winner explains that he is selling at the independent chip model (ICM) value of his stack. Using ICM, you can calculate the dollar value of each chip at the table, and Lehavot's 29.7 million-chip stack is valued at $2,924,822.
JC Tran, the chip leader with 38 million chips, has a stack worth nearly $3.4 million.
Potential investors would need Lehavot to finish third or better to profit. If he were to be crowned the 2013 Main Event champion, investors would receive a roughly 260% return on their investment.
The initial response from players and fans on Twitter was negative, leading Lehavot to tweet the following:
Well that got quite the reaction, lol. Posted more thoughts on my reasoning for pricing at ICM in thread.

— AmirSF (@PokerWit)
I reached out to the November Niner, and he seemed confident that this deal is mutually beneficial.
"I think my accomplishments speak for themselves," he told me. "I'm an experienced accomplished MTT player, and I believe I have an edge over the table."
Lehavot is certainly experienced. Along with his aforementioned bracelet, he has over $2.3 million in career live tournament earnings. And it's not as though Lehavot is sitting back during these off months waiting for the spotlight in November, he's still playing. In fact, Lehavot recently took 16th in the massive 2,384-entrant Seminole Hard Rock Poker Open Championship Event for $69,810.
While I wasn't surprised with his confidence — believing in one's self is paramount in poker and very common among players-- I was surprised to hear that he had been planning to do this even before the formation of the November Nine.
"Selling pieces is something I'm very familiar with," says Lehavot. "I thought I would likely sell some pieces once we reached the final table."
My initial reaction to Lehavot's tweet was negative, mainly because the idea was so foreign to me. ICM calculations take place all the time, and I've covered dozens of tournaments where the last few survivors chop up the prize pool using ICM, but I've never seen or heard of someone selling shares of themselves during a tournament. Players sell shares before tournaments all of the time, and deep in tournaments players swap percentages with one another, but this is a whole new animal.
What's new is often scary, so initially Lehavot's offer sounded like a scam. Then I thought about it a bit more.
Prior to the Main Event, Lehavot reserved 10% of his action for his parents and 10% of his action for a "longtime friend and investor." He plans to sell 30% of his action and keep 50% of himself, which is valued at $1,462,411. It is still in Lehavot's best interests to win the tournament and maximize his own ROI, plus there is extra value in being crowned Main Event champion. Knowing this, we can rule out any shady intentions like overselling. There is also no markup, which is very uncommon among professional poker players. I can't even remember the last time I saw a player selling action on Twitter or on TwoPlusTwo at 1:1.
Lehavot also has a family and a one-year old son. Winning the bracelet and the $8.1 million up top would be incredible, but having played tons of MTTs, Lehavot knows that he can lose everything with one sick cooler or one bad beat. Reducing variance is the main reason players sell shares of themselves, and economically there are no larger swings in poker than at the WSOP Main Event final table.
This is in no way an advertisement for Lehavot's sale, and if I had the money I don't think I would buy a piece because the maximum ROI isn't appealing enough for me, but Lehavot deserves some credit. He's on the largest stage in poker, publically sticking his neck out with an innovative idea to insure that his hard work in the Main Event pays off for him and his family. There is nothing illegal going on and he isn't scamming anybody, so why shouldn't Lehavot be able to capitalize on the free market?
If anything, Lehavot earns the award for most creative use of the three-month layover. I will be eagerly checking back in on Lehavot's Marketplace thread and scanning his @ mentions on Twitter to see if anybody publically buys a piece in the next few weeks.
3. Ivey Has an Edge
Back in May, we learned that Phil Ivey scored big at Crockfords, Britain's oldest casino. Playing Punto Banco, the nine-time WSOP bracelet winner racked up £7.8 million in winnings, but the casino withheld his winnings and only wired Ivey the £1 million he bought in with. Crockfords claims that Ivey and an accomplice named "Kelly" profited unfairly, prompting Ivey to sue the casino.
Over the weekend, Ivey's court submission was obtained by The Daily Mail, and in it he claims to have used a tactic called "edge sorting."
"During the second session on August 20 [Mr. Ivey] made various requests for decks of cards to be changed at the end of hands with which [Crockfords] chose to comply. This continued until Kelly identified a deck or decks of cards where the pattern on the reverse side of the cards was asymmetrical," the claim states. "The first time that Kelly identified a key card, she told the dealer that it was a 'good' card which she wanted the dealer to rotate in the opposite direction to all the other cards and the dealer complied with the request…The cards in the deck were increasingly orientated so that 'good' and 'bad' cards faced in the opposite direction."
Ivey argues that Crockfords knows about edge sorting and that members of casino management has no one to blame but themselves for the loss.
Like card counting in blackjack, edge sorting is an advantage play. People like Kelly who are capable of obtaining and retaining knowledge regarding the order of the cards or flaws in the design aren't cheating or marking the cards themselves, rather they are benefitting from a house error. They aren't criminals, and in a case like this Crockfords should be forced to lick their large wounds and take the loss.
After all, even if they use flawed decks, casinos can always deal the ultimate trump card; the right to refuse service. Instead of allowing Ivey to bet large amounts on each hand, the casino could easily have forced him to lower the limits or even refused to spread the game at all. They opted to take a calculated risk and were burned by it. If they can withhold Ivey's winnings, then I should be able to keep my bets when I seven-out on a craps table.
The dice were weighted!
Unless Ivey is lying and his friend Kelly did more than edge sort (there is no evidence of this from Crockfords at all), then the casino lost, bro. It's as simple as that.
4. Down the Rabbit Hole We Go
When Jens "Jeans" Kyllönen first reported on TwoPlusTwo that he was the victim of a potential laptop scam at the Hotel Arts during EPT Barcelona, the story legitimately scared me. When his friend Ignat "0human0" Liviu had a similar encounter, it felt like a "tip of the iceberg" moment. Now that several other players have come forward, including Jason Koon who was allegedly hacked at EPT Deauville, it feels like we're tumbling down a very frightening and dark rabbit hole.
Ankush "pistons87" Mandavia says that he and his friends received numerous random calls to their room at the Hotel Arts, and that their room keys would randomly stop working. After the festival was over, his friend "SPEKTAH" found that his laptop was no longer password protected and kept receiving a blue error screen.
Unbeknownst to the buzz of a potential scam, Chanracy Khun tweeted that he too was receiving a blue screen on his laptop after EPT Barcelona.
Jason Koon brought up a post that he wrote on TwoPlusTwo in April which details the same shady activity at EPT Deauville. Koon came home one evening and found that his laptop was no longer password protected. After the incident, he lost $48,000 playing $5,000 heads-up sit-n-go's against a Swedish account on Full Tilt Poker named "PookLook2." Prior to their matches, the handle's average buy-in was $15.
Last week, my fears were somewhat tampered by the fact that only high-stakes players were targeted. While this sounds inconsiderate on the surface, high-stakes players tend to have the best resources to protect themselves. They are also more likely to protect themselves with or without the presence of a potential scam.
Well, the perpetrators may be acting more randomly than I thought. Low-stakes TwoPlusTwo poster "yaf" says that he also had a strange run-in at the Hotel Arts, wherein he called his room only to receive a busy signal. Confused, he went to his room, where he found a hotel worker exiting. The person told "yaf" that he was changing a light bulb, but didn't have a bulb in his hand nor was their one in the trash in the room.
This makes me uneasy. If random people are being targeted at PokerStars-suggested hotels, and this has potentially happened at two different stops, then everyone needs to take extra precaution. Players need to store their laptops in their safe or travel with them at all times. This is a huge inconvenience, but if you care about your online bankroll, then perhaps it's necessary.
These incidents make me sick to my stomach. EPT stops are intended to be fun-filled festivals where the greatest poker players in the world descend upon an awesome European city to battle on the felt, party, and celebrate the game we love. Now, because there is an individual or more likely a group of individuals targeting players, EPT London will have a cloud of fear over it. I am certain that PokerStars will do everything in its power to investigate the incidents in Barcelona and protect the players going forward, but ultimately there is only so much the management team can do.
Hopefully with PokerStars' efforts, better safety precautions taken by the players, and a potential scare for the alleged scammers, these incidents will disappear and some sort of justice can be found.
5. The Tribe Has Spoken
The 2013/2014 World Series of Poker Circuit wrapped up its second stop at IP Biloxi on Monday. The Main Event, won by Martin Zentner, attracted 302 players, creating a $453,000 prize pool. Zentner took down the top prize of $106,455, the ring, and a seat in the National Championship, while Survivor legend "Boston" Rob Mariano finished in third for $47,805.
| Place | Player | Prize |
| --- | --- | --- |
| 1st | Martin Zentner | $106,455 |
| 2nd | Hank Sitton | $65,821 |
| 3rd | Rob Mariano | $47,805 |
| 4th | Raymond Weaver | $35,311 |
| 5th | Daniel Lowery | $26,510 |
| 6th | Gil George | $26,510 |
| 7th | Nolan Burton | $15,660 |
| 8th | Michael Putaansuu | $12,313 |
| 9th | Jonathan Thomas | $9,826 |
This is the second five-figure score of Boston Rob's career (he finished sixth in the 2006 Calvin Ayre Wild Card Poker Tournament), and while he may not be an international super star like Rafa Nadal, he is certainly well known in the United States. Survivor is arguably the most successful reality show of all time, and will enter into it's 27th season on Wednesday with Blood vs. Water.
Boston Rob was likely asked to return to the show this season because it is family oriented and both he and his wife Amber have outwitted, outlasted, and outplayed opponents en route to victories in the past, but the two have recently had their third child. Being stranded on an island for over a month without their newborn is obviously out of the question.
Mariano cashed in two other events during the WSOPC stop in Biloxi, and competed in the WSOPC Main Event at Harrah's New Orleans this past May. He is good friends with Josh Arieh, and after accruing a lot of points for his efforts in Biloxi, it will be interesting to see if Boston Rob attempts to qualify for the 2014 National Championship, which will be held in Atlantic City.
As a fan of the show, I know how competitive he can be, and wouldn't be shocked to see him at a future stop looking for points.
Get all the latest PokerNews updates on your social media outlets. Follow us on Twitter and find us on both Facebook and Google+!