Recap of the WSOP.com Real Money Poker Conference Call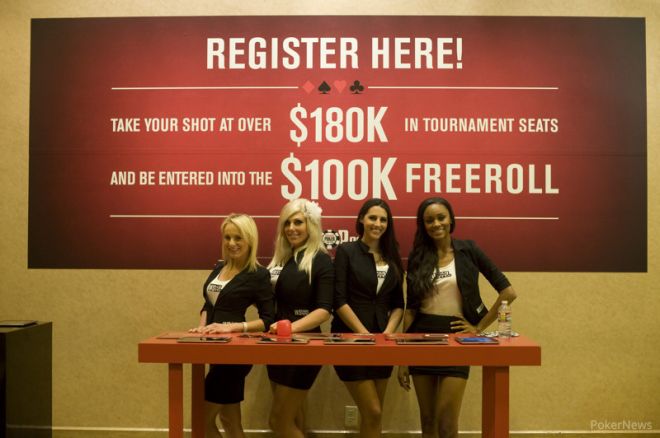 The World Series of Poker is holding its WSOP.com real money online poker preview conference call on Monday at 1130 PDT. The call, which will preview Caesars' first foray into regulated online poker in the United States with the launch of online poker in Nevada, will include WSOP Executive Director Ty Stewart; Chief Executive Officer of Caesars Interactive Entertainment Mitch Garber; SVP and General Manager of Online Poker Geoff Stewart; Chief Technology Officer Marco Ceccarelli; VP of Marketing & Brand Michael Staskin; Head of Poker Bill Rini; and VP of Corporate Communications Seth Palansky. What's in store for the players on WSOP.com? Find out below and be sure to refresh this page for the latest updates.
11:34 a.m. PST: Seth Palansky welcomed everyone to the call. Mitch Garber, who is in Montreal, then gets on the line to announce that on Thursday, September 19 at 9:19 a.m. PST WSOP.com will go live. He also introduced the officials on the call. Only those over 21 years of age either living in Nevada or visiting will be eligible to play.
11:38 a.m. PST: Things are turned over to Ty Stewart, who say: "It's a very exciting and gratifying day to see the WSOP go online." Stewart then explains how online poker has allowed the WSOP to go from Fremont Street to worldwide.
11:40 a.m. PST: Garber explains they intend to leverage all assets such as Total Rewards, hotel rooms, etc. in helping WSOP.com become the dominant brand in Nevada. Q & A is opened to the media.
11:41 a.m. PST: Dan Cyrpa of Pocket Fives: What is the WSOP's take on combined player pools from Nevada and New Jersey?
Answer: The WSOP is a fan of player pool liquidity. New Jersey is larger and needs it less, but compacts among states can be a key to success. They can't say if there will be shared liquidity between those two states, but there will be among states in the future.
11:44 a.m. PST: Howard Stutz of LVRJ: How many people signed up for WSOP.com over the summer's efforts at the WSOP?
Answer: Over 12,000 people were signed up. A marketing push is planned surrounding the Online Championship, which are designed to provide value and integrate with the WSOP. Those tournaments will not boast guaranteed prize pools but will have added money. The nine winners of those events will become the "Online Nine," who will return during the November Nine to play their own championship event (will be played online with players being set up in seperate rooms).
11:48 a.m. PST: Question: Will there be other games than hold'em available?
Answer: There will be more games available. They plan on having Omaha and Stud at the launch, including hi/low variants.
11:49 a.m. PST: Question: What was the toughest part of going through the regulatory process?
Answer: There were no specific stumbling blocks. It was a story of two licensing processes for CIE and the 888 platform. Requirements were intense and due diligence took time. Adjustments were made along the way and it obviously took some time. Consumers should be confident in the product.
11:52 a.m. PST: Question: Will WSOP.com share players with 888 on an intrastate basis?
Answer: They're not sure yet who they will share liquidity yet on an intrastate basis. It will be a strategic business decision.
11:53 a.m. PST: Question: Will a bracelet be awarded for any online events?
Answer: If and when the numbers warrant it, it is something they might consider. Until then their plan is to get players to the site and build consumer trust.
11:55 a.m. PST: Question: Will the WSOP.com platform be available for Mac?
Answer: Yes
11:56 a.m. PST: Question: Will there be a loyalty program at launch?
Answer: Yes, it will be called the "Action Club." All players that contribute to rake will be rewarded based on four monthly tiers and two annual tiers.
11:58 a.m. PST: Question: What will WSOP.com have to wow people?
Answer: It's the brand as a whole and the ability to qualify for events at the WSOP. In addition, other Caesars assets, such as other properties, will be incorporated into future plans.
12:01 p.m. PST: Paul Oresteen of BLUFF: Will players be able to deposit and withdrawal from Caesars properties around the country?
Answer: At launch you will not be able to deposit or withdrawal from Caesars properties. However, there will be plenty of digital options.
12:02 p.m. PST: Question: Will there be any pros or brand ambassadors for WSOP.com?
Answer: WSOP is impartial and want to spend their promotional dollars on the poker community.
12:03 p.m. PST: Rich Ryan of PokerNews: Will a mobile version of WSOP.com be available?
Answer: It is not available but is something they'd like to develop in the future.
12:04 p.m. PST: Lance Bradley of BLUFF: Will satellites to WSOP events be available, and if so, to which eventS?
Answer: Right at launch satellites will be available for the WSOP Europe. Satellites for the Circuit and other WSOP events will be available in the future.
12:05 p.m. PST: Marco Valerio: Does the company support federal online poker legislation?
Answer: Yes, but they are embracing the state by state options available.
12:06 p.m. PST: Q & A comes to an end. Closing remarks from various officials on the line. A Press release will be issued in the near future on WSOP.com and its launch.
Get all the latest PokerNews updates on your social media outlets. Follow us on Twitter and find us on both Facebook and Google+!
Executive Editor US, PokerNews Podcast co-host & 2013 WSOP Bracelet Winner.