2012 World Series of Poker Conference Call Live Blog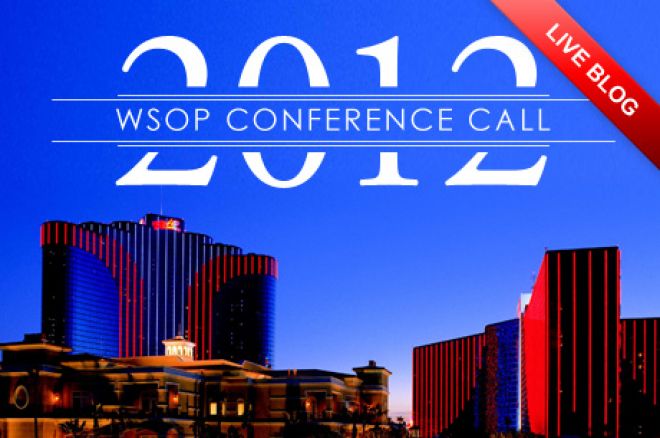 The World Series of Poker is holding its preview conference call on Tuesday at 1030 PDT (1800 BST). WSOP Executive Director Ty Stewart and WSOP Tournament Director Jack Effel will be on the call to discuss all things regarding the 2012 WSOP. What's in store for the players at the 2012 WSOP? Find out below and be sure to refresh this page for the latest updates.
12:37 p.m. ET: Prior the WSOP's conference call, ESPN announced the TV schedule for the 2012 WSOP, which will begin on Tuesday, July 3 and will feature the WSOP main event, the WSOP National Championship and the $1 million buy-in Big One for One Drop.
"Fans know Tuesday night is poker night on ESPN," said Doug White, ESPN senior director of programming and acquisitions. "Beginning with the Big One for One Drop and the WSOP National Championship, and continuing on Tuesdays with the WSOP Main Event, we will set the stage for this intense competition and continue the excitement through the Final Table in October."
2012 WSOP on ESPN Schedule
| Date | Time (ET) | Event | Network |
| --- | --- | --- | --- |
| July 3 | 3 p.m., 8 p.m. | The Big One For One Drop | ESPN3/ESPN |
| July 31 | 8-10 p.m. | The Big One For One Drop | ESPN |
| Aug. 7 | 8-10 p.m. | WSOPC National Championship | ESPN |
| Aug. 14 | 8-10 p.m. | WSOP Main Event | ESPN |
| Aug. 21 | 8-10 p.m. | WSOP Main Event | ESPN |
| Aug. 28 | 8-10 p.m. | WSOP Main Event | ESPN |
| Sept. 5 | 8-10 p.m. | WSOP Main Event | ESPN |
| Sept. 11 | 8-10 p.m. | WSOP Main Event | ESPN |
| Sept. 18 | 8-10 p.m. | WSOP Main Event | ESPN |
| Sept. 25 | 8-10 p.m. | WSOP Main Event | ESPN |
| Oct. 2 | 9-11 p.m. | WSOP Main Event | ESPN |
| Oct. 9 | 9-11 p.m. | WSOP Main Event | ESPN |
| Oct. 16 | 9-11 p.m. | WSOP Main Event | ESPN |
| Oct. 23 | 9-11 p.m. | WSOP Main Event | ESPN |
| Oct. 30 | 9 p.m. to end | WSOP Main Event Final Table | ESPN |
1:35 p.m. ET: The conference calls begins with introductions and reflecting on last year's conference call, when Black Friday inspired speculation on the WSOP's success. Needless to say, numbers were up. Ty Stewart highlights this year's $1 million buy-in, the largest in history and believe the WSOP is well on it's way to celebrating a 50th anniversary. "It appears poker's darkest days are behind us," Stewart says.
Stewart goes on to say that the new rewards program, namely that players will receive credit for playing WSOP events, will actually cost Caesars more and is all about recognizing poker players along with other casino players and creating loyalty.
1:42 p.m. ET: WSOP officials are looking to top 700 players in this year's WSOP Europe and make it the biggest and best in Europe. They will do this, in part, by offering great hotel deals.
1:45 p.m. ET: With the Brasilia Room, there will be 470 tables in play this year, not including the poker room and Buzio space (which would bring it up to approximately 500). The largest ever placed in one venue for a poker tournament. Jack Effel then talks about the new events, including the $1,500 Ante Only, Four-Handed NLHE (they expect over 1,000 players), and Heads-Up PLO/NLHE, which is credited to Ty Stewart, who said, "I like it for the sickos."
1:47 p.m. ET: In regard to side action, Jack Effel says they've expanded the cash game area, offering all limits on approximately 100 tables.
1:49 p.m. ET: A new rule will be introduced that allows players to use verbal strategy at the poker tables. Players can say whatever they want about their hand as long as they don't expose their hand or reopen the action. Officials are trying to get players to open up a little bit and have a good time, but are still guarded against soft play and collusion.
The Celebration Rule that prevented players from celebrating when they won a hand went a bit too far. The rule has been rewritten to allow celebrations as long as they're not too crazy, like knocking down chairs, needling players, causing a massive disruption, etc. They want to allow for an authentic experience.
1:54 p.m. ET: Call is opened to Q&A. One of the first questions, asked by Bill Odine, concerns the WSOP Circuit and its success. Officials are pleased with the Circuit and believe the Circuit's model is catching on. "We always knew it was going to create value for the tournament poker player," Ty Stewart said. Likely two to three new stops in the upcoming WSOP Circuit schedule.
2:00 p.m. ET: Seth Palansky says WSOP lawyers reviewed law regarding Ladies Event and it will remain the same, meaning if men want to enter, which will be highly discouraged, they will have to allow them in.
2:02 p.m. ET: November Nine moved up to October in order to avoid conflict with this year's Presidential election, a move that is being made by numerous sporting outlets. Also, the WSOP event that will be held in Australia next year is viewed as part of creating a Grand Slam of sorts, along with the WSOP and WSOP Europe. WSOP is not afraid of weakening the brand with more tournaments as they're cautious of expansion, requiring a great venue, partners, etc.
2:05 p.m. ET: What goes into the decision-making process behind live streaming? All final tables will be lived streamed with David Tuckman hired to commentate. In regards to the Main Event, only the final table will be live broadcast to help protect ratings of ESPN episodes (which were weakened last year) and integrity of the game; in addition, the 2011 format proved too hard for the casual fan to follow. All hole cards will be revealed on ESPN/ESPN2 for the Main Event final table.
2:08 p.m. ET: What will be the big headline of the 2012 WSOP? "I would say it would be Jack Effel's weight loss, regardless of what happened," joked Seth Palansky.
Ty Stewart then suggested it will boast a $200 million prize pool and prove a record-breaking WSOP. He added that the $1 million Big One For One Drop is sure to be remembered.
2:12 p.m. ET: Q: Will Aussie Millions still be running in light of WSOP APAC? A: Yes, with lots of cross promotion going on between the two.
Q: Will "Amarillo Slim" Preston be honored at this year's WSOP? A: Will likely be some recognition, but no formal plans at this time.
2:15 p.m. ET: Total bookings are up in regard to registration, leading officials to be optimistic on this year's turnout. An astounding 72,000 people participated in satellites and the daily deep stacks last year, which almost met the 75,000 who participated in bracelet events. There will be a mega satellite on June 30 at 1 p.m. for the $1 million buy-in Big One For One Drop. Satellites are running now at properties around the country. If any players wanted to put up $100K each and do a one-table satellite, the WSOP will accommodate.
2:18 p.m. ET: Officials disappointed the $50,000 Players Championship will not be on ESPN this year but will do a good job covering it on WSOP.com. They have a commitment to the event but its success is ultimately determined by the players. The tournament will not switch to no-limit hold'em at the final table since it will not be on TV, which means it will remain 8-game.
2:20 p.m. ET: There will be multi-table coverage of the WSOP Main Event final table, but unable to tell us at this time if it will be either on Sunday/Tuesday, Monday/Tuesday or Sunday/Monday/Tuesday.
2:24 p.m. ET: Q: Are players paid for the the $1 million buy-in Big One For One Drop? Do they expect it to sell out?
A: Advance deposits are required and they have received many of them. "I'd say 48 is a very realistic number," said Ty Stewart, who believes it will sell out. It is a one-time event and its future will be evaluated after this year.
Q: Will all the banners of past champions be hung? (I.e. Chris Ferguson & Russ Hamilton?)
A: The banners are meant to represent a moment in time and are not an endorsement of a particular player or their action. All banners will be hung.
2:28 p.m. ET: Q: What's one major thing from last year that you've corrected this year?
A: Capacity. "We always want to continue to have the capacity to make this event as big as it is in the poker community," said Ty Stewart.
2:31 p.m. ET: Media guide will be sent out next week. With that, the conference call came to an end.
For future announcements regarding the WSOP, be sure to follow us on Twitter and like us on Facebook.