World Series of Poker Conference Call Live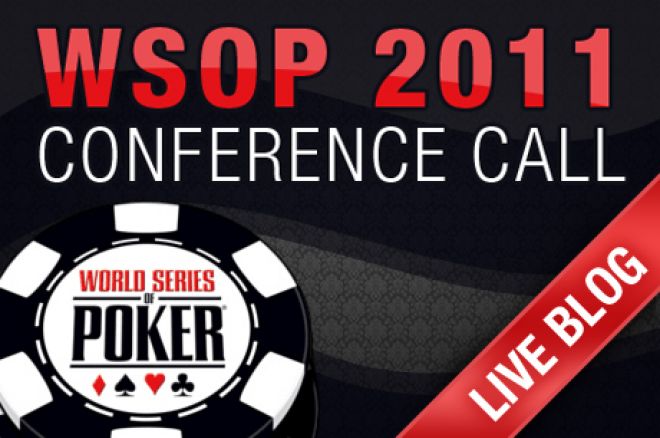 The World Series of Poker is holding its preview conference call today at 1030 PDT. WSOP Executive Director Ty Stewart and WSOP Tournament Director Jack Effel will be on the call to discuss all things regarding the 2011 WSOP. What's in store for the players at the 2011 WSOP? What about the changes in television and web coverage? Find out below and be sure to refresh this page for the latest updates.
10:36 a.m. PDT: WSOP Communications Director Seth Palansky is doing the introductions which include Effel and Stewart. The plan is to start with a tournament overview with Effel, followed by a look at the business side of things with Stewart. This will be followed by a Q & A session.
10:40 a.m. PDT: Effel is highlighting the new additions to the tournament slate including the $1,500 Triple Chance NLHE, $5,000 PLO Six-Handed, $10,000 NLHE Six-Handed Championship, and the $2,500 10-Game Mix, featuring badugi for the first time ever at the WSOP. The payouts will be consistent with 2010 and they're planning on having more satellites than ever before.
10:43 a.m. PDT: The WSOP has struck a deal with Shuffle Master to provide automatic shufflers for every final table, and in some instances for even more tables in a particular tournament.
10:45 a.m. PDT: Stewart is on the line talking about deal with ESPN through 2017. This year's coverage will begin July 26 through November 9. Reiterates that broadcasts of the WSOP will still be strong on ESPN despite industry happenings.
10:48 a.m. PDT: Focus is now on the WSOP's recent announcement that they will be streaming 55 bracelet events online.
10:50 a.m. PDT: Stewart is touching base on their sponsorship deals, which include extensions with Jack Link's Beef Jerky, Red Bull, Bicycle Playing Cards, Klipsch Audio, and a shift from Miller's Milwaukee's Best brand to their more popular Miller Lite brand. They've also announced a new sponsorship deal with Dearfoam Slippers, which includes a free pair of slippers when you register for the Main Event.
10:52 a.m. PDT: Changes in the Poker Hall of Fame: A "Chip Reese Rule" will be implemented in that each nominee must be at least 40 years old; in addition, open nominations will still be held, but a larger panel will play a more in-depth role.
10:53 a.m. PDT: Stewart is going over the details on the WSOP's new "Grudge Matches" that include rematches of classic WSOP Main Event heads-up matches. So far, Phil Hellmuth vs. Johnny Chan (1989 WSOP) and Chris Moneymaker vs. Sammy Farha (2003 WSOP) is on the schedule, but fans can vote on a third match on the WSOP's Facebook page.
10:55 a.m. PDT: Q & A session about to begin.
10:56 a.m. PDT: What is the policy on logos, namely UB, PokerStars, and Full Tilt. Answer: WSOP officials believe this is an issue already taking care of itself on the site's side, likening wearing a logo to wearing a fur coat at a PETA convention. However, they're still filtering information and are in "due diligence mode," so any future changes to the logo policy will be outlined in the rules.
10:58 a.m. PDT: What is the future of higher buy-in events? Answer: Effel reiterates that the WSOP is there to serve everyone of all stakes, essentially saying as long as the demand is there, the tournament will be there as well.
11:00 a.m. PDT: Is there any prize or competition for the "Grudge Matches?" Answer: Yes, there is some prize money at stake that the players have agreed to. Caesars has provided this prizepool, although numbers weren't announced.
11:02 a.m. PDT: Question regarding how the WSOP was impacted by the incidents of "Black Friday." Answer: Business as usual for the WSOP as they did not have any intimate relationship/deals with the indicted sites. Some European operators will have licensed space at this year's WSOP, but are not contracted with any of the indited sites.
11:04 a.m. PDT: If you are in a hand, you cannot Tweet/use Internet device (phone, iPad, etc.). If you do, you will be penalized. There is free internet access in the hallways and poker kitchen, and officials expect players to take advantage of that option. The goal is to uphold the highest levels of integrity.
11:08 a.m. PDT: How do you think the events of Black Friday will affect WSOP numbers in the future? Answer: The poker calendar tends to revolve around the WSOP, which results in opportunities and high return on investment. As such, they are hopeful the WSOP will continue to draw big numbers. In addition, there are new markets constantly opening around the world, which will encourage players from around the world to make the trip to the WSOP. The reality is, if you're looking for the best games and best action, the place to be is the WSOP.
11:11 a.m. PDT: How many people satellite into events through live tournaments? Answer: The Rio conducts more than 7,000 satellites during the year and is the No. 1 qualifier for players (all combined these satellites equal about 15% of entrants to bracelet events). The WSOP, or the Caesars system of cardrooms across the country, comes in second.
11:14 a.m. PDT: Were the new broadcast innovations in the works prior to April 15, 2011, or were they a result of Black Friday and instituted to fill a gap? Answer: The deals had been tossed around for quite some time and were pre-Black Friday.
11:16 a.m. PDT: Touching base on the possibility of advertising with U.S.-facing sites. Stewart answer: Advertising with U.S.-facing sites has been off the table dating back to 2006 and continues to remain a non-option.
11:20 a.m. PDT: Will players be sequestered on the final tables that'll be broadcast? Will players be allowed to have their phones? Answer: No, players will not be sequestered as it is impractical. The WSOP believes in being as transparent as possible. Players will be allowed to have their phones, but the usual WSOP rules will apply. Essentially the final tables broadcast are simply fast-forwarding information.
11:25 a.m. PDT: Is the WSOP doing anything to enforce women-only/seniors-only in their respective events? Answer: The Ladies Event is very special to those who play,but tournament staff can only do what the law allows them to do. Effel goes on record as saying he has no respect for any man who would play in an event that has such special meaning to the female participants.
11:31 a.m. PDT: What is the range you've prepared for from the first $1K event to the $10K Main event? Answer: We have 378 tables ready to go. They're always planning for more regardless of outside factors.
11:34 a.m. PDT: No formal change to tournament rules regarding logos. WSOP has not done business with any ".net" entity. The WSOP does not want to do anything to endanger its gaming license. They are not assuming there is going to be a problem regarding logos.
11:35 a.m. PDT: The conference call just got "Fricke Rolled." No joke.
11:37 a.m. PDT: Will the event of Black Friday results in more cash game tables at the WSOP? Answer: Between the Rio and the Pavilion Room, there are 91 cash game tables. The WSOP staff expects an increase in cash game play this year. Reiterates that a full slate of games and stakes will be offered.
11:39 a.m. PDT: How do you feel about all the other tournaments that take place during the WSOP and take advantage of players being in town? Answer: For years people have been coming to the WSOP. This year, innovative changes and options will hopefully entice players to make the Rio their venue of choice. For whatever everyone else is doing, the fields and prize pools at the WSOP will be bigger and better than any other tournament being held in Vegas.
11:43 a.m. PDT: What made you eliminated the Tournament of Champions? Answer: We haven't eliminated it, but it is merely on the back-burner. There will likely be another in the future. While they've been addressing other things and promotions, they expect the T.O.C. to be even bigger and better in the future.
11:45 a.m. PDT: Has anything changed on media access to players? Answers: The rule, that media can only sweat a table for five minutes before moving on for at least 30 minutes, is still in effect. This is to clear the tournament floor and ensure game security, while also making players comfortable. However, the WSOP staff is there to help the media get what they need on the tournament floor and from various tables.
11:46 a.m. PDT: The WSOP conference call has come to an end.
For future announcements regarding the WSOP, be sure to follow us on Twitter and like us on Facebook.
Executive Editor US, PokerNews Podcast co-host & 2013 WSOP Bracelet Winner.