Five Thoughts: Failed Robberies, Mizzi Wins Premier League VII, and More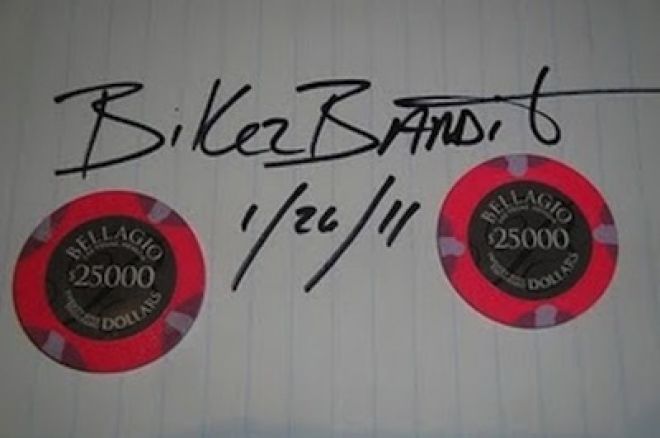 On Nov. 30, the New York Post reported that poker player Eric Riley was robbed not once, but twice during a trip to the airport.
According to the Post, Riley was headed to John F. Kennedy International Airport with a friend named "Junior." When the two reached JFK, Riley exited the car to grab his bag, which contained $100,000 in cash, and Junior sped away.
As if the incident was scripted, Riley quickly jumped into the first taxi he saw, offered the driver a wad of money, and told him to follow Junior. The driver obliged, and they eventually caught up to the getaway vehicle at a red light.
Side Note: If you've just stolen $100,000 in cold, hard cash, why not break the red light, Junior? I understand that it's JFK and there was probably traffic ahead of him, but this is a very poor robbery attempt. At least get into the emergency lane and turn onto a different road if there are cars in front of you. Sitting at a red light with $100,000 in stolen cash when the person you've stolen it from is either chasing after you or has notified airport security is a very dumb idea.
At the red light, Riley hopped out of the taxi and grabbed his bag from the trunk of Junior's car, which was still open. Junior, again, sped away, this time without a bag full of Benjamins.
Everybody can exhale.
Or can they?
CUE MYSTERIOUS MUSIC!
At this point, a black car pulled up and the two men inside told Riley they were undercover police offers. Riley entered the vehicle, and the men promptly pulled a gun on him, telling him to hand over the money.
Side Note II: If these three people were working in tandem, then I hope their names are actually Larry, Curly, and Moe.
Riley, thinking quick on his feet again, jumped out of the car clinging tightly to the bag of cash and escaped once again.
Side Note III: So either the door was open, or they let him open the door? Larry, Curly, and Moe.
Riley hailed a second cab, and went to the police to report the two attempted robberies. According to the Post, he had met Junior at the Borgata Hotel Casino & Spa in Atlantic City, where two weeks ago he checked in with $80,000. During the trip, he profited another $20,000.
According to Hendon Mob, Riley is from Deerfield Beach, Florida and has over a quarter of a million dollars in live tournament earnings. In October, he finished fourth in the Isle Open Championship Main Event, earning $82,038.
I am glad that Riley was able to walk away from this crazy incident with his money, but the whole thing is absurd. This week's first thought is dedicated to my three favorite failed robbery attempts of the last decade.
1. Reach for the Sky
1. Don't Snow a Snower: In 2006, the late Amarillo Slim was driving in Texas when his car was run off the road by another vehicle. Someone got out of the car, produced a handgun, and demanded money from the 1972 World Series of Poker Main Event champion. Slim refused – let's be real, Slim, like the Doyle Brunsons and Bob Hooks' of the world, had probably stared down the barrel of a gun several times – and he put his car into reverse.
While Slim pulled away the assailant fired three times, but luckily none of the bullets hit the four-time bracelet winner. The would-be robber pursued Slim for several minutes, but the poker legend got away.
At the time, a movie titled Amarillo Slim starring Nicolas Cage was in pre-production, but the film was never made. Slim passed in 2012 with colon cancer.
2. That's Not a Knife: In 2010, a group of six armed robbers attempted a heist at EPT Berlin. PokerNews was present at the time, live-reporting the event. Here is our video recap of what happened, along with a German newscast, and a video from our good friend Frank op de Voerd of PokerNews.nl:
The robbers reportedly escaped with €240,000, but all six accomplices were caught within the next three months. The final person caught in the event was Mohammed Abou-C (the last name remains private due to German laws), who actually played in the EPT Berlin Main Event. He observed where the money was kept, and instructed the robbers where to attack.
The footage from this robbery is scaring, but looking back at these amateurs is quite hilarious. The group was equipped with knives and fake guns – one of the guns was reportedly real – and the robbers reportedly ate at the McDonalds around the corner before entering the hotel.
Talk about a bunch of Hamburglars.
3. The Biker Bandit: Anthony Michael Carleo, the self-proclaimed "Biker Bandit," takes the cake.
In December of 2010, Carleo stole $1.5 million in cranberry $25,000 chips from the Bellagio Casino wearing a motorcycle helmet. The Biker Bandit didn't know how to unload them for cash though, and opted to turn to TwoPlusTwo.
Great decision.
He created an account under the handle "OceanSpray25" from "Cranada," and posted in a thread about the robbery:
"Know anyone lookin for a bargain on a few pieces of fruit? Great for the liver and kidney and they make great stocking stuffers."
I see I see…So has anyone heard from the B robber or does anyone know where to get some discounted cranberries? I can't say that I wouldn't buy a few for $5k each and then figure out what to do with them…I'd imagine that's a good problem to have…IMO of course."
Carleo, who used the email address [email protected](!!!!!), sent numerous private messages. Matthew "Provotrout" Brooks was one of the recipients of these messages, and the two exchanged emails. Carleo admitted to being the robber, saying "Yeah, that's me. I'm that asshole."
He also sent these pictures: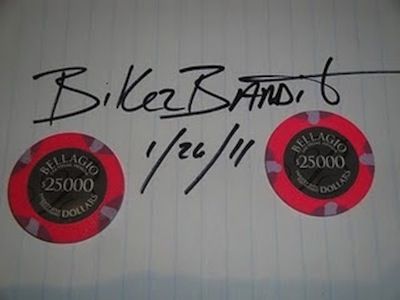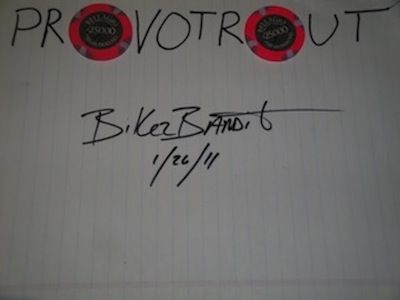 Brooks informed the police, who set up a sting and arrested Carleo. In August of 2011, the Biker Bandit was sentenced to three to 11 years in prison.
The moral of the story? Ocean's 11 was a movie, and trying to launder money on TwoPlusTwo isn't a great idea.
2. Sorel Mizzi wins partypoker Premier League VII
Partypoker Premier League VII came to a conclusion at the Playground Poker Club in Montreal, Canada last week, and the winner of the $125,000 buy-in, invite-only event was Sorel Mizzi. Mizzi earned the top prize of $400,000 along with $66,000 for accruing 33 points in the preliminary heats.
The Canadian, who recorded just his second cash on home soil in his career, has nearly $3.9 million in live tournament earnings in 2013 alone, and over $8.5 million in career lifetime earnings. This puts him third on the Canadian all-time money list, behind 2010 WSOP Main Event champion Jonathan Duhamel and Daniel Negreanu, who is the No. 1 ranked player in the Global Poker Index and a favorite to win the 2013 GPI Player of the Year award.
Mizzi finished third in the GuangDong Asia Millions Main Event in June, earning just over $2 million.
Jeff Gross finished runner-up to Mizzi, despite being in good shape to double up on the final hand of the tournament. Gross was all in and at risk with Q♥Q♣ against Mizzi's Q♠8♠, but the Canadian made a flush when the board ran out 10♠9♥4♠7♠5♣. Gross earned $274,000, which includes the money he earned from points, and has over $800,000 in cashes in 2013 and over $1.8 million in his career.
Here are all of the players who earned money:
| Place | Player | Prize |
| --- | --- | --- |
| 1 | Sorel Mizzi | $466,000 |
| 2 | Jeff Gross | $274,000 |
| 3 | Dan Colman | $194,000 |
| 4 | Scott Seiver | $130,000 |
| 5 | Jason Koon | $118,000 |
| 6 | Brian Rast | $102,000 |
| 7 | Jonathan Duhamel | $52,000 |
| 8 | Daniel Cates | $48,000 |
| 9 | Antonio Esfandiari | $40,000 |
| 10 | Phil Laak | $38,000 |
| 11 | Dan Shak | $20,000 |
| 12 | Vanessa Selbst | $18,000 |
As a poker fan, the Premier League is an awesome concept and a highly entertaining product – which makes being an American suck. Partypoker opted not to have a live stream this year, which is understandable because they were filming for television. Doing a live stream with a few hastily set up camera on tripods is one thing, but it's expensive and time-consuming to turn an archival shoot (like the WSOP broadcast on ESPN) into a live broadcast. These heats will be packaged for a European audience – I doubt partypoker's presence in New Jersey is enough for them to pay for nationwide programming in the U.S. – and hopefully us Yanks will be able to watch them online eventually.
Congrats to Mizzi and everyone else who reached the final. Mizzi is quietly having a fantastic year, as are Scott Seiver and Jason Koon.
3. April #Showers
On Friday, PokerStars announced that EPT Sanremo would be pushed back to April 10-20, 2014. The original dates called for the festival to take place from April 6-16.
This move pushes the penultimate and final stops of the Season 10 EPT closer together. The PokerStars and Monte-Carlo® Casino European Poker Tour Grand Final takes place in Monaco April 23-May 3.
In the official press release, PokerStars says "players can enjoy a continuous three weeks of poker on the stunning Cote D'Azur. Monaco is just 30 miles away from Sanremo, so traveling between the events couldn't be easier."
PokerStars also announced that EPT Sanremo will run in conjunction with the Italian Poker Tour, providing a "true festival of poker."
Under the old schedule, if players wanted to accrue a few frequent flyer miles, it would've been possible to travel from EPT Sanremo to the World Poker Tour $15,000 World Championship Event in Atlantic City from April 22-26, and then back to the French Riviera for the EPT Grand Final. There is also the WPT Seminole Hard Rock Showdown from April 10-17, which is another $5,300 buy-in, $10 million guarantee event.
The schedule change leaves poker tournament grinders with four choices. 1) Play both EPT events, 2) Play both WPT events, 3) Play the $10 Million Guarantee and EPT Grand Final, or 4) Play EPT Sanremo and WPT World Championship.
Option Nos. 1 and 2 are the most likely choices. American players are more likely to play in both WPT events. European players are more likely to play in both EPT events. Members of Team PokerStars Pro – I would assume – will definitely be skipping the WPT events in favor of their own brand's tour. This is unfortunate for someone like Jason Mercier, who will have a $10 million guarantee right in his backyard in Florida.
Option 3 will be a popular choice for North Americans who like to travel, but can't pass up the opportunity to play in a $10 million guarantee. They will unhappily skip EPT Sanremo for the WPT event in Florida, but once they bust they will be off to Europe for the finale of Season 10 of the EPT.
I believe option No. 4 is the least likely choice for poker players, unless they win a package to one or both of the events. For example, if someone from New Jersey travels to Canada to play online poker and wins a package to EPT Sanremo, then they might travel to Italy then return to the U.S. for the WPT World Championship in their home state. Even this scenario seems unlikely though.
Online grinders will also have to consider that the Spring Championship of Online Poker tends to run concurrently with the end of the EPT Grand Final. Unless there is some kind of miraculous breakthrough in the next six months, it will be impossible to grind SCOOP events from the Garden State.
This "line in the sand" between PokerStars and partypoker is somewhat entertaining, and competition between the two top tours will keep them from becoming stale or complacent, but at some point it's bad for the players. Stretching the poker calendar too thin will have adverse effects on tournament poker as a whole. It's a good thing the WSOP got out of April when they did, and moved the WSOP Asia-Pacific to the Fall.
4. Dana White Gambles Online in New Jersey
Last Monday, Ultimate Fighting Championship (UFC) president Dana White traveled to New Jersey for the launch of legal online gaming. UFC is owned by the Fertitta Brothers, who also own Station Casinos and Ultimate Casino and Ultimate Poker.
White proclaims he has won as much as $6 million gambling and even lost $1 million in a single night. Over the course of the evening at the Trump Taj Mahal, alongside UFC Lightweight champion Frankie Edgar and Jennifer "JWoww" Farley, White risked hundreds of thousands and dollars, tweeting the entire time.
We're gonna be the first three to play on @UltimateCasino! @frankieedgar @JENNIWOWW http://t.co/Hw3GsSQ3bD

— Dana White (@danawhite)
I just won $33,500 @UltimateCasino @JENNIWOWW and @FrankieEdgar didn't do as well :) But it was all about me ;) on my way back to Maine

— Dana White (@danawhite)
Ultimate Poker pro Jason Somerville also documented White's "degen" session:
.@danawhite is a man on a mission and he says he won't quit until he's up $25k of sweet sweet @lorenzofertitta money http://t.co/1lEOj2xVTv

— Jason Somerville (@JasonSomerville)
This was obviously a huge publicity stunt – no matter what White won or lost, it all stayed in the "family" – but it's still interesting to see a public figure trying to bolster the online gaming community in the Garden State. White has over 2.7 million followers on Twitter, and the UFC hits the same young, male demographics that poker does.
It would've been nicer to see White dumping several buy-ins on a $10/$20 table on Ultimate Poker, but we'll take the exposure.
5. New Jersey Surpasses Nevada
Well, that didn't take long.
According to PokerScout.com, New Jersey's four virtual card rooms had a combined 24-hour peak of 848 players on Monday, while the two rooms (WSOP.com and UltimatePoker.com) had a 24-hour peak of 443 in Nevada during at the same time. My public elementary school math tells me that the Garden State has doubled the traffic in the Silver State, although New Jersey's population is approximately three times as large.
The Associated Press reported that more than 5,000 online gambling accounts were created on Thanksgiving alone – online craps is a great cure for a tryptophan-induced haze – bringing the total to 37,277 as of Thursday night.
There are still issues with geo-location, and big bank companies are still acting a bit overly cautious, but there is certainly reason to be optimistic about the future.
"I'm pleasantly pleased," David Rebuck, director of the New Jersey Division of Gaming Enforcement, told the AP about the launch. "I'm also very tired because, for the last seven days, all I've been doing is worrying this was going to crash."
There was no crash, and online gambling in the Garden State is thundering forward.
The poker traffic should increase even more as we reach 2014. Partypoker will likely run satellites for the $15,000 buy-in WPT World Championship at the Borgata, and WSOP.com should be ready to send players out west for the 44th Annual WSOP. There should also be a stronger presence within the state in terms of advertisements on television and in Atlantic City card rooms.
With New Jersey's population nearing nine million, they have a better chance than Nevada of having a sizable and sustainable player pool as they wait for intrastate or even international pacts. Nevada is in dire need of an injection of players – a large concentration of their users are "regs," making the games no fun and unprofitable for amateurs.
Photo courtesy of TwoPlusTwo
Get all the latest PokerNews updates on your social media outlets. Follow us on Twitter and find us on both Facebook and Google+!