Remembering "Amarillo Slim" Preston (1928-2012)

Thomas Austin Preston, Jr., better known to the poker world as "Amarillo Slim," passed away early Sunday morning at the age of 83. The World Series of Poker confirmed the news and Preston's family released the following statement:
"We hope everyone will remember our beloved Amarillo Slim for all the positive things he did for poker and to popularize his favorite game — Texas hold'em.
Born on December 31, 1928, in Johnson, Arkansas, Preston became famous for his outrageous and entertaining proposition bets and his skills as a professional poker player. He was an associate of both Doyle Brunson and Sailor Roberts back in the days of the Texas road gamblers.
Preston then went on to win the 1972 World Series of Poker Main Event, the first of four gold bracelets. His others came in 1974 in a $1,000 no-limit hold'em event, 1985 in a $5,000 pot-limit Omaha event, and in 1990 in a $5,000 pot limit Omaha event.
After winning the WSOP Main Event in 1972, Preston helped bring poker to the mainstream by hitting the national television circuit, appearing on The Tonight Show, Good Morning America, 60 Minutes, and even had a minor role in the Robert Altman movie, California Split.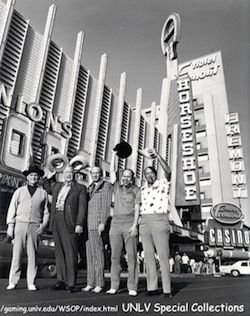 In the 1980s, Preston hosted the Annual Poker Classic, which became known as the Super Bowl of Poker and was the second most prestigious tournament in the world behind the WSOP. That event lasted until 1991 when it was discontinued.
Preston continued to play poker in his later years, and his most recent notable performance came in 2000 when he finished runner up in the 31st Annual World Series of Poker $2,500 PLO to Phil Ivey, a symbolic shift from old school to new.
Preston's accomplishments and contributions were celebrated in 1992 when he was inducted into the Poker Hall of Fame.
Aside from playing poker and serving as one of the game's most notorious ambassadors, Preston was also an accomplished author. In 1973, along with Bill G. Cox, Preston wrote Play Poker to Win, which was later revised and released by HarperCollins as Amarillo Slim's Play Poker to Win.
In 2003, Preston's autobiography was released and aptly titled Amarillo Slim in a World Full of Fat People. While that work toes the line between fact and tall tales, it is generally regarded as one of the best and most entertaining non-strategy poker books on the market.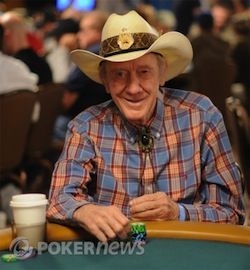 As Willie Nelson said of Preston's autobiography: "Every one of Slim's tall tales about his gambling exploits had me in stiches—except, of course, the time that country cowboy took me for a pretty penny playing dominoes. I would never make another bet with Slim, but I'd bet everything that Slim's memoir is the best I've ever read."
Preston will be remembered as one of poker's originals, who helped introduce poker to a new generation during the WSOP's infancy, as well as a true legend of the game.
"If there's anything I'll argue about, I'll either bet on it or shut up. And since it's not very becoming for a cowboy to be arguing, I've made a few wagers in my day. But in my humble opinion, I'm no ordinary hustler. You see, neighbor, I never go looking for a sucker. I look for a champion and make a sucker out of him." – Amarillo Slim Preston
*Lead picture courtesy of UNLV.
Executive Editor US, PokerNews Podcast co-host & 2013 WSOP Bracelet Winner.