Five Thoughts: Riess "The Beast" Wins the WSOP Main Event, Twitter Hate, and More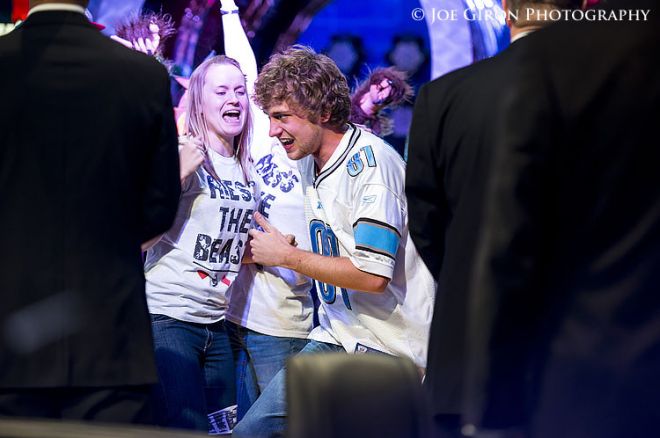 After busting the Seminole Hard Rock Poker Open $10 Million Guarantee, Ryan Riess went missing. I walked around the tournament room, looking for the young, shaggy-haired blonde kid who promised me an interview, but he was nowhere to be found.
This is commonplace in poker, and PokerNews presenters Kristy Arnett and Sarah Grant are familiar with sweating players for interviews. There are times where you ask someone to do an interview on their next break, and then with two minutes left in the level they get involved in a huge pot, or move all in. If the player gets crippled or, even worse, eliminated, then the interview is either going to be really awkward or cancelled.
So when Riess' chair was empty, I knew I needed to either find him right away or look for a new subject to talk with. Luckily for me, right as I was about to give up, I felt a tap on my shoulder.
"We gonna do this?" Riess asked with a grin on his face and a drink in his hand.
Riess and I had a bit of rapport because we were both at the World Series of Poker Circuit Horseshoe Hammond Main Event where he recorded his first live tournament cash — a runner-up finish for $239,063.
While we talked, Riess seemed very relaxed. I was surprised that he wasn't going to prepare for the final table — he's only been playing poker for two years — and that he was more interested in the title than the money.
"The title means everything," Riess said. "The money's great, but being a professional poker player, money comes and goes... The title is everything. I would not be happy with second place."
At the end of the interview, I asked him if there was anything he'd like to add that I missed.
"I'm gonna win it," he said with a grin on his face. "That's about it."
His confidence didn't wane heading into the final table either, and he told the ESPN crew that he was the best player at the table, and that he was going to win.
Well, after 261 hands at the 2013 World Series of Poker Main Event final table, his prophecy was fulfilled. Riess "The Beast" is now the 44th world champion, and $8,361,570 richer.
1. Ryan Riess Wins the 2013 WSOP Main Event
As you know by now, the 23-year-old Michigan native defeated VIP host Jay Farber heads up on the final day of the Main Event. Here are the results from that heads-up battle and the penultimate day of action:
| Finish | Name | Country | Prize |
| --- | --- | --- | --- |
| 1 | Ryan Riess | USA | $8,361,570 |
| 2 | Jay Farber | USA | $5,174,357 |
| 3 | Amir Lehavot | Israel | $3,727,823 |
| 4 | Sylvain Loosli | France | $2,792,533 |
| 5 | JC Tran | USA | $2,106,893 |
| 6 | Marc-Etienne McLaughlin | Canada | $1,601,024 |
| 7 | Michiel Brummelhuis | Netherlands | $1,225,356 |
| 8 | David Benefield | USA | $944,650 |
| 9 | Mark Newhouse | USA | $733,224 |
On the PokerNews Podcast we previewed all nine players before Day 8, and as a collective we said that anything worse than a third-place finish would be a let down for chip leader JC Tran. Tran didn't seem to be very active during the final table, and quickly lost his lead. It was reminiscent of 10-handed play back in July, where Tran was very passive with the chip lead on the biggest bubble in poker. I understand that he was likely card dead, but cards tend to matter less when you have leverage and can take control of the table.
On the bubble of the 2012 WSOP Main Event, Jesse Sylvia wasn't too concerned with his holdings:
It seemed like Tran wasn't aggressive enough, and for that he spiraled out in fifth place. In his final hand, he was actually ahead with the
against Farber's
, but Farber flopped a pair of kings.
David Benefield was perhaps the most feared player entering the final table despite sporting the shortest stack, but he was dealt a very cold deck. Benefield correctly folded pocket tens and jacks preflop when he was faced by a raise from an opponent holding a stronger pocket pair, and after Mark Newhouse busted in ninth place, Benefield bowed out in eighth. He jammed the
into Farber's
, and the dominant hand held up.
Amir Lehavot and Marc-Etienne McLaughlin both played exceptionally well on Day 8, but for very different reasons. McLaughlin was the most aggressive player at the table, mixing it up with anyone who would challenge him. He fell to as little as 17 million chips at one point, but quickly built his stack back up to 38 million. Unfortunately for him, that's when he was dealt the sickest cooler at the final table, and after a preflop raising war McLaughlin was all in and at risk with the
against Farber's
. It was the second time in the Main Event Farber was on the right side of an aces-versus-kings scenario — the first was against Noah Schwartz on Day 6 — and he held for a second time, eliminating McLaughlin in sixth place.
Schwartz, who was watching the broadcast, took notice:
I think you should tattoo AA on you somewhere next or maybe http://t.co/PIn4Fb1cJF @Jay_Farber_LV. Wow call it de ja vu .

— Noah j Schwartz (@noahjschwartz)
Lehavot's play was fantastic for a completely different reason — he climbed the pay jumps like a champion. Despite having one of the shortest stacks from six-handed play onward, he continued to simply survive, earning himself an extra $2.1 million.
At the start of heads-up play on Day 9, Farber had a 20-big blind advantage, but there was a general sense that Riess was still the favorite. There were even members of the rail laying 3-1 odds that "The Beast" would win the match.
Riess, came out swinging, taking the chip lead from Farber, and only surrendered it once from that point on. Farber started to mount a comeback, doubling on Hand #229 when he flopped an open-ended straight draw against Riess' top pair, but he was never able to even out the stacks.
On the final hand, Farber three-bet shoved with the
and Riess called with the
. The
flop took away three of Farber's outs, and the turn and river bricked with the
and
, respectively. Confetti poured down from the roof of the Penn & Teller Theater, and a new world champion was born.
Before the flop was dealt, Farber can be heard saying "I don't actually care" to Chance Kornuth on the rail.
Congratulations to Riess, who said in his post-win interview that he thinks he's the best player in the world. While I may not agree with him, the response he received on Twitter leads to our second thought.
2. Haters Gunna Hate
Riess took a lot of heat. Even before he won and announced he was the best player in the world, countless professional poker players like Scott Seiver, Paul Volpe, and Griffin Benger were critiquing his every move. After climbing up over 50 million chips on Day 8, Riess played passively in late position, and even gave McLaughlin a handful of walks. The online poker community thought this was a travesty, and that Riess should've been raising any two cards, so I asked him about it after he reached heads-up play.
"If me and both of the players next to me had 100 big blinds, I would open every button," Riess told me. "But considering Amir and Marc were short-stacked, I didn't want to just give away two big blinds at a time because I assume that they would be shoving correctly based off of ICM... I kept getting like deuce-three, seven-deuce, nine-three. Complete rags. I like to fold to set up an interesting dynamic between those two and watch them battle a little bit."
As a writer and a recreational player, I don't know which approach is "better" per se, but Riess' response shows that he at least had a plan. By avoiding big pots and playing passively in late position, Riess was able to stay above 50 million chips once he crossed the threshold, and reach heads-up play.
Riess also said after the win, "There's going to be people like Scott Seiver who say I suck. I obviously don't care."
The hate regarding Riess' excitement and claim that he's the best player in the world has more merit, but it's still unnecessary. Put yourself in the kid's shoes for a minute. A year ago, his first live cash was a runner-up finish in one of the largest Main Events in WSOP Circuit history. From there he cashed in 19(!) events leading up to the WSOP Main Event, including five final tables and an 11th-place finish in Event #30: $1,000 No-Limit Hold'em at the WSOP. Then he reaches the final table of the Main Event and wins, earning over eight million dollars and the most renowned title in all of poker.
What do you expect Riess to think? What would you think about all of this success if you were 23 years old?
Again, I don't agree with Riess' claim — there is plenty of time to tell whether or not the 2013 world champ will rise to the top of the poker ranks though — but I kind of like his Phil Hellmuth-like demeanor. The 13-time bracelet winner was two years older than Riess when he became the world champion, and we can all agree that he thinks he is undoubtedly the best poker player on the planet. Like Hellmuth, Riess is now a polarizing figure because of his own self-confidence, which is a great talking point for members of the media and entertaining for the fans at home.
I understand why Riess is overly confident and excited — the kid has been on a 12-month tear and is now an immortal member of poker lore. Put yourself in his shoes before unnecessarily bashing him on Twitter.
3. WSOPieCharts
When folks on Twitter weren't bashing Riess for his alleged "poor" play, there are aiming their witty sights at the man I compared him with — Phil Hellmuth. Alongside the lovely Marienela Pereira, the Poker Brat provided insight during breaks in play. Unsurprisingly, Hellmuth was crushed because his analysis doesn't line up with the "standard thinking" in poker, and the folks on Twitter were also puzzled by several statistics and pie charts that were used on the broadcast.
The tweets were amusing, and Hellmuth is an easy target, but in all honesty, it doesn't matter what poker players and hardcore poker fans think or believe. When an event like this is being broadcasted nationally in primetime on ESPN or ESPN 2, those select few people make up a very small percentage of the audience. So while pie charts or an incorrect comment from Hellmuth or Antonio Esfandiari can mark the end of the world within the poker community, the general public is more concerned with the Poker Brat's antics and Norman Chad's witty banter.
I talked with non-poker friends and family about the Day 8 broadcast, and they loved it. Many of them gave praise to Esfandiari because his analysis was very useful and often times "correct" (take that as you may), and they also enjoyed the chip graphics at the top of the screen. The graphics were definitely my favorite part of the broadcast, because the chip counts acted as a scoreboard. If someone was flipping through the channels and had no idea what was going on in the Main Event, they would immediately know from who the chip leader is and who had already been eliminated from play because of the graphic. This is key.
There was also a strong buzz on Twitter from casual fans, especially on the final day. Heads-up play was coming to a conclusion near the start of the 11 p.m. EST SportsCenter, and Bill Simmons and other ESPN personalities tried to direct viewers to the channel. After the event was over, I did a quick Twitter search for "#WSOP," and these are some of the tweets I stumbled upon:
Awesome final table! I hope to play in that one day! 10k donation anyone? #wsop

— JR Odeste (@nAz616)
Wow - Dirk Nowitzki's much shorter twin just won the #WSOP ... that may also be the only championship a guy in a Lions jersey will ever win.

— Steve Johnson (@SBJ_WSU_DSU_ATL)
Congrats to @RyanRiess1 on the #wsop bracelet that was a crazy final table!

— Jesse Fode (@jayhawks_17)
Obviously I am being selective, but a vast majority of the tweets were positive. Casual fans really enjoyed the product.
If poker is going to grow, it will grow from the ground up. The satisfaction of players who are already playing in high roller and super high roller events isn't important at all; rather the casual fans are the ones we need to appeal to. The 2013 WSOP Main Event final table was a huge success with casual fans.
4. LAR-RY WAL-KER
Fans of Riess, Farber, Lehavot, Loosli, Tran, McLaughlin, Brummelhuis, Benefield, and Newhouse, I tip my cap to you! Good show!
The 2012 Octo-Nine was my first WSOP Main Event final table, so I have a limited sample size, but this year's final table was incredible. The atmosphere was like nothing I've ever experienced covering a poker tournament, and I'd wager that the only other times the Penn & Teller Theater rocked that hard were when Dennis Phillips brought a million truckers with him to Las Vegas and Phil Ivey was at the final table.
McLaughlin's section was quite clearly the best, and the eventual sixth-place finisher wanted it that way. Prior to the final table, he said that he was going to have a costume contest for his rail, and his fans did not disappoint. Led by 2010 WSOP Main Event champion Jonathan Duhamel, the French-Canadian contingent was decked out in green to represent McLaughlin's Irish heritage. The group had a handful of cheers pre-planned, including the best one of the night:
LAR-RY WAL-KER! (CLAP!) (CLAP!) (CLAP-CLAP-CLAP!)
Every time McLaughlin was in the big blind, the fans would cheer the iconic Canadian baseball player's name, but McLaughlin's blinds continued to be attacked. Finally, on Hand #93, the action folded to Lehavot in the small blind. As the chants of LAR-RY WALKER! got louder and louder, he folded.
The place exploded into a chorus of screams.
McLaughlin jumped out of his chair and sprinted to his rail with his hands in the air. You would've thought that he won the Main Event, Big One for One Drop, and the $50,000 Poker Players Championship along with Lehavot's small blind and the antes. It was a sight to see.
Farber's gang of pandas was also quite amusing, particularly the one that ran onto the stage, face-planting not once, but twice. The panda was 86'ed from the Rio All-Suite Hotel & Casino, but was reinstated for Day 9 and led Farber out from the tunnel during the introductions.
I want to thank all of the fans for showing their support during the November Nine. That kind of energy and excitement translates to the broadcast, and anything that makes poker more fun is OK in my book.
5. The Bad News
As you may already know, there are two guarantees in this world, death and taxes. While I sincerely hope that the former avoids the nine gentleman who reached the final table for a very long time, the latter will affect eight of them immediately.
Run better, Mr. Loosli.
According to TaxableTalk.com, of the $25,932,167 awarded at the Main Event final table, $9,642,011 will be taken for tax purposes by the Internal Revenue Service, Belastingdienst, Franchise Tax Board, Canada Revenue Agency, and New York Dept. of Taxation & Finance. Loosli is the only player at the final table who doesn't have to pay taxes because the Frenchman lives in the United Kingdom, and the UK doesn't tax gambling winnings from residents who are professional gamblers.
The site offered a table of estimated winnings before and after taxes:
| Player | Before | After |
| --- | --- | --- |
| Ryan Riess | $8,361,570 | $4,880,713 |
| Jay Farber | $5,174,357 | $3,147,830 |
| Amir Lehavot | $3,727,823 | $2,178,623 |
| Sylvain Loosli | $2,792,533 | $2,792,533 |
| JC Tran | $2,106,893 | $1,104,916 |
| Marc-Etienne McLaughlin | $1,601,024 | $808,089 |
| Michiel Brummelhuis | $1,225,356 | $870,003 |
| David Benefield | $944,650 | $507,449 |
| Mark Newhouse | $733,224 | $410,345 |
| Total | $25,932,167 | $16,290,156 |
The U.S. government is taking over $5.5 million from Riess and Farber, which is absolutely sickening knowing that the Department of Justice is pinching every penny possible from players who are owed money from Full Tilt Poker. These numbers are eye-opening, and Russ Fox deserves a lot of credit for his hard work with this article, but you'll have to excuse me now while I walk over to my toilet and throw up.
To relive every hand of the Main Event final table, be sure to check out the PokerNews Live Reporting Blog.