Five Thoughts: Team888 Wins First Two WSOPE Bracelets, EPT10 London Wrap Up, and More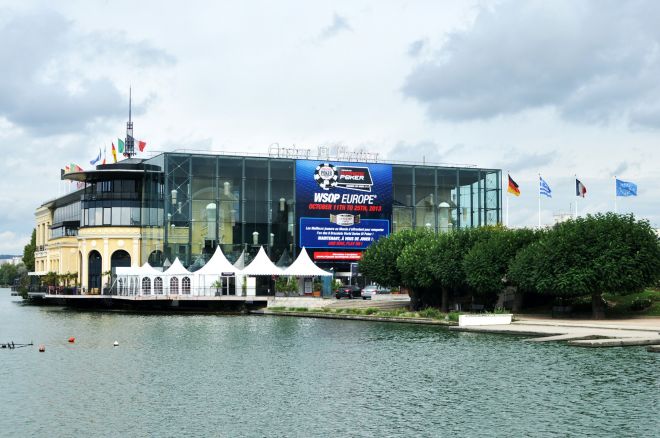 For the third straight week, Five Thoughts comes to you from the road. This time I'm in wonderful Enghien-les-Bains, France – which I detailed in this piece – for the 2013 World Series of Poker Europe. Two players, Jackie Glazier and Henrik Johansson, have already captured bracelets, and there are still five more bracelets up for grabs, including the €10,450 Main Event.
This week we'll look at the two newest bracelet winners, the conclusion of the European Poker Tour London Main Event and High Roller, New Jersey Senator Ray Lesniak's thoughts on PokerStars returning to the Garden State, and a controversial hand in the WSOP Circuit Horseshoe Southern Indiana Main Event.
1. Glazier and Johansson Win Gold
The 2013 WSOPE kicked off with a €1,100 Ladies Event, the first of its kind across the pond, and Australia's Jackie Glazier topped a 65-player field to win €21,850 and her first gold bracelet. Glazier recently finished 31st in the WSOP Main Event for $229,281, and in 2012 she finished runner-up to Greg Ostrander in a $3,000 bracelet event for $453,996.
Glazier now has over $1.2 million in career lifetime tournament earnings.
The small, 65-player field ignited a bit of negativity on Twitter and even the comments section of our PokerNews recap, which is understandable. The tournament was smaller than the 1980 WSOP Main Event (won by Stu Ungar), and since I starting covering the WSOP in 2009, no tournament other than the $1 Million Big One for One Drop (capped at 48) has fielded less than 81 players.
The 81-player event in question was the A$2,200 Mixed Event that Phil Ivey won at Crown Casino this year.
While the low turnout can be seen as a negative, the WSOP has to start somewhere. The female demographic is somewhat of an untapped market, and if the WSOP can start to bring in more females, then the open events will grow as well. Also, the final table was full of locals – five of the seven players who earned money were French, including 2012 WSOP bubble girl Gaelle Baumann. Getting the local players on the felt is the first step, and then you can try and bring players from surrounding countries and the United States to play.
In Event #2, Sweden's Henrik Johansson took down the bracelet and the €129,700 top prize. Prior to the event, Johansson only had around $16,000 in career tournament earnings.
The Swede entered the final table as the chip leader, and never really fell significantly in the chip counts. Yaniv Botbol, who started the day with a very small stack, ran it up during the middle levels of the day, but was dealt a bad beat and busted in third place. Daniel Weinman, who was nice enough to sit down with me during Day 2, entered the day second in chips and finished in fourth place.
Johansson played very well, although it was apparent that he hasn't played in many live tournaments. The Swede was a bid awkward with both his chips and his cards, but when it came to critical thinking, he excelled.
He was also the beneficiary of a two-outer with three players remaining, spiking a king on the river for a set against the aforementioned Botbol, who turned a set of fours. Johansson took this momentum into heads-up play, where Adriano Torre-Grossa was more or less steamrolled.
Congratulations to both Glazier and Johansson, who are both members of Team888. As a major sponsor of the WSOPE, 888 Holdings must be quite pleased.
2. Robin Ylitalo Wins the EPT10 London Main Event
The second leg of Season 10 of the EPT is in the books, and the newest champion is Swede Robin Ylitalo. Ylitalo topped 604 players to earn £560,980 (there was no deal made) and the trophy, defeating Greek Georgious Karakousis heads up. Karakousis, a plastics factory owner, pocketed £349,200 for his efforts.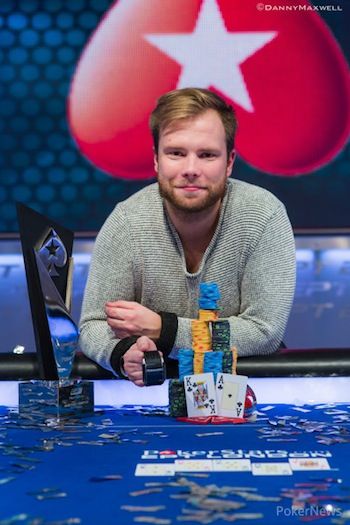 EPT10 London Main Event Results
| Place | Player | Prize |
| --- | --- | --- |
| 1st | Robin Ylitalo | £560,980 |
| 2nd | Georgios Karakousis | £349,200 |
| 3rd | Leo McClean | £249,850 |
| 4th | Ludovic Geilich | £193,340 |
| 5th | Jeff Rossiter | £152,320 |
| 6th | Stefan Vagner | £119,225 |
| 7th | Jan Olav Sjavik | £88,175 |
| 8th | Kully Sidhu | £60,640 |
Entering the final table, Aussie Jeff Rossiter was the chip leader with over five million (more than 100 big blinds). Rossiter has had an excellent 2013, cashing for more than $3 million prior to EPT London, but he couldn't get anything going during the final table. During Level 28, he limped in from the small blind with two sixes and called a raise from Karakousis, who held
. Rossiter flopped a set, check-calling a bet from Karakousis who flopped a gut-shot Broadway draw. The
on the turn gave the Greek the nut straight, and he received value from the Aussie on the turn and after the river produced a brick.
Rossiter never recovered from that 1.66 million-chip pot, and eventually moved all in with two red fours. Karakousis called in the blinds with
, and won the race.
Karakousis was a very unique players and an even more interesting character. He would occasionally grunt or clear his throat when it was his turn to act, and on the EPT Live broadcast, Joe Stapleton started to emulate him in an unsurprisingly over-the-top way. On the felt, he wasn't afraid to mix things up. There were times when he surprised everyone in the booth by sticking in a three-bet or a four-bet, and when he seized the chip lead momentarily on Day 4, he used it. After watching him fairly closely on the penultimate day, I'm not surprised at all that he finished in second place.
As for Ylitalo, he now has over $1.27 million in career lifetime earnings. London was his second final table appearance on the EPT – he finished eighth in Campione in Season 8 for $71,629 – and at the 2013 WSOP the Swede finished sixth in a $1,500 buy-in event for $92,550. Ylitalo played quite well, and was dealt a few favorable hands during heads-up playing, including ace-king more than once.
Ylitalo held
on the final hand, and held against Karakousis'
, earning him the title.
3. Jason Lavallee Wins the EPT10 London High Roller
While Ylitalo battling at the EPT10 London Main Event final table, Jason Lavallee was putting in work in the High Roller. The French Canadian entered the final day second in chips, and doubled Talal Shakerchi during the first few hands on Day 3, but surged back at the final table. He picked off two bluffs from Carla Sabini, then doubled in a massive pot with aces against Sorel Mizzi's queens. From there, Lavallee dominated.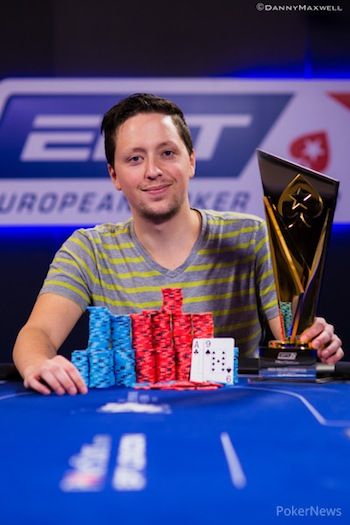 | Finish | Player | Country | Prize |
| --- | --- | --- | --- |
| 1 | Jason Lavallee | Canada | £357,700 |
| 2 | Simon Higgins | UK | £242,330 |
| 3 | Sorel Mizzi | Canada | £161,560 |
| 4 | Carla Sabini | Canada | £132,320 |
| 5 | Tamer Kamel | UK | £106,170 |
| 6 | David "Devilfish" Ulliott | UK | £82,315 |
| 7 | Luca Pagano | Italy | £60,930 |
| 8 | Mark Teltscher | UK | £44,775 |
Covering the tournament, it reminded me of Trevor Pope's win at the 2013 WSOP. With so many chips, Lavallee was able to dictate all of the action at the final table, and there was nothing the short-stacked players could do. Lavallee nearly turned the final table into a massacre during six-handed play when he knocked out David "Devil Fish" Ulliott. It was a three-way all in involving Devil Fish and Mizzi, where Lavallee had kings. Ulliott was eliminated with jacks, while Mizzi spiked an ace to triple up. Had Lavallee's kings held up, he would've had 82 percent of the chips with for players remaining.
It was no matter. None of this four opponents could put a dent in his stack, and Lavallee cruised to first place, earning £357,700 and a Slyde watch. It's the French Canadian's first major live victory – he finished runner-up in the 2009 $15,000 Festa al Lago for $795,150 and runner-up at EPT9 Sanremo for $694,766 – and he now has over $2.4 million in career live tournament earnings.
As for Mizzi, who placed third for £161,560, he has over $3.4 million in earnings in 2013 alone and over $8 million in his career.
Congratulations to all of the final tablists in London. The EPT will resume on Dec. 8 with EPT Prague, and PokerNews will be on hand starting Dec. 12 for coverage of the EPT10 Prague Main Event.
4. NJ State Senator Ray Lesniak Likes PokerStars' Chances in the Garden State
Our own Matthew Kredell spoke with New Jersey State Sen. Ray Lesniak this week, and he believes that Rational Group, the parent company of PokerStars, will receive a license in the Garden State.
"The biggest and the bestest with the mostest is going to have a presence here in New Jersey," Lesniak told PokerNews.
According to William J. Pascrell III, a state lobbyist for PokerStars, the company is ready to invest heavily in Resorts Casino Hotel if they are approved by the New Jersey Division of Gaming Enforcement. One of the proposed investments is a $10 million poker room.
Borgata Hotel Casino & Spa received the state's first internet gambling permit last week, but their technology partner, bwin.party, has not.
It is up to the DGE to decide whether or not it's appropriate to allow bwin.party and the Rational Group to operate in the United States. After the Unlawful Internet Gambling Enforcement Act of 2006 passed, PartyPoker exited the U.S., but they still admitted to breaking laws. Rational Group continued to operate until they were shut down on Black Friday. On July 31, 2012, Rational Group acquired Full Tilt Poker, and settled with the Department of Justice for $731 million.
As part of the settlement, Rational Group admitted no guilt and forfeited enough money to pay back the players on Full Tilt Poker.
The American Gaming Association, which represents Caesars Entertainment among other land-based casinos, will be bwin.party and Rational Group's biggest opponent. The AGA will argue that these two companies are unlawful, and that they should not be trusted going forward. Meanwhile, 888 Holdings and Caesars have little to no public dirt against them, and both parties should have no problems receiving a license from the DGE.
Rational Group and bwin.party appear to be underdogs at the moment, but don't count them out, especially the former. While in London for the EPT, I tried to discuss the future of New Jersey with members of the PokerStars staff. No one had any relevant answers, but there was a small twinkle in the eyes of some.
"It [New Jersey] is very important," one staff member told me.
And yet, besides Pascrell's quote in The Press of Atlantic City, Rational Group has been rather quiet. There is a chance that PokerStars is simply waiting in the weeds, preparing to strike, but their silence could also mean temporary defeat. Only time will tell.
For now, Caesars and 888 appear to have the green light – let's see how far they can separate themselves from the pack.
5. Zal Irani Wins WSOP Circuit Horseshoe Southern Indiana
The Horseshoe Southern Indiana stop of the 2013-14 WSOP Circuit came to a close this weekend, and Zal Irani took down the Main Event, earning $106,103, WSOP-C ring, and a seat in the WSOP National Championship.
| Place | Player | Prize |
| --- | --- | --- |
| 1st | Zal Irani | $106,103 |
| 2nd | Michael Hahn | $65,603 |
| 3rd | Sean Lippel | $47,647 |
| 4th | Ryan Jones | $35,194 |
| 5th | Nick Phillips | $26,422 |
| 6th | Robert Geith | $20,150 |
| 7th | Robert Georato | $15,608 |
| 8th | Allan Vrooman | $12,272 |
| 9th | Donald Crabtree | $9,793 |
Prior to this event, Irani has had sustained success on the WSOP-C, with over $300,000 in cashes over the past two years. This win is barely the largest cash of his career – Irani earned $104,371 for finishing fifth in the 2012-13 WSOP-C Hammond Main Event.
North Carolina's Ryan Jones started the final table fourth in chips and finished in fourth place. Jones made a deep run in the WSOP Main Event, finishing 182nd for $42,990.
The most interesting hand of the final table took place with three players remaining. According to the WSOP live blog, Irani moved all in on a board of
against Sean Lippel, who went deep into the tank. Lippel then muttered something that sounded like "call," flashing
. Irani tabled
for a straight, and Lippel tried to fold.
According to him, he said "I can't call."
An argument broke out before Tournament Director Charlie Ciresi was called over to make a ruling. Based upon the information he heard from the dealer and Irani, he ruled that Lippel indeed called and was thus eliminated.
This situation is somewhat similar to the infamous Andras Koroknai vs. Gaelle Baumann hand in the 2012 WSOP Main Event. There, Koroknai was allowed to keep his stack after accidentally moving all in and tossing his cards into the muck, not knowing that Baumann had already tossed in a raise.
However, in this hand, Lippel was very aware of the situation at hand. Even if he added, "I can't" before he said, "call," there's no reason to use the magic word when the action is on you in an all-in pot unless you intend on calling. Likewise, the fact that he tabled his hand immediately after using the word "call" makes it more suspicious. I am not accusing him of shooting an angle, but if one were going to angle in this situation, they would probably mutter something and then show their hand.
Once Irani exposes the contents of his hand, then you can argue as to whether or not you said "call" or something else.
Like the Baumann hand (how does she not snap-call?) there is some fault on Irani. He should've waited for clarification before ripping his hand over, but I understand if he was excited to win the all-in pot.
In any case, Lippel earned $47,647 for his efforts, and now has nearly $100,000 in lifetime career earnings.
Get all the latest PokerNews updates on your social media outlets. Follow us on Twitter and find us on both Facebook and Google+!