State Senator Ray Lesniak Likes PokerStars' Chances in New Jersey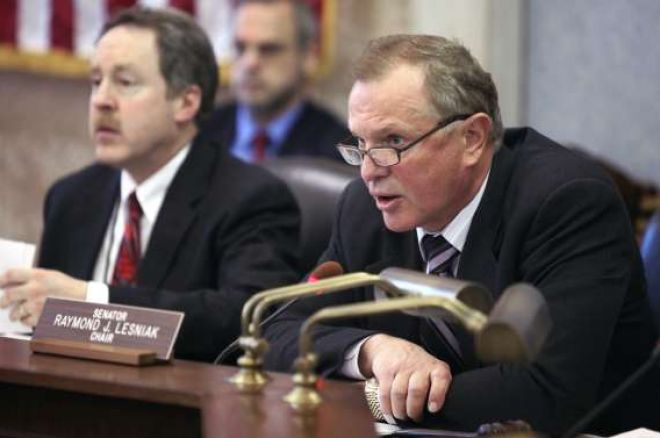 With Borgata Hotel Casino & Spa receiving New Jersey's first Internet gambling permit last week and the announcement that online gambling will begin in the Garden State on Nov. 26, everyone is wondering if PokerStars — by far the world's most popular real-money poker site — will be allowed to participate.
New Jersey State Sen. Ray Lesniak, a longtime catalyst for Internet gaming in New Jersey, believes that PokerStars will get a license.
"The biggest and the bestest with the mostest is going to have a presence here in New Jersey," Lesniak told PokerNews.
Lesniak clarified that this was his opinion, that the decision will be made by the New Jersey Division of Gaming Enforcement, and that he didn't have any inside information on the verdict. Still, he seemed confident that PokerStars will be involved in Atlantic City. With Borgata getting its license and the start date fast approaching, the DGE is expected to announce more approvals any day.
"I've made it clear that I would like to see them in the game as long as the DGE says it's OK, and I think it's evolving in that way," Lesniak said of PokerStars. "There are strong forces trying to prohibit them or at least keep them out of doing business for 3-to-5 years. I don't think that's in New Jersey's best interests."
Lesniak favors outside investment to spark Atlantic City's struggling economy, and that's exactly what PokerStars promises. The Press of Atlantic City reported that, as soon as it gets a license in hand, PokerStars plans to start building a $10 million poker room at Resorts Casino Hotel as part of their Internet partnership.
PokerStars lobbyist William J. Pascrell III told The Press of Atlantic City that PokerStars is committed to making Atlantic City its North American headquarters, creating an initial 150 jobs in the area.
It is thought that other Atlantic City casinos aren't keen on having to compete with the proven commodity of PokerStars and have been fighting against the veteran online poker company receiving a license, citing its prior operation in the U.S. following passage of the Unlawful Internet Gambling Enforcement Act and its $731 million settlement with the Department of Justice as reasons for exclusion.
"I think one of the biggest factors for New Jersey and for the governor's office is to ensure this is a very successful endeavor, and one way to ensure that success is to allow the most experienced, most popular operator in the market," said John Pappas, executive director of the Poker Players Alliance. "Having PokerStars in the market I think is a win-win for players and a win-win for the state. Of course, a lot of political pressures are being applied to them not being deemed suitable, but in the end it's a no-brainer for PokerStars to be included."
*Lead photo courtesy of media.northjersey.com.
Get all the latest PokerNews updates on your social media outlets. Follow us on Twitter and find us on both Facebook and Google+!