Five Thoughts: 2014 World Series of Poker Schedule, More Chip Issues, and Dan Shak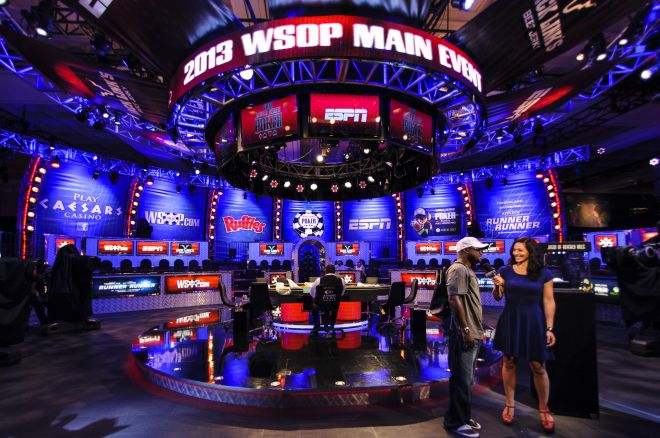 Last week, Caesars Entertainment released the schedule for the 45th Annual World Series of Poker. The 65-event series kicks off on Tuesday, May 27 with the Casino Employees Event (didn't someone special win that last year?) and concludes with the granddaddy of them all — the Main Event.
As always, there were a few changes to the schedule. The aforementioned Main Event now has a $10 million guaranteed first-place prize; the $10,000 buy-in Championship events are back; and there is even a dealer's choice event. Donnie Peters already expressed his feelings about the schedule, and you can read them here, but I promised to examine the schedule in last week's Five Thoughts, and so I shall.
The final two thoughts this week will focus on another player allegedly trying to steal tournament chips, and Dan Shak's boycott of super high roller tournaments.
1. A Real $10 Million Guarantee
If you need a reminder that the WSOP is its own untamable animal in the poker world, then look no further than the $10 million guaranteed first-place prize in the 2014 WSOP Main Event. While other tournaments strive to generate an eight-figure prize pool, the WSOP is powerful enough to give eight figures to just one player.
My PokerNews colleagues, among many others, are not in favor of the massive first-place guarantee, arguing that it will penalize every other player that cashes. This is a fair and accurate standpoint, but let's look at the numbers:
| | | | |
| --- | --- | --- | --- |
| *Finish | 2013 Payout | Projected 2014 Payout | Year 2014 / Year 2013 (%) |
| 1st | $8,361,570 | $10,000,000 | 119.59 |
| 2nd | $5,174,357 | $4,958,925 | 95.84 |
| 9th | $733,224 | $695,261 | 94.82 |
| 27th | $285,408 | $276,835 | 96.99 |
| 99th | $59,709 | $58,196 | 97.46 |
| 225th | $42,990 | $42,000 | 97.70 |
| 423rd | $28,063 | $27,540 | 98.14 |
| 648th | $19,107 | $18,864 | 98.73 |
These data points are all pay jumps
Arguing that the $10 million first-place prize hurts the "everyman" is simply mathematically incorrect. If the Main Event has the same player pool this year, the vast majority of players will incur a loss of less than three percent when compared to 2013. Conversely, the players at the final table would be hit with a bigger loss. The first player to exit the November Nine would earn more than five percent less than Mark Newhouse, and the runner-up would take home just over four percent less than Jay Farber.
If you are going to argue against the top-heavy structure, focus on the players that it hurts the most. The "everyman satellite player" who is holding onto his last three big blinds for dear life on the bubble will not be as affected as the players that reach the final table and fail to win.
WSOP Managing Editor Jessica Welman also pointed out on Twitter that the Main Event already has one of the flattest – if not the flattest – payout structures out of the major tournaments, favoring the everyday player:
@Barry_Carter Aussie Millions gave 23.2% to 1st, PCA is like 18%, WPT Champs 32%. Our 1st place will be 14-16%ish

— Jessica Welman (@jesswelman)
There are some that are in favor of a guarantee, but would like to see it placed on the prize pool rather than first place. My two arguments against that are risk and marketing.
The risk angle is simple; by guaranteeing a $10 million first-place prize, the WSOP only needs to generate a $10 millions prize pool. Since 2004, the Main Event prize pool has never dipped below $24 million. There's no reason to willingly risk any amount of cash on a guarantee when this tournament is so incredibly profitable.
The marketing angle is strong. The prize pool in the 2013 WSOP Main Event was just shy of $60 million, but what does that mean to Joe Six-Pack? I'm willing to wager that there's a percentage of Main Event players – albeit very, very small – that would see a "prize pool" and think it is the "grand prize." Even if they understand that the prize pool will be distributed amongst the players that make the money, how will they know what the players at the final table will get? To the lay poker player, a giant prize pool creates ambiguity, not excitement.
The words "$10 Million Guaranteed First-Place Prize" are clear, concise, and above all, damn intriguing. Yes Joe Six-Pack, you can hop online, play a satellite for a few bucks, and win $10 million. That could be you in that chair behind the mountain of cash. Ten. Million. Dollars. All yours.
Do you really think that satellite winners, poker league champions, and shot-takers are concerned that the prize pool isn't being spread evenly? Who plays the Mega Millions hoping they get three of the six numbers right?
I want to get all six correct. I want to live the dream. I want the damn $10 million in my arms.
Even the nits in poker tweet what's "on top" when they're playing in a poker tournament and the prize pool is announced – no one registers to take second place, let alone 648th place.
2. The Return of Championship Events
The 2014 WSOP schedule features 12 $10,000 Championship events in the following formats:
2-7 Triple Draw Lowball (May 29-31)
Omaha Hi-Lo Split-8 or Better (June 1-3)
No Limit 2-7 Draw Lowball (June 3-5)
Seven Card Razz (June 6-8)
H.O.R.S.E. (June 8-10)
Pot Limit Hold'em (June 12-14)
No Limit Hold'em Six-Handed (June 14-16)
Seven Card Stud Hi-Lo Split-8 or Better (June 17-19)
No-Limit Hold'em Heads Up (June 19-21)
Limit Hold'em (June 26-28)
Seven Card Stud (July 1-3)
Pot Limit Omaha (July 3-5)
Additionally, there is a $1,500 buy-in variant for 11 of these events – there is a $1,500 Mixed Max and not a $1,500 Heads-Up – which will allow more recreational players to explore and have fun playing the different games.
This change to the schedule gives us the best of both worlds; exciting big buy-in events with packed fields, and small buy-in events to grow non-hold'em games.
In 2013, there were only four limit games available to players who only wanted to buy-in for $1,500; H.O.R.S.E., stud eight-or-better, Omaha eight-or-better, and limit hold'em. In order to play in the other mixed games, you had to pony up a minimum of $2,500, or as much as $10,000 in the case of no-limit 2-7 single draw. This is a very difficult, if not impossible, proposition for a player looking to learn a new game.
There are some players that oppose the reintroduction of Championship events, because it may double their amount in buy-ins this summer. There were only three $10,000 events outside of the Main Event last year, the rest of the big buy-in mixed game events were $5,000. These players are upset because they will either have to skip the events or sell more action, but I believe they are in the stark minority.
I know I argued that percentages were everything with regards to the Main Event payouts, but I also believe that payouts are much different than buy-ins. There are more recreational players than professionals playing in $1,500 buy-in events during the WSOP, and the 67% increase between risking $1,500 and $2,500 is much more meaningful to them than the 200-percent increase between risking $5,000 and $10,000 for a professional. This isn't to say that professional poker players are swimming in money, rather that recreational players are more risk-adverse and less willing and/or able to sell action.
I had an opportunity to play in the $1,500 buy-in H.O.R.S.E. event two years ago thanks to a few very generous individuals, and even though I was the biggest fish in the room I had a blast. It brought me back to high school, playing stud games in my basement with my friends. There were no death stares or long tanks, just fun conversations interrupted by a few hands of poker.
I have always been an advocate of the $10K/$1.5K schedule, and I am very happy to see it implemented.
3. The Monster Stack
Outside of the $1,500 buy-in Millionaire Maker, which attracted an insane 6,343 entries in 2013, I believe that the biggest non-Main Event tournament this summer will be Event #51: No-Limit Hold'em Monster Stack. Instead of the traditional $1,500s where the starting stack is 4,500, players will receive 15,000 chips at the start of this four-day event.
Countless times I have heard recreational players complain about how "shallow" the $1,500 buy-in events are because they "only" have 4,500 chips. If you really take a look at the structure those tournaments aren't shallow at all, and that play on Day 2 and Day 3 – when it really matters – is extremely deep, but the "weekend warriors" are tempted to just focus on the literal size of their stack. The 4,500 in chips is less than half of the starting stack in the Venetian Deepstack less than a third of the starting stack in the Rio's Daily Deepstack.
I've never played in an event at the Venetian, but I can tell you that the Daily Deepstacks aren't very deep. At all. Stack to blind ratio is so much more important than stack size.
There is something to be said about a well-structured, deep-stacked event however. The ParxBigStax events are always a hit because Matt Glantz and company focus on the structures rather than throwing boatloads of chips at the players. The same thing can be said about the WSOP Main Event. Starting with 30,000 chips is great, but the slow-moving, long structure is what makes it a terrific poker tournament.
Like I said on Twitter during a back-and-forth with WSOP Executive Director Ty Stewart, where he slow-rolled us all by arguing against a deep-stacked small buy-in WSOP event, I don't want all of the $1,500 events to have big stacks and take forever to finish. The $1,500 buy-in format is fine. All I wanted was just one event outside of the norm, and what do you know, Ty and the WSOP staff beat us all to the punch.
No shocker there.
4. More Chip Issues
First Christian Lusardi allegedly tries to use counterfeit chips at the 2014 Borgata Winter Open, and now another player tries to take a T25,000 "souvenir" from the World Series of Poker Circuit Palm Beach Kennel Club in Florida.
According to the aforementioned Jessica Welman, after Event 9: $1,125 No-Limit Hold'em concluded, the tournament staff caught a player trying to remove chips from the set in the event. The Palm Beach Kennel Club and local authorities are investigating the matter.
Several players at the stop report that it is the winner of that event, Chan Pelton, who earned his third WSOP-C ring and $47,061. Pelton allegedly pocketed a T25,000 chip, saying that he wanted to keep it as a souvenir.
Pelton won his second career WSOP-C ring a week earlier, making him a distinct favorite to capture the Casino Championship, which includes a $10,000 seat into the 2014 WSOP National Championship.
"Until this investigation is wrapped, we will be unable to finalize Casino Champion standings for the Palm Beach Kennel Club stop, as this event has bearing on the final points standings in the race," Welman wrote. "We will announce the Casino Champion winner once we have a resolution, but it will likely be determined after the action wraps here in Palm Beach on Monday."
According to KBTX Bryan/College State, TX, Pelton was arrested in 2012 for possession of a substance and possession of marijuana.
I don't believe Pelton's past discretions are very relevant – we all make mistakes – but this allegation is serious and his reported excuse is very weak. Even if he wasn't a three-time ring winner with the Casino Championship all but locked up, the old "souvenir" defense as believable as a bad beat story from Eskimo Clark.
The larger story here is that this is the second chip incident in less than two months in 2014. Was this happening all the time and tournament directors were missing it? Is this something we really need to fear? Did the Borgata incident encourage the tournament directors in Florida to pay more attention at the end of the event?
I'm not sure we're at DEFCON 5 for protecting chip sets quite yet, because two incidents may just be a coincidence, but three is a trend. If a third "chip gate" pops up in the near future, then I am sure we will see tighter security and maybe even new rules to help fight cheating.
I can't help but hear Nick Guagenti's comments echoing in my ears: "When there's money involved, people are going to cheat."
5. Dan Shak Puts His Money Where His Mouth Is
Last week I argued in favor of super high-roller events, and on Monday, Dan Shak and I argued a little more on Twitter.
Shak is passionate, I admire that, but even more so I admire the fact that he is going to put his money where his mouth is. In an interview with NL.PokerNews editor Frank op de Woerd, Shak said he is going to "seriously consider" boycotting super high rollers with a reentry format.
"I'm sorry to say this about a game I love so much, but whether you can or can't afford it... It just doesn't seem right that these events overshadow the main events where people have put their heart and soul on the line where skill is at least more than 50 percent of the game. And these massive turbo unlimited re-entry [events] get so much press because of how much money is on the line. Seriously considering boycotting playing them till the re-entry is only one."
Shak skipped the $250,000 Challenge at the Aussie Millions and the World Poker Tour Alpha8 event in South Africa.
Here's the entire interview:
While I still agree with most of Shak's opinions regarding super high rollers, and find it very funny that one of the most profitable big buy-in players is going to boycott, he deserves a ton of credit for sticking to his guns. Poker players are quick to voice their opinions on Twitter or TwoPlusTwo, but don't always walk the walk. Sometimes they are forced to succumb to the powers that be because boycotting or skipping events would negatively affect their win rate, and in turn their livelihood, but spewing on social media for the sake of spewing doesn't help anybody.
Maybe Shak's protest will be effective and maybe he will simply be the odd man out, but at least he's putting his foot down and making a stand for something he believes in.
On a more progressive note, Mike McDonald made a suggestion on Twitter that could benefit all parties involved when it comes to super high rollers:
@daniel_shak @Donnie_Peters @RichTRyan I think 200k/400k freezeouts will get bigger/softer prize pools than 100k/250k re-entry

— Mike McDonald (@MikeMcDonald89)
Get all the latest PokerNews updates on your social media outlets. Follow us on Twitter and find us on both Facebook and Google+!