Five Thoughts: One Drop Breaks Record for Largest High Roller Ever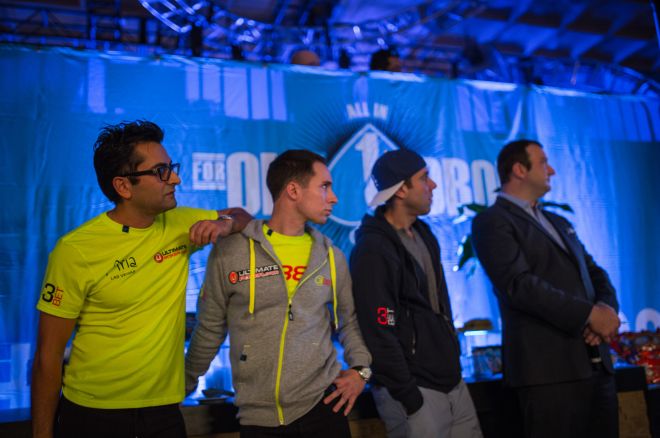 With 166 unique entrants, the $111,111 One Drop High Rollers event is officially the largest high roller of all time. Prior to this, the second installment of the One Drop at the World Series of Poker, the GuangDong Ltd. Asia Millions Main Event (about $130,000) was the largest high roller, with 71 unique players and 54 reentries. And, even though the GDAM had a larger buy-in, the One Drop generated a larger prize pool ($17,891,148) by over two million dollars.
The 166 players also raised a total of $553,278 for One Drop, and the WSOP is almost halfway to its goal of $1,111,111 for the summer.
Day 1 certainly wasn't as spectacular as Day 1 of the Big One for One Drop in 2012, but there was a special buzz in the Amazon Room, despite a few key omissions.
1. One Drop
There were no Cirque du Soleil performers present to kick of the festivities, nor were the players announced by Jack Effel, yet still the Amazon Room was electric on Wednesday. Very few things get poker players excited to play poker, and one of them is big buy-in events with big first-place prizes.
The $4,830,619 first-place prize in the One Drop is the 19th-largest prize in the history of the WSOP, and the largest non-Main Event/Big One prize in history. Five players will earn a minimum of $ 1 million, and each member of the final table will earn roughly half of a million dollars.
With this amount of money at stake, the event attracted not only the best players in the game, but several other players taking shots (Trevor Pope, Steve Gross, and Joe Kuether) and wealthy businessmen who are allured by both the challenge and the charitable nature of the event (Farshad Fardad, Richard Fullerton, and Bill Perkins).
Even two of Full Tilt Poker's Professionals (Tom Dwan and Gus Hansen) made their way down to the Rio to play, but unfortunately for Dwan he was handed a horrific beat by the end-of-day-one chip leader Brandon Steven.
There were two notable omissions from the One Drop event: Guy Laliberté and Phil Hellmuth. With Cirque du Soleil's Michael Jackson: One opening on Saturday at Mandalay Bay Resort & Casino, it's widely speculated that Laliberté is tied up with the show. There are also rumors that he will appear on Friday for the "shuffle up and deal" at the official final table.
As for Hellmuth, he fired off this Tweet after registration was closed on Wednesday:
Yep, It's true, I skipped #WSOP One Drop Tourn today. I LOVE "One Drop Charity" and will continue to support it, but wasn't feeling it

— phil_hellmuth (@phil_hellmuth)
This is the second major WSOP event Hellmuth has skipped the last two months, as he opted not to buy into the WSOP National Championship. As the golden boy of the WSOP and the owner of the most bracelets, it's very disappointing to not have Hellmuth in the field. I am sure if this event was going to be televised on ESPN the Poker Brat would've reconsidered. Maybe chasing bracelets isn't truly Hellmuth's M.O.
WSOP Executive Director Ty Stewart was very proud of the work they've done in preparation for this event, and had a little fun with us on the PokerNews Podcast. The entire WSOP staff should be happy with their work – this tournament will certainly be one for the ages.
2. Redemption for Lindgren and Madsen
Prior to winning bracelets in 2013, Jeff Madsen and Erick Lindgren were a combined 12 years removed from their last victory at the WSOP. In 2006, a 21-year old Madsen won two bracelets, earning him Player of the Year honors, and in 2008, Lindgren removed himself from the "best to never win a bracelet" category by taking down a $5,000 Mixed Hold'em event. He too went on to win the Player of the Year. Since that time, Lindgren has made two final tables, while Madsen made one final table and bubbled another.
To add insult to injury, Lindgren's financial troubles were spotlighted entering the 2012 WSOP, and his image was temporarily damaged. He wanted nothing to do with the media, grinding silently throughout the summer, and when he wasn't in a bracelet event (he only cashed three times) he was tucked away in the cash game area, doing his best to grind back what he had lost. E-Dog was no longer the all-American, easy-going, always-smiling guy that everyone was extremely happy for when he ripped the metaphorical monkey off of his back in 2008.
Now, at the 2013 WSOP, Lindgren is a completely different person once again.
In one of the first tournaments I covered, he made his way over to our PokerNews Live Reporting desk to ask if he could charge his phone.
"Thanks," he said with a smile on his face when my colleague and I obliged. "Oh, and if my cousin texts with another bad beat story, just ignore it."
It was the most Erick Lindgren thing Erick Lindgren had said since he used to actually be Erick Lindgren.
E-Dog has publically admitted to going to rehab, and it is very apparent that it has had a positive effect on him. The most noticeable thing is not Lindgren's overall jolliness though; it's his openness when it comes to the issue. Thanks to Haralabos Voulgaris and some members of the TwoPlusTwo community, the information is public. There is nothing to hide from.
It seems as if the positive vibes are pushing Lindgren. Just before the WSOP, he finished runner-up in the Season XI World Poker Tour World Championship ($650,275), and here at the Rio he's cashed five times and won his second career bracelet. E-Dog took down Event #32: $5,000 No-Limit Hold'em (Six Handed), earning $606,317. He now has over $1.3 million earnings in 2013, and was joined by Kristy Arnett shortly after to talk about the win:
This is the third-most profitable year of Lindgren's career thus far, and with one or two more six-figure scores, he could potentially surpass his best year (2006, $1,647,085).
Madsen earned his third career bracelet in Event #35: $3,000 Pot-Limit Omaha, defeating a tough final table that featured fellow bracelet winner Scott Clements. No one was able to slow down Madsen, however, and the only time he relinquished the chip lead on the third and final day was at the start of heads-up play. He quickly pushed out in front of Douglas Corning and on the 147th hand of the official final table, Madsen sealed the deal.
After the win, Madsen did an "Aoki Jump with DJ Steve Aoki, which you can see here.
Madsen had a very energetic rail that featured his mother and father, and the Mothership was all smiles once the final river card hit the felt. With the win, Madsen now has slightly under four million dollars in career live tournament earnings. He also became the fourth former WSOP Player of the Year to win a bracelet in 2013 (Lindgren, Daniel Negreanu and Tom Schneider are the other three), and seven of the nine former POY's have made official final tables this year.
The only two who have failed to do so are cash game grinders Ben Lamb and Greg Merson.
3. Jesse Martin Finally Tastes Gold
After reaching double-digit Day 3's and a handful of final tables without being able to win a bracelet, Jesse Martin finally captured the gold in Event #43: $10,000 No-Limit 2-7 Draw Lowball. Martin topped a field of 87 of the best players in the world, including runner-up David "Bakes" Baker, to take home $253,524. It was Martin's second-largest career score — he earned $289,740 for winning the Five Star World Poker Classic in 2007.
Martin entered the final table second in chips, but took a hit during Level 19 and plummeted down below 30 big blinds. He proceeded to storm back, doubling through Jeff Lisandro then eliminating Layne Flack (sixth), Konstantin Puchkov (third), and finally Baker.
Martin has come a long way, and was quite emotional in his winner's interview with Lynn Gilmartin:
It's always refreshing to see players who really care about winning a bracelet. There are so many given away every year now with Australia and Europe, and the value is clearly starting to decrease, but it is still a defining moment in any player's career. Last year, when Leif Force won the half no-limit hold'em, half pot-limit Omaha heads-up event, he was annoyingly nonchalant about it. Meanwhile, there are players like Martin who understand the importance and the history of the bracelet and can actually appreciate what it means to win one.
I'm not saying that tears are mandatory, but show a little bit of emotion. It never hurt anybody to be happy and smile a little bit.
Another player who showed a bit of emotion this week was Jared "TheWacoKidd" Hamby. Hamby captured his first bracelet as well, and like Martin he was unafraid to wear his emotions on his sleeve.
Congratulations to both Martin and Hamby on winning their first bracelets, and thanks for showing a little passion. These moments, as frequent as they come, should still be special.
4. Canada Continues to Dominate
The World Series of Canadian Dominance continued this week as two more neighbors from the North won bracelets. Justin Oliver took down Event #38: $2,500 No-Limit Hold'em (Four Handed), and on the same day, Daniel Idema took down Event #39: $1,500 Seven-Card Stud Hi-Low 8-or-Better. This marks nine bracelets for Canada at the 2013 WSOP, and 10 if you include Negreanu's win in the World Series of Poker Asia-Pacific Main Event.
It also means that we can officially check off number eight on the 2013 predictions list. Thus far, four of the 10 predictions have already come true. Thank you Scott Seiver, Dan Shak, and of course, Paul Volpe.
While I didn't cover Oliver's win, I watched Idema win his second career bracelet. Idema entered the final table of Event #39 fifth in chips, but quickly scooped American Feu Chu with aces-up. The Canadian flat lined for a little bit, coasting to the final table as Joseph Hertzog and Raul Paez battled it out. Finally, after showing him a big bluff, Hertzog busted Paez in third place.
Hertzog started running over Idema during heads-up play, and Idema was down to less than four big bets at one point. Idema was folding big hands, not wanting to just get all of the chips in, and while he was wading through rough waters, Greg Mueller cheered him on.
"You're making great folds, Danny," Mueller told him.
Idema was waiting for his heater, and it came in the 281st hand at the final table. Idema doubled with a six-high straight, then evened the stacks when Hertzog bricked a flush draw. During the comeback, both players were taking double shots of Jägmeister, which Hertzog seemed to regret when suddenly he was the short-stacked player.
Finally, Idema ended it with a pair of kings, earning $184,590 and bracelet number two.
Idema was humble in his victory, and very appreciative of his last rush of cards:
Congratulations to Idema, and to all of the Canadians who have crushed here in the #YearofCanada.
5. Team Waxman Out to a Big Lead
Thanks to big performances from David "Bakes" Baker and Jon "PearlJammer" Turner in Event #43, Team Waxman has jumped out to a sizable lead in the $25,000 Fantasy League.
| Place | Team | Points |
| --- | --- | --- |
| 1 | Team Waxman | 663 |
| 2 | Team Gorodinsky | 405 |
| 3 | Team Hastings | 346 |
| 4 | Team Mercier | 345 |
| 5 | Team Brunson | 321 |
| 6 | Team Russia | 288 |
| 7 | Team Alaei | 253 |
| 8 | Team Negreanu | 233 |
| 9 | Team Katchalov | 207 |
| 10 | Team Katz | 164 |
| 11 | Team Glantz | 163 |
| 12 | Team Fleyshman | 147 |
| 13 | Team Timex | 147 |
| 14 | Team Kenney | 103 |
Baker (212) now leads the entire league in points scored, edging out Dan Kelly (183). Only eight other players are in six figures, including Scott Clements (155), Greg Mueller (129), Jesse Martin (118), Jeff Lisandro (117), Konstantin Puchkov (107), Lindgren (103) and Mike Leah (100).
Four of the players on that list made the final table of the 2-7 World Championship event.
Lisandro's big cash pushed Team Brunson up the charts, but Team Alaei, which has been lurking, has also climbed the standings. David Bach finished runner-up in Event #33: $2,500 Seven-Card Razz, and now has 71 points, while Robert Mizrachi is also up to 70 points thanks to a third-place finish in Event #25: $5,000 Omaha Hi-Low 8-or-Better.
With the One Drop still running, and several fantasy players still alive, there is sure to be a shake up within the standings in the near future.
Be sure to follow our Live Reporting page for continuing coverage of every event at the 2013 World Series of Poker, and follow PokerNews on Twitter for up-to-the-minute news.