Five Thoughts: The Passing of Jerry Buss, the WSOP Schedule, and More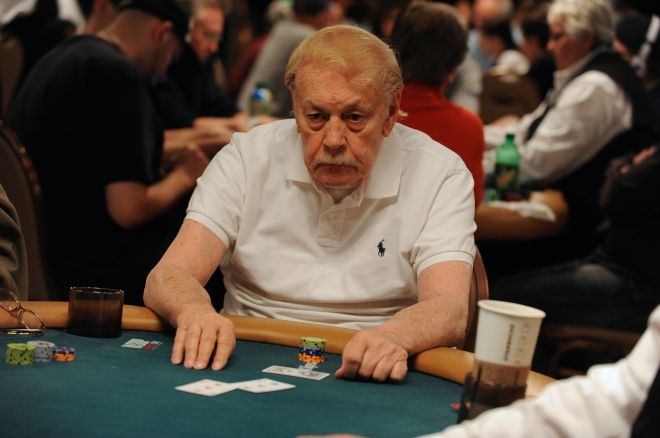 On Monday, Los Angeles Lakers owner Jerry Buss died of kidney failure, according to longtime friend and assistant Bob Steiner. Buss, who turned 80 in January, was hospitalized on Thursday with an "undisclosed cancer," which he had been receiving treatment for over the past 18 months.
Most of the world knew Buss as the owner of the Lakers, winning ten NBA championships in the 34 years he owned the team, but he was a great ambassador for the poker community as well. Buss competed in some of the largest cash games on the West Coast, and played in several World Series of Poker events, including the $2,500 Seven-Card Stud event he finished third in during the 1991 WSOP. Buss loved to play poker, and as soon as the Lakers were eliminated from the playoffs (sometimes sooner), you could find him in Las Vegas, battling for a bracelet.
Several members of the poker world took to Twitter during the day to offer their condolences to Buss and his family. Doyle Brunson, who was nearly a member of the Lakers in 1954, offered a few stories, and this one was my favorite:
I was supposedly the Lakers #1 draft pick in 1954 until I broke my leg. I asked Dr Buss if they had any old clips of me?

— Doyle Brunson (@TexDolly)
In 2011, Buss joined the PokerNews Podcast for a short interview.
1. Remembering Jerry Buss
The PokerNews Podcast embarked on it's maiden voyage at the 2011 WSOP. Ambitious as ever, we decided to do live shows every weekday, which was very draining, particularly once we hit the dog days of summer. The most difficult part of producing the podcast was trying to book guests for a live show that records at 11 a.m. Very few players come to the Rio on time for the start of noon tournaments, let alone 15 or 30 minutes early to do an interview.
On Friday June 24, we decided to have a "free-for-all." We didn't book any guests, rather we figured we would send Elaine Chaivarlis out into the hallway to wrangle a player or two. Our own Matthew Parvis, who was the host at the time, was able to grab Seth Palansky to talk about the recent Big One for One Drop announcement and the success of the Daily Deepstacks. Everything was going great — Palansky is as media savvy as they come — and then all of a sudden the door to the Chorro Room creaked open.
Mid-sentence, Parvis looked over his shoulder to see who Chaivarlis had grabbed. I too looked over, expecting to see a young 20-something with a hood on, and was shocked to see the owner of the Lakers slowly making his way into the room. Buss made his way to the table, sat down, put his headset on, and greeted the three of us with a smile.
For the first 10 seconds or so, Parvis looked and sounded a bit nervous, but his nervousness left quickly. Buss was engaging. He wanted to be there. He loved to talk about poker and the WSOP. Palansky quickly jumped into the conversation and jokingly tried to recruit Buss for the One Drop. Buss praised Palansky and the WSOP for their ambitious endeavors, but politely declined.
Buss was only able to talk for 15 minutes or so, but everything he said was captivating. It felt like an hour-long interview. Before he left, he informed us why he accepted Chaivarlis' invite to join the podcast.
"I did the broadcast for you because I'm always on PokerNews.com," he said, laughing. "This is the least I could do to pay for all of the pleasure I've derived from you people."
Buss removed his headset and exited the room, and if you go back and listen to the episode, there are a few seconds of radio silence. Parvis and I were paralyzed by Buss' kindness. He didn't have to say that, nor did he have to appear on our little podcast, but he did, willingly and happily.
I'll never forget that day, and how overly kind Buss was. From perusing my Twitter feed on Monday, I can tell that he was just as nice on the felt. He will surely be missed, and was an exceptional ambassador for the poker world.
Rest in peace, Dr. Buss.
2. The 2013 WSOP Schedule
On Thursday, Caesars Interactive Entertainment released the 2013 WSOP schedule. On Monday, we published reactions from some of the best players in the world, and they were mostly positive, but there were certainly a few critiques.
The one change that everybody is in favor of is the buy-in for the Ladies Event. The buy-in is now $10,000, but female players will receive a $9,000 discount. I neither have a law degree nor have I passed the bar examination in the state of Nevada, but I think it's safe to assume that Caesars did some research before making this change. So, as long as it's legal, I'm completely in favor of this decision. For years, the WSOP operated on the honor system, politely asking men not to compete in the Ladies Event. Countless men opted to ignore this request, and instead crashed the party. Finally, the WSOP has found a way to legally punish men who want to play in the Ladies Event.
That being said, the men who decide to play this year (yes, that's plural) should not be heckled — they should be welcomed! From a value standpoint, the ladies should be rooting for a few bone-headed men to pay 10 times the buy-in. This won't be the case however, very few if any women would ever cheer for a man to enter the Ladies Event, but there will certainly be a man or two in the tournament.
The other great change is the addition of the $111,111 One Drop High Roller event. High rollers and super high rollers have become a norm on the tournament circuit, and this is sure to be one of the most exciting tournaments of the summer.
The most disappointing part of the 2013 WSOP schedule is the lack of World Championship events. In 2012, the WSOP axed the $10,000 Limit Hold'em, Omaha Eight-or-Better, Stud and Stud Eight-or-Better World Championship events. This year, they eliminated the $10,000 H.O.R.S.E., Pot-Limit Hold'em and Six-Handed No-Limit World Championship events. Pot-Limit Omaha and No-Limit 2-7 Single Draw are the only non-hold'em disciplines that have championship events.
All of these events have been reduced to a $5,000 buy-in, except for the Six-Max which is now $25,000, the Stud Hi, which is now $2,500, and the Limit Hold'em, which has been eliminated completely. There are only two limit-hold'em tournaments scheduled for the 2013 WSOP, which means Matt Matros' bid to win a bracelet in four straight years is in jeopardy:
I'm a very sad poker player tonight. Three Limit HE events (counting Mixed as Limit) taken off the schedule for 2013. #wsop

— Matt Matros (@Matt_Matros)
I understand that the WSOP needs to make money, and reducing the $10,000 buy-ins to $5,000 will increase both the fields and the prize pool, but the mystique of the championship events is irreplaceable. In a perfect world, the WSOP would keep the $10,000 World Championship events for each discipline, and offer a $1,500 variant as well to help grow the games. This is of course impossible, because it would disrupt the no-limit-heavy schedule.
For the most part, the WSOP has provided yet another strong schedule, and I am very excited to head out to Las Vegas this summer, but the World Championship events will be missed.
3. Parx Big Stax Series Wraps Up
On Tuesday morning, Robert Boyko and Patrick Halter chopped the Parx Big Stax $1,500 Main Event. Both players received $134,269, but Boyko was named the champion and awarded the trophy because he held more chips when heads-up play began.
Parx Big Stax Main Event Final Table
| Place | Player | Prize |
| --- | --- | --- |
| 1st | Robert Boyko | $134,269* |
| 2nd | Patrick Halter | $134,269* |
| 3rd | Vinny Napolitano | $71,086 |
| 4th | Michael Dentale | $52,656 |
| 5th | Melad Marji | $39,492 |
| 6th | James Anderson | $31,594 |
| 7th | Barry Dehlin | $26,328 |
| 8th | Vinny Ha | $21,063 |
| 9th | Mark Wahba | $15,797 |
| 10th | Andrew Rosskamm | $11,509 |
*Denotes a two-player deal
Halter and Boyko struck a deal after the elimination of Vinny Napolitano. According to the Parx Poker Blog, Napolitano moved all in with pocket nines and was called by Boyko, who held
. The flop fell
, giving Boyko two pair and Napolitano a gutshot straight draw, but the turn and river were both bricks.
For both Boyko and Halter this is the biggest score of their poker careers. Boyko's previous largest score came in 2007, when he finished third in a $3,000 Mega Stack Challenge event for $50,154. Halter finished 155th in the 2012 WSOP Main Event, earning $52,718 for his efforts.
Both Matt Glantz and Parx Casino deserve a lot of credit for this overly successful poker series. I was fortunate enough to (misfire) two bullets in the Main Event, and everyone I played with was extremely pleased with how the tournament was ran. The structure was great, offering a lot of room for play on Day 1, and the re-entry wrinkle was very exciting. Players were welcomed to play all of the Day 1's, and if they advanced more than once, their largest stack was carried over into Day 2. Also, players were allowed to re-enter unlimited times on Day 1, and every time you re-entered, you received a fresh 50,000-chip stack. This was great for two reasons: it attracted professionals to play in the event, and it beefed up the prize pool.
Being a player, Glantz knows that's good #forthegame. The casino's proximity to Philadelphia International Airport will lead to big opportunities in the future, and the Parx Poker Blog hinted at another tournament series in the near future:
"Expect an announcement on when our next major series takes place in the coming weeks!"
The Parx Poker Room is on the rise, and I can't wait to hear what Glantz and the rest of the staff have in store for the future.
4. Tuthill Takes Home Gold Ring
David Tuthill took down the 2012-13 World Series of Poker Circuit Caesars Palace Las Vegas Main Event on Monday evening. Tuthill bested AP Phahurat heads up, earning $223,197, the a WSOPC gold ring, and a seat in the WSOP Circuit National Championship presented by Southern Comfort 100 Proof at Harrah's New Orleans.
Final Table Results
| Place | Player | Prize |
| --- | --- | --- |
| 1 | David Tuthill | $223,197 |
| 2 | AP Phahurat | $137,603 |
| 3 | Shaun Suller | $101,444 |
| 4 | Fabio Coppola | $75,609 |
| 5 | Brian Kay | $57,106 |
| 6 | Jeff Fielder | $43,691 |
| 7 | Ping Liu | $33,848 |
| 8 | Steve Goldbert | $26,550 |
| 9 | Salvatore Dicarlo | $21,018 |
Entering into the final table, the biggest story was chip leader Jeff Fielder. Fielder took down the WSOPC Choctaw Main Event on Jan. 21, earning $312,080, and was looking for his second Main Event win of the season. Unfortunately for Fielder, he exited in sixth place. According to the WSOP live reporting staff, with the blinds at 40,000/80,000/10,000, Fielder started to lose a handful of pots. In his elimination hand, Shaun Suller limped in from the small blind, and Fielder raised to 200,000. Suller re-raised to 360,000, and Fielder called. The flop fell
, and Suller moved all in. Fielder called, putting himself at risk, and Suller tabled
for top pair and the nut flush draw. Fielder showed
for a pair of queens and a lesser flush draw, and Suller held as the turn and river came
,
respectively.
Ping Liu was another interesting player at the final table. Liu has played in four WSOPC Main Events this season and made three Day 3's, but unfortunately he couldn't close again. He exited in seventh place, earning $33,848.
Tuthil and Phahurat reached heads-up play in Level 33, and ended just before the start of Level 34. The two got it in on a flop of
, Tuthill holding
for a royal flush draw and Phahurat holding
for a smaller flush draw and a wheel draw, but the turn and river bricked
,
respectively. Phahurat earned $137,603 for his finish, and both players took to Twitter after the match ended:
I kept showing up at noon and the hard work paid off @nevermissmassey thx every1 so much for the love & support! I'll win one eventually ;)

— AP Alex Phahurat (@LegitAP47)
This is Tuthill's second six-figure score – he finished fourth in a $1,500 event at the 2010 WSOP for $160,650. Phahurat, who won the 2012 Chad Brown Poker Challenge for $116,492, also added a second six-figure score to his poker résumé.
It's great to see circuit regulars like Fielder, Liu, and Phahurat have success in one of the premiere WSOPC Main Events. It will be interesting to see if Fielder can keep steamrolling fields en route to the National Championship in May, and if Liu or Phahurat can qualify for the bracelet event. Their next chance to do so will be at the Palm Beach Kennel Club in Palm Beach, Florida. Preliminary events are already underway, and the Main Event begins on Saturday Feb. 23 at 11 a.m. ET. Myself and Josh Cahlik will be representing the PokerNews Live Reporting Team, and we can't wait to bring you all of the action from the tournament floor!
5. PokerStars Sunday Million Anniversary
It's that time of the year to be really upset with the United States government!
To celebrate the seventh anniversary of the Sunday Million on March 3, PokerStars is guaranteeing a $7,000,000 prize pool. The winner of the massive celebration will earn a minimum of $1,000,000, but if history is any indication of what's to come, there will be a chop at the final table.
If the $215 buy-in is too large for your bankroll, don't worry. Satellites are running at a rapid pace, and you can qualify for as little as 750 Frequent Player Points (FPPs) or up to $110. There is a mega, $11 buy-in 1,000-seat guaranteed deadline satellite that will run on the day of the event.
When I read this announcement, I almost ran straight to the Canadian border from New Jersey. Unfortunately, I am out of shape, and probably wouldn't make it past the end of the block. This is the type of tournament where everybody with a PokerStars account has to play; regardless of how much money they have in their account. The value is just too high. Likewise, if you have a lot of money in your PokerStars account, then staking a lot of players in this lottery is an awesome sweat. As an American, this may be my only way to get in on the action.
Unfortunately, I will be left sweating this on my laptop, occasionally agreeing to the PokerStars pop up that tells me I'm not allowed to play for real money. I've clicked the box 700 times by now. I know that I'm not allowed to play. Stop torturing me.
Good luck to everybody as they try to satellite in, and on the day of the event. This is one of the most exciting tournaments of the year, and I'll be rooting for whichever micro stakes grinder "wonts million."
Get all the latest PokerNews updates on your social media outlets. Follow us on Twitter and find us both Facebook and Google+.