Five Thoughts: Let's partypoker Like It's 2006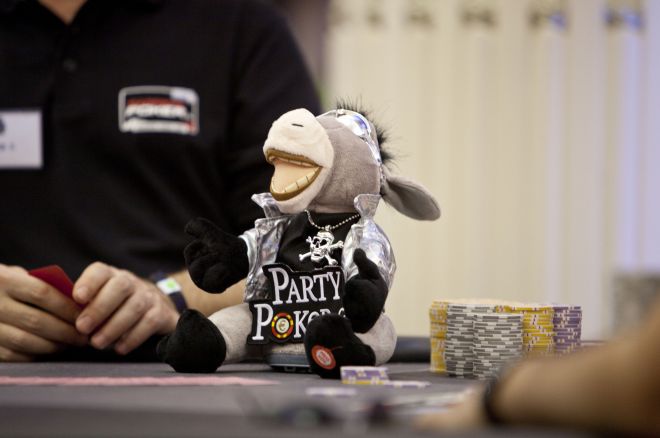 On Friday, the New Jersey Division of Gaming Enforcement released a list of approved technology partners that will be allowed to "engage in Internet gaming activities" when the market launches on Nov. 26.
The writing was on the proverbial wall for Caesars Interactive Entertainment, 888, and Ultimate Poker, who were all strong favorites to receive a license, but bwin.party was also approved by the DGE along with Betfair and Amaya Gaming. All of these operations will be eligible to participate in the "soft launch" trial period starting on Nov. 21.
In order to get the bwin.party application approved, Ruth Parasol DeLeon and James Russell DeLeon agreed to sell their shares of 7.16 percent each. The two are in the middle of a divorce, and will place their shares into divestiture trusts, where they will be sold over the next 36 months.
PokerStars, the world's leading online poker site, was not listed. A spokesperson for the DGE said that PokerStars and other companies who didn't appear on the initial list could still attain a permit before the launch. The next list will be released on Friday, Nov. 15.
Rational Group Head of Corporate Communications Eric Hollreiser told PokerNews that the application remains under review by the DGE.
"We remain committed to working with the Division to complete the review process," Hollreiser said on Friday.
We will wait until next week to see if PokerStars is welcomed back to the "land of the free," but in the meantime let's focus on the pending return of partypoker, a site that exited the United States market well before the nightmares of Black Friday.
1. Let's Party Like It's 2006
In 2006, in an effort to cement himself as a favorite among uber-conservatives in the 2008 Presidential election, Bill Frist slipped the Unlawful Internet Gaming Enforcement Act (UIGEA) into the Security and Accountability for Every Port (SAFE) Act. The SAFE Act was a "must pass" bill that focused on anti-terrorism and had nothing to do with online poker or online gaming.
PokerStars and Full Tilt Poker didn't bat an eye when the SAFE Act and, subsequently, UIGEA were passed, running their respective sites in the U.S. until April 15, 2011. Partypoker saw the writing on the wall, however, and exited the U.S. market.
Two years later, on Dec. 16, 2008, PartyGaming co-founder Anurag Dikshit agreed to a plea deal with the United States Department of Justice, agreeing to pay the U.S. a total fine of $300 million for violating the 1961 Wire Act. Another two years passed, and on July 29, 2010, PartyGaming merged with Bwin to form bwin.party, the world's largest listed online gaming business worth over $3 billion.
From there, the company waited. And waited. And waited. It's clear that Dikshit and his associates believed that exiting the U.S. market and cutting a deal with the DOJ would pay dividends, but for several years they just sat on the sidelines while PokerStars and Full Tilt Poker continued to rake money from the richest country in the world.
On Black Friday, online poker was unceremoniously shut down in America, and PokerStars and Full Tilt Poker finally joined partypoker on the sidelines. Together, the three would wait. And wait. And wait.
Like PartyGaming, Rational Group cut a deal with the DOJ, acquiring Full Tilt Poker's assets agreeing to pay the U.S. government $547 million on top of the $184 million owed to Full Tilt Poker users. This is $431 million more than PartyGaming paid in 2008, and in the aftermath of Black Friday, Rational Group is seen as an enemy among land-based casinos in the U.S.
In March of this year, the American Gaming Association (AGA) filed a brief with the NJ DGE when news broke about Rational Group purchasing The Atlantic Club in Atlantic City, New Jersey. The AGA opposed PokerStars, and urged the DGE to bar the company from operating in the Garden State because of the company's "alleged use of deceit, trickery, and other illegal tactics."
It's clear that the AGA and other land-based casino lobbyists aren't really worried about deceit and trickery; they're more concerned about PokerStars' domination in the market. However, because PokerStars operated until Black Friday, the argument can and will be used against them. The people running the show at Rational Group knew that operating after the UIGEA passed was a calculated risk, and we will see in the near future whether or not their "trickery" has long-lasting, adverse affects.
My guess is no — New Jersey is a buzz word around PokerStars employees, and everyone I talk too seems overly excited about the prospects of online poker in the U.S. going forward — but we shall certainly see.
The AGA hasn't said a peep about bwin.party, and finally, after seven years of waiting, partypoker will return to the U.S. in two short weeks. In preparation for the re-launch, the World Poker Tour, a bwin.party brand, moved the WPT World Championship to the Borgata Hotel & Casino, bwin.party's partner in New Jersey. The championship event, which will take place in May of 2014, will most certainly feature online qualifiers from the U.S.
Was it all worth it? Will PartyGaming's overly cautious exit pay off?
In a vacuum, I think it's fair to say that partypoker's plan worked. They are a forward-thinking company that knew it would be easier to reenter the U.S. market if they got out of dodge before the feds came knocking. They ended up paying nearly half a billion dollars less than Rational Group in fines (although PokerStars made a lot more money during that timeframe than partypoker), and their return to the U.S. seems to have been completed without many complications.
Everything that the company wanted to happen did, except one last thing is still up in the air — the future of PokerStars. I have to imagine partypoker anticipated that the U.S. government would exclude Rational Group and any other company that ignored UIGEA, or else they too would've operated up until Black Friday.
Now, bwin.party joins the ranks of land-based casinos in the U.S. anti-sweating the DGE's decision regarding Rational Group.
2. New York Votes to Expand Casino Gambling
On Tuesday of last week, New York voters approved a constitutional amendment to expand casino gambling in the Empire State. Up to seven full-scale casinos could be built in the state, with the first four coming in the Albany area, the Catskills-Hudson Valley region, and the Southern Tier, an area along the northern border of Pennsylvania.
The proposal, championed by Gov. Andrew M. Cuomo, was supported by 57 percent of voters.
New York is following Pennsylvania, Massachusetts, and Maryland's leads when it comes to casino gaming. Pennsylvania expanded casino gaming to include table games in 2010, and since then the state has surpassed New Jersey in gaming revenue. Properties like PARX Casino and Racing are more appealing to Pennsylvanians and northern New Jersey residents who don't want to drive all the way down to Atlantic City.
With Massachusetts, Maryland, and now New York joining the party, the "gaming pie" will be cut into smaller and smaller pieces, but the prospects of Internet gaming are very intriguing. According to the 2010 U.S. Census, New Jersey, Nevada, and Delaware, the three states with legal online gaming, have a combined population of roughly 12.5 million people, with over 8.8 million coming from New Jersey.
New York's population alone is 19.57 million, and combined with Maryland, Massachusetts, and Pennsylvania, the four states could bring over 44.8 million potential customers into the conversation.
Federally approved online gambling is a long shot, so, as Americans, our best chance at a large player pool is interstate online gambling. California, the country's most populated state (33.871 million people, two million less than Canada) is the ultimate x-factor in the equation, but there's a strong possibility that they will focus exclusively on intrastate gambling.
With the pending launch in New Jersey, the future appears to be very bright. As casino gaming on the East Coast continues to expand, hopefully a pact will develop, and online poker can return to a state of normalcy in the, again, "land of the free." Last week's vote in New York is a big step in that direction.
3. Josh Reichard Wins PokerNews MSPT Ho-Chunk, Bracelet Winner at Final Table
The PokerNews Mid-States Poker Tour Ho-Chunk Gaming came to a conclusion on Sunday night in Dells, Wisconsin, and topping the 305-player field was Josh Reichard. Reichard defeated fellow Wisconsin Mark Borns heads up to take home the $78,003 first-place prize. Borns earned $42,681 for his efforts.
Five of the nine members of the final table represented the Badger State, including PokerNews Senior Editor and 2013 World Series of Poker bracelet winner Chad Holloway.
Again, that's 2013 World Series of Poker bracelet winner, Chad Holloway. That will never get old.
MSPT Ho-Chunk Final Table Results
| Place | Player | Hometown | Prize |
| --- | --- | --- | --- |
| 1st | Joshua Reichard | Beloit, WI | $78,003 |
| 2nd | Mark Borns | Madison, WI | $42,681 |
| 3rd | Miroslav Semanisin | Wisconsin Dells, WI | $28,258 |
| 4th | Robbie WazWaz | Brooklyn Park, MN | $19,133 |
| 5th | Chad Holloway | Reedsburg, WI | $14,718 |
| 6th | John Hayes | St. Paul, MN | $11,774 |
| 7th | Brett Kuznia | Stephen, MN | $10,302 |
| 8th | Brian Smith | Rhinelander, WI | $8,823 |
| 9th | Jason Seitz | Forest Lake, MN | $7,359 |
Holloway was absolutely robbed of a second victory in 2013 (that isn't bias, right?) when he three-bet all in with A♥K♥. Rob WazWaz, the original raiser, called with Ax10x, and somehow spiked a ten on the flop. The turn and river both produced bricks, and Holloway, who was playing at his home casino, walked away with $14,718 for fifth place.
Busted in 5th place for $14K or so. My AK<A10 AIPF. Disappointed but what can you do. Very pleased with my play throughout. #FB @msptpoker

— Chad Allan Holloway (@ChadAHolloway)
Holloway, who nearly made a final table in a side event at UKIPT London in October, currently ranks 21,877th in the Global Poker Index. He ranks No. 1 in our hearts at PokerNews.
Reichard entered heads-up play with a decisive advantage, and on the final hand he open-shoved with K♠J♠. Borns called with Q♠4♠, the board came 2♣6♣2♦8♠9♠, and that's all she wrote. The win was Reichard's second cash on the MSPT – he finished 15th in the very same event in 2012.
The MSPT continues in early December at Canterbury Park in Shakopee, Minnesota. Check out the MSPT website for more information.
4. Daniel Brits Defeats Fellow South African to Win WPT Emprers Palace Poker Classic
The World Poker Tour Emperors Palace Poker Classic at The Palace of Dreams in Johannesburg, South Africa concluded on Monday, and appropriately the last three players were all South African. In the end, Daniel Brits outlasted Eugene du Plessis and Rob Fenner, earning $132,128 and a spot on the WPT Champions Cup.
Dominik Nitsche, winner of the Season XI WPT Emperors Palace Poker Classic, also reached the final table, but fell in fourth place.
WPT Emperors Palace Poker Classic Results
| Place | Player | Prize |
| --- | --- | --- |
| 1st | Daniel Brits | $132,128 |
| 2nd | Eugene du Plessis | $92,708 |
| 3rd | Rob Fenner | $59,634 |
| 4th | Dominik Nitsche | $44,136 |
| 5th | Wesley Wiegand | $33,130 |
| 6th | Ronit Chamani | $26,504 |
Nitsche led the event heading into the penultimate day, and entered the final table with the third-largest stack. Unfortuately for the German, he found himself all in and at risk with A♦J♦ against the A♠Q♦ of Brits, and the dominant hand held up. Nitsche earned $44,136 for his efforts, and has earned over $1.7 million over the past two years, and slightly under $3 million since 2009. He ranks 11th on the German all-time money list, and 54th in the GPI. The latter is sure to change this week.
Fenner, who won the 2012 WSOP Circuit High Roller in South Africa for $97,000, exited in third place. He was all in and at risk with 10♥9♥ on a flop of Q♥7♣4♥, and held a larger flush draw than his opponent, du Plessis. Du Plessis held a pair with 7♥6♥ though, and a pair of sevens was good enough as the turn and river came 3♠, K♣ respectively.
Brits took a slight chip lead into heads-up play, and sealed the deal when du Plessis flopped another pair of sevens and a flush draw. This time he had J♦7♦ on a flop of Q♦7♠2♦, and Brits was basically flipping with Q♠8♦. Neither the 9♣ on the turn nor the Q♣ on the river improved du Plessis' hand, and Brits was crowned the champion.
While the 191-player field isn't overly impressive, this event is unique and good for the game. There is obviously a poker scene in South Africa, and the fact that three locals finished in the top three must be very exciting. Likewise, there were countless professional players on Twitter praising the venue and enjoying themselves on safaris and whatever else the city of Johannesburg had to offer. I would much rather see tours take chances in exotic locations, allowing their regular players to explore a fun region of the world while fostering local buzz, than another poker tournament pop up in a city, state or country that is already oversaturated.
5. WPT Partners with DraftKings
Full disclosure, DraftKings is a sponsor for PokerNews and notably my Pigskin Diaries, but no one contacted me or suggested that I write the following:
The WPT partnership with DraftKings is friggin' awesome, and the idea of winning a fantasy football satellite into a WPT event is equally superb.
.@DraftKings wants to send you to the WPT 5 Diamond Poker Classic @BellagioPoker. Qualifiers are running now. http://t.co/LX2iIisLKq

— World Poker Tour (@WPT)
On Nov. 24, DraftKings will run a $55 satellite into the WPT Five Diamond World Poker Classic, meaning a Calvin Johnson catch could result in someone becoming a member of the WPT Champions Club. Or worse, a Tony Romo interception could result in someone busting on the bubble, costing them a five-figure ticket into one of the more prestigious poker tournaments on the WPT schedule.
What would be worse, being Romo'd or having your aces cracked on the bubble of an actual poker tournament? I would like to think the former. Nobody want's to be Romo'd, even if it happens in a free-to-play fantasy football league.
There are $2 and $5 buy-in NBA and NFL super satellites to the $55 satellite running now. My apologies to everyone planning on buying directly into the $55 event, but I hope that a $2 super satellite winner eventually wins the Five Diamond – can you say Chris Moneymaker part deux?
Even if we don't get a Cinderella story from these satellites, all of the signs in the U.S. are pointing towards a second American poker boom. All we need now is for someone to light the fuse.
Get all the latest PokerNews updates on your social media outlets. Follow us on Twitter and find us on both Facebook and Google+!