Five Thoughts: Gruissem Goes Back-to-Back, Main Event Champ Sells Out, and More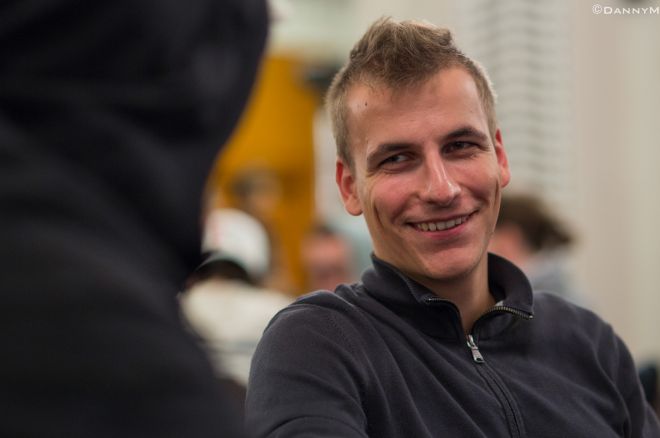 It's starting to get ridiculous.
In the second World Poker Tour Alpha8 event, held at the luxurious Palm Beach on Mayfair in London England, three of the four players that cashed were German. Philipp Gruissem won, earning £862,400 ($1,379,840), Tobias Reinkemeier finished third (£352,800/$564,480), and Igor Kurganov came in fourth (£235,200/$376,320).
Yes, for the purpose of this article, Kurganov will be referred to as German. Call it guilt by association.
It was the first Alpha8 that the Germans attended — they opted not to travel to the United States in August, skipping the inaugural event at the Seminole Hard Rock.
In the third event, held at the Royal Beach Casino in St. Kitts, only one German cashed, but Gruissem won. Again. The $1,086,400 first-place prize was his second seven-figure score in 20 days.
Over that 20-day span, Gruissem earned $2,466,240. That's $123,312 a day, $85.63 a minute, and $1.43 a second.
It's evident that Gruissem won't pocket everything he's earned, however. He, Renkemeier, Kurganov, and Fabian Quoss are known to swap large pieces of one another, and fellow German Max Altergott also played in the event. It's safe to assume he was amongst the swappers.
There's also Niklas Heinecker, who didn't attend the event, but is a very successful high-stakes online player. He took down the GuangDong Asia Millions Main Event earlier this year for over $4.4 million and likely has a piece of the German players in all high roller and super high roller events.
Combined, the six Germans have earned a mind-blowing $17 million in 2013 alone. That's good for seventh on the all-time money list.
For now, let's single out Gruissem, whose performance over the past few weeks puts him just over a million dollars short of 2011 World Series of Poker Main Event champion Pius Heinz for the top spot on the German all-time money list, and seventh on the European all-time money list.
1. More for Gruissem
In 2013 alone, Gruissem has won over $4.6 million. That's good for No. 4 on the 2013 money list, and Tony Gregg (No. 2) is the only non-November Niner ahead of him. Gregg won the WSOP One Drop High Roller, earning over $4.83 million.
Kurganov is the only other player in the top 10 of the 2013 money list without a two million-dollar score. Gruissem's largest came in St. Kitts, while Kurganov earned $1.069 million for his sixth-place finish in the GDAM Main Event. Reinkemeier (No. 12) also has over $3 million in earnings this year without a two million-dollar score — he finished runner-up to Sam Trickett in the 2013 Aussie Millions $250,000 Challenge, banking $1.319 million.
My favorite part of Gruissem's 2013 run is that his cashes are spread all around the world:
| Region | Prizes |
| --- | --- |
| Rest of World* | $1,307,827 |
| Europe | $1,789,202 |
| The Americas | $447,570 |
| Oceania | $1,060,802 |
*Asia is grouped among the "Rest of World" countries
Gruissem made the smallest splash in the "Americas," finishing fifth in the 2013 PokerStars Caribbean Adventure $100,000 Super High Roller for $400,700. He only cashed in one event on American soil, busting in 11th place in WSOP Event #57: $5,000 No-Limit Hold'em for $46,870.
The two crutch arguments against Gruissem's success are the "fraudulent" prize numbers and the small field sizes he is defeating. It's true that Gruissem, along with the rest of the Germans, tends to be pieced out in the big buy-in events, but so is every player not named Bill Perkins, Paul Newey, or Dan Shak. Swapping pieces and selling shares is paramount within the high-stakes MTT community — not doing so is financial suicide, unless you plan on running hotter than a Jamie Gold/Jerry Yang love child.
Let's assume Gruissem, after spreading his buy-ins out with his friends and swapping other pieces with other players, owns an eighth of the huge, $17 million total score we discussed earlier. This is pure speculation, and probably a little generous, but that would amount to $2.125 million. Even if you lower his share to a tenth, you still have $1.7 million, and that doesn't include the positive investments he's likely to have had in other players on the super high roller circuit. The Germans are making money, even if the amount isn't clear to the naked eye.
The field-size argument has more merit, and there are certainly some alleged "spots," but Gruissem is still competing with and beating great players, including his fellow German cohorts and Scott Seiver, who also cashed in the last two Alpha8 events. There is certainly a lot of variance involved in these relatively sit-n-go-type tournaments, but the man they call "philbort" isn't getting deep just because the cards are falling his way. It's a factor, but not the main factor.
I'm assuming that when PokerNews reviews 2013, the German domination, most notably Gruissem's back-to-back wins, will make the list, and deservedly so.
2. Riess' Pieces
On Friday, PokerNews reported that 2013 WSOP Main Event champion Ryan Riess was selling action to eight upcoming events, including two $100,000 buy-in tournaments and two $25,000 buy-in events, one of each will take place at the 2014 PCA and Aussie Millions.
Three days after the package was listed on Facebook, Riess sold out.
In the message, the champ wrote, "I put together a High Roller package for the PCA, Aussie Millions, and WPT World Championship. It includes 2-100ks, 2-25ks, 1-15k, and 3-10ks. I am selling the package at $3,250 for every 1%. If you may be interested in buying a piece please let me know. Thanks and good luck us!!"
Some quick math tells us that he is selling at a rate of 1.1:1, which had some members of TwoPlusTwo in stitches.
"Can I buy less than 0%?" one person trolled.
While he didn't point out Riess directly, Shaun Deeb tweeted his opinion on selling action in super high roller events:
I feel embarrassed for the poker community that people are buying packages for over 1.1 MU in SHR for people hat are losing players in it

— shaun deeb (@shaundeeb)
I've been pro-Riess since the "best player in the world" backlash, and, if it's possible, I'm even further in his corner now. Unlike the aforementioned Pius Heinz, who fell off the face of the Earth after winning the 2011 WSOP Main Event, Riess looks like he is going to follow in Jonathan Duhamel, Greg Raymer, and Joe Hachem's footsteps. I don't include Greg Merson in either category because he's a cash-game player, and while he isn't going to pop up at every spot on the circuit, he is still very relevant and has done a superb job as an ambassador for our game.
Unlike the aforementioned trio of Main Event winners turned circuit grinders, the world's leading online poker room didn't slap a patch on Riess and offer him a sponsorship, so selling shares is a must.
I believe in a free market, and if there are people willing to buy shares of Riess, or any other player, at a rate of 1.1-1 or higher, then so be it. It's the buyer's own money, and if they choose to invest in a player that they clearly believe in, that's their right. Also, if Riess can give himself a little bit of a security blanket by selling pieces of himself at markup, then more power to him.
More importantly, JC Alvarado and others get to see their wishes come true, for at least two events:
Obviously it won't be a large enough sample to see if "Riess is the best" or the "high-stakes MTT community is correct," but it will certainly be very fun to watch and cover.
3. Garden City Group Plans to Pay By Mar. 1, 2014
The deadline to submit petitions to the Garden City Group for Full Tilt Poker balances passed on Saturday. Players who did not file a petition during the two-month window provided by the GCG will not be able to claim their funds at a later date.
After the deadline passed, the GCG released a statement on www.FullTiltPokerClaims.com with information regarding payments:
"We are in the process of reviewing Petitions filed by Petitioners who confirmed their balances online and who have not disputed their FTP Account Balance or submitted multiple Petitions. We expect payments to be made with respect to such Petitions with confirmed balances by March 31, 2014."
Like most of you, I want to jump in the air and scream for joy because we finally have a date, which I will be calling "Money Monday" from this point forward. At the same time, I remain hesitant.
It's been two years, seven months, and four days since Black Friday. By the time Money Monday rolls around, it will have been just two weeks shy of three years since the day the poker industry changed forever. So many rumors and false predictions have been made over these past 950 days, making it hard to believe anything anybody says. It's natural to remain pessimistic.
We still don't know what will be honored and what won't. There are also issues of taxes. Will players who have previously paid taxes be subject to double–jeopardy? Or will players who have ignored taxes have to pay a fine on top of the taxes they owe on their remission? It's clear that the Department of Justice is going to try and get their greedy hands on as many pennies as possible.
According to a spokesperson for the U.S. Attorney's Office, the GCG received approximately 41,000 petitions as of Friday. Knowing poker players — not the most punctual bunch — there were several thousand more submitted on Saturday. Still, there were countless others that forgot (shame on them), were uninformed (shame on us), or didn't want to deal with the Internal Revenue Service.
I need more than my two hands to count the people close to me that didn't file for their remissions because they didn't want to deal with the IRS. Some of their balances were worth four figures.
So as one nightmare ends, another begins, except we know (hopefully) when this one will end as well. The GCG has done a solid job thus far, considering the position they were in, and I look forward to seeing their progress in the coming months.
4. Playing Within the Lines
Over the weekend, we learned that the New Jersey Department of Gaming Enforcement (DGE) may block New Jersey residents if they live too close to the state's border.
Like Nevada, New Jersey law requires verification that an Internet gaming customer is physically in the state before granting them access to their software, and there are "digital fences" in place on the state's borders. This will result in "no play zones" even within the Garden State.
"Unfortunately for some people, there may not be sufficient verification that they are in New Jersey — even if they are — and they'll be denied," David Rebuck, director of the DGE, told the Associated Press. "It's an unavoidable consequence."
That is not cool. When I am spending time in the U.S., I am usually at my parent's place in New Jersey. They live roughly six or seven miles away from the Delaware River, which borders New Jersey and Pennsylvania. We should be OK, but one of my good friends, whose house was the "grinding spot" during high school, is a literal stone's throw from the border. If he is in one of these "no play zones," then he won't be a happy camper.
Also, the northeastern cities and towns in New Jersey are extremely popular, yet they are very close to the New York border. Hopefully none of these "fences" cave in from the Hudson Tunnel or the George Washington Bridge.
One would think that in 2013 there would be enough software available to make sure that someone was actually in the state, but I understand that the DGE is trying to cover their butts. There will likely be people trying to cheat the system on virtual private networks — a system that allows you do scramble your IP address to match a desired area — and by using other tricky tactics. The last thing the DGE wants to encounter during online gaming's infancy in the Garden State is security issues.
Hopefully these fences will be pushed back after online gaming launches in New Jersey and the tracking software becomes more sophisticated. For now, I guess we need to try and fade one of these "no play zones."
5. Noah Boeken Wins Masters Classics of Poker
The 2013 Masters Classics of Poker came to a close over the weekend, and the winner was Dutchman Noah Boeken. Boeken earned €306,821 for taking down the €4,000 buy-in, 246-player event. He joins notable winners such as Surinder Sunar (inaugural event in 1993), Johan Storakers (2003), Robert Mizrachi (2004), and Ole Schemion (2012).
Joining Boeken at the final table were Andrew Chen and Rob Hollink,
2013 MCOP Final Table Results
| Place | Player | Prize |
| --- | --- | --- |
| 1 | Noah Boeken | €306,821 |
| 2 | Simon Persson | €182,913 |
| 3 | Clyde Terlaan | €105,027 |
| 4 | Luuk Gieles | €83,786 |
| 5 | Andrew Chen | €71,985 |
| 6 | Charlie Combes | €59,004 |
| 7 | Johan Verhagen | €47,203 |
| 8 | Rob Hollink | €35,403 |
| 9 | Dmitry Nemirovsky | €23,602 |
For Boeken, this is his first six-figure score since 2007, where he finished fourth in the Masters Classics of Poker. It's also the largest score of his career, bringing his career lifetime earnings up to $1.7 million and putting him at No. 8 on the Dutch all-time money list.
It's awesome to see Boeken get a big monkey off of his back in his home country of the Netherlands. He grinds so many events and is such a spirited individual that you can imagine a six-year drought without a big score had to have been eating at him. Likewise, Boeken is a player that always has a smile on his face, and when he asks you how you're day is going — he means it.
Congratulations, Noah!
We'll have much more on the iGaming launch in New Jersey this month. Get all the latest PokerNews updates on your social media outlets. Follow us on Twitter and find us on both Facebook and Google+!