Five Thoughts: The First Week of the 2013 World Series of Poker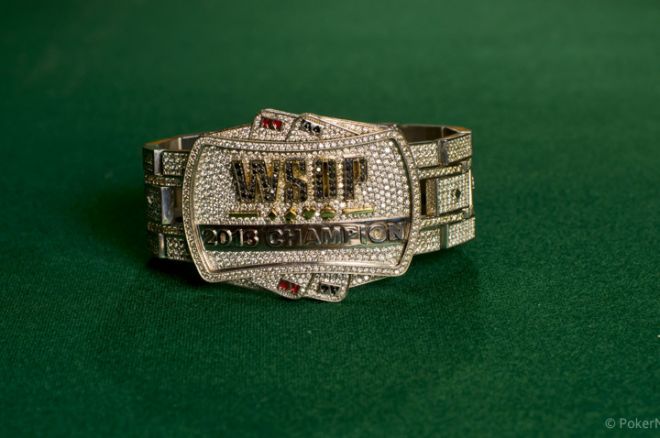 Each summer at the start of the World Series of Poker, I always stare at the empty calendar, wondering how on earth it could it top the previous year's installment. With this WSOP, the task is very tall.
In 2012, we saw Greg Merson win back-to-back tournaments, including the Main Event, to become the Player of the Year. Phil Hellmuth finally captured his 12th career bracelet, and it came in a non-hold'em event for the first time. Phil Ivey reached five final tables in the same week. Matt Matros won a third bracelet in as many years. Andy Bloch removed himself from the "best to never win a bracelet" list. Vanessa Selbst became the first woman to win an open event since 2008 when she won her first WSOP bracelet. And of course, there was the largest tournament in the history of poker, the $1,000,000 Big One for One Drop, which was won by Antonio Esfandiari.
Yes, the 43rd annual WSOP was one for the history books, but as they say, the beat goes on. There are new stories to be told and more bracelets to be awarded in 2013, and while the 44th annual WSOP is only a week old, there are already plenty of highlights to cover.
1. The Power of the Bird Shirt
During the 2011 WSOP Main Event on ESPN, there's a good chance you saw a hideous-looking button-up shirt with a neon-yellow bird and random splashes of blue on it. That was us, the PokerNews Live Reporting team. You're welcome.
One of our senior members, Chad Holloway, had this awful shirt, and someone decided that we should all take turns wearing it and try to get on T.V. During this Jake Cody hand on the bubble, you can see me wearing it on the right side if the screen. Here's a picture of our friend Adam Goulding wearing it on the rail.
The Bird Shirt is important within the PokerNews family, and last week the legend grew tenfold.
Wearing the Bird Shirt, Chad won Event #1: $500 Casino Employees No-Limit Hold'em, earning the first WSOP gold bracelet of the summer. It was incredible.
It still hasn't fully sunk in yet, and I don't think it has for Chad, either, but someday, perhaps years from now, we'll be able to look back and fully understand what actually happened that night.
During his run, it was impossible to concentrate on the event I was covering. Every time Chad was all-in, I would run to the Mothership from the Purple Section of the Amazon Room. The sweats were unbearable, and I didn't even have 1% of him. When heads-up play began, the event I was covering was on a break, so I hurried over to rail with some of my other PokerNews colleagues. In those 20 minutes, Chad and his opponent Allan Kwong played some big pots, including a hand that almost ended it. Chad shoved with a pair and an open-ended straight draw, and Kwong called with top pair. The turn gave Chad two pair, sending us into a frenzy, but the river gave Kwong a better two pair. It was gut-wrenching.
For the first time in the heads-up match, Chad was out-chipped, but he stormed back to take the lead. In the final hand, Kwong moved all in with ace-high on a flop with two queens, and Chad snapped it off holding trips. The turn was a sweat — it's always a sweat — and Kwong could make Broadway with a jack on the river, but the deuce changed nothing, and it was over.
Tears, laughter, hugs, high-fives, and whoops filled the next hour or so in the Amazon Room. Most all of the everyday media members were there to celebrate, and our own Sarah Grant sat down with Chad:
Being the Casino Employee's event, it's easy for this tournament to get lost in the shuffle, and a few weeks from now very few people outside of the poker media may remember that Chad won, but we won't. For us, that night will always be one of the most special nights in WSOP history. Bird Shirt and all.
2. The Millionaire Maker
When the Millionaire Maker was announced, the public response was mixed. Some thought that it was too gimmicky, and that the payout structure would be a mess, while others thought that it was a great way to jump-start the summer.
Whenever an event like this rolls around, players, fans, and media members alike always try to play oddsmaker and set a line. One of the more popular lines was 4,000 players, and several people "in the know" liked the under. Even some of the WSOP staff seemed to be lowballing the event, trying to temper expectations.
Before driving to Las Vegas, I overheard a group of individuals outside the Parx poker room talking about the Millionaire Maker. It wasn't that strange — in poker rooms there is often talk of poker, whether it be the EPT, WSOP etc. — but the group of people talking about it was older. They didn't look like grinders, rather they appeared to be weekend warriors.
Well, the Rio was a madhouse for Day 1 of Event #6: $1,500 "Millionaire Maker" No-Limit Hold'em, and all of the expectations were tossed out the window. A total of 6,343 players piled into the Brasilia, Pavilion, and Amazon Rooms, creating a prize pool of $8,563,050. The first-place prize wasn't one million dollars either — it was more.
Bad news, we lied about the @WSOP Millionaire Maker. Winner will actually get $1,198,827 - or 799 times their investment!

— Seth Palansky (@SethPalansky)
The Millionaire Maker will pay 648 places, min cash is $2,740. 2nd place gets $741,903 and top 9 spots get six-figure scores. #wsop

— Seth Palansky (@SethPalansky)
The gimmick worked. The tournament was the biggest single-day entry event in the history of poker, and it generated the largest non-Main Event prize pool in the history of the WSOP.
In the end, it was Canadian Benny Chen who took the event down, earning the massive seven-figure score after defeating Michael Bennington heads up. Joining Chen and Bennington at the final table were notable tournament pros Dan Kelly and Chris Hunichen, who took fifth and sixth, respectively.
| Place | Player | Prize |
| --- | --- | --- |
| 1 | Benny Chen | $1,198,780 |
| 2 | Michael Bennington | $741,903 |
| 3 | Jonathan Gray | $534,506 |
| 4 | Justin Liberto | $400,408 |
| 5 | Dan Kelly | $302,104 |
| 6 | Chris Hunichen | $229,575 |
| 7 | Upeshka Desilva | $175,714 |
| 8 | Robert McVeigh | $135,467 |
| 9 | Theron Eichenberger | $105,154 |
After the success of the One Drop, the WSOP decided to bring back a smaller version for 2013, and return in 2014 with another million-dollar tournament. If this event has no residual effect on the rest of the $1,500 no-limit hold'em events planned for the series, then I suspect it will make a return, as well.
3. All Hail the Pope
Event #2: $5,000 No-Limit Hold'em (Eight Handed), the first open event of the 2013 WSOP, was one of the strangest live tournaments that I have ever covered. Entering the final table, Trevor Pope had nearly half the chips in play after basically doubling up on the official final-table bubble. In the final hand of Day 3, Pope called a six-bet shove from Rafal Michalowski holding two aces. Michalowski unhappily showed two queens, and hit the rail in ninth place when the aces held.
Pope entered the fourth and final day with the pedal to the metal, opening every pot regardless of his position on the table. Darryll Fish, who had Pope on his direct left, gave Pope 12 walks in the big blind, unable to do anything in blind vs. blind battles. If Fish limped, Pope raised. If Fish raised, Pope three-bet. No matter what Fish did, unless he moved all in, he was going to have to play a massive pot out of position against a guy who had all the chips.
Six of the seven members of the final table fell victim to Pope, and the eventual winner dealt two brutal beats to the aforementioned Kelly and Jared Hamby. Against Kelly, Pope called an all in with Q♣7♥ on a board of 10♠6♦7♣10♦. Kelly showed two aces, giving him a more than 95% chance to double up, but the 7♦ spiked on the river.
Hamby had survived until four-handed play using timely aggression and was the only other player at the table with a million chips when he three-bet shoved all in preflop holding A♣K♠. Pope called with A♦J♦, the flop came 8♦8♥5♦, giving Pope outs to chop and win, and the 9♦ turned, eliminating Hamby.
In the next 14 hands, it was all over. Pope quickly disposed of Fish and David Vamplew, who finished third and second respectively, to win his first career WSOP bracelet. Pope now has nearly $1 million in career tournament earnings, and his win will go down as one of the most impressive wire-to-wire finishes in the history of the WSOP.
4. Waxman Bests Baldwin in 187-Hand Heads-Up Match
The Event #7: $1,000 No-Limit Hold'em final table was stacked with five established pros, including two WSOP bracelet winners, Eric Baldwin and Brent Hanks. Joining them were Amit Makhija, Jason Koon, and Matt Waxman, and prior to the final table, the five players had a combined $4 million in WSOP earnings.
Their four opponents had a combined $2,968.
Koon was the first professional bounced from the final table, exiting in ninth place, and he was followed out by Hanks (fifth) and Makhija (fourth). Makhija received a pretty sick cooler from Waxman, running queens into the south Floridian's aces.
Jess Dioquino then exited in third place, leaving Waxman and Baldwin to play heads up for the bracelet. What began in Level 26 ended in Level 32. The two battled for nearly seven hours, with the rail growing increasingly bigger and bigger as the night dragged longer. It was an interesting atmosphere, as well, because Waxman and Baldwin are both very well-liked. Team PokerStars Pro Jason Mercier did his best job to calm both sides, sitting squarely on the fence, while McLean Karr was sitting dead center in the middle of Baldwin's section, cheering very loudly for Waxman.
The two players said very few words to one another during the match, save for a few jests from Waxman. Finally, on the 187th hand of heads-up play, Baldwin moved all in on the button with seven-four off-suit. Waxman looked him up with ace-five off-suit, and held, earning him his first career bracelet and second leg of the Triple Crown - he won the Season X World Poker Tour Grand Prix de Paris.
The two shook hands after the match, both with smiles on their faces, knowing that each player gave their all. There were no hard feelings to be had.
Thank you Thank you Thank you Thank you Thank you Thank you Thank you Thank you Thank you Thank you Thank you - putting phone away now!

— Matthew Waxman (@Matthew_Waxman)
After the bracelet ceremony, Poppa @basebaldy congratulated me with complete class. It makes sense that Eric came from such a guy!

— Matthew Waxman (@Matthew_Waxman)
Congratulations to both Baldwin and Waxman on their six-figure scores. They're both great representatives for the poker community, and they both showed that you can be cutthroat on the felt and then shake hands and be gentlemen off of it.
5. 25K Fantasy Update
As of Wednesday afternoon, here's an update from Daniel Negreanu's $25,000 Fantasy League:
| Team | Points |
| --- | --- |
| Gorodinsky | 189 |
| Negreanu | 68 |
| Mercier | 66 |
| Katchalov | 60 |
| Russia | 46 |
| Glantz | 34 |
| Alaei | 22 |
| Fleyshman | 14 |
| Brunson | 13 |
| Hastings | 13 |
| Timex | 13 |
| Waxman | 11 |
| Kenney | 3 |
| Katz | 2 |
By winning a bracelet himself, Mike Gorodinsky jumped out to a lead. He then extended that lead thanks to Dan Kelly, who made the final table of the $5,000 eight-handed event and the Millionaire Maker. Kelly leads all players with 135 points, and being a mixed games player, he will certainly add a few more in the coming weeks.
Team Negreanu received a big boost from Scott Clements, who also cashed in the Millionaire Maker. There are large bonuses for players who cash in large field no-limit hold'em events, giving any team a chance to catch up in the standings with a quick bink.
Teams Kenney and Katz are the only ones with single-digit points. Katz has two min-cashes from Shawn Buchanan and Shannon Shorr, while Kenney has min-cashes from himself, Eric Wasserson, and Justin Young.
There is still plenty of time to go in the WSOP, and every week we will keep you updated on the action.
Follow PokerNews on Twitter for up-to-the-minute news.