Five Thoughts: The Argument in Favor of Super High Rollers and an Aussie Millions Wrap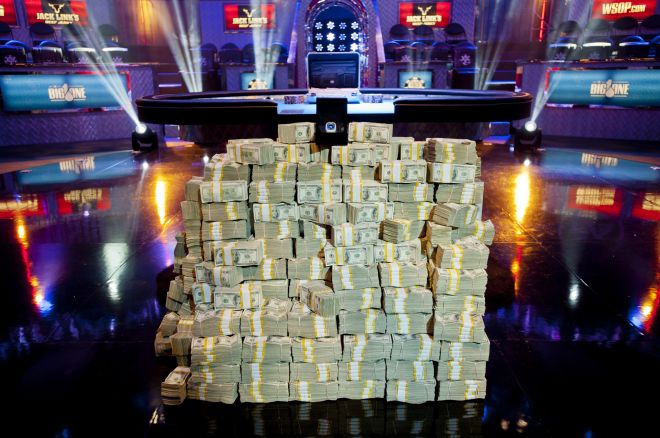 Over the last four days of the 2014 Aussie Millions, the $100,000 Challenge and the $250,000 Challenge attracted a total of 122 entries. Together, the two prize pools totaled over AU$18.756 million and awarded six seven-figure scores.
Mike McDonald picked up two of them, finishing runner-up in the $100,000 Challenge for AU$1.5 million and third in the $250,000 Challenge for AU$1.9 million. Phil Ivey took down the $250,000 Challenge, earning AU$4 million, and Yevgeniy Timoshenko banked AU$2 million for winning the $100,000 Challenge.
These two tournaments were absurd. The players treated these six-figure buy-in events like they were the $109r on PokerStars, firing bullet after bullet after bullet. Fellow PokerNews Senior Editor Chad Holloway made a great analogy on the podcast, comparing the two tournaments to a carnival game. Despite failing several times, the players continued to dish out money in order to try and knock down those damn milk bottles.
Some of the players eventually succeeded, winning a lot more than a giant stuffed teddy bear, while others did not, losing a lot more than $1 per softball.
Isaac Haxton (six) and Daniel Negreanu (five) fired a combined 11 bullets in the $100,000 Challenge, but only Negreanu cashed (sixth for AU$550,000). "Kid Poker" fired another three bullets in the $250,000 Challenge, but was able to secure a profit once again, finishing fourth for AU$1.25 million.
So to recap, Negreanu committed AU$1.25 million to the two tournaments, and cashed for a total of AU$1.8 million.
Haxton fired another two bullets in the AU$250,000 Challenge, bringing his total buy-ins for the two events to AU$1.1 million, and was able to finish runner-up, earning AU$2.82 million. Talk about a trip-saver.
Philipp Gruissem, Fabian Quoss, Tobias Reinkemeier, and Igor Kurganov weren't saved by a last-second score. The four Germans combined for five buy-ins in the AU$100,000 Challenge and nine in the AU$250,000 Challenge, totaling AU$2.75 million. Unfortunately for the quartet, Quoss was the only player to cash. He finished fifth in the AU$250,000 Challenge for AU$800,000.
This crazy, circus-like atmosphere was distasteful to some — most notably Dan Shak — but if you frequent Five Thoughts, then you know that I'm all for big buy-in events. This week, we'll focus on why super high-roller events are both popular and relevant, and recap the rest of the 2014 Aussie Millions.
Next week, we'll focus all of our attention on the 2014 World Series of Poker schedule. Spoiler alert: it's fantastic.
1. We Are the 99 Percent
Any negative economical effects associated with super high-roller events will be naturally quarantined because the community is so small. If we lose a player here or there because they exhausted their bankroll playing in insanely big events, the game will continue. Dozens of familiar faces have gone busto without six-figure buy-in events, and hundreds more will go broke in the future even if there is never another super high-roller tournament played. It's a part of the game.
Don't believe that these tournaments are in a completely different stratosphere?
As we stated before, the two prize pools totaled to AU$18.756 million. That's roughly $16.8 million in USD, and $4.2 million per day. In 2013, the median household income in the United States was $51,017. That's $139.77 per day.
Thus, these poker players covered the daily income of over 30,000 U.S. households. Playing poker.
Shak did make a salient point on Twitter, arguing that there may be a trickle down effect:
@RichTRyan it hurts at all levels. SHR players used to back the lower buy-in players but now feel not enough action so trust me #tricklesdown

— Daniel Shak (@daniel_shak)
There may be certain cases where players are less likely to back their cohorts in $10,000 buy-in and $5,000 buy-in events now that they are grinding six-figure events, but I don't know if there is a direct correlation between the growth of super high rollers and the corrosion of the middle class in poker. And, if there is, correlation isn't necessarily causation — Black Friday and the lack of liquidity in Europe are the most probable causes for the lack of casual participation in poker.
At their core, super high-roller tournaments are simply a new engine for poker's elite to gamble it up. If there weren't six-figure buy-in events running, then these players would be finding some kind of way to maximize the limits and push every edge possible. If anything, these mammoth tournaments have likely had a negative effect on high-stakes cash games in Las Vegas and beyond.
2. Are You Not Entertained???
The great Nolan Dalla compared poker to the National Football League in his recent contribution to PokerNews, Nolan Dalla Asks, Has Poker Become Unbeatable?, arguing that, like the NFL where players are bigger, faster, and stronger than ever, poker players are better than ever. On the way home from Australia, I discussed a similar analogy with PokerNews Editor-in-Chief Donnie Peters.
Safety is becoming a huge issue in the NFL — the league reached a $765 million settlement with brain-injured players in Aug. 2013 — but fans often complain that the new rules, while they may protect the players from injuries, are making the game less entertaining.
"Maybe NFL Commissioner Roger Goodell will stop destroying football with ridiculous rules and fines over players getting hit too hard," one fan wrote to USA Today.
Like the Romans did centuries ago, we throw professional football players to the lions and cheer as they tear each other apart. Each Sunday is filled with car crashes between inhumane athletes hyped up on human-growth hormone and steroids, and the American people — myself included — just can't get enough of it.
We turn a blind eye to the negatives in order to indulge in the spectacle. Super high-roller tournaments are no different. While we praise Phil Ivey for winning "four million smackers," we willingly forget that dozens of other players punted off houses in order for our hero to profit. Again, I am a part of this reality, and I don't think it's wrong per se, but it's true.
Poker fans tend to revel in the misfortunes of high-stakes players. Even Matt Glantz jabbed Haxton and Negreanu after he saw that they fired so many bullets in the $100,000 Challenge.
@RealKidPoker @ikepoker 5 bullets guys? Hope they at least give you guys free wifi.

— Matt Glantz (@MattGlantz)
Haxton's response was equally hilarious.
Also, like NFL players, these poker players (should) understand the consequences of their decisions. Take a football player like Richard Sherman, who survived the streets of Compton in a single-parent household. In high school, if you asked him to trade physical pain and lifelong discomfort for several million dollars, there's a strong possibility that he would take the deal.
As Steelers legend Terry Bradshaw told the NY Daily News in October, "I knew what I signed up for."
Poker players need to understand that if they are going to risk millions of dollars, then they may lose millions of dollars. It's not up to the consumer or the media to protect them.
3. The Best of the Best
The strongest argument in favor of super high-roller tournaments is that they are extremely fascinating.
Most argue that Chris Moneymaker's 2003 WSOP Main Event victory was the genesis of the poker boom. Casual players fell in love with the game because it isn't a spectator sport. While you can't play professional basketball against LeBron James or try and get a fastball past Mike Trout, all you need is $10,000 and a little bit of coverage in order to battle against legends like Phil Hellmuth, Doyle Brunson, and Johnny Chan.
In a recent episode of the PokerNews Podcast while in Melbourne, Australia, Philipp Gruissem related it like this:
"You have to imagine that, in any sport that you like, you can play against the world class. Where can you do that? I would love to play soccer against some of these guys. I would buy in. I would pay a lot to do that."
This is all true for playing poker, but what about watching poker? Televised poker has died down in the U.S. after Black Friday, but most of the popular shows (High Stakes Poker, Poker After Dark, PokerStars Big Game) all focused on well-known players. As fans, we want to watch the best in the world battle against one another. High-level competition is compelling.
If you love playing tennis, you'll put down your racket when Rafa Nadal and Novak Djokovic are playing. If you're a gym rat, you'll skip a pickup basketball game when the Oklahoma Thunder and Miami Heat are pitted against one another. We all have dreams and aspirations of being the best, but when we're presented with the best on the biggest stage, it's only natural for you to take a seat on the couch and "get ya popcorn ready."
There's also the awe-inspiring disregard for money within the high-stakes community. While some people are sickened by the amount of money these guys risk — you should've seen the look on my dad's face when I explained to him how much money these guys were risking Down Under — others celebrate the circus atmosphere. We all want the financial freedom — or the perceived financial freedom — to be able to fire multiple bullets in a six-figure buy-in.
However, the disregard for money also spawns the strongest argument against super high-roller events. From an outsider's perspective, these players look like irresponsible gamblers and not poker players, which some of them might be if they're firing a third bullet on Day 2 with only 12.5 big blinds.
4. Barer Wins the Main Event
The six-figure madness at Crown overshadowed the Aussie Millions Main Event final table, which actually featured a handful of great players. Among them were 2012 Octo-Niner Jake Balsiger, Scott Seiver, and Sorel Mizzi, but the eventual winner was online legend Ami "UhhMee" Barer. Barer earned AU$1.6 million for outlasting a field of 668 players, and defeated Mizzi heads up.
The Canadian gave a very interesting winner's interview with our own Kristy Arnett, where he kept nearly all of his emotions in check:
I'm still not sure if he was being satirical or humble when he said he was "the luckiest one." I'm leaning towards the latter, because he was very fortunate to knock out Balsiger during three-handed play.
Barer five-bet shoved for effectively five million or so with the
, and Balsiger snapped it off with the
. The flop fell
, giving Barer an open-ended straight draw to go along with his ace outs, but the turn was a third club — the
. Balsiger held the only club, taking away three of Barer's outs, but the
on the river was good enough to eliminate Balsiger and award Barer a 10 million-chip pot.
If Balsiger won the hand, he would've been the chip leader with half of the chips in play.
Heads-up play took about an hour or so, and ultimately Mizzi three-bet shoved for around 20 big blinds with the
. Barer immediately called with the
, and the pocket rockets held up without a sweat. Mizzi has to be happy about his AU$1 million score, but as he told the PokerStars Blog, the winners' posters around Crown's poker room haunt him.
The Canadian now has a 16th, ninth, third, and second in the Aussie Millions Main Event.
5. Let's Make a Deal
The $25,000 Challenge at the Aussie Millions ended in a five-way chop, and because Crown Casino doesn't facilitate deals, the five players had to finish the tournament. Max Altergott was the eventual "winner," but all he did was win a series of random, ridiculous hands.
The German was still very "excited," as you can tell from this gif generated by BLUFF's Thomas "SrslySirius" Keeling: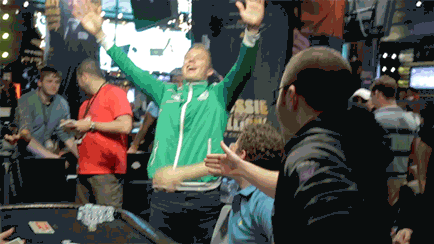 Some folks were confused, even annoyed that there was a five-person deal. Here's a sample of our Facebook comments:
"Chops for tournaments are the lamist of lame things. Play to win or go home."

"Why would you chop the pot 5 ways? Play to win not to chop pot. Maybe online in huge tourney but not live no way."

"I don't get why you chop at elite level. It's so stupid, you don't see swimmers in the Olympics getting ¾ through a race to the side and agreeing to chop the gold medal?"

"That's not poker…that's a charity split! Play to win or don't sit with the big boys!"
First off all, when there are five players remaining in a tournament, the rest of the prize pool is owed to them. They should be able to divvy up the remaining funds however they please, and casinos should do everything they can to facilitate these deals and protect the players. The WSOP is notorious for not facilitating deals, and I wish they would get together with the Nevada Gaming Commission in order to rectify this.
Second, the stacks were very level when the five players opted to make a deal. Just look at the payouts:
| Player | Prize (AUD) |
| --- | --- |
| Martin Jacobson | $285,921 |
| Dan Smith | $278,414 |
| Scott Seiver | $265,538 |
| Jason Mercier | $263,342 |
| Max Altergott | $241,785 |
If we assume that these players are all very skilled and have a very small edge over one another, then the deal makes complete sense. Every player, including the short-stacked Altergott, earned more than third-place money (AU$240,000).
In the original payouts, fifth place was scheduled to earn only AU$125,000.
Complain however you want about whatever you want, but this deal made perfect sense for all of the players involved. And at the end of the day, they're the ones who committed AU$25,000 for the event.
Get all the latest PokerNews updates on your social media outlets. Follow us on Twitter and find us both Facebook and Google+!