Five Thoughts: O'Dwyer Rules, Silverman Tries the Gauntlet and Ivey Suing Crockfords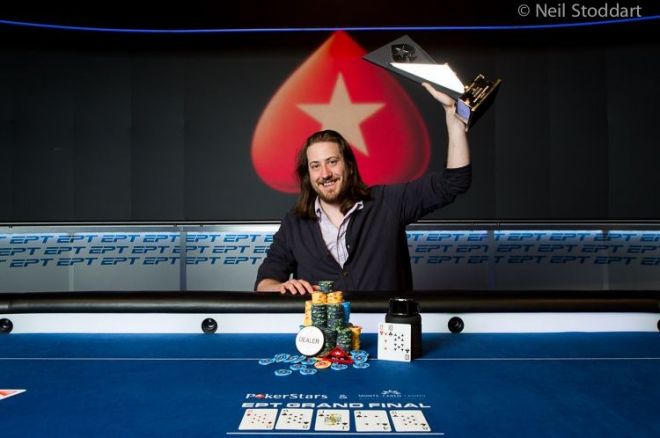 The No. 1 rule of sports journalism is no cheering in the press box, and, while the only sweating poker players do is figurative, poker journalism is more comparable to sports journalism than anything else. There are some very good writers in poker media rooms, but there are very few, if any, Anderson Coopers.
In poker, there is plenty of cheering in the press box, so much so that I've seen media members celebrate on the floor, even at the table. This usually occurs at the World Series of Poker and on the European Poker Tour, where some media members travel to a stop to cover a small group of players. For example, if a tournament reporter travels from Ireland to EPT Prague, he or she would be covering a small percentage of the field. If only one Irish player made the penultimate day, then it would be easy to become biased — either you want the player to make the final table to extend your coverage and better your story, or you want the player to bust as soon as possible so you can head to the pub and watch football.
This isn't to say that all European tournament reporters are biased — several do an excellent job of providing neutral updates for their countrymen — or that only European tournament reporters are biased — just look at the "good for poker" final table arguments on that pop up on Twitter every time the WSOP Main Event final table rolls around — but in general, it seems like European tournament reporters are more apt to cheer for the players they are covering.
In general, there is a lot of rooting for "good players" to make final tables. One reason is the aforementioned "good for poker" argument, another is that parent companies love representation at final tables, and a third is that it's arguably more enjoyable to cover household names that will play very good poker. I am certainly guilty of the third reason listed above — I love watching the best of the best battle it out on the felt.
Well, on Sunday, there were very few complaints in the media room or on Twitter, because the final table of the 2013 PokerStars and Monte-Carlo® Casino European Poker Tour Grand Final Main Event was stacked. The eight players who returned for the sixth and final day had a combined career earnings eclipsing $39 million, and the only player without a million dollars in live winnings was an established online cash-game player and the CEO of an online sports betting website.
1. O'Dwyer Outlasts Stacked Final Table
Four Team PokerStars Pros, Daniel Negreanu, Jason Mercier, Jake Cody and Johnny Lodden, an ANZPT and APPT winner, Grant Levy, an EPT runner-up, Steve O'Dwyer, a World Poker Tour Champion's Club member, Noah Schwartz, and the CEO of Matchbook.com, Andrew "clockwyze" Pantling, all reached the EPT Grand Final Main Event final table. Many people were calling it the greatest EPT final table ever assembled, and I can say that I've covered very few, if any, final tables as loaded as this one, and that's in any tournament anywhere in the world.
Two players, Mercier and Cody, were vying to become the first-ever two-time EPT Main Event winner. Negreanu was chasing the Triple Crown; Lodden was searching for his first major victory and million-dollar score. Levy was trying to become the first player to win Grand Finals in separate PokerStars tours. O'Dwyer was looking to finally close at an EPT final table, something he failed to do three times in the previous 18 months. Schwartz could add a second leg to his Triple Crown bid in just six months. And Pantling, whose previous largest score was $271,508, was looking to win his second live tournament.
In the end, it was the American Irishman O'Dwyer who took it down, earning just over $1.6 million.
| Place | Name | Country | Prize Money |
| --- | --- | --- | --- |
| 1 | Steve O'Dwyer | Ireland | €1,224,000 |
| 2 | Andrew Pantling | Canada | €842,000 |
| 3 | Johnny Lodden | Norway | €467,000 |
| 4 | Daniel Negreanu | Canada | €321,000 |
| 5 | Jake Cody | UK | €251,000 |
| 6 | Noah Schwartz | USA | €189,000 |
| 7 | Jason Mercier | USA | €137,000 |
| 8 | Grant Levy | Australia | €103,000 |
Levy and Mercier were the first players to bust, unable to get anything going with their short stacks, and then Schwartz and Cody were eliminated in the same hand.
Negreanu, who recently won the inaugural World Series of Poker Asia-Pacific Main Event, exited in fourth place after taking a brutal beat against fellow Team Pro Lodden. the Norwegian then eliminated "Kid Poker" in fourth place a few hands later.
Three-handed play was very interesting, and all three players had the lead at one point or other. Lodden lost an interesting race against O'Dwyer, though, holding queen-ten against the Irishman's two sixes in a five-bet bet pot, and then exited in third soon after. Lodden shoved with ace-high only to be called by O'Dwyer with top pair, and Lodden didn't improve his hand.
Heads-up play began with a proposal to discuss a deal from O'Dwyer and a polite "no " from Pantling. The two sparred for a bit before going on a dinner break, and when they returned, O'Dwyer won a 6.7-million-chip pot with trip aces. A few hands later, Pantling turned a flush against O'Dwyer's trip eights, the money went in, and O'Dwyer made quads on the river to win the tournament.
O'Dwyer spoke with our own Kristy Arnett after the win.
O'Dwyer now has over $4.8 million in career tournament earnings, including eight six-figure scores since July of 2011. The only thing missing from his résumé now is a WSOP bracelet – his deepest finish came at the 2011 WSOPE, where he busted in sixth-place of the €3,000 No-Limit Hold'em Shootout. In 2009, O'Dwyer also finished eighth in the $10,000 World Championship Heads-Up event.
Congratulations to O'Dwyer. We will see if he can parlay his recent success into a deep run in the WPT $25,000 World Championship or the 2013 WSOP.
2. Silverman Tries to Run the Gauntlet
As someone who has never consistently profited from playing online poker, I can proudly say I have attempted a gauntlet. The word "gauntlet" has several definitions, the main one being a protect glove worn with medieval armor (thus the term "throwing down the gauntlet"), but another is a series of obstacles or challenges. To a group of college kids, a gauntlet may be eating a pizza, then drinking a six-pack, then playing Call of Duty for three hours straight. With a little bit of luck, you can accomplish all three in order, but most people fall short or pass out in the process.
In poker, a gauntlet is when you take a small amount of money and run it up through a series of events. When I ran my gauntlet, I chose to short-stack online cash games on Full Tilt Poker, starting a $.50/$1.00. A few hours in, I found myself playing at a $4/$8 table, where I promptly dumped my entire bankroll for what was probably the 87th time. Several pros, most notably Annette Obrestad, who turned free roll winnings into her current bankroll, have run similarly gauntlets more successfully than I did.
At the EPT Grand Final in Monaco, Steven Silverman tried to run a much more ambitious and baller gauntlet than mine. Silverman, known as "Zugwat" online, won a €3,000 satellite into the €25,000 High Roller. He reached the final table, outlasting some of his toughest peers, and eventually found himself three-handed against friend and fellow shark Tony Gregg and amateur Fadar Kamar. At the time, Silverman was guaranteed to make more than he had for his third-place finish in the 2012 WSOP $10,000 Pot-Limit Omaha World Championship, but he wanted to cut a deal. Kamar did not.
Eventually, after much debate which irritated Gregg, the three agreed to split the money evenly and then play for an extra €15,400 and the trophy. In the end, Silverman defeated his friend Gregg heads up, earning the title and the extra cash.
| Place | Player | Prize |
| --- | --- | --- |
| 1 | Steven Silverman | €775,400* |
| 2 | Tony Gregg | €760,000* |
| 3 | Fadar Kamar | €760,000* |
| 4 | Vanessa Selbst | €290,300 |
| 5 | Toby Lewis | €232,400 |
| 6 | Chris Moore | €193,500 |
| 7 | Igor Kurganov | €154,700 |
| 8 | Victor Sbrissa | €116,100 |
In his winner's interview with Arnett, Silverman said he was going to play the €100,000 Super High Roller the next day.
He did, trying to run the ultimate gauntlet, but unfortunately his bid to turn €3,000 into €1.7 million fell short. Russian Vladimir Troyanovsky cracked his aces with five-six, and he then lost his all-in hand with king-jack against an opponent's ace-nine.
Silverman will still walk away with close to €675,400 after the two events – not a bad investment for €3,000 – and deserves a lot of respect for taking a shot. A lot of professionals talk about bankroll management, and rightfully so, but as Mike McDermott said in Rounders:
"You can't lose what you don't put in the middle…but you can't win much either."
3. Babakhani Wins the 2013 Canadian Spring Championship
Last Wednesday, Amir Babakhani took down the WPT Canadian Spring Championship, earning $442,248. Babakhani defeated Barry Kruger heads up when both players flopped trip fives. Babakhani held a bigger kicker, and Kruger was eliminated in second place, earning $272,555.
| Place | Player | Prize |
| --- | --- | --- |
| 1 | Amir Babakhani | $442,248 |
| 2 | Barry Kruger | $272,555 |
| 3 | Jason Duval | $199,029 |
| 4 | Tao Liang | $136,700 |
| 5 | Martin Leblanc | $102,251 |
| 6 | Jonathan Bardier | $81,767 |
Considering that the EPT Grand Final was taking place concurrently, this tournament attracted a very strong field of competitors including Ravi Raghavan, Shannon Shorr, Ronnie Bardah, Bryan Piccioli, Jonathan Roy, Joe Serock, Keven Stammen, Tommy Vedes, and Will Molson. With Canada being a nearby safe haven for American online poker players, Montreal being cheaper than Monaco, and the Spring Championship of Online Poker starting right after the event, this gave players plenty of reasons to stay in North America. They will also be able to take a shorter flight from Canada to Las Vegas once the WPT World Championship rolls around.
There are two things I absolutely loved about this event held at the Playground Poker Club: the ring and the belt. There is a large crossover in key demographics between mixed martial arts and poker – just look at the Ultimate Poker Brand – and putting the final table in a ring and awarding the winner a championship belt is both unique and awesome. Trophies are nice, and bracelets look good on the mantle piece, but there is no better way to figuratively say you are the champion than lifting a belt high in the air, or better yet, wearing it around your waist.
Most every major final table is the same, but the Playground went out on a limb and switched it up. It's a very nice touch and it's different – kudos to them. Innovation is hard to come by, and if it's forced it can turn out badly, but when done correctly, change is great. In 2010, PokerStars teamed up with the National Hockey League for a charity shootout, and they used white felt designed like a rink with a black puck-like button. On the broadcast, they also used name graphics that looked like hockey sticks, and hockey sound effects. It worked brilliantly.
Keeping things fresh is important as we continue to grow poker outside of our tight-knit community. Little quirks like themed final tables can help, and what the Playground did last week is a great example of thinking outside of the box.
4. Ivey Suing Crockfords Casino
Last week, PokerNews learned that Phil Ivey is suing the British-based casino Crockfords for withholding his £7.8 million ($12.1 million) in winnings. Ivey's win was first reported in October by the Daily Mail, and at the time the British Gambling Comission was rumored to be "involved."
Ivey has yet to receive the money he won playing Punto Banco, a form of baccarat, and is now suing the casino for the amount. He said in a statement:
"I am deeply saddened that Crockfords has left me no alternative but to proceed with legal action, following its decision to withhold my winnings. I have much respect for Gentings, which has made this a very difficult decision for me."
On Tuesday, the Daily Mail reported that Crockfords believes that Ivey and a female acquaintance were "reading" cards that were marked due to a "mistake during the cutting process at an overseas manufacturing plant." According to casino surveillance specialist Willy Allison, by simply examining the edges of the cards, players could see what the value was.
The Daily Mail also provided this comical drawing of what supposedly went down: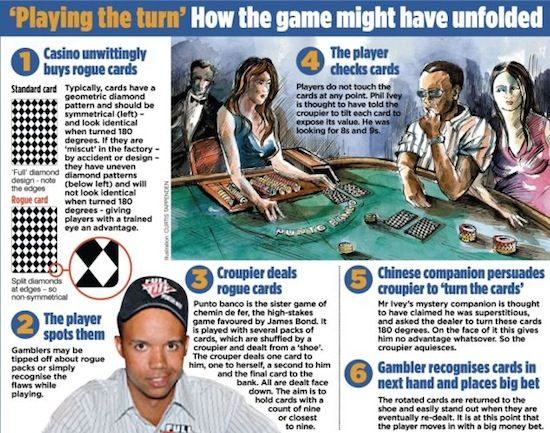 This is all very bizarre. If the deck was truly marked, and it was that obvious, how were the dealers unaware? What about the pit boss? The surveillance cameras?
Ivey's big wins came on two separate days – one would think that after the first session, if the owners thought that there was something fishy going on, they would've looked at the decks. When someone is playing as big as Ivey was, dozens of eyeballs are watching.
Also, if there was truly a malfunction at the factory, who is to blame? Are they claiming that Ivey and his lady friend set the whole thing up from the manufacturer to the casino? There are so many questions to be asked and so many unknown factors floating around.
Either party is very much in the wrong, and I hope for poker that it's not Ivey. He's never been a moral champion for the game, but he's arguably the most talented player ever, and this would be a large stain for both him and the community as a whole.
PokerNews will certainly keep their finger on the pulse of this story going forward, and bring you any new details that surface.
5. Clinkscales Finally Gets His Ring
At the Harrah's Philadelphia World Series if Poker Circuit Main Event, Rex Clinkscales achieved something for the first time after 14 failed attempts: he won a circuit event after making the final table.
| Place | Player | Prize |
| --- | --- | --- |
| 1 | Rex Clinkscales | $121,097 |
| 2 | Mike Jukich | $74,863 |
| 3 | Ken Silberstein | $54,614 |
| 4 | Andrew Rudnik | $40,509 |
| 5 | Michael Assante | $30,516 |
| 6 | Leonardo Palermo | $23,340 |
| 7 | Tony Natale | $18,112 |
| 8 | Jonas Wexler | $14,258 |
| 9 | Beverly Cheney | $11,383 |
Clinkscales earned $121,097 for the victory, and because he had already locked up a seat in the National Championship, he opened up a spot for another circuit grinder. Before the win, the Las Vegas native's largest score was for $13,504, which he earned in a side event at the Harrah's Rincon stop during the 2011-12 WSOPC season.
In an interview with PokerNews, Clinkscales said:
"I'm 30 years old, grew up in Texas, and have always been very close to my family. My mother, Bonnie Clinkscales, and grandmother raised me. This year has been especially tough on me as my grandmother passed away in February, and I'm playing the rest of this year for her.

I have a beautiful daughter who is going to be ten this year. She lives in Texas with her mother. I just wish I was able to see her more often. I enjoy sports, both watching and playing. Sports have always been a part of my life growing up, which I feel led me in a weird sort of way to poker. Mostly the competitive nature of the game."
Before the win, my colleague Chad Holloway compared Clinkscales to Dan Marino because Marino never captured a Super Bowl, but now he's more comparable to Brett Favre. If he can add a second ring in New Orleans, or even win the National Championship, then perhaps John Elway will be a better comparison.
Grinding the circuit is tough, and coming so close so many times has to make it even tougher. Congrats are in order for Clinkscales, and I wish him luck in the Crescent City.
Get all the latest PokerNews updates on your social media outlets. Follow us on Twitter and find us both Facebook and Google+!