The Nightly Turbo: Phil Ivey Owed £7.3 Million, Vadim Trincher Sues Donald Trump, & More

Rich Ryan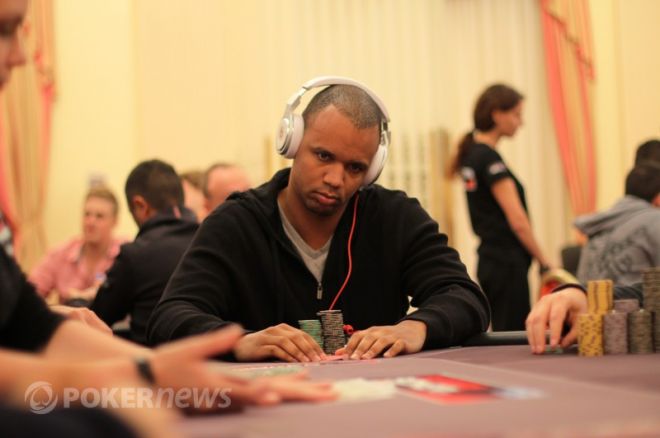 After a sick Punto Banco session at Crockfords, Britain's oldest casino, Phil Ivey was up £7.3 million. The casino refuses to pay him, however, and has launched an internal inquiry. Find out why in this edition of the Nightly Turbo.
In Case You Missed It
Miss the World Poker Tour on the Fox Sports Network last night? Check out Chad Holloway's review of the episode.
"JopperHarryN" won the Sunday Million, earning $165,811.40. Find out who else prospered yesterday in Mickey Doft's Sunday Briefing.
The World Series of Poker Circuit is at the Horseshoe in Southern Indiana. Here's a look at the leaders heading into Day 3 of the Main Event.
Before his foray into poker, PartyPoker Pro Marvin Rettenmaier spent some time in the United States as an exchange student. Find out more from the latest addition to the Seat Open series.
Ivey Being Investigated
On Saturday, the Daily Mail reported that Crockfords, the oldest casino in London, is withholding £7.3 million (about $11.7 million) from Phil Ivey. Ivey wired £1 million to the club to play Punto Banco, a variant of baccarat, in August, and after his winning session, he requested that the club wire him the sum. They refused, saying they want to conduct an internal inquiry.
A source from inside the club, asking to remain anonymous, called the dispute "unprecedented," and it is unclear what Ivey has been accused of or why the inquiry is being made. Staff members have been interviewed regarding the incident, but thus far, no evidence of collusion has been made public.
Ivey was reportedly with a "beautiful" Asian woman during the session. Some believe she is responsible for the red flags. The woman in question has had her membership suspended at a separate Mayfair casino.
CNN picked up the story on Monday, reporting that the British Gambling Commission is now involved, but again, there was no comment as to why exactly the inquiry is being made.
Ivey, who has $17.5 million in career live poker tournament earnings, declined to talk with both the Daily Mail and CNN.
Trincher vs. Trump
Vadim Trincher, winner of the 2009 World Poker Tour Foxwoods Poker Classic ($731,079), is suing the Trump Tower condominium association for $6 million.
On Friday, Trincher and his wife Elena filed the lawsuit to the Manhattan Supreme Court. According to the documents, the couple's 63rd-floor condo suffered mildew-related damages after the association gutted an upstairs duplex formerly owned by Bruce Willis and Demi Moore. The mold destroyed the couple's custom-made silk wall panels, which are valued at $5 million, and Trincher's wife allegedly developed a respiratory condition because of the mold.
The Trinchers moved into the apartment in May of 2009, prompting the TheRealDeal.com to release photos of the 3,073-square-foot unit.
Trincher has over $1.2 million in live career tournament earnings but hasn't cashed in a tournament since July 2010. Trincher's son Illya appeared on Season 3 of High Stakes Poker and once backed Eugene Katchalov.
The New York Daily News has more.
Bodog Shuts Down Poker in Europe
In August, Bodog.co.uk pulled out of 20 countries including Belgium in Eastern Europe and the Middle East. Now, if any players in Europe goes to Bodog.eu, they will be redirected to Bodog.co.uk. The site has also temporarily blocked new signups, and the poker room will be shut down.
If you attempt to signup for an account at Bodog.co.uk, the page states that, "improvements are coming soon."
In a press release last week, Bodog U.K. announced that the new U.K.-facing website will not include poker during the initial launch. Bodog is now shifting its attention to the Far East. Bodog Asia recently purchased the Bodog Poker Newtork, and if U.K. or European players want to keep playing poker, they will have to sign up for the Asian-based Bodog88.com.
Bodog88's Managing Director Robert Gustafsson told OnlinePoker.net, "There are estimated to be at least 100 million Chinese living outside China and if you then include Thai, Malay and Vietnamese expats you have more than just a niche market but one that has been ignored by other operators despite being far and away the largest consumer group of casino games on the planet."
Bodog continues to operate in the United States and Canada under Bovada and Bodog.CA.
For more, head over to PokerFuse.com
Italian Poker Suffering
According to a report from Italy's L'Amministrazione Autonoma dei Monopoli di Stato (AAMS), gaming revenue, which peaked at €41 million in January, has fallen 43 percent to €23 million. Since regulation was first introduced in January of 2011, tournament revenues have plummeted 73 percent from €35.3 million to €9.1 million.
Pokerfuse.com blames Italy's issues on high gaming tax and low player liquidity.
Italy's player pool is restricted to citizens of the country, but there are discussions between Italy and Spain regarding a joint player pool. There are also rumors about a joint player pool with France, but the Autorité de Régulation des Jeux En Ligne (ARJEL), which regulates gaming in France, would prefer to remain independent.
The PokerStars European Poker Tour is currently in Sanremo, Italy, and the Main Event attracted a total of 797 players — a 9.5 percent decrease from 2011.
Find out more about Italy's woes.
World Poker Tour Heading to Slovenia
On Oct. 18, the PlanetWin365 WPT National Slovenia will kick off at the beautiful La Perla Casino. The PlanetWin365 WPT National Main Event buy-in is €1500+€150, and is accompanied by a packed schedule for players of all levels. In particular, the Enjoybet.it €660 side event is sure to attract a lot of players from nearby Italy, Austria, Croatia, Slovakia and Hungary.
WPT Champions Club Member James Dempsey is an ambassador for the WPT National Slovenia series. In a press release, Dempsey said, "I can't wait to visit the casino as I'm told the venue is first class and the people are so friendly there. I hear they love donating chips so I expect to run deep and see a lot of chips coming my way!'
For more information on Planetwin365 qualifiers check out PlanetWin365WPT.com, and for the full schedule of all WPT National events including the WPT National Vienna (Oct. 12-16) and WPT National Barcelona head on over toWorldPokerTour.com.
Opinions with Yevgeniy Timoshenko
While in Sanremo for the PokerStars European Poker Tour, Sarah Grant caught up with Yevgeniy Timoshenko to get his opinion on a number of topics. What does he think about Phil Hellmuth's 13th WSOP bracelet win? Check out the video to find out.
Follow PokerNews on Twitter for up-to-the-minute news.