The Nightly Turbo: Frankenberger Silences Critics, Doyle Brunson Portrait, and More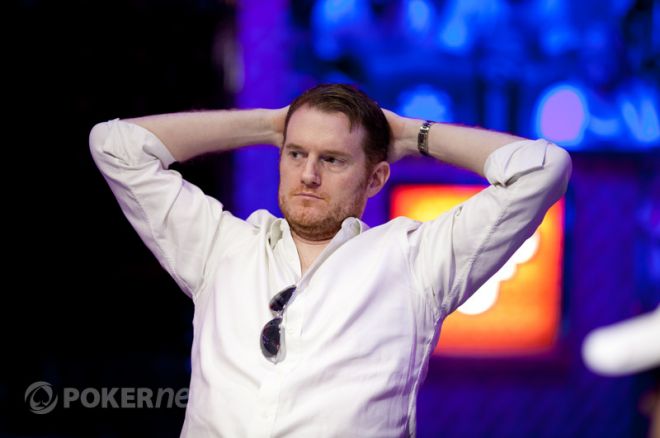 In case you missed it last night, the atmosphere at the World Series of Poker was electric as Phil Ivey and Phil Hellmuth competed for bracelets. Meanwhile, Andy Frankenberger flew under the radar ... again. We'll cover that story, plus we'll show you an amazing portrait of Doyle Brunson, in this edition of the Nightly Turbo.
In Case You Missed It
Phil Hellmuth and Phil Ivey captivated the poker world at the WSOP on Sunday night. Read all about how they fared in the Day 15 WSOP recap.
Can Barry and Jeff Shulman become the first father/son duo to win bracelets in the same year since the Brunsons? We take a look at that story and more in Monday's WSOP What to Watch For.
Hellmuth captured his record-setting 12th bracelet on Friday. Check out his reaction to the victory in the winner's interview with PokerNews' Lynn Gilmartin.
Looking for a fun, behind-the-scenes perspective of life at the WSOP? The Muck is providing several daily stories from inside the Rio, so check it out!
Did you miss Sunday's World Poker Tour coverage on FSN? Read our WPT recap to get caught up.
Hushing His Critics
His unconventional style at the poker table has drawn criticism from many of his peers. But in just a few short years since turning to poker full-time, Andy Frankenberger has produced a lifetime's worth of achievements. And on Sunday night, he added another impressive accomplishment to his résumé.
Frankenberger bested a field of 179 top-notch players to win the $10,000 Pot-Limit Hold'em event for $445,899. Not only that, but he beat the world's best player heads-up for the title, denying Phil Ivey of his ninth WSOP bracelet. It was Frankenberger's second title at the WSOP in as many years.
But despite winning two WSOP bracelets, a World Poker Tour Player of the Year and a PartyPoker Premier League title, Frankenberger still doesn't get praise from a large part of the poker community. An 18-page (and growing) thread at TwoPlusTwo created last month posed the question: How does Andy Frankenberger do it? Most of the responses belittled Frankenberger for some plays he made on television during the PartyPoker Premier League Mixed Games Championship; yes, the same event that he ended up winning.
And it's not just the forum dwellers. Poker pro Tom Marchese was in the booth doing commentary during the live stream of the final table and virtually wrote off any chance Frankenberger might win. Whether it was in jest or not, Marchese's tweet caught the attention of Frankenberger, who fired a re-tweet during the final table.
Thanks for all the nice comments. If you're not watching. Im doing commentary on the wsop live stream w Ivey bout to take down a bracelet

— Thomas Marchese (@BigCheese_poker)
While some of Frankenberger's critics toned down the mockery after his victory over Ivey, others are chalking it up to another lucky run for the former Wall Street trader.
Check out the full thread at TwoPlusTwo.com.
Tex Dolly Portrait
The legendary Doyle Brunson has been the focus of many portraits during his life. But a recent piece of work created by Barry Jazz Finnegan, in particular, caught Dolly's eye over the weekend.
During April's Irish Open in Dublin, Finnegan painted a large-scale portrait of Brunson using only a piece of charcoal. And, as you'll see in the video below, he created the masterpiece simply by looking at a picture of Brunson on his iPod touch.
"From an artist point of view, the man has a f***ing amazing face and features to draw that suit the medium I use," Finnegan told PokerNews on Monday. "It was a great challenge and fantastic opportunity to draw him, especially at a huge poker tournament where everyone present would recognize the final piece."
Doyle was very pleased with the way the portrait turned out.
To check out more of Finnegan's work, be sure to visit his YouTube channel.
Calling it Quits?
Olivier Busquet's days as a poker pro may be coming to an end.
The popular pro and poker commentator took to his blog Saturday to discuss his thoughts on the current state of poker and the trials players face when balancing the game with a social life. Busquet has made millions playing poker and has enjoyed the freedom that comes it, but he says only wants to play for a few more years before moving on to other things.
"Living in and out of hotels gets old pretty quickly and since Black Friday, anytime I spend at home is forcibly vacation time," says Busquet, who is in Las Vegas for the 2012 WSOP. "This dynamic has also put a strain on maintaining strong relationships: I'm not home often to see people and when I am home, I'm usually tired from traveling and grinding. Much of my poker life is spent alone: I am either literally alone or physically around people while I'm competing which makes me distance myself from them."
Read Busquet's full blog at olivierbusquet.com.
Zografov Wins Eureka Poker Tour Bulgaria
Bulgaria's Petar Zografov outlasted a field of 246 players and overcame a massive chip disadvantage heads-up to win the €1100 Eureka Poker Tour Bulgaria Main Event on Sunday.
The PokerStars Blog reports that Zografov had around 500,000 chips when heads-up play began and faced an uphill battle against Lithuania's Algirdas Saveikis, who boasted more than 3 million. However, after battling back and negotiating a deal with Saveikis when the two players were nearly even in chips, Zografov put the match away to secure the the Eureka Bulgaria title and €48,745.
Here's a look at how the final table played out:
| Place | Player | Prize |
| --- | --- | --- |
| 1 | Petar Zografov | €48,745* |
| 2 | Algirdas Saveikis | €51,645* |
| 3 | Ted Stolzenbach | €22,050 |
| 4 | Slaven Popov | €17,300 |
| 5 | Michal Misterek | €14,300 |
| 6 | Daniel Karlson | €11,900 |
| 7 | Deyan Stanev | €9,550 |
| 8 | Nagy Barnabas | €7,600 |
*Denotes heads-up deal
Read the full recap at the PokerStars Blog.
Intimacy With a Twi$t
With the NBA Finals under way, don't expect the series to have a clear cut favorite. As all poker players know, don't let the odds fool you! Make some plans for after the games.
Find a mutually beneficial arrangement today with ArrangementFinders.com
This is an advertisement.
Opinions with Daniel Negreanu
What does Daniel Negreanu think about the Pacquiao vs. Bradley boxing match, the Electric Daisy Carnival, and Phil Ivey? Kristy Arnett caught up with him for the latest edition of Opinions.
Follow PokerNews on Twitter for up-to-the-minute news.