The Nightly Turbo: Tiff and Maria Get Ousted, a New PokerStars Tour, and Doyle is Rooting Against Phil Ivey?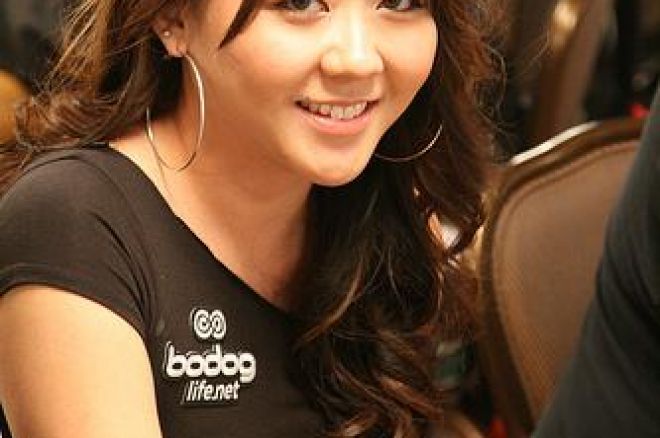 The Nightly Turbo is conveniently packaging the top poker stories of the day for you. It's easier this way. You don't have to go around googling and you have more time to work on bluffing your opponents.
In Case You Missed It
Titan Poker has teamed up with PokerNews to offer two opportunities to qualify for a $5,000 freeroll. Find out how to qualify here.
It was another big Sunday on the virtual felt. Track down all the winners in The Sunday Briefing.
The battle for online poker legislation in the U.S. has made its way to the mainstream media. Find out how poker is winning this media battle here.
The World Poker Tour sale to PartyGaming has been approved by shareholders. Learn more be checking this out.
The British are coming... or staying put in the UK with an all new PokerStars tour.
PokerStars announced today the launch of the U.K. and Ireland Poker Tour, which will kick off in Galway, Ireland, from December 11 through 14 as part of the Irish Poker Championships.
The event will attract big-name players from around the U.K. and Ireland such as former England footballer Teddy Sheringham, who recently had as much success on the felt as he's accustomed to on the pitch, and Team PokerStars Pro Vicky Coren.
"This is an incredibly exciting addition to the range of PokerStars live events. Here is our own local British and Irish tour, nicely accessible for those who can't travel abroad often or who save their foreign travel for larger international events," Coren said.
The addition makes perfect sense coming off a record-breaking European Poker Tour field in London. Anyone in the U.K. can now order fish and chips and possibly get a poker buy-in as well with nine events scheduled for the upcoming months.
Start qualifying now by signing up for a PokerStars account.
It's Amazingly Over for Tiffany Michelle and Maria Ho
After getting hit in the head with the deck two separate times when finishing last in challenges and still surviving on the "Amazing Race," poker-playing vixens Tiffany Michelle and Maria Ho could not find a winning river card last night and were eliminated from the race.
The pair were doing fine throughout most of the episode and in good shape to continue before running into not one, but two challenging feats. The first required the ladies to ring a carnival-like bell that required sheer strength. Tiffany came close but was unable to get the bell ringing after a herculean effort.
The optional challenge had the duo attempting to finish three holes of golf with unique Dutch wooden shoe-like clubs, which also proved too difficult for the tandem because of high winds and a lack of wooden shoe-like club experience.
When all was said and done, Maria commented that "Tiffany's been my hero this entire race. I see her as completely invincible, but I have to remember that at the end of day we can only do so much."
While we're sad to see the ladies go, we are certainly glad to have spotted a prop-betting weakness. In fact, we've just ordered two sets of wooden-shoe golf clubs. Skins match ladies?
You can check out a full recap of the episode here and watch them in their underwear below.
By telling your friends to sign up for the Nightly Turbo, you'll get a hearty "thank you" from us, and to be honest, you'll also feel really good about yourself. Also if you're not one of the 7,344 people following us on Twitter, do yourself a favor and become 7,345.
Doyle Mooning Over Darvin
Doyle Brunson will be gambling 'till the day he dies, so why would this year's November Nine be any different. In his latest blog, Doyle talks about how he thought he'd surely be pulling for either Phil Ivey or Jeff Shulman, but because Daniel Negreanu is taking Ivey in a must-win bet, Doyle is taking the amateur chip leader Darvin Moon instead.
According to Doyle, "I had to take Moon who has 5 times the chips of Ivey. Sorry Phil, I won't be rooting for you now. Business is business".
Doyle goes on to discuss the action taking place at Bobby's Room in the Bellagio, Twitter and dental implants, because nothing says high-stakes poker like a good set of veneers.
Read the whole blog over at PokerRoad.
Are You Cereus? UB and Absolute Add Synchronized Breaks?
Folks who are tired of strapping on a catheter to play online poker rejoice as Absolute Poker and Ultimate Bet have both integrated synchronized breaks into their multitable tournaments.
Instead of the standard five-minute break an hour in each tournament, every multitable tournament on the network will break for five minutes at 55 after every hour.
Also added in the new software upgrade is a "raise to" button allowing the player to raise to a certain amount without having to subtract an initial bet that is already on the table. This feature eliminates the pressure on a player to do mental sums on-the-spot and makes raising a bet a two-step process instead of three.
Shaving a step here, conserving a bathroom break there. It's all about efficiency at Cereus.
Sign up for both an Absolute Poker account and an Ultimate Bet account to take things for a test drive.