Worlds Collide: Poker and Twitter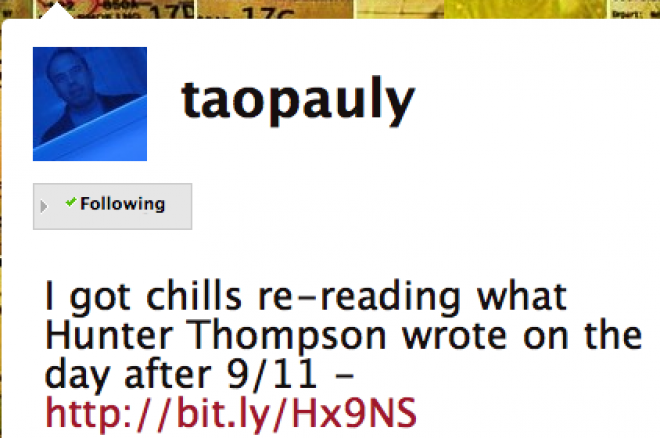 "What's Twitter?" asked a curious friend.
"Twitter? It's a waste of time," I said.
I explained that Twitter is a guilty pleasure and one of those things in my life that I simultaneously love and hate. When used properly, Twitter instantly spreads a single message to a vast network of followers. Some of those messages positively impact people's lives. Time magazine proclaimed Twitter as "as significant and paradigm-shifting as the invention of Morse code, the telephone, radio, television or the personal computer."
I was covering the World Series of Poker and sitting in the press box at the Rio when I found out that Michael Jackson died. Word spread fast among the players inside the Amazon Ballroom. The players heard about the news the same way I did —— via Twitter. The few pros with Twitter accounts relayed the breaking news to their tablemates. For a while, Jackson's sudden death was the only topic of conversation at the tables.
Twitter is a main source of breaking stories along with news of the weird. In the time it took to pen the first two paragraphs of this article, —— I learned that a friend of mine is pregnant, a plane got hijacked in Mexico, and Japan's first lady (who admitted to being abducted by a UFO) thinks that Venus is a beautiful place.
Since the dawn of Twitter, there were a few moments when its technology allowed the flow of information to continue during unexpected blockages caused by a natural disaster. During an earthquake in China, one victim buried underneath the rubble was able to "tweet" his whereabouts so rescuers knew where to find him.
Twitter also proved its ability to function as a back channel of communication in the middle of political upheaval. In Moldavia, citizens used Twitter to rally support against re-election of Vladimir Voronin and the communist party. After Iran's incumbent President Mahmoud Ahmadinejad's controversial victory in the June elections, the streets were flooded with protestors who cried "foul play," and riots ensued. The government kicked out the BBC network and other members of the foreign press, reduced the bandwidth of the internet and restricted access in an attempt to block the flow of information. Despite all those Draconian measures carried out by their government, angry citizens rallied and promoted protests through Twitter. Conspiracy theorists insist that the U.S. State Department attempted a coup with the assistance of social media networks such as Twitter and Facebook. That claim was dismissed by Twitter's management staff.
Twitter didn't exactly incite a political revolution, but those individuals attempting one used Twitter to their advantage. But not everyone uses Twitter to create the world a better place. Most of the time, Twitter is nothing more than a vanity project with its vapid user base spamming the internet with trivial self-important activities. When easy-to-use technology falls into the hands of masses, the result is a nauseating display of desperate narcissism.
That's the Catch-22 of Twitter —— it becomes what you make of it.
In the months leading up to the 2009 WSOP, Twitter was gaining momentum in terms of popularity and number of users. The platform, dominated by geeks and tech junkies for several years, was thrust into the spotlight after celebrities like Ashton Kutcher hijacked Twitter for their own promotional needs. As a result, more people were turned on to Twitter, including poker players who discovered useful ways to incorporate the new technology. At the very least, Twitter gave them something to do in between folding hands.
"Twitter has given the players an immediate voice," explained veteran poker journalist Brad Willis from the PokerStars Blog. "Two years ago, by the time a player did an interview about his play, he would've had hours to think about it, calm down, and think rationally. Now, anybody can be inside the players' heads as they play and experience the moment almost as it happens."
Barry Greenstein is quiet at the tables, so I never got to know Barry until I started following him on Twitter. I quickly realized that he was one of the funnier pros in poker with a witty and wry sense of humor. Twitter gave me and everyone else an opportunity to hear his hysterical inner dialogue.
Unlike most people in their 70s, Doyle Brunson embraced new technology and put Twitter to good use. He often sounded like a kid in a candy store with his original tweets. Although some of his jokes are straight out of a set from a 1950s Catskills comedian, I enjoy his pearls of Texas wisdom.
"Twitter gives us a clearer view of the man himself," said BJ Nemeth, a noted tournament reporter, who is among Doyle's 15,000 followers. "The bonus of something like this (Doyle on Twitter) won't be as obvious until after he's gone. How awesome would it be if we had a historical Twitter feed from Babe Ruth, Mickey Mantle, or Stu Ungar? It's a different level of personal insight than we can get from other sources."
During the 2009 WSOP, I followed the Twitter feeds of several pros. As a tournament reporter, the only relevant information I sought were key hands, color commentary, and eliminations. It often led to information overload with multiple events being played over the course of a single day at the WSOP. It became a chore to sort through all of the static.
Film director Alfred Hitchcock said that his movies were like real life except with all the dull parts cut out. Well, Twitter captures all of those dull and inane moments. Once players bust out of the tournament, they continue tweeting through the day with their musings: mostly drunken jibberish, complaints about online bad beats, and pictures of food.
On most days, I was screaming at my laptop, "I signed up for this? All I wanted was a (expletive) chip count!"
Twitter is all about how the users choose to use it, yet not all pros use it the same way. Some pros felt that they needed to tweet about every hand they played. When Harrah's or the floor staff screwed something up, we heard about it. And when they took a bad beat, we heard about it.
Every microcelebrity wants to be the star of his or her own reality TV show and Twitter provides a cheap but viable substitute to fulfill that conceited need. Twitter gave poker pros an opportunity to reveal their human sides, promote their brands, and engage the public in a virtual forum.
After following several notable pros on Twitter all summer, here are my conclusions:
Phil Ivey (@philivey) doesn't even update his own account. Someone from his entourage is in charge of that. I'm sure he doesn't even want the account but he was convinced that it would be a great marketing tool for Full Tilt. Too bad. I really hoped to get inside of Ivey's head while he wagered ungody sums of money on random sporting events.
Annie Duke (@RealAnnieDuke) effectively used Twitter as a PR mouthpiece when she had a spat with a cantankerous Joan Rivers during Celebrity Apprentice. Plus, Annie loves to take pictures of her food. Thumbs up to that.
Have you seen how many followers Joe Sebok (@joesebok) has? That's more than the population of several American cities. He likes to tweet a lot and he's funny with an eclectic taste in music, but he listens to way too much Dave Matthews Band.
WSOP Commissioner Jeffrey Pollack (@JeffreyPollack) started an account and updated frequently from the floor of the Amazon Ballroom. He was also quick to quell any false rumors floating around.
David Williams (@dwpoker) tweets to damn much. Less is more, David.
Allen Kessler (@allenkessler) takes a lot of sick beats at the table and always gets his Aces cracked.
One night, Erica Scohenberg (@thehitwoman) went deep in an online tournament and she was starving. She called her fiancé, David Benyamine, asking him to bring home dinner after he finished up playing at the Bellagio. He showed up with two sacks of McDonalds and Schoenberg quickly tweeted her disappointment with his choice of food stuffs.
Check out which Twitter users Barry Greenstein (@barrygreenstein) follows. At one point, he only kept tabs on his son, Joe Sebok —— and seven hot Asian women.
Even the Europeans got into the mix with Twitter. Annette Obrestad (@Annette_15) tweeted about her new kitten falling into the toilet. "Poor kitty," she said.
Marcel Luske's (@marcelluske) tweets sound like poorly translated existential poetry. For example, what does this mean? "We are only creating memories on the road to nowhere. So what's really important then?"
Daniel Negreanu (@RealKidPoker) got in trouble with one tweet when he called an erratic player at his table a "whackjob surprise." That player was Julie Schneider, wife of Tom Schneider the 2007 WSOP Player of the Year. Tom read the tweet and told his wife about it. She called out Negreanu, who quickly apologized. "Apparently the lady reads my twitter," was his next message. Moral of this story? Watch what you tweet at the tables.
If some people feel their lives are too mundane or uninteresting, then those wayward souls with too much time on their hands decide to take on the personas of their favorite pros. Twitter is strewn with fake accounts such as Russ Hamilton, Eskimo Clark and Vinny Vinh.
For a while, followers were duped by Patrik Antonius' fake twitter account, which was recently exposed as a fraud. When asked about his posting on Twitter, a confused Antonius remarked, "What is this Twatter?"
And if you think that's strange, there are fake Twitter accounts set up for Santa Claus, the Dalai Lama, and Dwight on The Office.
As much as it's up to the pros to determine how they want to use Twitter, it's up to us to choose how we want to incorporate it into our lives. If we're voyeurs, rabid fans, or curious souls, Twitter is our path into these people's lives.
Brad Willis explained, "The beauty of Twitter is, like television, if you don't want to watch it, you can turn the channel, or in the case of Twitter, click the 'unfollow' button as many times as you have to."
I continue to have mixed feelings about Twitter, especially in the poker world. But for now, it continues to be a guilty pleasure in my life. I want to see pictures of Annie Duke's breakfast, I want to know what Steely Dan song Jeffrey Pollack is listening to, and I want to hear off-color jokes from Texas Dolly.
But folks, do you have to tweet about every bad beat story? I might have to start handing out "Bad Beat Tweet Fines."
Read more of Dr. Pauly's work at TaoPoker.com, and follow us on twitter while you're at it. Don't forget about this year's WCOOP either, sign up for a PokerStars account and start grinding.