Five Thoughts: Shak Attack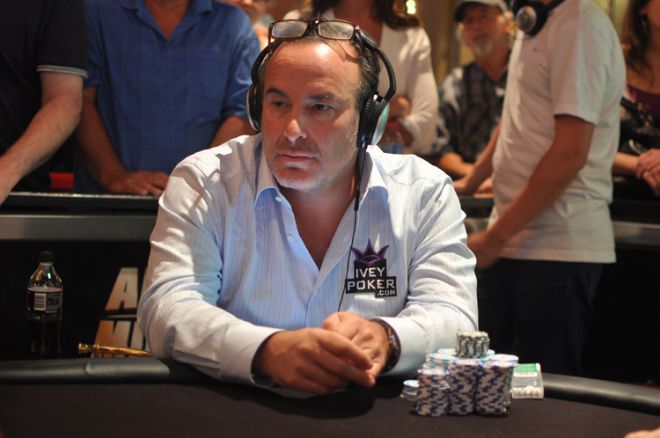 During the wee hours of a January morning in Melbourne, Australia, the 2013 Aussie Millions Main Event final table was set. While writing the recap for the penultimate day — or what we thought was the penultimate day — I asked my colleague Chad Holloway the following question:
"What is Dan Shak?"
I knew that Shak is a human being. He's a male. He likes poker. He wears a patch for his buddy Phil Ivey. He's a New York Knicks fan and owns court-side seats. All these things obvious.
I wanted to know whether or not Shak was a "professional" or a "businessman."
Many of you probably blurted out "businessman, and it's not even close (ainec)," and Shak himself agrees with you. We gave the players at the Aussie Millions final table bio sheets to fill out, and in big bold letters, Shak penned "commodities trader" on the occupation line. If you Google "Dan Shak gold," you'll see some interesting stories.
Now, log out of Google if you're signed in — your previous searches, emails in Gmail and various G-chats can skew search results if you're logged in — and plug in "Dan Shak." Search for the word "poker," and it will appear 33 times. The words "gold" and "commodity" are nonexistent.
Before 2013, Shak had amassed over $3.8 million in career live tournament earnings. In 2010, he defeated his good friend Ivey heads-up in the Aussie Millions $100,000 Challenge, earning just over $1.1 million. In 2012, he finished runner-up in the PokerStars Caribbean Adventure $100,000 Super High Roller, pocketing $846,700.
That's a very impressive résumé for a businessman.
In January, I predicted that a player would make the final table of both the PCA Super High Roller and the Aussie Millions $100,000 Challenge. Well, businessman Shak accomplished the feat, finishing eighth at the PCA ($228,960) and fourth at the Aussie Millions ($250,201).
To top it all off, Shak made the final table of the Aussie Millions Main Event, finishing fourth ($422,279).
Again, this performance is impressive for a businessman.
Shak refuses to label himself a "professional." After his sick run, he topped the Global Poker Index Player of the Year race. In response to the news, Shak quickly called himself "dead money," and said it's a "long year."
@PokerNews there must be something wrong with the system or else someone is wanting more dead money in tourneys #mistake #longyear #nochance

— Daniel Shak (@daniel_shak)
Although it's clear that Shak isn't grinding the tournament circuit to make ends meet, he isn't your prototypical businessman — nor should he be labeled as such. Shak doesn't play in large buy-in events to have a good time, get his fix or escape his family — he plays to win. If I called him a "thinking player," some professionals would scoff at me because Shak's playing style is a bit unconventional, but he is certainly not a weekend warrior.
On Episode #143 of the PokerNews Podcast, we discussed Talal Shakerchi, who just took down the EPT9 London £10,000 High Roller ($656,599). He, too, isn't a stereotypical "businessman," though he plays the part with his graying hair, sharp jacket and smart glasses.
For players like these, we need a new term. They don't grind for a living, so they can't be called professionals, but by the same token they aren't businessmen, because they're not willingly lighting money on fire for pleasure.
Because Shak and Shakerchi are the best and most relevant examples of this phenomenon, it's only fitting that we call these hybrid players "Shaks." Here's a list of a few more Shaks:
Tony G
Tony Bloom
David Einhorn
*2013 Bobby Baldwin
Brandon Steven
Bill Chen
Eli Elezra
*Baldwin is obviously a poker legend but only has four cashes since 1995. He is certainly more of a businessman in 2013, which qualifies him as a Shak.
What's the reason for all of this Shak love? Well, there was another Shak attack in London last week, and although the victory won't help his player-of-the-year chances because it came in a closed event, Shak was able to add a nice big trophy to his mantle.
1. Dan Shak wins PartyPoker Premier League VI
On Saturday night, Shak took down the PartyPoker Premier League VI, earning $450,000. If you add this and his four other '13 cashes to his résumé, he now has over $5.2 million in career tournament earnings.
@Samtrickett1 congrats on a great tourney and heads up match. So many people to thank. @PartyPoker @iveypoker family friends for the support

— Daniel Shak (@daniel_shak)
The man he defeated heads up, Sam Trickett, now has $19.7 million in career tournament earnings.
PartyPoker Premier League VI Final Table Results
| Place | Player | Prize |
| --- | --- | --- |
| 1 | Dan Shak | $450,000 |
| 2 | Sam Trickett | $200,000 |
| 3 | Antonio Esfandiari | $150,000 |
| 4 | Jonathan Duhamel | $125,000 |
| 5 | Daniel Cates | $100,000 |
| 6 | Tobias Reinkemeier | $70,000 |
| 7 | Jennifer Tilly | $60,000 |
| 8 | Talal Shakerchi | $45,000 |
Two Shak's at the final table!
Unfortunately, Shakerchi was the first player to bow out, but Shak himself took the event down. Shak entered heads-up play with roughly a 2-1 chip lead over Trickett, but the Brit won a big hand with the nut-flush against Shak's nine-high flush. Suddenly, Shak found himself on the defensive.
Shak later regained the lead, crippling Trickett by employing one of his signature unconventional plays. On a board of A♠8♥2♥10♠7♥, Shak moved all in for 1,165,000 into a pot of 200,000. Trickett tanked for 10 minutes, during which time he said, "This is the longest I've ever taken over any poker decision in my life."
He eventually called with the 10♥2♦ for two pair, but Shak had a flush with the Q♥4♥. Trickett was left with just 78,000 chips, and busted soon after.
The most entertaining moment of Premiere League VI came in one of the preliminary heats when Daniel Negreanu snapped.
WARNING: Turn your volume down before Jesse May blows out your eardrums.
Negreanu took to Twitter to vent a bit after the hand:
It will turn I'm certain. It's just a matter of time. I'm playing to well to keep me down for much longer. WSOPA up next. Ill do my best!

— Daniel Negreanu (@RealKidPoker)
Congratulations to Shak for leading the Shaks and banking another big six-figure score. He currently is in third place in the GPI Player of the Year standings, and again, the Premiere League won't count because it's a closed event.
2. Running Good Russell
On Sunday, Russell "into2ndWind" Thomas won the PokerStars Sunday Million. Thomas bested a field of 8,407, defeating "Ahhh Is It?" heads up after a three-way deal was made.
| Place | Player | Prize |
| --- | --- | --- |
| *1 | Russell "into2ndWind" Thomas | $219,184 |
| *2 | Ahhh ls lt? | $174,096 |
| *3 | aakiss1990 | $160,914 |
| 4 | briemaus | $84,070 |
| 5 | KARNA1983 | $67,256 |
| 6 | Dimka19881 | $50,442 |
| 7 | BEGIMOTS | $33,628 |
| 8 | purplflowerz | $18,495 |
| 9 | Guilherme "VinceVegaMFR" Cheveau | $13,031 |
*Denotes three-handed deal
Thomas finished fourth in the 2012 World Series of Poker Main Event, earning over $2.8 million. Since becoming a member of the first — and perhaps only — Octo-Nine, Thomas' only live cash came in August when he finished 23rd in the World Poker Tour Parx Open Poker Classic.
During the off period before the WSOP Main Event final table, Thomas turned to Jason Somerville for a bit of coaching. The two went on to create The Final Table, a YouTube miniseries that documented Thomas' road to the big day. The six episodes were well-produced, shot and edited, and they captured some very genuine moments from Thomas as he prepared for the biggest day of his life.
Here's the final episode, which was shot in Vegas before, during and after the actual final table:
When Thomas made the final table, he was very clear about what he wanted to do regardless of whether or nor he won: he was going to quit his job as an actuary, and be a professional poker player.
On the 30th hand at the final table, Thomas faced a decision for most of his chips. Steven Gee had moved all in on a very coordinated board, and after five minutes in the tank, Thomas made the call. Gee tabled two eights for a single pair, which Thomas beat with two queens for an over pair. Right then and there, you could tell that Thomas was there to win, not just to climb the pay ladder.
His bid to become champion fell short when the called a three-bet shove from Jake Balsiger holding ace-nine. Balsiger had him crushed with ace-king and held.
Despite not cashing so far in live events in 2013, this Sunday Million win will be a big boost for both Thomas' confidence and his bankroll. I don't think we'll be seeing him return to his job as an actuary anytime soon.
3. The Caesars Cup Returns
The Caesars Cup, a made-for-television, invite-only event with three regional teams, including Team Americas, Team Asia-Pacific, and Team Europe will return at the World Series of Poker Asia-Pacific. The event will take place on April 14 at Crown Casino, and the captains have been announced.
The captain of Team Americas is eight-time WSOP bracelet winner Ivey. It's pretty obvious that at least one member of Team Ivey will be selected to join him (Shak! Pick Shak, Phil!), but with the Americas including Canada, Negreanu is a no-brainer as well. Here's my proposed team:
Team Americas
Phil Ivey
Dan Shak
Daniel Negreanu
Greg Merson
Andrew Lichtenberger
Merson was one of the first members of Team Ivey, and with his grinding cash in Macau, I'm sure that Ivey can steal him away for a day or two. I figure that Ivey will also select a former member of Leggo Poker, and knowing that Lichtenberger travels the circuit, he seems like a good fit.
The captain of Team Asia-Pacific is 2005 WSOP Main Event champion Joe Hachem. Hachem has a tough job, because the Asia-Pacific region is massive and has tons of players. It's mandatory that Hachem chooses a fellow Aussie, but I'm throwing in two. I also think there will be a representative from China and Iran.
Team Asia-Pacific
Joe Hachem
Tony G
Tyron Krost
Winfred Yu
Antonio Esfandiari
OK, I'm cheating a bit here. Tony G was born in Lithuania, but his flag on Hendon Mob is Australia. Esfandiari was born in Iran, but his flag on Hendon Mob is the United States. I'm having my cake and I'm eating it too — deal with it!
As for Yu and Krost, Yu and Hachem both have connections to PokerAce, while Krost is a Crown legend, winning the Aussie Millions Tournament of Champions, and earning a free seat into the Aussie Millions Main Event every year until the day he dies.
Heading Team Europe is the aforementioned Trickett. Like Hachem, he will likely stay true to his countrymen and pick a Brit or two, but he will also cross the pond in order to fill out the rest of his team.
Team Europe
Sam Trickett
Chris Moorman
Gus Hansen
Bertrand "ElkY" Grospellier
Eugene Katchalov
No issues here, just a bunch of really sick poker players. I nearly put Trickett and then all of Team Germany, but I don't know how tight Trickett is with that group of players. Regardless of who he picks, I think Team Europe has a massive advantage because of how many insanely good players are available.
Who do you guys think will represent each team? Let us know in the comments below.
4. Atlantic Club COO Talks PokerStars
Last week, NJ Today Managing Editor Mike Schneider talked with Michael Frawley, the COO of Atlantic Club Casino Hotel in Atlantic City. The two talked about the pending deal with PokerStars, and Schneider was excited to say the least.
"I am very pleased with the things that I'm hearing from the governor's office," Frawley said in the interview. "I'm very pleased with the things I'm hearing from PokerStars. I think that if you look at more capital investment, the more the casinos are profitable, the more capital investment they'll make, the more people are apt to come, the more we're able to build our properties up to where we want them to be."
According to Frawley, if PokerStars is allowed to purchase the property, they will invest $20 million in the project in the first year, and an additional $20 million over the next five years. Frawley also hinted at investing in other "places in the state," and added that there is a need for a data center on the current property.
Frawley believes that Caesars may have an agenda, which is why the American Gaming Association filed an opposition to PokerStars' proposed purchase, and that Atlantic Club's financial situation was very much in question prior to the proposed deal with PokerStars.
Frawley is noticeably excited about what's to come and says he's happy with the progress so far. It seems as if he has a lot of confidence in the regulatory bodies at work.
This interview is a very good sign for New Jersey, and it further confirms some of our previous suspicions: this deal will get done, and PokerStars will purchase Atlantic Club, but there is a lot of red tape to be sliced.
You can watch the interview below, and see how optimistic Frawley appears. He feels as if Atlantic Club and PokerStars are winning the public relations battle, and are en route to a finalized deal.
Watch Atlantic Club COO Anticipates Bright Future with PokerStars on PBS. See more from NJToday.
5. Bekavac Wins MSPT Ho-Chunk Gaming Main Event
Last weekend, the PokerNews Mid-States Poker Tour awarded one of the largest prizes in Wisconsin history at the Ho-Chunk Gaming Main Event. A total of 300 players entered the event, and the eventual winner was Daniel Bekavac, who earned $76,668. The Chicago native defeated Ryan Hartmann heads up. Hartmann earned $41,949.
Final Table Results
| Place | Player | Hometown | Prize |
| --- | --- | --- | --- |
| 1 | Daniel Bekavac | Chicago, IL | $76,668 |
| 2 | Ryan Hartmann | Minneapolis, MN | $41,949 |
| 3 | Patrick Steele | Chelsea, MI | $27,773 |
| 4 | Jeremy Dresch | Fridley, MN | $18,805 |
| 5 | Larry Ormson | Elroy, WI | $14,465 |
| 6 | Judi Gumila | Palos Hills, IL | $11,572 |
| 7 | John Orr | Middleton, WI | $10,126 |
| 8 | Ryan Ethridge | Madison, WI | $8,679 |
| 9 | Jon Tepp | Waunakee, WI | $7,233 |
PokerNews covered the event over on The Muck, and the final table was live streamed on PokerNews, as well. Our very own Chad Holloway joined Chris "Fox" Wallaec on the call.
MSPT founder Bryan Mileski was very pleased with the event:
"This location is so much fun, and the action is incredible. I'm really looking forward to Ho-Chunk becoming a staple on the tour and seeing these players multiple times a year for the foreseeable future. The staff is great, and after two events, they really know how to run an MSPT event and create a great environment for the players. Wisconsin has so many great players that they really deserve some big events like the MSPT, and Ho-Chunk is a great place for it."
For players who can't afford to relocate to play online or to travel abroad to play in large tournament series, the MSPT is perfect. There is a large population of poker players in the center of the United States, and the MSPT is without a doubt one of the best options for players looking to play in a well-structured, well-attended tournament series. The addition of a live stream of the final table with commentary is also a unique and special experience.
The next MSPT stop begins on March 30 at Meskwaki Bingo Casino Hotel in Tama, Iowa. The series features a $300,000 guaranteed main event prize pool, and players 18 years and older may participate.
Have your own thoughts on these Five Thoughts? Use the comments section below and don't forget to follow PokerNews on Twitter for up-to-the-minute news.
*The views expressed in this article are those of the author and do not necessarily represent those of PokerNews.