Five Thoughts: Full Tilt Repayments, Interstate Online Poker, Hellmuth's Beef, and More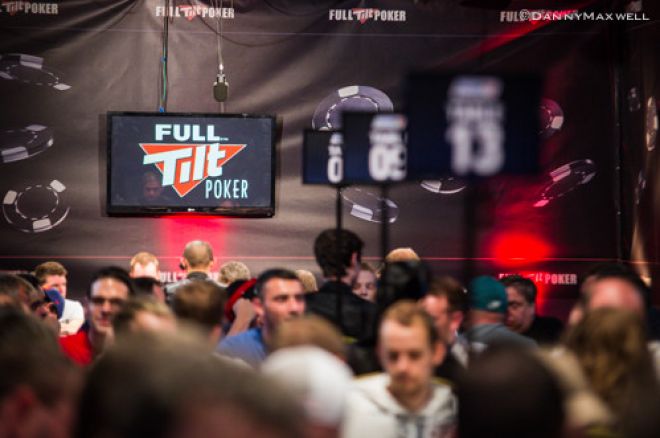 The last 1,000 days have been, unsurprisingly, eventful. United States President Barack Obama was elected to a second term. Felix Baumgartner took a balloon to the edge of space and then plunged into an historic 24-mile free fall. Hurricane Sandy rocked the East Coast, leaving thousands without homes and causing 8.5 million power outages across 21 states. Denver and Washington legalized the recreational use of marijuana. We celebrated the XXX Olympiad in London, and the XXII Winter Games in Sochi.
The world turned. The world changed.
In our small, niche community, we witnessed the dramatic rise and the catastrophic collapse of the Epic Poker League. Phil Hellmuth won not one, but two World Series of Poker gold bracelets. Phil Ivey only won one bracelet, but he boycotted the WSOP in 2011. And, well after the events of Black Friday, PokerStars agreed to forfeit $547 million to the U.S. Department of Justice and to pay back approximately $150 million of the $184 million owed to customers of Full Tilt Poker.
That money, which has been in the government's metaphorical hands for roughly 18 months, will finally start to be redistributed to the American people starting on Friday, 1,050 days after Black Friday.
On Monday, The Garden City Group, Inc. (GCG) started distributing emails to petitioners who have been approved for payment and whose bank account has passed the preliminary testing process. The recipients were told that payments will be made within the next five to seven business days.
You can read the entire email here.
Monday and Friday are both very important days in the ongoing Black Friday timeline, but what impact will repayments have on the poker world? What about the unapproved petitioners and the players disputing their claims? There is still much more to be done.
Go ahead and celebrate. Yell. Throw your hands in the air. If you received an email that said the U.S. government is about to transfer U.S. dollars into your bank account, then you have every right to have a party.
As Jalen Rose says, "keep gettin' them checks."
A sudden influx of capital — no matter how good or bad the theoretical "market" is doing — is a good thing. When your friends or family receive tax refunds, they tend to treat themselves. You don't need to buy fine leather goods or expensive products in order to treat yourself — a small night out at a nice restaurant or a few cold drinks with good friends is well enough.
With Full Tilt funds starting to finally trickle back to the players, how will they spend the money? Will the $10 million first-place prize in the WSOP Main event lure them to parlay funds that they once thought were gone forever into millions? Will they pocket the money and vow to never trust another online poker website?
The recipients will, as usual, land right in the middle of these two extremes. I know several poker players that wrote off their Full Tilt money as a loss years ago, so to them this payment will feel like money they never actually possessed. This thinking is flawed, of course, but sometimes all you need is a little excuse to gamble it up. Others will use the money to pay bills, loans, or other "life" expenses.
I don't expect there to be a direct correlation between Full Tilt repayments and entrants in the WSOP Main Event, or online poker traffic in Nevada and New Jersey. There may be a small, positive impact on the two, but it would take a much larger event like Federal or multiple-state legislation to really push the needle.
Hold that last thought.
There are still players who have not yet been approved by the GCG. Some of these accounts are assumed to be dormant — people who either have no idea that they can actually get their money or people who are choosing not to petition for their money — while others are disputing their claims. For the customers with disputes, there is a feeling of uncertainty as to whether or not the process will ultimately benefit them or leave them with less money than they though they had on April 14, 2011. For the abandoned accounts, there is little that can be done now and a lot to be gained by the DOJ.
Some of the accounts were abandoned by players who are afraid of being hit with backed taxes or, even worse, an audit from the Internal Revenue Service. I have two friends with small, four-figure accounts who chose not to petition for their funds due to unpaid taxes.
Maybe if they were more like Kevin Iacofano, there would be a few dollars coming their way:
Got my Full Tilt Email but much to my dismay, no thank you letter from US Treasury for my 4 year free loan. #taxespaidinfull

— Kevin Iacofano (@icekevin)
2. Delaware and Nevada Sign Interstate Compact
First, online poker was legalized in the United States, then Ultimate Poker launched in Nevada. Now, two states, Nevada and Delaware, are set to share liquidity.
On Tuesday, Nevada Gov. Brian Sandoval and Delaware Gov. Jack Markell met in Wilmington, DE to sign an interstate Internet poker pact. The poker-only compact will allow online players from each state to compete against one another, and is the first of its kind in the U.S.
The two states will create the Multi-State Internet Gaming Association, which will oversee the partnered markets, and look to expand to pact to three or more states.
"I've had conversations with New Jersey," Sandoval said when asked about a potential partnership with the third and final state in the country with legalized online poker. "We'd love to have New Jersey as a partner as well."
Industry experts don't expect New Jersey to join the pact.
NJ will see the DE/NV "hub" strategy as a challenge to their own; not likely to join anything where they're not the "big dog" & empowers NV.

— Joe Brennan Jr (@joebrennanjr)
The compact between Nevada and Delaware, while momentarily underwhelming, is critical to the growth of online poker in America. Delaware's player pool is fairly non-existent — according to PokerScout.com, the state is averaging 16 real-money players over the past seven days — while Nevada's player pool plateaued after the 2013 WSOP. If you're expecting immediate results, and trolling the PokerNews Twitter account with questions about playing the Sunday Million next week, then I suggest you pick up a broom and fly back to fantasyland, Harry Potter.
This compact isn't a Band-Aid; it's the framework for a potentially long-term solution. First, the plan in place is to distribute rake based upon the amount of players participating in the respective states. For example, if 90 percent of the participants are coming from Nevada, then Nevada will receive 90 percent of the rake. You may wonder why this benefits the smaller states, but one would assume that bigger player pools will attract more participants, growing a state's respective take.
With this type of fair revenue distribution, it's bizarre that New Jersey is unwilling to opt in. Perhaps they think state-only participation makes the Garden State some kind of poker vacation spot — it isn't — or, more likely, the Department of Gaming Enforcement is too concerned with security and geo-location in order to team up with regulatory bodies situated thousands of miles away.
The Multi-State Internet Gaming Association will target Pennsylvania and California — I would assume they're already in talks, as Sandoval and Markell admitted this pact was discussed a year ago — but both of those states are still months away from legalizing online poker, let alone joining ranks with states from across the country. Likewise, Kevin O'Toole, Executive Director of the Pennsylvania Gaming Control Board, has hinted that Pennsylvania may focus on intrastate gaming for a "significant amount of time."
It's ironic that this story occurs during the same week Full Tilt payments are finally starting to be distributed — one long process is coming to an end, while another is just getting underway. Remember, a year ago today no one in America was legally playing online poker in any state whatsoever.
3. Last Name Hellmuth, First Name Phil
Phil Hellmuth has been MIA in the poker world since the 2013 World Series of Poker Europe, choosing to play in and attend Paolo Alto and Golden State Warrior home games instead of the PokerStars Caribbean Adventure and the Aussie Millions.
Still, despite putting in absolutely no volume for the first four weeks of 2014, the "Poker Brat" has taken issue with the Global Poker Index.
The GPI is very flawed. I cannot respect a points award system that counts $100,000 high rollers. Poker awards need to be egalitarian.

— phil_hellmuth (@phil_hellmuth)
First, it's audacious that Hellmuth even refers to egalitarianism when he told BLUFF at WSOP Europe that some bracelets shouldn't count. I guess that equality is only important when Hellmuth is among the unequal.
Second, Hellmuth owns a "large piece of Card Player Magazine," yet their player of the year race still includes super high-roller events.
Alexandre Dreyfus, CEO of Zokay Entertainment and owner of the GPI, responded in a blog post, accepting the criticism and highlighting the importance of volume:
"So, if the greatest wants to be the best, he needs to win more and obviously to play more."
The GPI is imperfect, and the formula tends to continue evolving as the poker world changes, but the GPI's perceived flaws are not why Phil Hellmuth is ranked No. 149 in the world — one spot behind the impenetrable Senh Man Ung.
In the last 16 months, Hellmuth has cashed in seven open events. Seven. During that time span, players are allowed to use their top 15 results towards their GPI score. The Poker Brat has a total of seven results, and it's not like they're Earth-shattering or anything:
| Festival | Tournament | Field Size | Result | Prize |
| --- | --- | --- | --- | --- |
| 2013 PCA | $5,300 PLO | 72 | 4th | $33,180 |
| 2013 Aussie Millions | AU$1,100 Accumulator | 1,085 | 20th | AU$9,049 |
| 2013 WSOP | $10,000 Heads-Up | 162 | 8th | $54,024 |
| 2013 WSOP | $3,000 PLO | 640 | 26th | $11,915 |
| 2013 WSOP | $1,500 Stud 8 | 558 | 42nd | $3,246 |
| Season 10 EPT London | £2,200 OFC | 21 | 1st | £15,800 |
| 2013 WSOPE | €2,200 NLHE | 337 | 29th | €4,206 |
I ask you, does that look like a résumé for the world's best player or the 149th-ranked player in the world?
If Hellmuth wants to climb the ranks, his focus shouldn't be on changing the formula, rather it should simply be on playing more often and more successfully.
4. Class-Action Lawsuit Filed by in Borgata Counterfeit Chip Case
The Press of Atlantic City reported that a class-action lawsuit was filed this weekend on behalf of more than 4,000 people affected by the counterfeit chip scandal in Event #1 of the 2014 Borgata Winter Open.
Jacob Musterel and his attorney Bruce LiCausi are the minds behind the lawsuit, alleging "fraud and negligence on the part of Borgata," accusing the casino of "failing to properly supervise the event."
The lawsuit calls for refunds for players' buy-ins, as well as reimbursement for "incidental damages" like travel costs.
There are several problems with these two lawsuits, as PokerNews contributor Mac Verstandig pointed out on Monday. One, Christian Lusardi, the player arrested for flushing counterfeit chips down the toilet in his Atlantic City hotel room, doesn't work for Borgata Hotel Casino & Spa. Two, no one has actually "lost any money" at this point, and the investigation is ongoing, so Borgata can still reimburse entry fees if they feel that it is appropriate. Three, the only way that Musterel and LiCausi can win a case based upon "fraud" is if they prove that Borgata counted the chips and attempted some kind of cover up prior to the suspension of the tournament. Based upon all accounts, the tournament staff stopped the tournament as soon as they learned that it had been compromised.
This week, Five Thoughts kicked off with a celebration of paper stacks and an ode to Jalen Rose. "Gettin' them checks" is always important, but this lawsuit leaves a very sour taste in my mouth. It's another example of Americans over-litigating at every chance they get, and it doesn't assist the investigation at all.
At the end of the day, the most important thing is that the investigators distribute the remaining prize money to the last 27 players. If they decide to refund the other players that's a bonus, but asking for incidental damages is absurd.
Musterel lives in Egg Harbor Township, which is a 15-minute drive to Borgata. I am confident that if he is playing in $500 poker tournaments, he can afford the small toll fees he has to pay in order to drive down the Atlantic City Expressway.
5. Pennsylvania State Rep. Wants to Jail Online Poker Players
Online poker is legal in Pennsylvania — state legislators could move in that direction if they are pleased with the findings in a report on online gaming due on May 1 — but playing on some of the not-so-safe American-facing sites isn't a punishable offense. Rep. Mario Scavello wants to change that.
"Here again, online gambling is best described as the Wild West," Scavello says. "There's no one around to keep an eye on someone who doesn't know when to stop."
Scavello would like to see PA residents caught gambling online fined up to $300 and jailed for up to 90 days. Under his proposed plan, repeat offenders would be hit with a misdemeanor, bringing with it a fine of $2,500 and up to a year in jail.
Just what we need, more non-violent, petty criminals in U.S. jails!
The Sheldon Adelson-funded Coalition to Stop Internet Gambling (CSIG) immediately backed Scavello's proposal.
Chris Grove, who works very hard over at OnlinePokerReport.com polled 500 residents of Pennsylvania, asking them if they support or oppose Scavello's staunch proposal. A whopping 82.2 percent said that they oppose, and the rejection was consistent across age, gender, and income level.
These are the opponents of legalized and regulated online gaming. They are not so much family activists looking to protect the interests of children or problem gamblers — this is actually a respectable and thoughtful cause — rather they are casino operators and legislators looking to jail citizens for betting on sports or playing online poker in the comfort of their own homes. Think about that.
Get all the latest PokerNews updates on your social media outlets. Follow us on Twitter and find us on both Facebook and Google+!