Five Thoughts: First Card Off the Deck, Laptop Scams in Barca, The Croc Wins, and More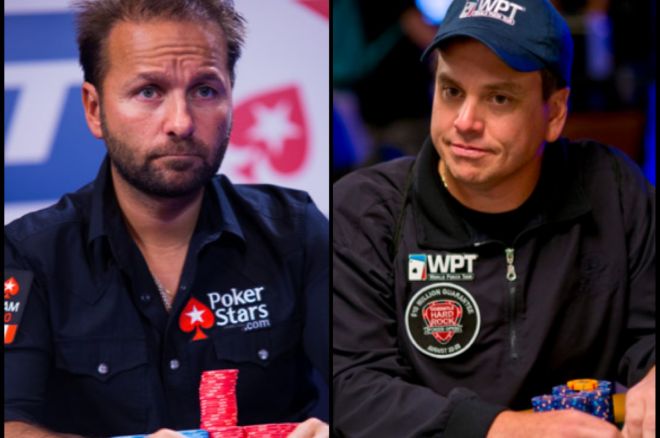 Up, down. Up, down. Up, down.
It sounds like a cheat code for Tecmo Super Bowl, or Michael Mizrachi's chip count, but it's actually the hottest topic in the poker world right now. With Daniel Negreanu's "absolutely stupid" response to having his hand killed in the European Poker Tour Barcelona High Roller, we are once again discussing the "first card off the deck" rule that Matt Savage and Neil Johnson would like to have implemented globally.
Both Savage (read here) and Johnson (read here) have written about the rule, while Negreanu "ranted" about it. Negreanu's fellow Team PokerStars Pro, Jason Mercier, also talked about the rule in a recent blog.
In the hand in question, Negreanu was in the small blind and tossed out the necessary chips to cover the forced bet. He was allegedly standing next to his chair when the first card came off of the deck, and once the dealer ended their pitch, they mucked Negreanu's hand even though he had committed the small blind and was standing right there.
Negreanu went off on the dealer, the staff, and then basically forfeited his tournament life, moving all in blind the next hand. He was eliminated, re-entered, and ended up finishing runner-up.
Go figure.
I'm not going to focus on Negreanu's actions, because he already took care of that for me on the PokerNews Podcast. He said he was "fumed up" and that it was "stupid," which it was. We all do regrettable things when we're angry, and quitting a poker tournament is far from a criminal offense.
I would rather focus on the second part of Negreanu's statement on the podcast regarding his thoughts on the rule:
"Certainly every player that has any common sense is going to agree."
As Lee Corso says every Saturday during the fall, not so fast, my friend.
1. First Card Off the Deck
The first card off the deck rule is neither great nor terrible. Prior to the change by the Tournament Directors Association, there didn't seem to be a widespread problem of players seeing their opponent's cards because they weren't seated. So there was no real reason for the TDA to suddenly implement. Likewise, when the EPT added it to their rules two years ago, I don't recall hearing about players cheating other players during the pitch.
The rule isn't terrible either. The intent of the rule is to protect the players, not annoy them or discourage them from conversing with their neighbors and friends, and in the long run, if it stops even a handful of players from cheating then it's worth having. As Savage wrote in his op-ed here on PokerNews, the average pitch takes six to 10 seconds. If 10 seconds is enough to ruin the social structure of your life, then your social life needs adjusting and not the rulebook.
Like any new rule or statute, the biggest problem is implementation, and this is why Negreanu was so angry. Kid Poker hates the rule, we all know that, but he didn't boil over until a dealer (allegedly) mucked his hand due to an incorrect interpretation of the rule. This one is on the Savages of the world, who have to be in constant communication with their dealers to ensure that application is universal. Savage talks about favoritism and how, in the past, dealers would pause before pitching a card to the button to keep a hand alive for someone they liked, but a dealer could just as easily misreport a player's distance from their chair.
"At his seat" is defined in the rule as "within reach of your chair," but what exactly is "within reach?" This needs to be operationally defined because gray area only leads to more dealer favoritism and mistakes, which Savage and company are trying to combat, but I'm not sure how to do it.
Upon returning and re-entering the event, Negreanu poked fun at the rule, while pointing out a loophole. When he now got up to wander or talk to other players in the tournament, he carried his chair with him over his shoulder or dragged it behind him. This way, he claimed, he was always technically "at his seat" because he was "within reach of his chair."
On TwoPlusTwo, Linda Johnson explained why the rule was changed from "in your seat" to "at your seat.":
"The reason it was changed to AT your seat a few years ago was to accommodate players who like to stretch, have physical problems sitting for long periods of time, might be standing to get money to tip the cocktail waitress, etc."
Perhaps tournament directors should act like bad parents at Disney World and attach a leash to the chairs to always keep the players "within reach" of their chair.
There are also some egos at play here. Savage and Negreanu both take a lot of pride in their respective views on the game and their roles within the poker community as well. The biggest surprise is that Allen Kessler, who always gets into Twitter spats with Savage, actually sides with him on this issue.
"I like the rule," he wrote on TwoPlusTwo. "Why should someone rushing back to their seat be able to see other's cards?"
Unsurprisingly, my favorite player response came from Shane "Shaniac" Schleger, who writes, "I debated the one long and hard via text with Matt Savage, and I guess I'm sort of done debating because I agree with gags Mike Gagliano (and I said it to Matt originally too) that it comes down to adjusting. Players will adjust, and in the end it won't be a big deal."
Well said, Mr. Schleger.
2. Barcelona Laptop Scam
Unfortunately, when the EPT Barcelona came to a close, the biggest story that arose was an alleged laptop scam at the Hotel Arts. Jens "Jeans" Kyllönen, a Finnish high-stakes pro, was one of the targets of the alleged scam, and initially warned his fellow peers on TwoPlusTwo.
Kyllönen then offered his entire story, for which we provide cliffs notes here. If you want to read the entire crazy tale, then you can do so here.
PokerStars' Lee Jones offered the following on TwoPlusTwo regarding the incident:
Hi folks -
Unfortunately, the OP is accurate. We're only aware of two cases, but obviously there could be more. Our security manager is working with the Hotel Arts security people to find out who did this. In the meantime:

If you're staying at the Hotel Arts in Barcelona, please store your laptop in the room safe. If it won't fit in the room safe, buy a laptop cable lock (available at any computer store) and lock your laptop to something in the room. If you can't do that, take your laptop with you when you leave the room.
Change the password on your laptop right now.
We strongly encourage you to run virus/trojan detector software on your computer before using it for any online play.
I know it's a hassle, but wiping the computer clean and reinstalling everything before you play online poker with it would not be a terrible idea.
Our own Chad Holloway contacted Ignat Liviu, another target of the scam, who confirmed the incident.
"At the security of the hotel we were able to see the guy on tape — a skinny guy at 1.7 or 1.8 meters that I don't recognize," Liviu told Holloway. "So for sure there is this guy or a group that try to hack the computers of the high-stakes players. I believe this happened to many players, but I was lucky that I came back to the room and see the laptop missing. Anyway, PokerStars security is working with the security of the hotel try to find the guy. I don't know what else can be done."
On Tuesday, Kyllönen posted an update on TwoPlusTwo, in which the parent company (Ritz-Carlton) says that they are "taking all of the necessary measures."
This story is terrifying.
As Kyllönen says in one of his posts, this is a Ritz-Carlton property, a five-star hotel with cameras everywhere. Something like this should be preventable — unless there is some shady activity going on.
What's really scary is that whomever targeted Kyllönen and Liviu knows what they're doing. These are two generally faceless online players, not marquee members of the poker world like Negreanu or Phil Ivey. Kyllönen also believes that some of his Finnish friends were also targeted, and unless they were chosen because of their association with Kyllönen, then they were probably chosen because they have had success playing online poker.
Every high-stakes player that stayed at the Hotel Arts should be concerned, and they should have their laptops scanned immediately. Going forward, as crazy as it sounds, players with a significant percentage of their life roll online should probably have their laptop on them when they leave their hotel room, unless it fits in their safe. There's nothing wrong with being too careful.
I, like many of you, will continue to stay glued to this thread and look for more updates from Kyllönen. If we are able to get any details in advance here at PokerNews, we will certainly forward them along.
3. Middleton Hits the Hole; Muhlocker Defeats Negreanu
Amidst the laptop controversy, there was also some good news that came out of Barcelona. Winning the massive 1,234-player EPT Barcelona Main Event was Britain's own Tom "hitthehole" Middleton. Middleton earned €942,000 and a SLYDE watch for the victory, defeating Finland's Kimmo Kurko heads up. There was almost a four-handed deal made with Kresten Nielsen (3rd) and Luca Fiorini (4th), but Fiorini, who was the chip leader at the time, refused to give extra money to Middleton.
Final Table Results
| Place | Player | County | Prize |
| --- | --- | --- | --- |
| 1st | Tom Middleton | UK | €942,000* |
| 2nd | Kimmo Kurko | Finland | €750,000* |
| 3rd | Kresten Nielsen | Denmark | €440,500 |
| 4th | Luca Fiorini | Italy | €328,000 |
| 5th | Pasi Sormunen | Finland | €253,000 |
| 6th | Benoit Gury | France | €188,000 |
| 7th | Eduard Bhaggoe | Netherlands | €143,000 |
| 8th | Andreas Christoforou | Cyprus | €102,430 |
*Denotes heads-up deal.
Middleton now has over $2.2 million in live tournament earnings according to the Hendon Mob database. His previous largest score was for just over $300,000 when he came in third during a $2,500 event at the 2011 World Series of Poker.
In the High Roller, Negreanu was in good shape to earn a victory with a huge chip lead during three-handed play, but it was Thomas Muhlocker who gutted it out. Muhlocker earned €390,700 and the trophy, while Negreanu would have to settle for €263,800. Also joining those two at the final table were Jonathan Duhamel, Ole Schemion, Richard Yong, and November Niner David Benefield.
Final Table Results
| Place | Player | Prize |
| --- | --- | --- |
| 1 | Thomas Muhlocker | €390,700 |
| 2 | Daniel Negreanu | €263,800 |
| 3 | Jean-Noel Thorel | €181,500 |
| 4 | Joni Jouhkimainen | €148,000 |
| 5 | Jonathan Duhamel | €118,000 |
| 6 | Ole Schemion | €90,700 |
| 7 | Richard Yong | €66,000 |
| 8 | David Benefield | €47,850 |
Negreanu now has nearly $2.2 million in live tournament earnings in 2013 alone, while his career live tournament earnings are up to $18.5 million.
Schemion, a young German star that Eric Danis and I talked about in the first ever GPI Update, now has nearly $1.3 million in earnings in 2013 and $3.4 million in his career.
The next stop in Season 10 of the EPT is London, and the festival begins with the UKIPT Main Event on Oct. 2 and the £50,000 Super High Roller on Oct. 4.
4. Billy "The Croc" Argyros Wins APPT Melbourne Main Event
Aussie poker veteran Billy "The Croc" Argyros, who is always sporting some kind of crocodile attire, took down the 2013 Asia-Pacific Poker Tour Melbourne Main Event over the weekend, earning $134,500 after a three-handed a deal.
2013 APPT Melbourne – Final Table Results
| Place | Player | Prize |
| --- | --- | --- |
| 1 | Billy Argyros | $134,500* |
| 2 | Bowdy Tolhopf | $166,000* |
| 3 | [Removed:17] | $133,000* |
| 4 | Ashley Mason | $58,400 |
| 5 | Robert Damelian | $45,900 |
| 6 | Joe Cabret | $37,550 |
| 7 | Phi Luu | $29,200 |
| 8 | Ravi Maravar | $22,920 |
| 9 | Jazz Mathers | $16,650 |
*Denotes a three-handed deal.
Finishing in third was Auckland's [Removed:17]. Yan finished sixth in the 2013 Aussie Millions Main Event for $232,254, 35th in the EPT9 Berlin Main Event for $19,610, and ninth in the $5,000 six-handed WSOP Asia-Pacific event for $20,868.
In the end, it was Argyros and Bowdy Tolhopf heads up. The final hand was a race with Argyros' pocket eights against Tolhopf's Ax10x, and the eights held.
"I haven't won a tournament since Cleopatra was skiing down the Nile," Argyros joked after the victory.
The Croc, an original inductee in the Australian Poker Hall of Fame, now has over a million dollars in career tournament earnings. This is his first six-figure score since 2008, where he finished fourth in the $10,000 Pot-Limit Omaha Championship event at the WSOP.
Argyros is great. Having covered him both in the States and in Australia, I can tell that he is every Aussie poker player's crazy uncle. Yes, he can do cringe-worthy things and his attire is often embarrassing, but they love him nonetheless. Argyros is simply a nice man with a weird sense of taste and an uncommon affection for cold-blooded reptiles.
Good on ya, Croc!
5. Seat Open With Kara Scott
In this edition of Seat Open, Kara Scott discusses several phases of her life. She explains growing up in Northern Canada without running water, then moving to teach inner-city London kids who threw desks at her.
Get all the latest PokerNews updates on your social media outlets. Follow us on Twitter and find us on both Facebook and Google+!