High-Stakes Poker Players Allegedly Targeted in Laptop Scam in Barcelona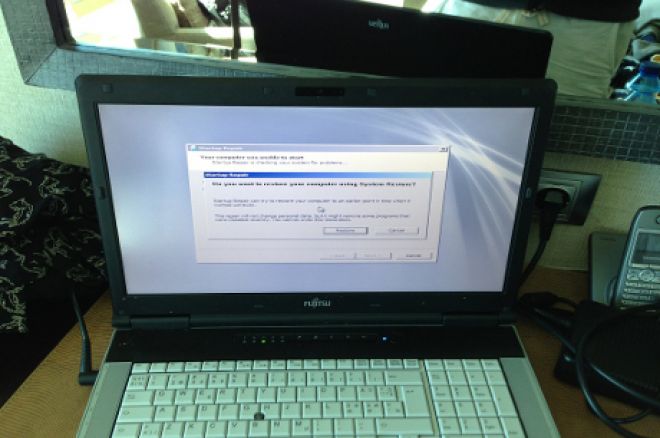 Poker players staying at the Arts Hotel in Barcelona are urged to reformat the hard drive of their laptops after it was confirmed that at least two high-profile players had their machines compromised.
Jens "Jeans" Kyllönen, a Finnish high-stakes pro, took to the Two Plus Two forums Thursday night (European time) to warn fellow poker players about the problems he had faced when returning to his room at the Arts Hotel.
For now both for me and ignat liviu(0human) the same thing happened room key doesnt work, go down to reception for a new key, come to the room to notice the laptop missing, go back down, in less than 10min go back up, and the laptop has reappeared. We are for sure not the only ones. Tell everyone you know at barcelona arts to not play on their laptops. Ill post a complete story about these sickening last days in a day or two. Just posting this quickly from my ipad to warn everyone.
Shortly after Kyllönen's post, PokerStars' Lee Jones posted in the thread confirming that Kyllönen's story was true. Jones also gave some basic security advice to laptop users.
Hi folks -
Unfortunately, the OP is accurate. We're only aware of two cases, but obviously there could be more. Our security manager is working with the Hotel Arts security people to find out who did this. In the meantime:

If you're staying at the Hotel Arts in Barcelona, please store your laptop in the room safe. If it won't fit in the room safe, buy a laptop cable lock (available at any computer store) and lock your laptop to something in the room. If you can't do that, take your laptop with you when you leave the room.
Change the password on your laptop right now.
We strongly encourage you to run virus/trojan detector software on your computer before using it for any online play.
I know it's a hassle, but wiping the computer clean and reinstalling everything before you play online poker with it would not be a terrible idea.

We're very sorry about this; everybody on our staff and at the Hotel Arts is taking the situation seriously. We have the Barcelona police involved too.

We'll keep you updated as soon as we know more. For now, please be hyper-vigilant and hyper-careful about your laptop.

Best regards,
Lee Jones
Earlier this afternoon, Kyllönen started a second thread, this one detailing what he calls his "unbelievable EPT Barcelona story." It is a title worthy of its description; Kyllönen's story is unbelievable. While you can read Kyllönen's story here, we have pulled a few cliff notes for you to mull over.
Kyllönen busts from the EPT Barcelona Main Event and returns to his hotel room to discover his room key does not work.
Reception fixes his key and Kyllönen returns to his room to discover his laptop is missing.
Kyllönen narrows the cause of the missing laptop down to housekeeping moving it or his friend and roommate borrowing it.
Kyllönen checks with his roommate, who is playing cash games in the casino, and discovers his friend does not have Kyllönen's laptop.
Kyllönen returns to his room to discover his laptop has been returned.
Kyllönen turns on his laptop and is greeted with the Windows Restore screen, suggesting something had been installed on his machine and caused an error, or someone was trying to uninstall everything and cover their tracks.
Kyllönen goes to dinner, returning to find his room key does not work again. Once gaining access to his room, Kyllönen discovers his laptop is missing again.
Later that evening, Kyllönen's laptop is returned after it was apparently found at the hotel reception desk. The hotel later changes this story, saying that the laptop was handed to an employee on a floor of the hotel where the security cameras were allegedly not working.
PokerStars security offers to help.
Kyllönen receives two strange phone calls to his room a few hours apart.
The hotel's head of security, who does not speak English, seems rather unhelpful and attempts to play down the situation.
Hotel security provides an entry log for Kyllönen, but gives him false information on how to decipher the log. This may have been unintentional.
Hotel security places the blame on Kyllönen's roommate. Kyllönen backs his friend 100%.
Kyllönen deciphers the entry log and discovers that whoever gained access to his room entered and left mere minutes before Kyllönen returned to his room, leading Kyllönen to believe the culprit could have been in his room while Kyllönen was present.
Kyllönen meets fellow high-stakes specialist Ignat "0human0" Liviu in the hotel's elevator. Liviu informs Kyllönen that his laptop has also been stolen.
Liviu says the hotel told him of a similar case but had dismissed it as a "guy's friend messing around," but had video evidence of someone entering Liviu's room.
Meetings with the hotel and security are scheduled.
At time of writing, the outcomes of the aforementioned meeting are unknown, but PokerNews will surely keep its readers up-to-date with any new information that we discover.
PokerNews urges poker players to protect their belongings to the best of their ability at all times; they are your responsibility. Keep your laptop with you at all times. Otherwise, lock them securely in the safes provided. Also, be vigilant. If you see anyone acting suspiciously, report it immediately to a member of the hotel staff.
UPDATE (Friday at 2 p.m. ET): PokerNews' Chad Holloway reached out to Ignat "0human0" Liviu to hear his side of the story. Here is what Liviu told us:
"I can tell you and confirm that this happened to me. I went to my hotel room and the key wasn't working. I went down to [get a new key], went back to the room and saw that my laptop was missing. I then went to reception, told them what happened, went back at my room and the laptop was left in front of my room. They cracked my password; I don't know what else they did but for sure I will not use it anymore. At the security of the hotel we were able to see the guy on tape — a skinny guy at 1.7 or 1.8 meters that I don't recognize. So for sure there is this guy or a group that try to hack the computers of the high stakes players. I believe this happened to many players but I was lucky that I came back to the room and see the laptop missing. Anyway, PokerStars security is working with the security of the hotel try to find the guy. I don't know what else can be done."
Lead image courtesy of the TwoPlusTwo forums.
Get all the latest PokerNews updates on your social media outlets. Follow us on Twitter and like us on Facebook now!