The Weekly Turbo: High-Stakes Action Flourishing at FTP, Online Poker in New Jersey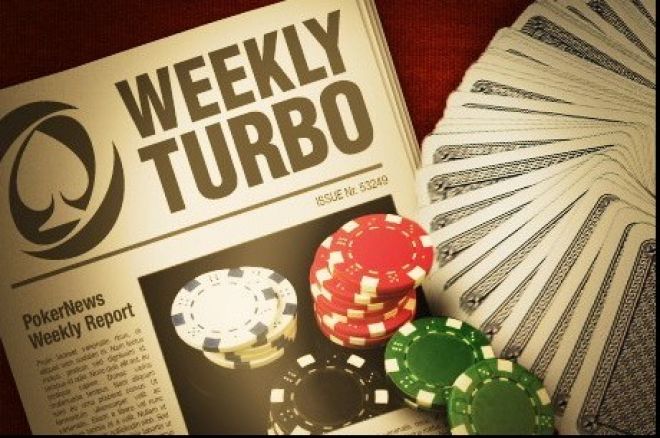 Did you miss any of the top poker news stories this week? Well you've come to the right place to get caught up. We're covering the intense high-stakes action at Full Tilt Poker, promising news for online poker players in New Jersey, and more.
Online Poker
Dwan's Online Poker Marathon
Where has Tom Dwan been lately? We'd been wondering that ourselves.
Since the relaunch of Full Tilt Poker last November, Dwan had been virtually absent from the high-stakes games on the site while the other two members of FTP's pro team, Viktor "Isildur1" Blom and Gus Hansen, were putting in major volume. In fact, entering Thursday, Dwan had played just 7,575 hands since the start of the year. Blom had played 38,800 hands; Hansen had logged more than 31,000.
But late this week, Dwan put in a marathon session reminiscent of the ones we saw in years' past. According to HighStakesDB.com, Dwan logged into FTP Thursday afternoon and sat down at a few no-limit hold'em tables on FTP. Nearly 7,000 hands and 25 hours later, Dwan had profited more than $1.25 million.
Dwan's session began with brief $300/600 NLHE heads-up matches against "SanIker" and "bbvisbadforme," where he made about $17,000 in 70 minutes. But that was it for the hold'em games; Dwan then moved on to pot-limit Omaha and no-limit 2-7 triple draw, and that's when the chips really starting moving in his direction.
Dwan faced off against the likes of Ben "Sauce1234" Sulsky, Phil "OMGClayAiken" Galfond, Hac "trex313" Dang, Alex "Alexonmoon" Leneau at the $200/400 no-limit 2-7 tables. Unfortunately, HighStakesDB.com doesn't track individual 2-7 hands in its database, but we can tell you he profited more than $1.3 million playing the popular draw game.
Dwan also matched talents against Ben "Bttech" Tollerene, one of the biggest online poker winners of last year. The two high-stakes regs sat down at two heads-up tables of $300/600 pot-limit Omaha late Thursday night, and didn't quit until 18 hours later. Dwan held the lead for most of the match, but Tollerene went on a rush Friday afternoon and finished on top by around $30,000.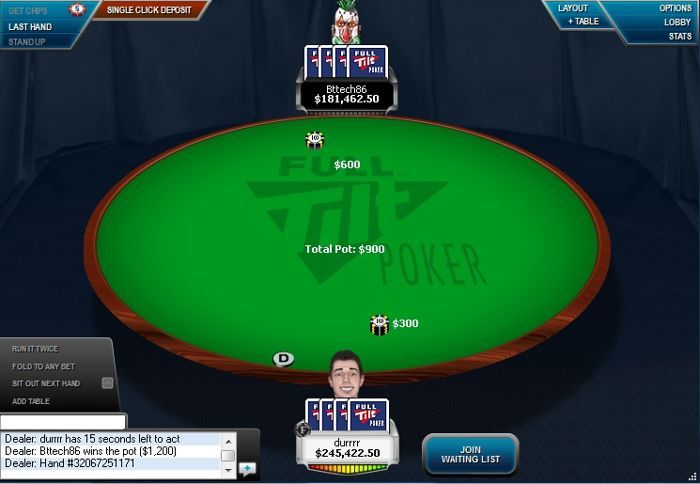 At one point during the session, Dwan had more than $1.8 million spread across five tables. It's safe to say that the "durrrr" we've come to know is officially back.
Keep an eye out for more action from Full Tilt Poker's nosebleed games. And be sure to read the Online Railbird Report for an in-depth look at the largest pots and biggest winners in online poker over the past week.
Antonius Accepts Another Challenge
With the "Durrrr Challenge" on hiatus for more than two years, Patrik Antonius is finding other players to face off against at Full Tilt Poker. On Wednesday, Antonius and Rui Cao kicked off a cash game challenge that will see one of them walk away with $1 million. The heads-up freezout will consist of three poker variants: pot-limit Omaha ($350,000 match), no-limit hold'em (350,000) and 2-7 triple draw ($300,000).
Cao initiated the challenge last Friday in a chat box after Antonius swept him clean during a triple draw match. Five days later, the duo had already completed their 2-7 challenge playing at $1,500/$3,000 limits on Wednesday morning. According to HighStakesDB.com, Cao controlled the table from start to finish taking Antonius for his $300,000 chip stack in only three hours and 350 hands.
We have yet to witness Antonius and Cao playing the second stage of the three-session match, but we'll have updates as soon as it resumes.
HighStakesDB has more.
Play Against The Professionals
Viktor "Isildur1" Blom is recognized as one of the most fearless high rollers in all of poker. The Swede has taken shots at the biggest online cash games in existence, and his name is tagged to each of the 10 largest pots in online poker history.
So why was Blom playing $.50/$1 pot-limit Omaha cash games on Monday?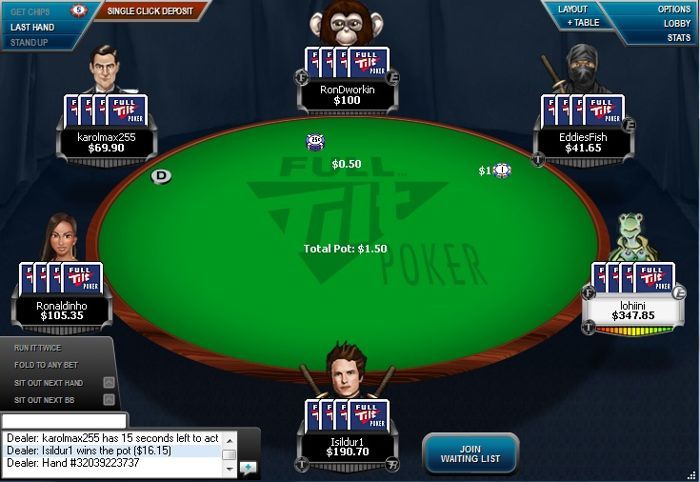 Confirmed busto? Nah, not even close. After all, Blom is the biggest cash-game winner in the world so far this year.
Blom's appearance at the micro tables this week is part of Full Tilt Poker's Challenge Tables, giving low-limit players a chance to test their skills against two of The Professionals — Blom and Gus Hansen. According to Full Tilt Poker, Hansen and Blom will sit down at one or more of their designated Challenge Tables a few times each week and face players already seated or anyone else willing to accept the challenge.
Challenge Tables are identified within the game software as Gus Hansen's Table or Isildur1's Table, and various games types are available: Omaha hi, Omaha hi/lo, razz, stud hi/lo, draw poker games, and mixed games. The stake levels encompass both micro-stake and low-limit games, starting at the $0.05/$0.10 tables and working up through the levels to the $3/$6 games.
For more info on how to play against Blom and Hansen, visit FullTiltPoker.com.
Poker Legislation
Gov. Christie Backs Online Gambling in New Jersey
It wasn't the result the online poker industry was hoping for on Thursday. But New Jersey Gov. Chris Christie's decision regarding Internet gambling was still deemed a victory.
Christie waited until the final moments of his 45-day window to conditionally veto an online gambling bill that would allow real-money online poker to be played inside state lines. Although the veto denies the state the ability to move forward with online gambling plans, Christie says he fully supports online gambling in the state. First, though, he needs to see some changes to the measure before he can sign off on it.
Among Christie's recommendations include a tax increase from 10 to 15 percent, with part of the additional proceeds going to compulsive gambling programs, and a time limit of 10 years for the authorization of Internet gaming unless re-established by law.
"With these goals in mind, I have concluded that now is the time for our State to move forward, again leading the way for the nation, by becoming one of the first states to permit Internet gaming," Christie said in the statement.
Sen. Ray Lesniak, the chief sponsor of the bill, called it "great news" for the state — especially in Atlantic City. Lesniak expects the senate to approve amendments to the bill on March 18 before handing it off to Christie for a final signature.
"I'm pleased that the changes he made are minor and will allow it to get up and running, hopefully achieving my ultimate goal for New Jersey to become the Silicon Valley of Internet gaming," Lesniak told PokerNews in a phone interview.
Read the full story right here at PokerNews.com.
Movement in Delaware
Legal, real-money online poker could make its way to Delaware by Sept. 30, 2013, according to a recent proposal by the Delaware State Lottery.
On Monday, iGaming Business reported that Delaware issued a request for proposal for implementing an Internet gaming system and associated services solution. The proposal also calls for companies to bid for the rights to provide the technology platform alongside operations manager services. The state wants the Internet system up and running no later than Sept. 30.
"The Delaware State Lottery is issuing this request for proposal to invite interested vendors to submit proposals for the implementation of an Internet gaming system and services solution, which is a turnkey offering inclusive of a back-end technology platform, operations management and support services, as well as an array of game content from multiple vendors to offer casino table games, video lottery games, poker, bingo and keno," read a statement from the Delaware State Lottery.
"The solution may at some point in the future integrate with the Delaware State Lottery's future Internet lottery system and Internet sports wagering system, which does not currently exist and is not included in this request for proposal."
Gaming is a large part of Delaware's budget, generating more than $250 million annually in tax dollars compared to a state budget of about $3.4 billion. The new forms of online gambling are expected to generate an additional $7.75 million for the state in 2013.
Delaware and Nevada are the only two states to authorize interstate online poker. New Jersey could join the list this week if Gov. Chris Christie elects not to veto the online gambling bill that was placed on his desk last month. Christie has until Thursday, Feb. 7 to act on the bill.
iGaming Business has more.
Mississippi Bill Dies Again
It wasn't all good news for Internet gambling efforts in the U.S. this week. A bill in Mississippi that would have legalized real-money online poker was killed in committee, nearly a year after similar bill failed in the state last February.
Rep. Bobby Moak reintroduced the Mississippi Lawful Internet Gaming Act of 2013 (House Bill No. 254) just last month. According to the bill, Internet games would be taxed at 5 percent of gross revenues and would restrict licenses to those companies already holding land licenses to operate in the state.
Moak's vested interest came after the Department of Justice concluded that forms of gambling other than sports betting fell outside of the Wire Act of 1961. However, despite receiving support from big casino operators, Moak had to tug through the state's churches that opposed any expansion of legal gaming of any kind for religious purposes. Ultimately, the bill failed to make its way through the Ways and Means committee this week.
Nevada and Delaware remain the only states to authorize real-money wagering online while New Jersey, California, and other states continue to work on legislation.
For more, read the story at the Hattiesburg American.
Online Poker Delays in Nevada
While New Jersey waits for Christie's eight-ball to decide the state's online gambling future, companies in Nevada continue to prepare for the launch of its own interstate market. On Wednesday, the state Gaming Control Board (GCB) held its monthly meeting in Carson City and discussed the issue of technology testing for online poker sites.
According to the Las Vegas Sun, three companies requested extensions to complete laboratory testing as provisions of interactive gaming licenses approved last year. South Point Poker, ACEP Interactive and Monarch Interactive were given preliminary approval for extensions by the GCB, and if approved by the Nevada Gaming Commission on Feb. 21, the three companies will have until August to complete testing on their software.
Many pundits believed the first real-money online poker site would launch in Nevada by the end of 2012, but the testing by third-party labs has taken longer than anticipated. On Tuesday, PokerNews learned through a source that the Station Casinos and Ultimate Gaming were aiming to debut their Ultimate Poker product for real-money play by March 9, 2013. However, when asked for a confirmation of the launch date, an Ultimate Gaming spokesperson told PokerNews that the company is still "working with gaming regulators to ensure a successful launch and regulation process" for the product. Ultimate Poker is expected to launch some time in 2013.
The Las Vegas Sun has more.
Poker Business
PokerStars on Facebook
On Tuesday, PokerStars announced that its free-to-play site, PokerStars.net, has launched on Facebook. The product will now compete with Zynga Poker and other poker applications on Facebook's social platform, potentially cutting into Zynga's sizable lead in the play-money realm.
"This is part of our ongoing research and development efforts, and is just one of a whole range of areas that we are working on," Eric Hollreiser, PokerStars' head of corporate communications, told PokerNews on Tuesday.
Hollreiser added that the product was launched it in beta to test it and ensure that it is up to PokerStars' high-standard. "There's still a lot of work to be done, and while the beta testing is just beginning, we will allow new participants to join as and when we are able to do so," he said.
PokerStars' Facebook application has a similar look and feel to the PokerStars.net platform, even offering the popular Zoom Poker format. Players who already have a PokerStars account can access the PokerStars.net application using their existing login information, and they'll find their accounts' play-money chip balance upon login.
More information on the PokerStars Facebook app can be found at PokerStars.net.
World Poker Tour on FSN
The 11th season of the World Poker Tour will debut on Fox Sports Net on Sunday, Feb. 24, bringing viewers the same level of exciting broadcasts they've seen in recent years. Season XI, which is once again sponsored by ClubWPT.com, will continue the tradition by providing viewers with 33 original, hour-long episodes from events such as the WPT Legends of Poker, the WPT Borgata Poker Open, the WPT Grand Prix de Paris, the WPT Seminole Hard Rock Poker Showdown, and the WPT World Championship at Bellagio.
WPT commentators Mike Sexton and Vince Van Patten will be calling all the action for the 11th consecutive year while Kimberly Lansing returns as the show's anchor. Raw Deal analyst Tony Dunst and the Royal Flush Girls round out the cast, along with sideline reporter Matt Savage. In addition to the popular Raw Deal segment, this season's programming will feature a new crop of the World Poker Tour's Ones to Watch, focusing on the lives of some of the game's hottest young stars and rising prospects.
"Viewers have responded very positively to the changes we've made in the show over the past two seasons, rewarding us with historic viewership numbers and ratings," said WPT President Adam Pliska. "This year, we're continuing to push the envelope with even more compelling improvements that complement what is turning out to be a record-breaking season with some of the greatest poker moments we've seen in the WPT's television history."
The WPT Blog has more.
And The Winner Is...
On Monday night, members of the gaming community gathered in London for the 2013 International Gaming Awards. PokerStars was among a list of winners who took home an award, specifically the Online Poker Operator of the Year.
PokerStars defeated 14 nominees to be named best global poker operator. "This has been a year of great achievement for PokerStars and this award is recognition of the hard work and dedication of our employees around the world who are setting the standard for quality in the industry," said Eric Hollreiser, PokerStars' head of corporate communications.
A list of developments in 2012 contributed to PokerStars being recognized at Monday's event. In 2012, PokerStars released a mobile app that allowed players to play anywhere and anytime. PokerStars also launched a new gaming format, Zoom Poker, which enabled players to play faster. The MicroMillions tournament series was also created and launched in March last year, as well as the Turbo Championship of Online Poker (TCOOP).
PokerStars also expanded with new regulated licenses in Malta (PokerStars.EU), Denmark (PokerStars.DK), and Spain (PokerStars.es), which led to the signing of Spanish tennis superstar Rafael Nadal to Team PokerStars.
Other winners at the event included Melco Crown Entertainment, which was awarded Casino/Integrated Resort of the Year, and Skrill, which won Payment Solutions Provider Company of the Year.
PokerStars was also a finalist for Socially Responsible Operator of the Year, Mobile Poker Operator of the Year, and Gaming Industry Fair Play.
The PokerStars Blog has more.
PokerNews Wins Affiliate Award
PokerStars wasn't the only company scooping an award this week. We're proud to announce that PokerNews.com was named the Best Poker Affiliate at the 2013 iGB Affiliate Awards. The honor recognizes the poker affiliate that excelled most in 2011-2012, taking into account criteria such as volume of traffic, innovation, reputation with players, and brand power.
More than 500 members of the iGaming affiliate community crammed into The Brewery in London on Friday, Feb. 8. Among the other winners were bet365 (Best Overall Affiliate Program), Unibet Affiliates (Best Poker Affiliate Program), Skrill (Best Payment System), and Paddy Power (Best Sports Affiliate Program).
Check out the full list of winners and video highlights of the event at CalvinAyre.com.
Poker Tournaments
EPT London Schedule
On Thursday, PokerStars announced that the European Poker Tour will return to London from March 5 through 16. The festival, which is returning to its roots at the Grosvenor Victoria Casino, will combine the UK and Ireland Poker Tour (UKIPT) and the EPT for the first time with 37 events spread across 11 days with various buy-ins to attract all players.
"I am very excited that EPT London is returning to the Vic, where it began," said EPT Season 3 winner and Team PokerStars Pro Victoria Coren. "I think the atmosphere there will be fantastic. It's where I won my own EPT title, so I hope it'll be lucky for me."
On top of the £770 UKIPT Grand Final Main Event, which will kick-start the festival, players can also expect nightly turbo events starting from £110 along with a host of side events including a £2,150 High Roller event.
When the UKIPT Grand Final comes to a close, the EPT will begin with the £5,250 Main Event, followed by events like the £330 Spring Fling Turbo with a guaranteed prize pool of £25,000. Other tournaments on the slate include the £10,300 EPT High Roller, a £550 No Limit Deepstack event, the £550 PokerStars Women event, and the £2,100 No Limit Turbo.
Side events and cash games will take place at the Hippodrome Casino, home to the soon-to-launch PokerStars live poker room.
EPTLive will be broadcasting the EPT London Main Event, with coverage running from March 10 (Day 1a) through the final table on March 16.
The entire EPT London schedule can be seen at EuropeanPokerTour.com.
Follow PokerNews on Twitter for up-to-the-minute news.