New Jersey Governor Chris Christie Conditionally Vetoes Online Gambling Bill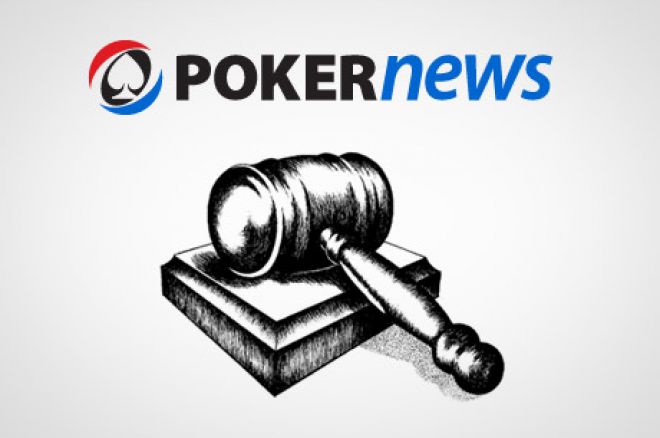 New Jersey Gov. Chris Christie finally revealed his hand on Thursday. In a victory for the future of online poker, his conditional veto asks for minor changes to the Internet gambling legislation that will allow the bill to advance next month.
Christie's 31-page conditional veto includes a statement and line-by-line detailing of changes that need to be made to get his signature. These recommendations include a tax increase from 10 to 15 percent, with part of the additional proceeds going to compulsive gambling programs, and a time limit of 10 years for the authorization of Internet gaming unless re-established by law.
"With these goals in mind, I have concluded that now is the time for our State to move forward, again leading the way for the nation, by becoming one of the first states to permit Internet gaming," Christie said in the statement.
State Sen. Ray Lesniak, who sponsored the bill, said the senate will approve the changes during its next voting session March 18 to send the bill back to Christie's desk for an immediate signature. He expects the assembly to have already passed the revisions during its voting session on Feb. 14 or Feb. 21.
Following six months to finalize regulations and review casino applicants, Lesniak expects the first virtual hands to be dealt in New Jersey this fall.
"This is great news," Lesniak said in a phone interview. "I'm pleased that the changes he made are minor and will allow it to get up and running, hopefully achieving my ultimate goal for New Jersey to become the Silicon Valley of Internet gaming."
The governor waited until the final day of his 45-day window to make a decision on the bill, which brought back memories of his full veto of similar legislation on the last-possible day two years ago.
Last month on a radio broadcast, Christie expressed his concerns that legalizing online gambling might increase problem gambling and keep people away from Atlantic City.
The increased tax rate and funds to address compulsive gambling helped with his first concern. Atlantic City establishments pay just 8 percent on revenues from play inside their casinos.
"It still makes it profitable for our casinos and Internet companies," Lesniak said. "It may have a chilling effect on our ability to market to other states and compete with Nevada in that regard, but we can always change it."
With revenues in decline each of the past six years, it was obvious that Atlantic City needed something to change. By adding the 10-year limit on authorizing Internet gambling, Christie handled his second concern by creating a time frame to see if online gaming really is the solution to Atlantic City's problems.
"In the wake of the devastating losses suffered by our residents in recent months, we must embrace new ideas to fuel our reconstruction and continued prosperity," Christie said in the statement, referring to the impact of Hurricane Sandy. "Internet gaming should be a part of that effort. With the recommendations I propose today, we can revitalize one of our State's premier attractions, and reintroduce New Jersey and Atlantic City at the forefront of innovation and entertainment."
Lesniak said 10 years provides enough time to justify the start-up costs for Atlantic City casinos to go online.
"Ten years is long enough that it won't deter investors to make the investments we need now," Lesniak said. "I can't imagine why it wouldn't be extended at that time. Once we have a history and revenue coming in, and proof that people aren't jumping off the rooftops because they lost all their money, I expect we'll do away with the detonation date well before the 10 years are up."
Christie's decision is good news for Rational Group, which owns online poker giants PokerStars and Full Tilt Poker. Last month, Rational Group agreed to purchase the Atlantic Club Casino in Atlantic City and filed papers with the New Jersey Division of Gaming Enforcement seeking regulatory approval for the transaction.
If approved, it would mark the first time an Internet gaming company has acquired a brick-and-mortar casino in Atlantic City. If Christie ultimately signs off on the Internet gambling bill, Rational Group could then rebrand the Atlantic Club poker room, and use the casino as a platform to rebuild its online poker customer base in the U.S.
Eric Hollreiser, head of corporate communications at Rational Group, issued the following statement to PokerNews on Thursday:
We welcome the definitive statements made today by Governor Christie in seeking to place New Jersey at the forefront of internet gaming in the United States. We are hopeful that the state legislature will work quickly to finalize the legislation in accordance with the important revisions and additions to this bill set out in the Governor's statement. We have consistently said that this bill will drive economic development and job creation in New Jersey and are committed to play our part in that process. The distinctive environment that I-Gaming can create for New Jersey is unprecedented and we are pleased that Governor Christie sees the significant benefits of mixing online and offline gaming.

Our agreement to acquire The Atlantic Club Casino Hotel is subject to completion and we look forward to working with the relevant parties, including the NJ Division of Gambling Enforcement to finalize that process.

The most important thing, though, is that all parties work collaboratively to bring this bill back for signature quickly so that Atlantic City and New Jersey can begin to benefit from this proven global model for successful gaming.
Follow PokerNews on Twitter for up-to-the-minute news.