The Online Railbird Report: Isildur1 Wins $1,187,406 in 30 Hours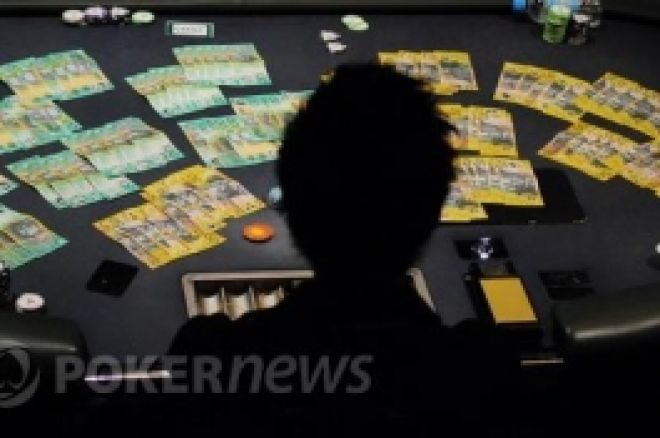 After a two-week warm-up at the $25/$50 and $50/$100 tables, Swedish phenom "Isildur1" returned to the nosebleed-stakes cash games Monday night and wasted no time taking on several high-profile poker pros in multitable heads-up matches. While he didn't fare too well against Isaac "luvtheWNBA" Haxton, Isildur1 went on to deliver a crushing blow to Justin "ZeeJustin" Bonomo's bankroll, dealing the young pro his largest-ever single day loss. All told, in a 30 hours between Monday morning and Tuesday afternoon, Isildur1 earned a stunning $1,187,406.
Isildur1 spent the early afternoon playing shorthanded $200/$400 CAP PLO against many familiar faces including Ashton "theASHMAN103" Griffin, Alexander "PostflopAction" Kostritsyn, Di "Urindanger" Dang, and "geoff7878." It was a profitable session for Isildur1, who came away with a $238,661 win.
From there, Isildur1 switched to no-limit hold'em for his eight-table, $100/$200 match against Haxton. Widely considered to be one of the best heads-up no-limit hold'em players online, Haxton relieved Isildur1 of $90,000 in 2,022 hands.
After playing Haxton for close to four hours, one might think our Swedish friend would take a break, enjoy some shrimp on toast, and perhaps squeeze in a nap. Not this guy. Immediately after finishing his match with Haxton, Isildur1 raised the stakes and sat down with Bonomo on six tables of $200/$400 NLHE. The two and a half hours of play that ensued were nothing short of a massacre for Bonomo, who dropped $567,515 in just under 2,000 hands.
The largest pot of the Isildur1-Bonomo session came in at nearly $171,000. Bonomo opened for $1,200 from the button holding
, Isildur1 popped it to $4,800 with
and Bonomo called. The
was an ugly cooler for Bonomo, who flopped two pair against Isildur1's top set. Isildur1 maintained his aggression, leading out for $6,400. Bonomo raised to $15,600, and Isildur1 smooth-called. The
on the turn didn't change much, Isildur1 checking over to Bonomo, who fired out $20,000. Isildur1 sprang from the bushes and moved all-in for $71,797 and Bonomo called off the $64,991 he had behind only to see what he had run into. The river blanked out with the
and Isildur1 collected the $170,781 pot.
After Bonomo's losses passed the half-million dollar mark, his backer withdrew his action and Bonomo asked Isildur1 if he was willing to drop down to $100/$200.
ZeeJustin: friend that had a piece backed out, i have to go down to 1/2 if you want too keep playing =(
Isildur1: ok =( sry i am to tired for that =(
ZeeJustin: up to you
ZeeJustin: ok, gg, gn
Isidlur1: gg
Bonomo took the loss in stride and wrote on his Twitter page that he intends on setting up a rematch in the near future.
"Played Isildur1 yesterday. Was my biggest poker loss ever. I'm still up money overall for February. I will play him again," Bonomo wrote.
Isildur1's thirst for action continued into Tuesday morning. He started off the day playing Ilari "Ziigmund" Sahamies at $100/$200 PLO banked another $49,000 after an hour of play. They decided to kick the stakes up to $200/$400 and after another 625 hands Isildur1 picked up an additional $116,800.
From there it was on to the $300/$600 tables where Isildur1 joined Tom "durrrr" Dwan, Kostritsyn, Brian Hastings, Jani Vilmunen, Di "Urindanger" Dang and Gus Hansen on four shorthanded PLO tables. After a few hours, only one 6-max table was left in the mix while Dwan and Isildur1 continued playing heads-up on the other three.
Dwan was clearly eager for a chance to reclaim some of the $5-plus million he dropped to Isildur1 in late 2009. However, Isildur1 got the best of Dwan once again, winning close to $232,000. Isildur1 also claimed the day's largest pot, a $254,387 behemoth played against Dwan.
Dwan opened for $2,000 on the button, Isildur1 three-bet to $6,200 and Dwan made the call. Isildur1 checked the
flop over to Dwan, who bet $8,200. Isildur1 came back with a check-raise to $37,800 and Dwan called to see the turn. It was the
and Isildur1 moved all-in for $83,193. Dwan had him covered and made the call, turning up
for two pair and a wrap draw. Isildur1, however, had turned the nuts with
for a ten-high straight. The river was the
and Isildur1 collected the $254,387 pot.
Only six hands later, Isildur1 told Dwan that he'd had enough of pot-limit Omaha and wanted to switch to (his better game) ― no-limit hold'em. Dwan was understandably a little peeved.
durrrr: huh?
Isildur1: lets just play 6 tables 3 6 nl instead ?
durrrr: lol
durrrr: ur too annoying to deal with
durrrr: play for hours then the second u get up u want new game
durrrr: thats ridic
Isildur1: lol, like i just to quit playing
Isildur1: wtf
Isildur1: i play plo with u all even tho i dont want
durrrr: i wanna play here obv
Isildur1: i been waiting for u at nl and u say u comming but never show up
durrrr: its obv terrible timing right after u win 250k pot
Isildur1: thats annoying
durrrr: i came to play 4
durrrr: but had 4 other games
durrrr: u hav too many rules w/e
Isildur1: ye ok
durrrr: im stuck 500 ill play here
durrrr: dont wanna move tho
durrrr: i lost a lot to gus before u came
Isildur1: ok sry to hear that
durrrr: n said to friend on aim that i hoped u didnt win early or ud quit and ask me for NL
durrrr: its k we can play another time or w/e
Isildur1: i dont use to quit plo when im winning
durrrr: ok lets play then?
Isildur1: thats just bs
durrrr: lets play then?
Isildur1: i need 5 mins then i know after
Isildur1: plo
durrrr: ok
Isildur1: would rather play nl but gimme some time i have small stuff to do
durrrr: ok np
After their chat, Isildur1 logged off and did not reappear on Full Tilt that evening, leaving Dwan to play with the usual crowd.
Who's Up? Who's Down?
This week's biggest winners (2/9-2/15): Isildur1 (+$733,000), Gus Hansen (+$585,000), David Oppenheim (+$487,000)
In the red: Di "Urindanger" Dang (-$652,000), "DrPill" (-$279,000), "URnotINdanger2" (-$262,000)
Top 5 earners, 2010 to date: Cole South (+$2,857,000), Gus Hansen (+$2,366,000), Alexander "PostflopAction" Kostritsyn (+$1,839,000), David Oppenheim (+$1,459,000), "FakeSky" (+$733,000)
Other notables, 2010 to date: Patrik Antonius (-$1,725,000), Brian Townsend (-$1,618,000), Isildur1 (+$587,000), Tom "durrrr" Dwan (+$314,000)
The highest-stakes action on the internet all unfolds on Full Tilt Poker. Open up an account today and see for yourself.