The Online Railbird Report: "Isildur1" Returns, Kostritsyn Crushes the Competition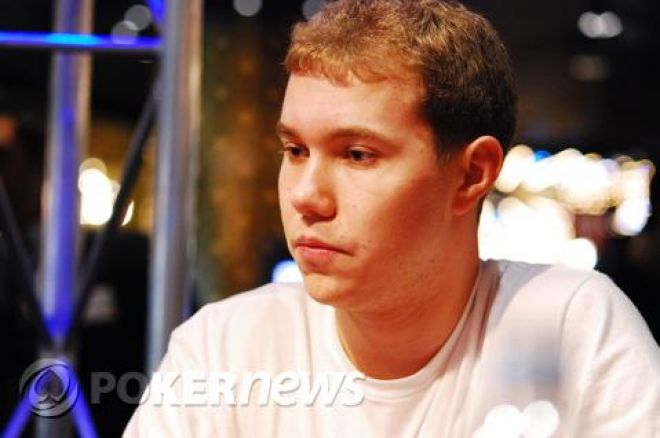 This week we saw Alexander "PostflopAction" Kostritsyn emerge as a major force at the high-stakes online cash-game tables, Patrik Antonius stop the bleeding on his 2010 losing streak, and Tom "durrrr" Dwan playing six-figure pots again. However, none of the nosebleed-stakes action could compare to the long-awaited return of "Isildur1" to the tables. Although he's playing with a fraction of the bankroll he once had, Isildur1 is still up to his old tricks — hyper-aggressive play, big river bluffs, and grinding up a decent profit only to flush it away in a heads-up match. At least this incarnation of Isildur1 appears to be sticking with his best game, no-limit hold'em, rather than risking his bankroll against some of the best pot-limit Omaha players in the world.
A week with "Isildur1"
It's true — Isildur1 is back, albeit at far lower limits than he was playing during his catastrophic run in late 2009. Since Feb. 1, the young Swede has logged 17,674 hands on Full Tilt Poker and has lost $151,293 playing no-limit hold'em and pot-limit Omaha at limits from $25/$50 to $100/$200.
February 1 marked Isildur1's first full day back on the virtual felt. Playing on and off throughout the afternoon and early evening, he ground up $14,097 in earnings primarily from short "hit and run" sessions, only to lose it all back and then some. Isildur1's final match of the night came against "URnotINdanger2" and although they played for only 76 hands, Isildur1 dropped $18,307, putting himself in the red for the day.
Two days later, Isildur1 was back for more, logging on at 11 a.m. EST and playing until 4 a.m. the following morning. Isildur1 logged over 8,000 hands during this marathon session, the vast majority of them played heads-up against "K0stya_Spb" at $25/$50 NLHE. Despite the heavy volume he put in, Isildur1 was still stuck $36,826 at the end of the day.
Isildur1 next appeared on Full Tilt on Thursday, Feb. 4, when he played a six-table heads-up match against Isaac "luvtheWNBA" Haxton. After playing 1,403 hands of $25/$50 NLHE (where Isildur1 won a modest $1,992), they kicked the stakes up to $50/$100. Isildur1 didn't fare well at all, losing $17,976 over the course of another 1,287 hands. After a few hours' break, Isildur1 played a rematch against K0stya_Spb on the $25/$50 tables. Isildur1 won $69,002 over 1,702 hands before they raised the limits to $50/$100 for another 901 hands. Isildur1 managed to lose back only $5,787. That night, Isildur1 also played short heads-up matches with Brian "just_the_nuts" Roberts of 2 Months 2 Million fame and "PixKim."
Friday saw Isildur1 lose an even $40,000 over 1,104 hands of $25/$50, $50/$100 and $100/$200 CAP NLHE. His heaviest losses came in a 698-hand heads-up match against Sami "LarsLuzak" Kelopuro at $100/200 CAP PLO in which Isildur1 dropped $29,509 to the 22-year-old Finn.
Isildur1 played another lengthy heads-up match on Sunday evening, taking on URnotINdanger2 at four tables of $50/$100 NLHE. After Isildur1 lost $24,013, they moved down to the $25/50 tables for another 377 hands, but Isildur1 still couldn't find any traction, losing another $10,565.
Then, on Monday afternoon, railbirds got a real treat: a "durrrr" and Isildur1 rematch! Lasting only 183 hands over 26 minutes, it was more of an amuse-bouche than an entrée, but Dwan did win just short of $48,000 back from his nemesis. Isildur1 lost both of the two major pots that developed, the largest coming in at $47,498 and ending with a river bluff gone awry.
Playing $100/$200 NLHE, Dwan opened for $600 from the button holding
, Isildur1 three-bet to $2,200 with
, and Dwan made the call. Isildur1 led out for $2,800 on the
flop, Dwan raised to $6,500, and Isildur1 called. Both players checked the
on the turn, but when the river fell the
, Isildur1 moved all-in for $15,049. Dwan picked off Isildur1's bluff with bottom pair, his two aces earning him the 238 big-blind pot.
Antonius, Dwan on the rebound
Over the last few days, Patrik Antonius finally snapped his losing streak, booking over $575,000 in winnings on Super Bowl Sunday alone. Antonius took $191,000 off John "world1969" Hennigan in a heads-up $500/$1,000 PLO match, and then followed it up with a $385,000 win at the $1,500/$3,000 7-Game tables.
Tom "durrrr" Dwan is also getting his groove back in a major way. Dwan put in a considerable amount of volume on Tuesday, playing close to 5,000 hands. Although he lost a quick $180,000 at the $300/$600 PLO tables, he retreated to the $25/$50, $50/$100 and $100/$200 tables and ended his evening with a $241,000 win.
Kostritsyn crushes Dang
2008 Aussie Millions champion Alexander "PostflopAction" Kostritsyn has thus far enjoyed a boffo 2010, and this week he added another $835,000 to the till, much of it coming from two heads-up matches againstDi "Urindanger" Dang. Over a 24 hours, the two put in close to 3,300 hands of heads-up $200/$400 and $300/$600 pot-limit Omaha, Kostritsyn demolishing Dang for $681,000.
In the largest pot they played, Kostritsyn led off the betting with a raise to $1,200 from the button. Dang reraised to $3,600, Kostritsyn four-bet for $10,800 and Dang came back over the top for $32,400. Kostritsyn called and they saw a
flop. Dang immediately shoved for his remaining $49,379 and Kostritsyn made the call, turning over
for two pair and a flush draw. Dang held
for a pair of sixes and a smaller flush draw, and couldn't find any help on the turn or river, which fell the
and the
respectively. Kostritsyn made his flush and raked in the $163,558 pot.
Who's Up? Who's Down?
This week's biggest winners (2/2-2/9): Cole South (+$924,000), Alexander "PostflopAction" Kostritsyn (+$835,000), PixKim (+$423,000), Patrik Antonius (+$359,000), Tom "durrrr" Dwan (+$347,000)
In the red: Ilari "Ziigmund" Sahamies (-$762,000), Brian Townsend (-$627,000), John "world1969" Hennigan (-$501,000), David Oppenheim (-$263,000), DrPill (-$243,000)
The biggest action online all unfolds on Full Tilt Poker. Open an account today and see for yourself.