Pius Heinz Wins 2011 World Series of Poker Main Event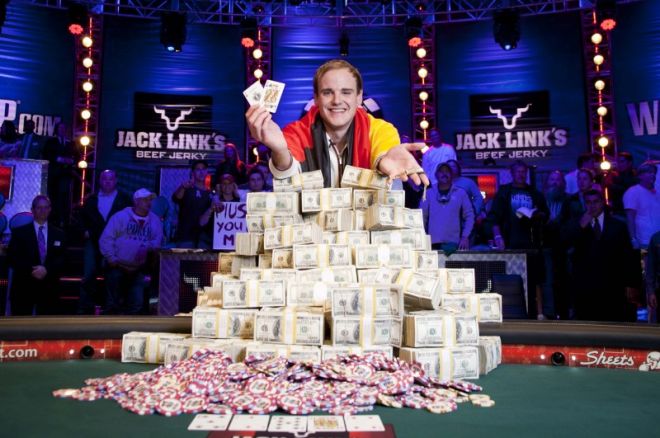 For months, poker fans around the world have waited to find out who will be crowned 2011 World Series of Poker Main Event champion. On Tuesday night, Pius Heinz, Team PokerStars Pro from Germany, earned that honor.
On Sunday, the 2011 November Nine reconvened for the first time since July and played down to the final three players. After a day off, Pius Heinz, Ben Lamb, and Martin Staszko made their way back to the Penn and Teller Theater inside the Rio All Suites Hotel and Casino to play for poker immortality.
Here's a look at the chip counts at the beginning of play on Tuesday:
Final Three Chip Counts
| Place | Player | Chip Count |
| --- | --- | --- |
| 1 | Pius Heinz | 107,800,000 |
| 2 | Ben Lamb | 55,400,000 |
| 3 | Martin Staszko | 42,700,000 |
Let's Get It Started: Much to the surprise of the entire crowd, the first hand of play (Hand No. 179) was a doozy. Pius Heinz folded the button and Ben Lamb raised to 3 million from the small blind. Martin Staszko exercised his option in the big blind with a three-bet to 7.5 million. Lamb responded by moving all-in. Staszko made the call and there was 85.6 million in chips on the line.
Showdown
Lamb: K♥J♦
Staszko: 7♠7♣
The two were racing, and Lamb's rail, which constituted the largest section of the crowd, were on their feet. The Penn and Teller Theater was electric, but fell eerily silent as the board ran out 9♠3♥2♦3♠10♣. Staszko's pocket pair held to give him the double, and Lamb was knocked down to just 12.7 million.
New Chip Leader: As if the first hand weren't enough, on the second, Staszko took the chip lead. He raised to 3 million from the small blind and received a call from Heinz in the big. When the flop fell 9♥A♣6♠, Staszko bet 3 million, Heinz called, and the 9♦ hit the turn. Both players checked. Staszko fired out 4.5 million. Heinz hit the tank for a long while before making a big raise to 14.2 million. Staszko tanked, as well, before making the call. He tabled K♣K♦ and was good against Heinz's K♥Q♦. With that, Staszko took the chip lead of 106.2 million.
Stunned: On the fourth hand of play (Hand No. 182), Ben Lamb moved all-in from the small blind with Q♠6♥ and Staszko called from the big blind with J♦J♣. In minutes, Lamb, who was the fan favorite, went from second in chips to having his tournament life on the line.
The crowd, the majority of whom were there to support the 2011 WSOP Player of the Year, was standing. A mixture of cheers, some for Staszko but more for Lamb, filled the theater as the dealer prepared to deal the flop.
Lamb was in desperate need of a queen, but the 5♣5♥2♠ flop did not deliver. The 2♣ was far from helpful, and Lamb's rail was deflated. The 7♠ appeared on the river to put an improbable end to Lamb's amazing 2011 run, culminating in a $4,021,138 Main Event cash.
Heinz Back in the Chip Lead: After five hands of heads-up play (Hand No. 187), Staszko limped on the button only to have Heinz raised to 3.7 million. Staszko made the call, and then called a bet of 4.3 million on the 9♦5♣8♦ flop. When the Q♦ appeared on the turn, Heinz fired out 8.8 million, Staszko insta-called, and the 10♣ fell on the river.
This time Heinz checked. Staszko put out a bet of 14.5 million. With close to 50 million in the pot, nearly 25 percent of the chips in play, Heinz announced that he was all-in for 74.4 million. Staszko shook his head in bewilderment before folding his hand. With that, Heinz reclaimed the chip lead with 122.9 million to Staszko's 83 million.
Chip Lead Back to Staszko: The two players traded blinds back and forth until on Hand No. 203 when Staszko limped from the button, Heinz checked his option, and the flop fell 2♣Q♠9♥.
Heinz wasted little time in leading out for 2,000,000, Staszko called, and the K♠ appeared on the turn. Again Heinz bet, this time 4.5 million. Staszko flatted, and the 7♠ peeled off on the river. Heinz thought for a minute and a half before sliding out 14.25 million, and Staszko thought for about the same amount of time before making the call.
Heinz showed 7♦2♥ for two pair, which was no good against Staszko's two pair with Q♥7♣. The pot saw the chip lead change once again, this time in favor of Staszko who stacked 110,650,000 to Heinz's 95,250,000.
Big Move by Staszko: Heinz managed to make his way back into the chip lead with a few small pots, but lost it soon thereafter when Staszko raised to 3.5 million from the button. The aggressive German responded with a three-bet to 10.1 million, Staszko called, and the flop came down 7♦2♥10♠. Heinz kept the pressure on with a 9.8 million bet. Staszko wasted little time in making the call, and the dealer turned the A♣. Heinz fired again, betting 21.3 million, but this time Staszko moved all-in for just over 60 million. Heinz quickly folded, dropping to 83.5 million, while Staszko reclaimed the chip lead with 122.4 million.
In the ESPN broadcast, it was revealed that Heinz held J♦9♣ and Staszko K♦Q♥. Neither had so much as a pair, but Staszko's brazenness earned him the pot.
Big pot for Staszko: On Hand No. 228, Heinz opened for 3.4 million and Staszko called from the big blind, leading to a flop of A♦9♠3♦. After a check, Heinz upped his bet to 3.8 million, Staszko called, and the A♠ paired the board on the turn. At this point, Staszko checked, Heinz bet 8.4 million, Staszko raised to 18.5 million, and Heinz called, bringing the 6♦ river. Staszko took the initiative and led out for 20.25 million, which prompted Heinz to fold.
Heinz, who laid down 7♣6♠, dropped to 64.6 million while Staszko, who held A♣9♣, chipped up to 141.3 million.
Back and Forth: Seven hands later, Heinz had pulled back to even. In fact, only 900,000 separated the duo with more than 206,000,000 chips in play. Heinz went on to win the next five hands to reclaim the chip lead, one he extended to 123.4 million to Staszko's 82.5 million. Over the next hour, the two battled with the chip lead swinging back to Staszko. Heinz dwindled a bit only to fight his way back into contention. So it went for nearly 50 hands before Staszko managed to pull out to a 3-1 chip lead.
Heinz Catches Up: With the blinds at 1.2M/2.4M with a 300,000 ante, Staszko limped on the button on Hand No. 293 only to have Heinz raise to 7.9 million from the big blind. Staszko made the call and then watched as Heinz fired out 8.2 million on the 10♣7♣K♠ flop. The Czech opted for a raise to 17.5 million, Heinz moved all-in for 72.95 million, and Staszko made the call: the first all-in and call of the heads-up battle.
Showdown
Heinz: A♥Q♥
Staszko: Q♣9♣
Staszko held a massive draw and had a 46 percent chance of winning the championship. The 3♥ turn was kind to Heinz and sent his rail into a brief celebration, but there was still one card to come. Luckily for Heinz, it was the harmless 6♠ and he doubled to 162.3 million, leaving Staszko with 43.6 million.
A Champion is Crowned: A few hands later, on Hand No. 301 of the final table, Staszko open-shipped for 39.5 million and was snap-called by Heinz.
Showdown
Heinz: A♠K♣
Staszko: 10♣7♣
The Team PokerStars Pro from Germany, Heinz was out in front; Staszko needed help. The 5♣2♦9♠ flop was not particularly exciting, but the J♥ turn did give Staszko four extra outs to a straight. When the 4♦ blanked on the river, the crowd erupted in celebration for Heinz, who rushed to his rail and was immediately swallowed up by his fans.
It was the longest heads-up battle in over 10 years, but in the end it was the 22-year-old German, Pius Heinz who dispatched Martin Staszko of the Czech Republic.
2011 November Nine Results
| Place | Player | Chip Count |
| --- | --- | --- |
| 1st | Pius Heinz | $8,715,638 |
| 2nd | Martin Staszko | $5,433,086 |
| 3rd | Ben Lamb | $4,021,138 |
| 4th | Matt Giannetti | $3,012,700 |
| 5th | Phil Collins | $2,269,599 |
| 6th | Eoghan O'Dea | $1,720,831 |
| 7th | Badih Bounahra | $1,314,097 |
| 8th | Anton Makiievskyi | $1,010,015 |
| 9th | Sam Holden | $782,115 |
Don't forget to follow us on Twitter and like us on Facebook.
Executive Editor US, PokerNews Podcast co-host & 2013 WSOP Bracelet Winner.