Five Thoughts: And Then There Were Three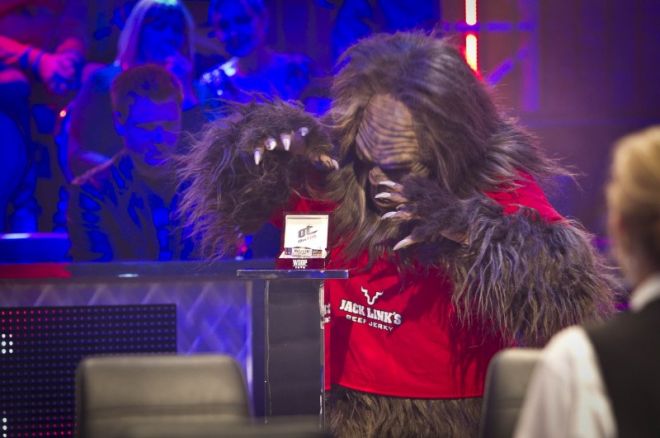 The 2011 World Series of Poker Main Event will be won by one of three players: Pius Heinz (107,800,000), Ben Lamb (55,400,000), or Martin Staszko (42,700,000). The German, the American, and the Czech all survived the first day of the November Nine and will reconvene Tuesday night in the Penn & Teller Theater at 1730 PDT (0130 GMT) to crown a champion.
In the meantime, let's do some thinking, shall we?
1. Can anyone stop Ben Lamb?
It looked like Ben Lamb was in trouble after doubling Phil Collins in Hand No. 73, but then Lamb doubled through Eoghan O'Dea in Hand No. 97. Lamb three-bet shoved from the big blind with
, O'Dea called with
, and the board ran out
……
! Unbelievable!
For the next few hours, Lamb wasn't involved in any all-in situations, but when the table was finally four-handed, he was the short stack. In Hand No. 174 he three-bet jammed again, this time on Matt Giannetti, who called with a familiar hand — a wired pair of jacks. Lamb held
, and needed only four cards to make a miraculous flush and double.
To cap the night off, Lamb had Giannetti all-in and at risk in Hand No. 188. Lamb was well ahead with two kings versus Gianetti's
, and flopped the other two kings for kicks and giggles.
It would be unfair to only focus on Lamb's good fortune however — he played great. He started off playing very tight, which was a surprise to many, but was able to switch gears when necessary to chip up and more importantly, he adapted to the style of the game better than any other player at the table. We assume that each player had a team of people watching the broadcast and relaying previous hands to someone in the Penn & Teller Theater, but no one was more active than Lamb on the rail.
Every so often, Shaun Deeb or another member of Lamb's rail would beckon him over and tell him the hole cards of a hand from 15 minutes ago. Lamb was always a step ahead of his opponents, especially Pius Heinz who seemingly never left the table.
It will be a little more difficult to gather information when the play is three-handed and nearly impossible to do it during heads-up play, but the ability to analyze and adapt is paramount. Everyone has the same resources available, but right now Lamb is capitalizing the most.
2. Fifteen minutes is an eternity
Raise your hand if you, too, tried to go social-medialess on Sunday. It was brutal. It was too much of a task to unfollow "@PokerNews" and other Twitter accounts that were live-tweeting the action from Vegas, and even if you did, a retweet or two would've somehow snuck into your timeline. The live stream was so good though that it was worth living in the dark for half of a day — Mori Eskandani and Poker PROductions did a fantastic job.
Sunday was truly a quantum leap forward for the poker industry. In January, the PokerStars Carribean Adventure Main Event final table aired on ESPN 2, as well, but it was on a 30-minute delay and the players and a select few fans had to be quarantined behind a giant wall in the ballroom at the Atlantis. The PCA isn't a well-known event outside the industry, and it aired on a random Saturday in January against two NFL playoff games. It was sort of a soft open for this past weekend's festivities — the Worldwide Leader has always had great foresight.
The 2011 WSOP Main Event champion will be crowned Tuesday night, and we're excited to have the opportunity to watch it near-live because it will surely be a historic moment. If you want to follow the action live, check in with the PokerNews Live Reporting Team — just don't call, text or email yours truly during the action, please.
3. Allen Bari is going, going, gone
During play, 2011 WSOP bracelet winner Allen Bari was thrown out of the Penn & Teller Theater by Jack Effel for using foul language. Bari later tweeted, "Tonight I told Jack Effel he was doing a terrible job at entertaining the spectators..Result was he kicked me out of the Rio.." He added, "..The other day I told @AnnieDuke she was doing a few things wrong..She listened and adjusted.. Difference in classes.. @EpicPoker."
Bari can often be heard using obscenities (see: every PokerNews Podcast he's ever appeared on), and ordinarily this wouldn't be newsworthy, but he's a bracelet holder and people like Effel are going to hold him to a higher standard. Whether it's right or it's wrong is a non-issue — it's fact. It today's world of uber-sensitivity everything you say and do is scrutinized, and the intensity increases with your popularity. Even if it frustrates him, Bari has to understand this.
People love to be critical, and while it's impossible to avoid criticism, it can be deflected. It just takes a little bit of self-awareness, and a willingness to maintain a good image.
4. And the winner is…
Ben Lamb. I said Phil Collins an American player was going to win, and I'm sticking too it. Lamb has too much momentum, and more importantly he has position on the chip leader, Heinz. When Heinz is on the button, and Lamb is out of position, Lamb can also re-steal, knowing that Heinz will try and pick on Staszko because he's a relatively tight player. This could potentially lead to a Joseph Cheong/Jonathan Duhamel moment — we've already seen Heinz four-bet with queen-high after Lamb had three-bet with ten-five.
5. Who's got the best rail?
Sarah Grant was in search of the best rail at the final table – tell us your choice in the comments below.
Follow us on Twitter for up-to-the-minute news.