OceanSpray25 Caught Cranberry-Handed in Part by the Help of TwoPlusTwo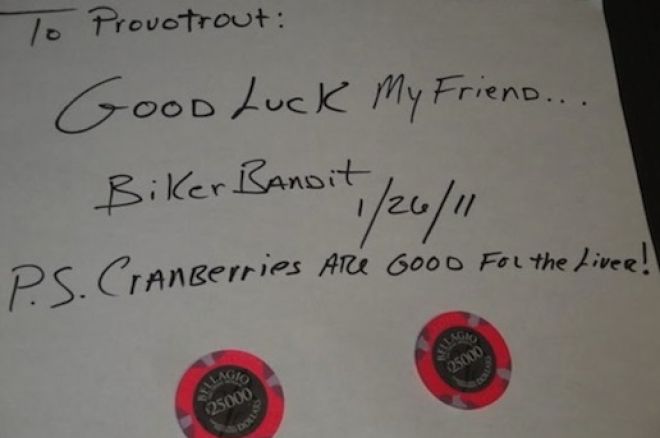 Thanks to Two Plus Two poster Matthew "Provotrout" Brooks, the self-proclaimed "Biker Bandit" who stole $1.5 million from the Bellagio Casino in December, is finally behind bars.
Anthony Michael Carleo, 29, was arrested by Las Vegas police Wednesday after he met with undercover officers in an attempt to sell stolen $25,000 Bellagio chips – also known as cranberries because of their color. Carleo, the son of a Las Vegas city judge, was booked Thursday morning on robbery, burglary and drug trafficking charges.
While police doubted the thief would be able to cash in his loot because the vast majority was taken in chips, which allegedly had RFID security chips within them, it seemed that Carleo had gotten away scot-free, that is until a series of ill-timed decisions attracted the attention of the authorities. Carleo's downfall began in late December when he returned to his hometown of Pueblo, Colorado, and partied hard by buying drinks for all his friends.
"He had a lot of money on him and he told us, you know he lives in Vegas and that he had just gotten lucky gambling and that he won $80,000 gambling," Tiana Woodruff told Pueblo station KOAA-TV.
After returning from Colorado, Carleo proceeded to visit the Bellagio on numerous occasions and lost about $105,000 throughout December – including $73,000 on New Year's Eve. In late January, he even stayed at the Bellagio for a week, comped by the casino for his high-roller status.
Carleo has no one to blame but himself for his downfall. Not only was he attempting to sell the chips on the TwoPlusTwo forum, but also it appears he was taking advice on how to cash in the chips. The thread was full of suggestions from poker fans on what to do with the stolen chips, including the idea to build good will by donating them to charity. Carleo must have taken it to heart as he apparently donated a $25,000 chip to a Salvation Army bell ringer two days before Christmas. However, when that chip was brought to the Bellagio to be cashed, police confiscated it and questioned the bell ringer, who told police an unknown man dropped it in his pocket between the MGM Grand and New York-New York.
In a desperate attempt to sell the stolen chips, Carleo had the audacity to create an account on Two Plus Two with the handle "OceanSpray25" (from Cranada [not a typo]) and commented on the thread about himself.
"Know anyone lookin for a bargain on a few pieces of fruit? Great for the liver and kidney and they make great stocking stuffers."
"I see I see.... So has anyone heard from the B robber or does anyone know where to get some discounted cranberries? I can't say that I wouldn't buy a few for $5k each and then figure out what to do with them.....I'd imagine thats a good problem to have.... IMO of course."
According to the LVPD police report, Carleo then sent numerous private messages to Brooks who had offered his opinion as to how to cash the stolen chips on the thread. Brooks responded and the two started to exchange emails and phone calls. Carleo, who used the email address [email protected], was open about the Bellagio robbery when Brooks asked him about it, saying, "Yeah, that's me. I'm that asshole." He also sent these pictures to Brooks via email.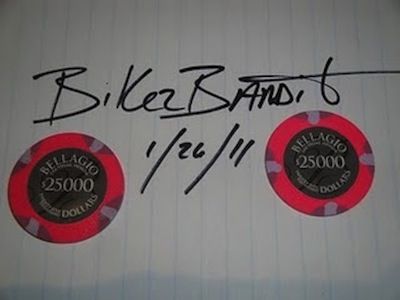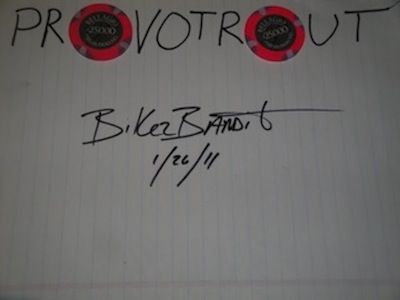 Brooks relayed this information to one of the Bellagio investigators who then set up meetings with Carleo at the casino. After enough evidence was collected, the LVPD made their move and took Carleo into custody.
Brooks caught some flack from other posters for his investigative work and responded with the following:
"For the record, turning over the info was for principle. The guy was strung out and told me he was running out of options. That's a very dangerous situation. I went public and allowed my name to be used by the press around the time the police report came out, thinking I might as well try to get the reward after putting in the time and putting myself at risk. There you have it. No way in hell I'd sit on that information even if there was no reward. I have a normal life and wouldn't consider sacrificing it for a oxy-addicted, armed robber."
This isn't the first time Two Plus Two has played a major role in a criminal investigation, either. In 2008, Omniheart posted a long report (which has since been revised), suggesting that there was a superuser on Ultimate Bet. More posts began to pour in from other high-stakes players and eventually there was enough evidence compiled to condemn UB and its sister company, Absolute Poker. The Kahnawake Gaming Commission, an online gaming regulatory body, used this information in its investigation and UB later refunded players it had stolen from.
Online poker forums can sometimes be unpleasant – womanizing and flaming are pastimes of some posters – but you cannot deny their remarkable power, which stretches beyond the poker world. With over a quarter of a million members, Two Plus Two's influence is unmistakable, and you can bet this won't be the last time this forum makes a major discovery.
Photos courtesy of Matthew Brooks
As always, follow us on Twitter and become our fan on Facebook for the best up-to-the-minute news.