Vegas Taxi Driver Returns $300,000 Left By Famous Poker Player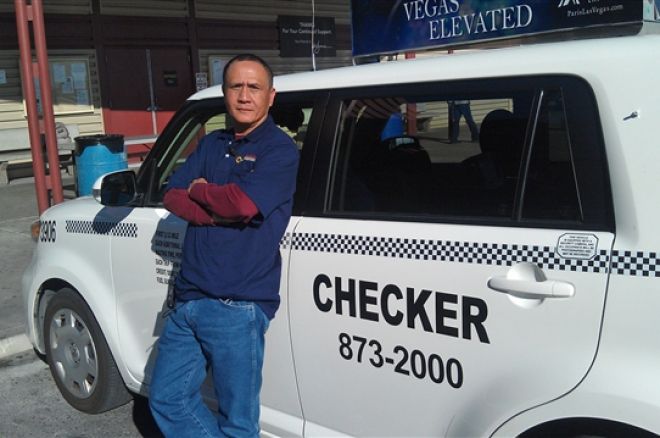 On Monday, December 23, a 28-year-old poker player left $300,000 in the backseat of a Yellow Checker Star taxi. Fortunately for the unnamed player, who has been outed as a well-known pro, the driver of the taxi, Gerardo Gamboa, turned in the money and it was returned to the rightful owner.
Gamboa discovered the package when a hotel doorman at the Bellagio handed him a brown paper bag that had been left in the backseat. Gamboa, who has been driving taxi since 1989, initially thought the contained chocolates, but upon closer inspection discovered six bundles of $100 bills totaling $300,000.
Gamboa immediately contacted his dispatch and returned to the office to turn in the money. He then surmised that the money came from a passenger he had picked up from The Cosmopolitan and dropped off at the Palms Place Tower — a $9.10 fare that earned him a $5.00 tip. From there, he headed to the queue at Bellagio where the money was discovered a short time later.
The Metro Police were contacted and promptly launched a four-hour investigation, and with the help of casino officials, they were able to determine the money belonged to a famed poker player who wished to remain anonymous.
"He was grateful. He was very understanding; he wasn't irritated. To a point he was irritated, but he wasn't mad or aggressive or anything. Maybe a little more embarrassed than anything. I mean, he left $300,000 in a cab, but he was an awesome guy," Yellow Checker Star field operations manager Joel Willden said of the pro, who turned up at the company's headquarters in search of the money.
"My dignity is not for sale, and that's the way I am. That's the way our parents taught us when I was a kid," said Gamboa, who was awarded a steak dinner for two, a $1,000 reward, and named Cab Driver of the Year by Yellow Checker Star. In addition, the unnamed poker player gave Gamboa a $10,000 reward for his good deed.
For more on Gamboa, check out the following video:
8 News NOW
The identity of the poker player has not been made public, but the industry has been speculating as to how many 28-year-old "world famous" pros are in Las Vegas and have access to $300,000 in cash. A thread on TwoPlusTwo has sprung up, while other players like Dan Fleyshman have dropped a few hints on Twitter.
Below are some of the more tossed about names. Who do you think is the unknown poker pro that left $300,000 in the backseat of a cab?
*Lead photo courtesy of John Getter / NBC News.
Get all the latest PokerNews updates on your social media outlets. Follow us on Twitter and find us on both Facebook and Google+!