12 Predictions for 2012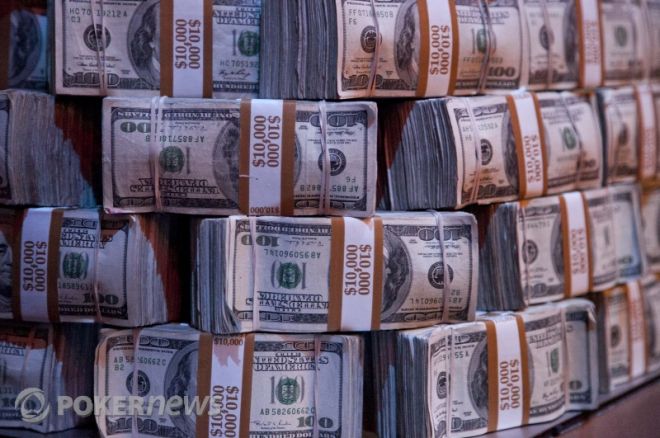 One year ago, we offered "11 Predictions for 2011." Upon further review, we realized, it's hard to make predictions. We were spot on with a few (Michael McDonald winning over $1 million in live tournament earnings and Isildur1 being revealed as Viktor Blom), but most of our calls were putrid at best. Despite our previous struggles, we'd like to offer 12 predictions for 2012, and not because we're resilient, but because prognosticating is too damn much fun.
1. Galen Hall Wins the 2012 PCA $100,000 Super High Roller Event
Why not start this thing off with a bang? If this comes true, we're dropping the microphone, storming off stage, and calling off the other 11 predictions. Galen Hall is a big fan of the PokerStars Carribbean Adventure. He won the Main Event last year, making one of the sickest folds in the history of poker en route to a $2.3 million payday.
Hall is not a full-time poker player — he's currently enrolled at the Stanford Graduate School of Business — yet he cashed in six more events after the PCA, including a third-place finish for $589,355 in the ninth annual World Poker Tour World Poker Classic. This is a complete shot in the dark, but there are certainly worse players to back than Mr. Hall.
2. A PokerStars Team Pro Wins the 2012 PCA Main Event
This may seem crazier than the first prediction, but think of how many quality players we have in our stable. The amount of talent on Team PokerStars is astounding. However, we have two main things going against us: (1) there is going to be a very big field (the last two years the even attracted more than 1,500 runners), and (2) the average player in the PCA Main Event is better than the average player in most events (excluding high rollers and super-high rollers). Still, we feel confident with players like Jason Mercier, Bertrand "ElkY" Grospellier, and Eugene Katchalov in our corner.
3. Erik Seidel Wins Less Than $500,000 in Tournament Earnings
Before you start flaming and calling us "haters," which was the most overused term in 2011, let's look at two key facts. First, since 1988, Erik Seidel has only won more than $500,000 eight times. Second, it's more difficult than you think to amass $500,000 in tournament earnings.
Only 192 players in the world won over half a million dollars last year, and a plethora of solid notables missed the cut including Olivier Busquet, David "Bakes" Baker, Scott Clements, Nick Binger, John Juanda, Justin Bonomo, and Allen Kessler. We aren't picking against Seidel — we're not brave enough to call out the Seiborg — rather this is a pick in favor of variance.
4. Daniel Negreanu Wins WSOP Bracelet, and More Than $2 Million in Tournament Earnings
Let's balance a negative prediction with a positive one. After a poor 2010, Daniel Negreanu bounced back in 2011, winning over $1.5 million in tournament earnings. He struggled at the World Series of Poker, however, cashing only three times for less than $80,000. The WSOP means a lot to Kid Poker, but he hasn't won a bracelet since 2008, and has only made one final table in the past two years. Let's go, Daniel. We know how much you've improved after talking with the younger online players, and now it's time for a breakout year.
5. Jason Mercier Wins a World Poker Tour Main Event, Completing the Triple Crown
There is truly no end in sight. Since entering the scene in 2008, Jason Mercier has earned over $1 million every year, winning two WSOP bracelets, EPT San Remo, and the NAPT Uncasville High Roller Bounty Shootut. He is a WPT Main Event win away from accomplishing poker's triple crown, which would further cement him as one of the greatest players in the game. Mercier, who was a terrific high school basketball player, has a special, ferocious drive to win — one that may even go unmatched on the felt.
6. Pius Heinz Breaks Main Event Champion Trend
Since 2006, the winner of the WSOP Main Event tends to struggle the following year:
World Series of Poker Main Event Winners
| Year | Winner | Number of Cashes | Total Prize Money |
| --- | --- | --- | --- |
| 2006 | Jamie Gold | 3 | $68,751 |
| 2007 | Jerry Yang | 0 | $0 |
| 2008 | Peter Eastgate | 1 | $68,979 |
| 2009 | Joe Cada | 0 | $0 |
| 2010 | Jonathan Duhamel | 2 | $40,873 |
The five Main Event winners listed above netted a combined $178,603 the year after they won, less than what Brian "Sailor" Roberts received for winning the 1975 Main Event ($210,000). Is it pressure? Is it variance?
We may never know why Main Event winners tend to slump, but we believe 2011 Main Event winner Pius Heinz can buck the trend. He's young, aggressive, German, and his last name is an easy target for corny puns. We predict that Heinz cashes at least four times, winning at least $200,000.
7. Phil Ivey Skips a Second Consecutive WSOP
This is an example of a reverse jinx. We hope. With Phil Ivey's divorce from Luciaetta Ivey getting nastier, and the future of player funds at Full Tilt Poker still up in the air, it's probably best for Phil to remain out of the spotlight. The PCA and the Aussie Millions will serve as good litmus tests for this prediction: if Ivey skips both super-high rollers, which would be very un-Ivey-like, then don't expect to see him at the Rio come May. Again, we hope this is just another miserable prediction, because what would be better than seeing Ivey win multiple bracelets, including the Big One for One Drop. TwoPlusTwo.com would break.
8. Andy Beal Cashes in the Big One for One Drop
We had "wins" penciled in, but that would be too insane.
9. The WSOPE Main Event Attracts over 1,000 Entrants
Moving the World Series of Poker Europe to Cannes, France, was absolutely brilliant. London is obviously a wonderful city in a country filled with great players, but the Main Event never attracted more than 362 entrants. Last year, in Cannes, the Main Event drew 593 entrants — a 171 percent increase from the 2010 — pumping life back into the WSOPE. France is a growing market, and the venue is easily accessible for all Europeans. Reaching 1,000 entrants won't be easy by any stretch of the imagination, but with poker continuing to boom in the entire Eastern Hemisphere, anything is possible.
10. Isaac Baron Wins Over $1 Million in Tournament Earnings
This year's Random Young Talented Player That Gets a Seven-Figure Prediction Award goes to Isaac "westmenloAA" Baron. Baron has only earned more than $1 million once in his six-year career — he finished fourth in the 2008 EPT Grand Final ($932,006), and added two more cashes to end the year with $1,014,727.
Baron is a two-year Epic Poker League cardholder, which is key because the fields are small, and the prizes are large. Just ask last year's winner of the Random Young Talented Player That Gets a Seven-Figure Prediction Award. Since 2009, Baron has cashed no less than three times at the WSOP, and is among the toughest players in the world. Baron is consistent, and with a little run good, he could definitely bink one and bank a milli.
11. A Federal Online Poker Bill is Passed in the United States
As the great Paul Fussell once wrote, "I find nothing more depressing than optimism."
Here's to hope.
12. Phil Hellmuth wins his 12th WSOP Bracelet
How fitting. After finishing runner-up in three WSOP events in 2011, it's fair to say that Phil Hellmuth is hungrier than ever for number 12. More importantly, his chances to win a bracelet in the modern, post-Moneymaker era have probably never been higher because he's — take a deep breath — succeeding in mixed games.
All three of his deep runs last year were in non-hold'em events, and if he can compete in the smaller fields, then his odds to win a bracelet increase dramatically. Still, it's not easy to win a WSOP event no matter how well you play, and Hellmuth will need a little bit of luck to win number 12. We think he gets it.
For news, updates, and more follow PokerNews on Twitter and Facebook.