11 Predictions for 2011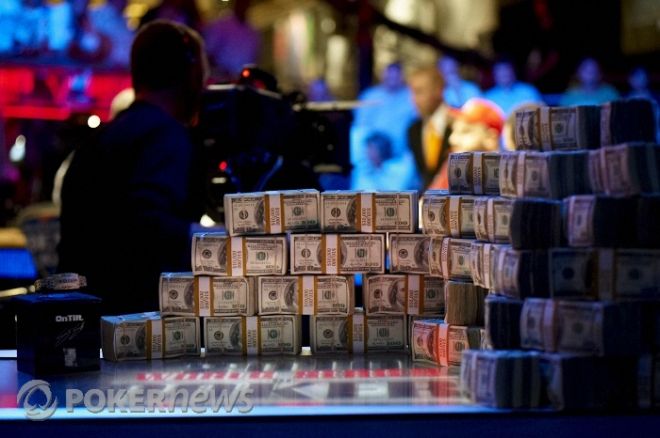 With 2010 in the rear-view mirror, it's time to look ahead at what the new year has in store for poker. So, since playing the guessing game is so much fun, we decided to make 11 predictions for the 2011 poker year.
1. An established pro will win the PokerStars Caribbean Adventure Main Event
The deck may be stacked against this one because the field will be massive, but why not start the year off with a bang? There will be plenty of marquee players present thanks to the beautiful setting and the $100,000 Super High Roller event, so with a little run-good, this is definitely a possibility. Hopefully there are at least a few pros at the final table, because last year Barry Shulman was the only player who was recognizable to the average ESPN viewer.
2. Isildur1 will be revealed as Viktor Blom and will lose over $2 million on PokerStars
It would be shocking if Isildur1 isn't Viktor Blom, so the latter part of this prediction is where the meat is. Whoever the mysterious Swedish ninja is, he is going to continue to spew, and by the end of 2011 will lose at least $2 million. This wouldn't be anything new. In a little over a year on Full Tilt Poker Isildur1 lost $2,593,162 despite peaking at $5,037,154. The masked madman hasn't gone too crazy yet, however. in his first two Superstar Showdowns against Isaac Haxton and Tony G, he netted $3,000.
3. At least three stops will be added to the NAPT
PokerNews' own Donnie Peters wrote some great stuff about the success of the NAPT in its inaugural season, and in 2011, the sky is the limit for the tournament series. Television coverage, hype and big prize pools are the perfect storm on the circuit, and PokerStars will ultimately expand the tour to at least seven stops. The calendar may seem a little crammed as it is, but there are definitely spots to sneak in some more events. August is historically very quiet – except for the WPT Bicycle Casino Legends of Poker – and would be an opportune time for the NAPT to capitalize on their success and add another event.
4. Tom Dwan will finish and win both "durrrr Challenges"
Tom Dwan is currently up $2,059,719 over 39,436 of 50,000 hands against Patrik Antonius and is down $500,783 over 14,190 of 50,000 hands against Daniel "jungleman12" Cates. The crazy thing is, Dwan's match with Cates will probably end first because he's averaging 1,000 hands per session against him as opposed to just 614 hands per session against Antonius. Likewise, Dwan and Antonius haven't even played since August whereas Dwan and Cates are averaging three sessions a month since October. As stated above, Dwan is down half a million to Cates, but there is nothing to fear – durrrr will find a way to turn on his personal doom switch and turn the tables on jungleman12 in 2011.
5. UB will continue to reinvent itself
UB's rebranding process since its highly scrutinized superuser scandal has been very aggressive, and over the past few years the company signed a myriad of new faces including Joe Sebok, Eric Baldwin, Bryan Devonshire and Maria Ho. During the closing days of 2010, UB continued their in-house cleaning, parting ways with its most well-known players; Phil Hellmuth and Annie Duke. Now there are rumors swirling about an imminent deal with Prahlad Friedman – who was a victim of the scandal and has previously lashed UB – and Sebok tells us that there are other big things in store for the company in 2011. While some will never forgive UB for what they did, it is impossible to ignore attempts to amend its complications and offer a new, more innovative product. Despite whether you like it or not, the company will continue to grow this year because of its expansive remodeling.
6. Hellmuth will sign with WSOP.com and win his 12th bracelet
There is plenty of speculation regarding where Hellmuth will sign now that he's a free agent, but there is no better fit for him then WSOP.com. The Poker Brat needs to be "the guy" wherever he goes and can't maintain that status with either Full Tilt Poker or PokerStars because they already have a ton of established pros. If he were to sign with WSOP.com, Hellmuth would become the face of the site and strengthen his legacy as a representative of the World Series of Poker. To top it all off, Hellmuth will add a 12th bracelet to his resume, and it may even come in a non-hold'em event.
7. Poker legislation will come to a vote in either the United States House or Senate
During the final days of Congress' lame-duck session in 2010, Senate Majority Leader Harry Reid turned the poker industry on its head. He proposed a bill that would legalize, regulate and tax online poker and for a moment there was a legitimate chance it could pass. Ultimately the bill was killed before it could be voted on though, and Congress was dismissed for winter break. In 2011, a poker bill will finally reach the floor for voting, whether it is pushed by Reid or fellow Democrat and poker supporter Representative Barney Frank. There is too much momentum for this issue to fade away and with it becoming harder and harder to transfer funds to and from online sites, the need for governmental protection and regulation is increasing.
8. A woman will win an open event at the 2011 WSOP
The wild success of women in 2010 makes this prediction seem somewhat inevitable. Vanessa Selbst's 2010 earnings topped every other non-November Niner, and additionally, Liv Boeree, Vanessa Rousso, Annie Duke and Annette Obrestad all had big scores in major events across the world. Among the above players, Duke, Selbst and Obrestad already have WSOP bracelets from open events. Duke won a $3,000 Omaha Hi-Low event in 2004, Selbst took down a $1,500 Pot-Limit Omaha event in 2008, and Obrestad shipped the 2007 WSOP-E Main Event. Selbst's victory was the last of its kind, but we're confident that someone will break the two-year drought this summer.
9. Peter Eastgate will play in a major poker tournament
Don't know when and don't know where, but Peter Eastgate is going to play in a major tournament in 2011. Taking a break is normal and can be beneficial for poker players – just ask Kirk Morrison – but there comes a time when you get that itch and are compelled to return to the felt. Eastgate is too young and too good to simply walk away forever. His Main Event bracelet may have been collecting dust as it sat idly on his desk, but his thirst for the game and competition will renew soon enough, and we will be seeing the Dane at the tables in the near future.
10. Michael "timex" McDonald will have over $1 million in live-tournament earnings
Speaking of "quitters," Michael "timex" McDonald, who famously quit only to return to poker soon after, is finally 21 and will play at the WSOP. The Waterloo native already has two big live wins under his belt, having won prelims at the 2008 EPT German Open ($1,370,161) and the 2010 PCA ($146,804). Add a third-place finish in the 2010 EPT Deauville Main Event ($417,610) and a variety of other smaller cashes, and McDonald has earned over $2,719,686 since 2007. McDonald will be one of the most anticipated rookies at the 2011 WSOP, and we expect big things from him throughout the year.
11. Tom Marchese will win either the WPT or WSOP Player of the Year
This is easily the tallest task on the list, but if there is anyone to shoot for the stars, it is rookie sensation Tom Marchese. All of Marchese's $2,114,491 in live earnings came in 2010 when he made 11 final tables and won two events including the NAPT Deep Stack Extravaganza ($827,648) and a prelim at the WPT Doyle Brunson Five Diamond World Poker Classic ($45,958). While a sophomore slump is within the realm of possibility, it seems foolish to bet against someone who is on such an insane life heater. The possibility is remote, but if Marchese can run like he did in 2010, then he definitely has a shot at either the WPT or WSOP Player of the Year.
For all that is PokerNews, be sure to follow us on Twitter and like us on Facebook!