PokerNews Op-Ed: From the Felt to the Octagon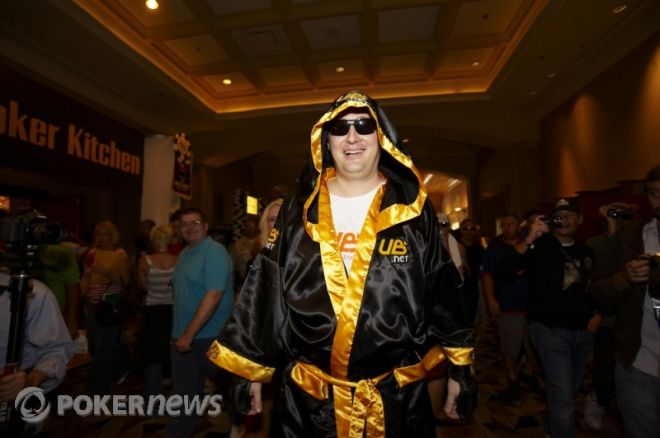 The popularity of mixed martial arts style fighting has increased exponentially over the last few years, especially within the poker community. Previously, boxing owned the Vegas nightlife, but since the heavyweight class has failed to produce a meaningful fight in almost a decade and the two most skilled boxers in the world (Manny Pacquiao and Floyd Mayweather) refuse to fight one another, the sport has taken a back seat to this newer and more exciting sport. MMA is a perfect fit for poker players because it parlays sports betting with high-adrenaline, fast-paced action. Throw in a night of drinks and an after party at any of the city's famed nightclubs and you really can't go wrong.
This love fest between MMA and poker got us to thinking: what would happen if the two combined? It's too easy to put fighters at the poker table, that's done all the time, so let's flip the script. Let's turn the felt into canvas and the rail into a steel cage, and see what would happen if there was an all-poker MMA card.
Amarillo Slim (-150) vs. Doyle Brunson (+120)
Undercards are designed to be entertaining, and quite frankly what's more entertaining than two legends duking it out in motorized scooters? Amarillo Slim has the slight advantage here because Doyle Brunson is handicapped by his leg, which was injured in a Sheetrock accident after he was drafted by the Minneapolis Lakers in the 1950s. Also, Slim defeated Brunson in a scooter race during the 2009 World Series of Poker, proving that he is the more skilled scooter operator. In all, this one is very much a coinflip where the first to remove the other from his scooter will most likely prevail.
Liv Boeree (-200) vs. Annie Duke (+160)
With a win over Melissa Castello in the 2009 Rumble (not) in the Rio, Liv Boeree established herself as the top female fighter in poker. It seemed obvious then to match her with Annie Duke, a former teammate and equally tough woman on the felt, because they both shipped major tournaments last year. Duke won the NBC National Heads-Up Championship in March, taking home $500,000, and a month later Boeree shipped the EPT San Remo Main Event for $1,698,300. The two helped raise the "Year of the Woman" banner, but only one can be crowned the best female fighter in poker.
Jeffrey Lisandro (-260) vs. Prahlad Friedman (+200)
"I'll take ya head off, buddy!"
When Jeffrey Lisandro threatened Prahlad Friedman with those words back in 2006, the two should've dropped the gloves and settled it right there in the Amazon Room. Ante-gate went unsettled though, and eventually video evidence showed that Lisandro did not steal Dustin Holmes' ante. Still, there was too much animosity there for the beef to simply fade away and the two should settle it in the ring. Lisandro is favored because he's a bigger man, and that bowler cap might be used as a weapon like Oddjob's, but Friedman is the right side to bet on. Friedman is a very talented athlete who just this year broke Steve Nash's world record for most free throws made in a minute.
Jason Mercier (-155) vs. Eric Baldwin (+125)
Jason Mercier and Eric Baldwin are two of the toughest and most respected young poker players in the world. Mercier has over $5 million in tournament earnings, Baldwin has pocketed over $3.3 million himself, and both players own WSOP bracelets. Baldwin is an NCAA Champion; however, captaining the University of Wisconsin-Whitewater baseball team to a Division III National Championship in 2005. Even still Mercier's extraordinary popularity is enough to make him a favorite, but just ask the Miami Heat how much big names count once the lights turn on.
Jonathan Duhamel (-625) vs. Daniel Negreanu (+425)
Jonathan Duhamel is just weeks removed from winning the 2010 WSOP Main Event, and a victory over Daniel Negreanu would cement him as the most popular poker player from Canada. Don't discredit Negreanu's athleticism because he traded in a hockey stick for a golf club and eats a vegan diet, however. Kid Poker took up P90x this summer, which by all accounts is an extremely tough workout plan, and he himself has commented on Twitter home much stronger he's become. The problem is Duhamel is 13 years younger and still plays hockey several times a week (he wanted to be a professional puck player, but just wasn't good enough). The big edge goes to Duhamel here.
Phil Hellmuth (-280) vs. Tony G (+220)
Initially Phil Hellmuth was slated to take on Sam Grizzle because the two have allegedly engaged in fisticuffs on a previous occasion. A rematch would be quite enjoyable, but Grizzle is too old by now and Hellmuth is deserving of a worthwhile opponent. Enter Tony G who has instigated numerous spats with Hellmuth, many of which have led to blowups from the Poker Brat. Out of respect for his 11 WSOP bracelets, very tall frame and household name, Hellmuth is favored to win the match. Nevertheless, Tony G could send him on his bike because Hellmuth tends to crumble emotionally, and The G's verbal assaults might be powerful enough to land him a knockout.
Phil Ivey (-450) vs. Tom "durrrr" Dwan (+325)
The only way this match would be plausible would be if there were tens of millions of dollars riding on both sides, and with the way these two make bracelet bets, that's far from impossible. Phil Ivey and Tom "durrrr" Dwan have accrued more fanboys and fanatics than any other poker players in history, making the hype for this match unimaginable. Ivey, owner of eight WSOP bracelets, opens as the clear-cut favorite because he is much bigger and, even if it's just golf, regularly participates in recreational activity. Conversely, Dwan is much shorter, thinner and has seemingly never participated in athletics at all. Perhaps Patrik Antonius could offer to be Dwan's personal trainer in order to start paying off the $2 million he's currently down in the durrrr Challenge. Those two training together could then create the greatest montage scene in the history of film. Ivey still might be the favorite though, because, honestly, when's the last time anyone bet against him and felt good about it?
TITLE FIGHT FOR THE 2008 WSOP MAIN EVENT BRACELET
Ivan Demidov (-250) vs. Dennis Phillips (+190)
Originally this was going to be a battle royal with every participant from the 2008 Main Event, but that would, unfortunately, take forever. Instead, rather than auctioning off the Main Event bracelet for charity, Peter Eastgate should let second-place finisher Ivan Demidov and third-place finisher Dennis Phillips battle it out. Proceeds from the pay-per-view and ticket sales could go to UNICEF to make Eastgate happy because, come on, you can't just give away the Main Event bracelet! Think about how amped Demidov and Phillips would be to have a second chance at the title, and this time there would be no luck involved. Just raw, pure, unadulterated man power for poker's top prize. Demidov is clearly the chalk because Phillips has a lot of mileage, is too nice for MMA and hasn't had bloodshot eyes in over 50 years. OK, that last stat may not be factually correct, but he's certainly always depicted with bloodshot eyes. Demidov, on the other hand, is still in his twenties, spry, and after finishing runner-up has to be hungry for a shot at redemption. Regardless of the result, this would be a much more appropriate way of relocating something that most all poker players dream of. Something like this should be settled in the octagon before it is done so on eBay.
Like us on Facebook, and follow us on Twitter for up-to-the-minute news.