Breaking News: World Series of Poker Europe Moves to France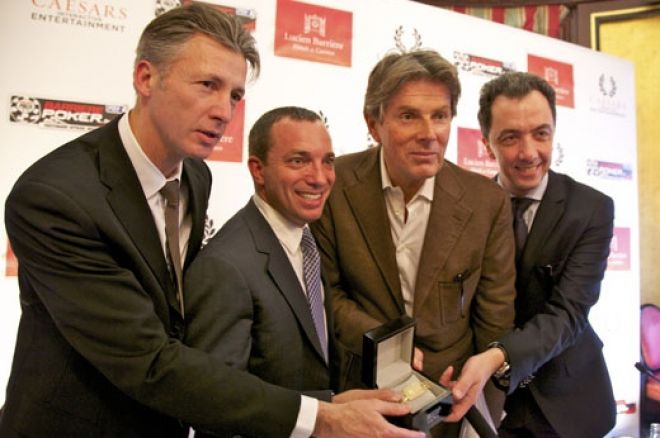 An early morning press conference held today announced a three-year agreement between the WSOP and Lucien Barrière Hôtels & Casinos, BarrierePoker.fr, and Caesars Interactive Entertainment (CIE) to host the World Series of Poker Europe between October 7-21, 2011, at the Casino Barrière de Cannes Croisette in France. This means the WSOPE, which will officially be rebranded as the World Series of Poker Europe Presented by BarierePoker.fr, will not be held at the Casino At The Empire in London.
According to a statement released by WSOP.com: "The World Series of Poker Europe is moving from London to Cannes in 2011 and will be rebranded as World Series of Poker Europe (WSOPE®) Presented by BarierePoker.fr. In addition, the Barrière Poker Tour 2011 will include seven stops qualifying for the WSOPE®."
"This alliance reinforces our strategy of powerful synergies between the offline and online, and it is an honor to partner with the tournament poker world's most prestigious," said Dominique Desseigne and CEO of Groupe Lucien Barrière.
Mitch Garber, CIE's chief executive officer, added: "This is a unique agreement between two casino leaders with great brands. Lucien Barrière Hôtels & Casinos is a well-run organization and we are excited to work with them to access the French market with high-quality and reputable poker events both in their hotels and casinos, and online with BarrierePoker.fr."
As part of the deal, the Barrière Poker Tour 2011, which begins in April and spreads across seven locations (Toulouse, Nice, Lille, Dinard, Enghien, Trouville and Bordeaux), will serve as qualifying rounds for the WSOPE. Eric Cavillon, Operations Director in charge of poker development at Lucien Barrière Hôtels & Casinos, explains: "The Lucien Barriere Hôtels & Casinos, BarrierePoker.fr and WSOP® alliance allows us to put on an outstanding tournament hosted by a world famous brand in France while positioning us to become a leading operator of both online and live poker."
Another part of the agreement calls for creation of a new WSOP.fr site, designed by CIE and Barrierepoker.fr, that will present all WSOP news in French. That site is expected to debut later this year.
"Backed by this alliance, we will be even better equipped to let online players access the most prestigious world poker events in casinos and to benefit from special, unique operations in conjunction with WSOP events," concludes Jean-Etienne Bouedec, BarrierePoker.fr Deputy Chief Executive Officer.
According to the WSOP statement, seven bracelet events will be offered at this year's WSOPE. PokerNews will bring you all the details on this surprising announcement as they develop.
Get all the latest PokerNews updates on your social media. Follow us on Twitter and like us on Facebook today!