2010 World Series of Poker: What is $8.9 Million, Really?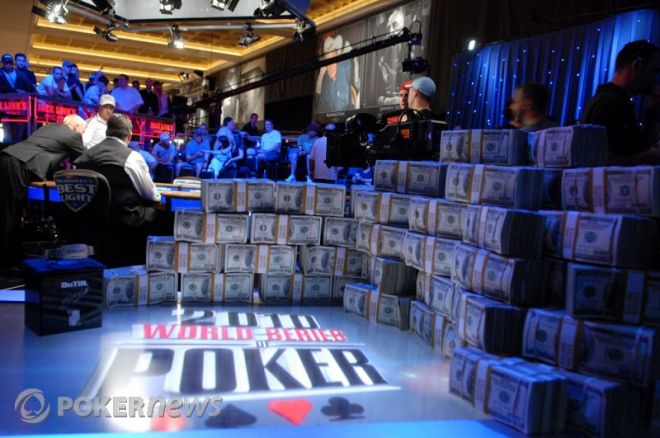 By this time next week, one fortunate November Niner will be crowned the 2010 World Series of Poker Main Event Champion and bank $8,944,138.
Cha-ching.
Most poker fans, myself included, cannot conceive how much money is at stake because unfortunately we're not all ballers like Phil Ivey. Yes, we will see the countless bricks of benjamins towering between the final two players once they're heads-up, but can we really quantify how much it is from that image alone? Let's ignore Uncle Sam – or whatever national personifications hover over taxation in Italy and Canada – for a second and try to put into perspective how much $8,944,138 really is.
Well, it's...
WSOP
The third highest Main Event first prize ever
894 Main Event buy-ins
298 times the amount Johnny Moss received when he was voted the first Main Event champion in 1971
178 Poker Player's Championship buy-ins
Enough to buy into all 57 WSOP events 33 times
More than the sum of the first 20 Main Event top prizes ($8,375,000)
406,551 visits to the Rio Spa and Salon
357,765 dinners at the Rio's Carnival World Buffet
1,789,274 bags of Jack Link's Beef Steak Nuggets (Yum!)
Lifestyle
5,625,244 loaves of bread
2,991,350 gallons of gas in Las Vegas
2,555,468 gallons of milk
2,236,034 lattes at Starbucks
2,032,758 Double-Doubles at In-N-Out
1,490,689 burritos at Chipotle
447,206 Thanksgiving turkeys (depending on size)
105,255 bottles of Patron
5,962 bottles of vintage Dom Perignon
5 Bugatti Veyrons
Travel
¥725,280,150
€6,332,583
£5,555,365
487,121 trips to the top of the Eiffel Tower
309,491 rides on the London Eye
79,157 gondola rides in Venice (depending on the gondolier)
4,365 round-the-world flights
1,305 nights in Burj Al Arab's Royal Suite in Dubai
357 nights in the Bridge Suite at the Atlantis Resort
44 trips into space on Virgin Galactic's VSS Enterprise
Miscellaneous
16,262,069 stress balls
4,472,069 decks of Bicycle cards
941,488 tickets to see Harry Potter and the Deathly Hallows
452,409 copies of Doyle Brunson's Super System
101,637 pairs of Nike Air Force Ones
29,813 iPhone 4s
25,554 Studio Beats By Dre
17,888 Taylor Made R9 SuperTri golf drivers
6,211 tickets to Super Bowl XLV in Dallas, Texas
2,417 Marrakech bags by Gucci
851 suits by William Fioravanti
At the end of the day, $8,944,138 is a boatload of money, but is it worth as much as the Main Event bracelet itself? That we'll leave to the eye of the beholder.
The Main Event final table reconvenes Saturday and the PokerNews Live Reporting team will be tableside for every hand! Until then follow us on Twitter and Facebook for up-to-the-minute news on the WSOP and everything else poker.