PokerNews Op-Ed: In London or Las Vegas, a Bracelet is a Bracelet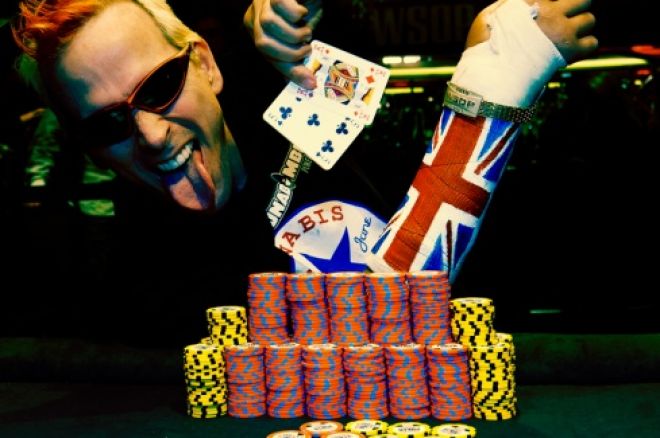 "This is better than an Oscar!"
I don't think I understood what it really meant to win a World Series of Poker bracelet until I watched Jennifer Tilly thrust her arms in the air and utter those now-infamous words on ESPN more than five years ago. She was speaking my language. I spent nearly a decade of my life in the film world where an Oscar is the Holy Grail every piece of talent aspires to. Directors don't dream at night of winning a Golden Globe. Actors don't grow up rehearsing their Independent Spirit Award acceptance speech in front of a mirror. Other awards are nice, but it's really all about Oscar.
An Oscar has weight. Gravitas. When you win an Oscar you're a member of the same elite fraternity as Meryl Streep or Al Pacino. You get respect the minute you walk into a room. When your next film comes out, you're dubbed an "Academy Award winner" on the one-sheet. When you don't have one and people think it's a crying shame, you end up on some magazine's "Greatest Without an Oscar" list.
Do you see where I'm going with this? Think WSOP bracelet.
A WSOP bracelet is poker's Oscar. And while we could discuss how each gold bracelet is awarded (your peers don't exactly vote for you to win a bracelet, you win a bracelet by busting your peers), I believe their value is just as significant when it comes to marking an achievement in one's field. Just like a Golden Globe is no Oscar, a World Poker Tour title or a WSOP-Circuit ring or one of those enormous EPT trophies is just not a WSOP bracelet. Ask any poker player.
Let's run a hypothetical. What if the Academy of Motion Picture Arts and Sciences decided that it was going to try something different such as awarding a few Oscars during a different ceremony in a different city on a different day. What if all the cinematographers, art directors, designers, and writers had their ceremony in New York, say, one week after the major categories were awarded. Would their Oscars mean anything less than if they had won them a week before in Los Angeles? The winners would probably be a little pissed about their lack of TV coverage (not to mention missing the Vanity Fair party) but an Oscar is an Oscar. It would neither change anyone's desire for one nor the significance of winning one.
It's becoming a yearly tradition in the poker world to debate the value of a WSOP-Europe bracelet vs. a WSOP bracelet won in Las Vegas. In a lot of ways, I don't understand what there is to debate. The decision regarding what is and what is not a "real" WSOP bracelet is not up to the players, the media, or even the court of popular opinion. The decision is up to Harrah's, which decided to expand the World Series of Poker and award some bracelets in a different venue. It doesn't make the bracelets worth any less; it only makes them a little different. Each bracelet represents its own hurdle whether it is navigating massive minefields in Vegas or the most skilled fields you'll find anywhere in the world in London.
When someone tries to tell me that a WSOP-Europe bracelet is not a real bracelet, the first thing I ask is if they have ever experienced the WSOP-E for themselves. Most of the time, that's a no. It's probably not their fault, the event is only four years old, and it's held nearly 6,000 miles away from Las Vegas. But if you have been to Empire Casino in late September, you know what I'm talking about. It's the 21st-century version of Binion's Horseshoe – for two weeks a year every top pro congregates in too-small space to win poker's greatest honor. Only instead of cigarette-scented carpet, there are neon lights and plexiglass floors. The wonderful thing about the WSOP-E is that it's a throwback and an innovation at the same time. When it comes to the level of competition and the field sizes, it's more akin to the pre-boom WSOP than anything else. It's just not as popular yet with U.S. market primarily because American-facing sites do not, for whatever reasons legal or otherwise, run satellite qualifiers for the WSOP-E the way they do for the WSOP. If they did, would we be having this discussion?
Put it this way. Does John Juanda have three WSOP bracelets or four? Does Jeffrey Lisandro have four or five? Can Gus Hansen and Phil Laak come off the "Greatest Without a Bracelet" list right now, or do they have to wait until they win one in Vegas? If Phil Hellmuth won a bracelet in London, would he be stitching an "11" on the side of his black hat or a "12?" If Annette Obrestad had won an EPT event or a WPT event outside the U.S. rather than a WSOP bracelet (and at age 18!), would there have been nearly the amount of hype surrounding her first year of stateside eligibility as there was this summer?
Most people resist change, and when it comes to the WSOP, this was a big one. But to simply write it off as "not a real bracelet" is just stubborn and silly. How can the accomplishments of players like Lisandro, Laak and Hansen this month be devalued given the strength of the fields they defeated? If anything, they should be valued even more and factored in to the Player of the Year race. Want to totally, completely, 100 percent without-a-doubt make a London bracelet's perceived value equal that of a Vegas bracelet? Factor them in to the Player of the Year race. Tie both events together in that regard. Get those players on the POY bubble come out to London and fight for that title.
There's an argument out there that awarding WSOP bracelets outside of Las Vegas devalues them. I think it's not on which continent a bracelet is awarded, rather it's the sheer number of bracelets that are available these days that is making them lose a little luster. Ten years ago, the WSOP had 26 events. This year there were 62. It's not going to be a popular opinion in the hallways of Harrah's Entertainment, but if anything, the WSOP should cut back on the number of events. Run five events in London, heck run seven or eight. But don't run 57 in Las Vegas and don't make 13 of them $1,000 or $1,500 no-limit hold'em events. These made-for-tourists donkaments are what is cheapening the bracelets, not what side of the Atlantic they are awarded on.
This debate is far from over. It's going to come up again in only a few months when the WSOP-Circuit winners and top point earners get together to compete for a 100-percent genuine WSOP bracelet. It's another innovation about which I'm sure we'll hear plenty of choice words. But whether Phil Hellmuth or Phil Jones wins that bracelet, that's still what it will be. A WSOP bracelet.
Do you want one any less?
If you want to get playing on the European circuit you can currently qualify for the Irish Winter Festival, Marbella Poker Classic and the DeepStack Open Vienna all at Poker770 - whats more you can play in custom made satellites to the €1,000, €2,000 or €6,000 event of your choice. Sign up via PokerNews and you can also play in exclusive twice monthly $2,770 Club PokerNews freerolls.