The Nightly Turbo: Daniel Negreanu Challenges Gus Hansen, Liv Boeree Races for Charity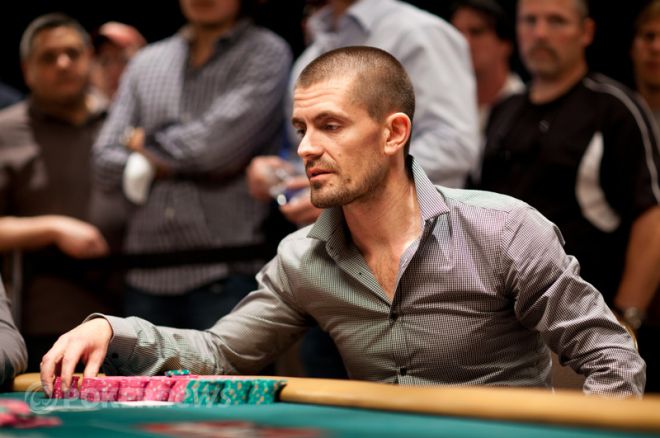 Daniel Negreanu and Gus Hansen were trading jabs on Twitter last week. Now, they're taking the battle to the felts. We're bringing you that story, plus Liv Boeree's climb for charity, in this edition of the Nightly Turbo.
In Case You Missed It:
Digging through the PokerNews strategy archives can lead to buried treasure. This week, we found an old strategy article featuring Andrew Robl discussing the characteristics that make for a great poker player.
The PokerNews Mid-States Poker Tour will be heading to Wisconsin next month. Read more about the event right here at PokerNews.com.
The 2013 World Poker Tour L.A. Poker Classic played down to 18 players on Tuesday. Toby Lewis led the way, but several notables were still in contention.
Team PokerStars vs. Team Full Tilt Poker
Last week, Gus Hansen sent a spontaneous Tweet to Daniel Negreanu reminding "Kid Poker" of a famous hand they played on High Stakes Poker in 2006 (as if the hand will ever leave Negreanu's mind).
Hey @RealKidPoker remember this hand http://t.co/BsakRJXa2o - Wonder if I ever get another chance to take your money ;-)

— Gus Hansen (@GusHansen)
The two superstars exchanged some friendly Twitter banter over the following days, but Negreanu upped the ante on Tuesday by challenging Hansen to a Team PokerStars-versus-Team Full Tilt Poker duel. Negreanu offered to team up with two members of Team PokerStars to face off against FTP's "The Professionals" — Hansen, Tom Dwan and Viktor Blom — in a series of heads-up battleship-style matches during EPT London next month. Negreanu has dozens of teammates to select from, including high-stakes heads-up specialists like Ike Haxton and Vanessa Selbst. He even asked fans to help him decide:
Gus accepted the challenge, pending the approval of his two teammates at Full Tilt Poker. The details of the match are being aired out on Twitter for all of their combined 250,000 followers to view.
. @RealKidPoker I should probably check with Mr. Blom and Mr. Dwan first, but I have this funny feeling they will make time for this.

— Gus Hansen (@GusHansen)
.@GusHansen I'll let you know when I come up with who they will face, I have a deep stable of top talent to choose from

— Daniel Negreanu (@RealKidPoker)
.@RealKidPoker Since you have tons of PS pros to choose from, and I have my two, I should get to pick the match ups.

— Gus Hansen (@GusHansen)
.@GusHansen Ok that's fair. I will have a response to you in a couple days with who I'm choosing then you can pick the matchups. Deal.

— Daniel Negreanu (@RealKidPoker)
We'll be keeping an eye on this, and if the challenge does go down at EPT London, PokerNews will certainly be there providing updates along the way.
Liv's Race For Shelter
The PokerStars-Full Tilt Poker challenge won't be the online sideshow taking place at EPT London next month. On March 5, Liv Boeree and four other members of Team PokerStars Pro will get together to pledge support for the housing and homeless charity Shelter.
As part of an event called Vertical Rush, Boeree will be running up 920 steps to the top of Tower 42, one of the tallest buildings in London. Joining Boeree in the race will be Joao Nunes, Henrique Pinho, George Danzer, and a fourth person whose identity is being kept a secret until the start of the race.
According to Shelter, over 57,000 children are homeless in London, and every two minutes in the U.K. someone faces losing a home. In addition, nearly 14,000 London homes are at risk for repossession, and tens of thousands of people are already living without homes. Vertical Rush along with Shelter aim to achieve change in people's lives by helping to keep roofs over their heads.
Vertical Rush is expecting to have 1,500 runners to raise more than £300,000 for Shelter and its efforts.
For more info on the event, visit the PokerStarsBlog and England.shelter.org.uk.
Online Poker Traffic Report
Online poker traffic stayed stagnant for the most part last week, only climbing 1% overall. However, traffic is down 8% overall from this time last year, according to PokerScout.com.
The slight change stems from PokerStars' regulated sites seeing a major increase in traffic totals. PokerStars.it rose to fifth in the rankings, moving ahead of 888poker, while PokerStars.es passed Winamax.fr to take over the seventh spot. Together, both sites have sprung about 20 percent during a milestone hand promotion. PokerStars.it is currently celebrating the run-up to 3.33 billion hands, while PokerStars.es is closing in on dealing its 500 millionth hand.
PokerStars.com, the world's leading poker site, began its own milestone hand promotion on Tuesday. The site is expected to reward hundreds of winners and up to a million dollars in cash prizes leading up to its 95 billionth hand celebration.
On the flipside, Full Tilt Poker's Happy Hour Week failed to generate a high volume of player interest last week, resulting in a 4% drop from the previous week. The site will be kicking off its quarterly FTOPS tournament series on March 17, the second series since the site's relaunch last November. FTOPS XXII will feature 38 events and $10 million in guarantees, which is $2.5 million more in guarantees than December's FTOPS XXI series.
Here's a look at the traffic rankings as of Wednesday:
| Rank | Site | 7-Day Average (Real-money ring players) |
| --- | --- | --- |
| 1 | PokerStars | 24,400 |
| 2 | Full Tilt Poker | 4,000 |
| 3 | PartyPoker | 3,200 |
| 4 | iPoker | 3,050 |
| 5 | PokerStars.it | 2,600 |
| 6 | 888Poker | 2,500 |
| 7 | PokerStars.es | 2,050 |
| 8 | Winamax.fr | 1,880 |
| 9 | MPN | 1,400 |
| 10 | PokerStars.fr | 1,360 |
For a closer look at the rankings, visit PokerScout.com.
Super Tuesday Shatters Records
Since the start of the year, attendance for PokerStars' weekly $1,050 buy-in Super Tuesday tournament has been shattering records. The biggest weekly poker tournament on the Internet attracted 453 players on Jan. 1. Eight weeks later, PokerStars hosted the biggest Super Tuesday ever, drawing 614 players for a prize pool of $614,000. The first place prize for the Feb. 26 event was a record $116,046, nearly $30,000 more than the top payout at the start of January.
Super Tuesday Attendance in 2013
| Date | Entries | Prize Pool |
| --- | --- | --- |
| Jan. 1 | 453 | $453,000 |
| Jan. 8 | 485 | $485,000 |
| Jan. 15 | 502 | $502,000 |
| Jan. 22 | 597 | $597,000 |
| Jan. 29 | 525 | $525,000 |
| Feb. 5 | 547 | $547,000 |
| Feb. 12 | 589 | $589,000 |
| Feb. 19 | 601 | $601,000 |
| Feb. 26 | 614 | $614,000 |
After over 12 hours of play on Tuesday, "Pokerfred99" of Germany had defeated a tough final table to collect the largest Super Tuesday prize ever. Here's a look at the final table payouts:
| Place | Player | Prize |
| --- | --- | --- |
| 1 | Pokerfred99 | $116,046 |
| 2 | Steve "Stev0L" Leonard | $85,039 |
| 3 | DeLaBijen | $62,628 |
| 4 | Rodrigo "seijistar" Seiji | $47,278 |
| 5 | David "davidv1213" Vamplew | $33,156 |
| 6 | Bandano | $26,095 |
| 7 | Kevin "KevBoyStar" Stani | $19,955 |
| 8 | ely_cash41 | $13,815 |
| 9 | stknsidewayz | $9,394 |
Time will tell if the Super Tuesday continues to grow. For a complete look at this week's final table, check out the PokerStars Blog.