The Weekly Turbo: Gus Hansen Signs With Full Tilt Poker, Negreanu's Bet, and More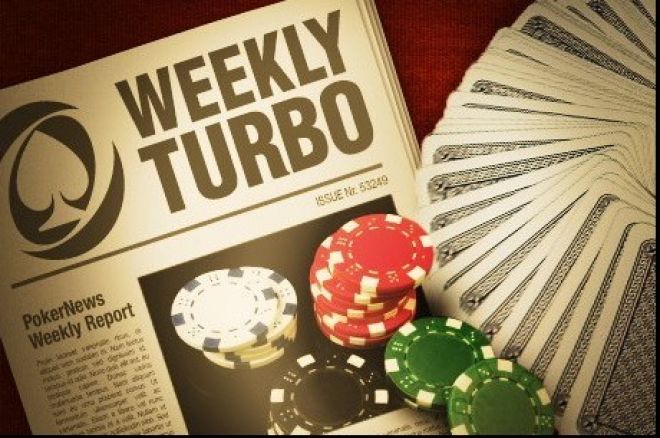 Did you miss any of the top poker news stories this week? Well you've come to the right place to get caught up. We're covering Gus Hansen joining the new Full Tilt Poker, Daniel Negreanu's performance bet, and more.
Poker Players
The Face of Full Tilt Poker
On Tuesday, Full Tilt Poker announced that Danish poker legend Gus Hansen will be the first player to endorse the new site when it relaunches in November.
"I'm very excited to represent the industry's most authentic poker brand," Hansen said in a press release. "Full Tilt Poker has the best games, most innovative software and the strongest poker community; to me this feels like coming home."
Hansen, a former Full Tilt Pro, returns to represent the brand after the company's assets were purchased by PokerStars in July. He told PokerNews in an exclusive interview that his job will be to represent the brand online and in major live tournaments around the world. "They'll be paying me to do what I love to do," he said.
The 38-year-old was one of Full Tilt Poker's leading faces for several years before the site was shut down last year. He boasts career tournament earnings of nearly $11.2 million with three wins on the World Poker Tour and one World Series of Poker bracelet. Hansen was also a prominent figure at FTP's high-stakes cash games, and told PokerNews that he looks forward to "crushing the high-stakes games" again when the new site launches.
To read the entire interview with Hansen, check out the story here at PokerNews.com.
Tony G Offers Lines on Negreanu Bet
On Monday, we brought you the story about Daniel Negreanu looking for action on his Global Poker Index bet. Negreanu currently sits 31st on the GPI leaderboard and is taking bets he'll crack the top 20 by the start of the 2013 World Series of Poker.
I'd like to bet that I crack the top 20 in the GPI http://t.co/ZXWaumPC by WSOP 2013. I'm currently ranked 31st. Get at me for action.

— Daniel Negreanu (@RealKidPoker)
I'm also willing to take 3.5-1 that I crack the top 10. You can also have action on ANYONE behind me.Whoever ranks higher by WSOP wins #GPI

— Daniel Negreanu (@RealKidPoker)
After learning about the wager, Tony G listed odds for Negreanu on his new betting site, TonyBet.com. Tony is offering 2-1 odds that Daniel will make the top 20 by the start of the 2013 WSOP, and he is laying around 6-1 that Negreanu can make the top 10 by that time.
TonyBet also has GPI-related lines for Vanessa Selbst, Phil Hellmuth and Marvin Rettenmaier. Rettenmaier is fourth in the rankings as of Tuesday, trailing only Bertrand Grospellier, Jason Mercier and Dan Smith.
GlobalPokerIndex.com has more.
Galfond Says Goodbye
That was the tweet from Phil Galfond on Thursday, alluding to the news that he had finally sold his multimillion dollar New York City home that included a stainless steel slide connecting two penthouse apartments.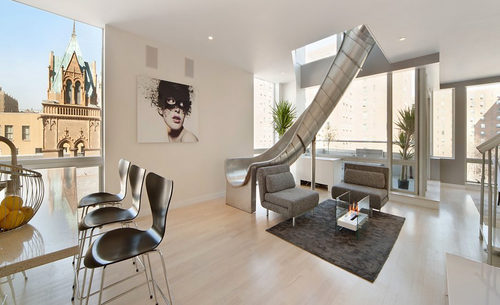 Galfond purchased the residences in 2008 for $3.2 million and spent around $300,000 building the slide, which was installed by using a crane. Galfond owned the apartment for three years, but after the DOJ's crackdown on online poker, he didn't see the need to hang onto the East Village grinding pad, so he put it on the market for just under $4 million. Galfond now splits his time between Vancouver and Las Vegas.
Sources told the New York Post this week that Galfond's New York City abode was purchased by Canadian businessman Daniel Gieschen for $3.3 million. Apparently, though, the slide wasn't a selling point. The listing broker for the residence said that Gieschen will be inviting friends to the Big Apple for a "slide party" before donating it to a children's museum or charity.
The New York Post has more.
On Their Bikes
After the World Series of Poker wrapped up in Cannes, France, many poker players made their way to Italy for the European Poker Tour (EPT) stop in Sanremo. Some traveled to Italy by taxi. Others took the train.
Bertrand "ElkY" Grospellier and Eugene Katchalov, though, took a more strenuous method of transportation. They made the trip by bike.
The two Team PokerStars Pros embarked on a grueling 118 kilometer trek Friday morning, alongside their trainer Lincon Rodrigues and his girlfriend Petra Janssen van Doorn. The ride to Sanremo was the result of a bet that the two players made for the World Championship of Online Poker (WCOOP). Katchalov made more money than Grospellier during the three-week series, but still agreed to pedal from Cannes together with his friend.
After the foursome arrived in Sanremo, Grospellier told the EPT that he hadn't ridden a bike in 15 years. He even got lost along the way, saying, "I was following the others and then they disappeared. So I followed signs to Italy, but they went a different way to Italy."
For a closer look at the duo's ride to Sanremo, read the story at the PokerStars Blog.
Lead photo courtesy of the European Poker Tour.
Brandon Cantu Vents
After finishing second to Jonathan Aguiar in WSOPE Event #5: €10,450 Mixed Max - No-Limit Hold'em, Brandon Cantu was very upset. The two-time WSOP bracelet winner, and now three-time WSOP runner-up finisher, attacked both Aguiar and the WSOP on Twitter, then caught up with PokerNews' own Sarah Grant to let off some steam.
Cantu then challenged Aguiar to a rematch for the difference between first and second prize money.
@jonaguiar I beg you to hold true to your word that you said on the live stream that you will play me heads up (as you offered during

— Brandon Cantu (@brandoncantu)
I would like to play for at least the difference of first and second that was rightfully stolen of mine and I swear on a stack of

— Brandon Cantu (@brandoncantu)
A challenge that Aguiar accepted.
We'll keep an eye on this rematch and bring you up to speed if any details surface.
Online Poker
PokerStars Getting a Makeover
For more than a decade, PokerStars has prided itself on offering the best online poker software in the industry. But the company will soon be scrapping its popular client and unleashing a slick new remodel for players around the globe.
An alpha version of new software, called PokerStars 7, was presented in front of players and media at the PokerStars VIP Club Live Event in London last weekend. The new design offers a user-friendly interface with more table filters integrated into the lobby, reducing the amount of pop-ups needed to find a game. According toPokerNews UK & Ireland editor Matthew Pitt, who was at the event, the software includes a new "quick seat" option, making possible for a player to be seated at a table and be receiving cards in just two mouse-clicks.
Among the other new features is the "App Bar," where players can customize their client by selecting from many different options to best fit their liking. "Absolutely everything is in here, and is so simple to find, from four-color deck to auto-mucking your losing hand," said Pitt.
Pitt added that the new client has a similar feel to Full Tilt Poker, which was known for its simple and user-friendly lobby.
For an in-depth look at the alpha software, check out Matthew Pitt's article at PokerNews UK & Ireland.
Online Poker Battle in Nevada
The Nevada Gaming Control Board met with three gaming companies on Wednesday to discuss applications to receive intrastate online poker licenses.
Boyd Gaming, Fertitta Interactive and the Golden Nugget each received preliminary approval for licenses from the two-member board. All three companies will now seek final license approval from the Nevada Gaming Commission on Oct. 18.
Boyd, which owns numerous casinos in Las Vegas, seeks a license as an online poker operator having already partnered with service provider bwin.party, owners of the PartyPoker brand. Bwin.Party applied for licensure as a business-to-business service provider in March but has yet to meet with gaming regulators.
Golden Nugget applied for a license as an operator and already has a partnership with Bally Technologies, which runs the Golden Nugget's free poker offering, GoldenNuggetPoker.com. In June, Bally was the first company to receive a license as a service provider for Internet poker in Nevada. The company is having its technology tested by the state before it is given authorization to provide real-money games.
Fertitta, the parent company of Station Casinos LLC and the UFC, applied for a license to operate as an online gaming service provider and looks to provide real-money online poker under the Ultimate Gaming brand. Fertitta launched Ultimate Gaming in June, offering free-play online poker until its real-money operation is approved by regulators.
If all three receive final approval from the Gaming Commission, they will join Bally, IGT, Shuffle Master, South Point, Monarch Interactive, and others as licensed intrastate online poker companies. South Point is expected to launch the first real-money poker site by the end of the year.
Poker Business
Amaya Gaming and Bwin.Party Seal the Deal
On Monday, TechCrunch.com reported that bwin.party sold the Ongame Network to Amaya Gaming. The deal is worth up to €24 million, and an initial payment of €15 million is expected to be made during the fourth quarter of 2012. If regulated online gaming returns to the United States in the next five years, Amaya Gaming is also subject to additional payments of up to €10 million.
In the press release, David Baazov, the CEO of Amara Gaming, stated that "The acquisition of Ongame bolsters Amaya Gaming's product portfolio, transforming Amaya into a leading provider of gaming platforms."
Amaya Gaming, founded in 2004, is headquartered in Montreal, Canada, and is present in North America, Latin America, Europe, and Asia. Before purchasing bwin.party on Sept. 25, Amaya acquired Cadillac Jack, a company that manufactures video-reel slots, wide area and multilevel progressives and bingo games for $167 million.
In February, Shuffle Master signed a definitive agreement to purchase Ongame for €19.5 million, but the company withdrew iis offer in June. According to PokerScout.com, Ongame ranks fifth worldwide in real-money ring-game traffic, and recently passed Winamax.fr and PokerStars.it in the rankings.
TechCrunch.com has more.
Chad Elie Sentenced to Prison
Chad Elie, one of the 11 men indicted by the Department of Justice on Black Friday, was sentenced to five months in prison on Wednesday.
In March, Elie pleaded guilty to conspiring to commit bank fraud and operating an illegal gambling business in the United States. He admitted in court that he acted as a "payment processor" for the PokerStars, Full Tilt Poker, and Absolute Poker, and deceived U.S. banks into processing hundreds of millions of dollars in online poker transactions.
Elie was slated to go to trial April 9 on nine charges including bank fraud, conspiracy, and violation of the Unlawful Internet Gambling Enforcement Act (UIGEA). He faced up to 85 years in prison, but, as part of a plea agreement with prosecutors, he'll serve five months in prison and hand over $500,000 in fines.
"I'd just like to apologize to my family and friends for the pain and disappointment I caused them and ask for their forgiveness," Elie said in a brief statement to the court, according to Bloomberg.
Bloomberg has more.
Poker Tournaments
Greg "Fossilman" Raymer won the Heartland Poker Tour Missouri Main Event on Monday, claiming his second HPT title of the year along with $121,973. The win in St. Louis came less than three months after Raymer won the Heartland Poker Tour Albuquerque Main Event, propelling him to the top of the HPT Player of the Year leaderboard.
Raymer outlasted a field of 336 players in St. Louis, including well-known pro Dennis Phillips, who finished as the final table bubble boy in seventh place. Joining Raymer at the final table was former HPT champ Shawn Roberts, but his exit in fourth place left Raymer eyeing tour history.
"Winning two of three tournaments is unreal and unexpected," said Raymer, who finished out of the money at the HPT Colorado event last month. "I'm just very excited."
Raymer becomes the second player in the HPT's eight-year history to win two titles in the same season. Jeremy Dresch was the first to accomplish the feat, winning back-to-back events in 2009. Dreshch later added a third title in 2011.
Here's a look at the final table results from the Heartland Poker Tour Missouri Main Event:
| Place | Player | Prize |
| --- | --- | --- |
| 1 | Greg Raymer | $121,973 |
| 2 | Ryan Hickey | $69,034 |
| 3 | Alona Sushynina | $43,908 |
| 4 | Reginald "Shawn" Roberts | $37,810 |
| 5 | Penelope Banhidy | $29,272 |
| 6 | Stan Jablonski | $23,906 |
Get a full event recap at HPTPoker.com.
Follow PokerNews on Twitter for up-to-the-minute news.