The Nightly Turbo: Phil Galfond Sues Poker Training Site, New PokerStars Pros, and More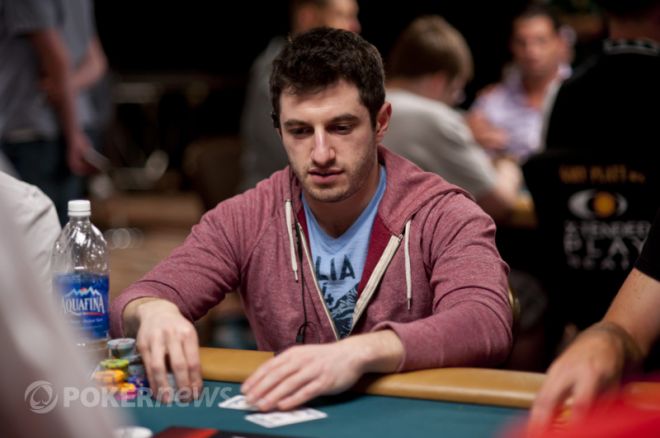 We wrapped up our exclusive interview series with Howard Lederer on Friday. How did some of the game's high-profile pros react to his comments? We're covering that story, a lawsuit involving Phil Galfond, and more in this edition of the Nightly Turbo.
In Case You Missed It
PokerNews released the seventh and final segment of The Lederer Files on Friday. Check out Part 7 right here at PokerNews.com.
How was the high-stakes action at the PokerStars tables this week? Read the Online Railbird Report to find out the week's biggest winners and losers.
The World Poker Tour Borgata Poker Open reached a final table on Thursday. Find out who was still in contention in our WPT Borgata recap.
How did Team PokerStars Online's Adrienne Rowsome become known as "talonchick"? Find that out and more in the latest Q&A with hosts of the World Championship of Online Poker.
The Poker Player's Alliance has expressed some concerns about the federal online poker bill authored by Harry Reid and John Kyl. PokerNews' Matthew Kredell spoke with PPA Executive Director John Pappas about the bill this week.
Galfond Sues Blue Fire Poker
When Phil Galfond parted ways with BlueFirePoker.com last November, he elected not to reveal his reasons for leaving, saying only that "it was a very difficult decision that I struggled with for a long, long time."
This week, we learned a bit more about Galfond's falling out with the training site he helped build. According to Courthouse News Service, Galfond has sued his former business partner William F. Murphy for breach of contract and conversion, and is seeking damages.
Galfond claims that he and Murphy agreed in 2008 to form a joint venture to operate the poker training website, from which he was to receive one-third of the profits from the site and ownership interest of up to 38.33 percent. But Galfond says he has still not been paid for his work for the site in 2011. Galfond also claims that he never received accounting records, financial statements or tax returns from Murphy in 2009 or 2010 to verify that the amounts he was paid were correct.
"Blue Fire has been immensely successful, having thousands of members who pay an initial enrollment fee of $100 in addition to a subscription fee of $30 per month," the complaint states. "Upon information and belief, the defendant Murphy has misappropriated and converted to his own use and possession the assets of MGH."
As part of his agreement with the company, Galfond provided more than 150 training videos for BlueFirePoker.com during his three years as an instructor. Galfond also played a key role in the site's content management and the hiring of the BlueFire instructors.
Read more at CourthouseNews.com.
New PokerStars Pros
PokerStars had added two new pros to its Team Online roster, signing Naoya "nkeyno" Kihara and Caio "pessagno" Pessagno to represent the site online and at tournaments around the globe.
In June, Kihara became the first Japanese player to win a bracelet at the World Series of Poker, winning the $5,000 six-handed pot-limit Omaha event for $512,029. In addition to playing on PokerStars, Kihara says he plans to don the PokerStars red spade at tournaments in Macau in at the PokerStars Caribbean Adventure in January.
"I want to be a top poker pro who every poker players knows and can be proud of. To be a member of Team Online is a really big step," said Kihara.
Pessagno has been grinding mid- and high-stakes tournament of PokerStars for years and boasts more than $1.8 million in cashes on the site. He plans to continue his "ridiculous volume" online, mixed in with appearances at Brazilian Series of Poker (BSOP) and Latin American Poker Tour (LAPT) events as well as the PCA in January.
"Being part of this team is a dream for any professional player, and for me this is the beginning of a new stage in my life. I sacrificed a lot to be here and I feel very accomplished to have followed this path," said Pessagno.
Read more about the two new PokerStars Team Online Pros at the PokerStars Blog.
Full Tilt Poker Owners, Players Respond to The Lederer Files
With the Lederer Files becoming the talk of the poker community this week, several of the industry's biggest names have spoken up about Lederer's comments to PokerNews.com.
Some of the most interesting talk has been about former Full Tilt owners Phil Ivey and Erick Lindgren, both of whom were painted in a negative light by Lederer. Lederer called Ivey's June 2011 lawsuit against the company "horrific" because of its avaricious nature, but Barry Greenstein came to Ivey's defense in a post at TwoPlusTwo on Thursday.
"Phil never thought about the lawsuit in terms of money, only in terms of leverage to get out," Greenstein said. "He had given them an ultimatum to get the company sold by a certain time, and they failed. They had rejected a potential offer that Phil was involved with as being a bad deal."
Lindgren, meanwhile, was accused of being double-credited for a $2 million loan before Black Friday and never paying back the extra $2 million even though it never belonged to him. Lindgren has been harshly criticized by the community for the accusation, but Daniel Negreanu went after Lederer for singling out his friend and none of the other players who had outstanding loans with the company.
Lederer Files: the list of people who owed FTP money is MUCH longer than what he listed. NO ONE would pay back a Ray Bitar led FTP ever!

— Daniel Negreanu (@RealKidPoker)
Another player mentioned by Lederer was John Juanda, who was displeased with Lederer's assertion that Juanda was the second largest shareholder of FTP.
For the record, Howard Lederer was wrong when he said I was 2nd largest shareholder of FTP! Maybe he REALLY didn't know!!??? #LedererFiles

— John Juanda (@LuckBoxJuanda)
Juanda also addressed the loan he owed to the company.
I owe FTP $256K, was offered to settle for 80% but declined when I found out Ray, w/boards' approval,was still taking home 200K+/mo post BF

— John Juanda (@LuckBoxJuanda)
Instead I offered to pay 100% as soon as I could be certain it'd go toward paying players NOT management salary &lawyers fees #LedererFiles

— John Juanda (@LuckBoxJuanda)
We're anticipating a lot more discussion in the coming days. If you happened to miss any of the seven episodes of The Lederer Files, you can find them right here at PokerNews.com.
BetVictor Moves to MicroGaming Network
On Thursday, online gaming provider Microgaming announced that BetVictor Poker will soon be making its home on the Microgaming Poker Network.
The move follows International Game Technology's (IGT) decision to close the Entraction network, where BetVictor previously resided. BetVictor's poker offering will be available on the Microgaming Network by the end of this month.
"We're looking forward to consolidating our online poker business on the Microgaming Poker Network, where we've been serving customers in a variety of international markets since late last year," said BetVictor Poker director Andy Horne. "Providing the best poker experience possible is our top priority, and we're sure that the MPN will continue to deliver in this respect."
Read the press release at MarketWire.com.
Brad Garrett Charity Tournament
A slew of poker pros and celebrities will be hitting the MGM Grand in Las Vegas this weekend for the Celebrity Poker Tournament hosted by Brad Garrett benefiting Maximum Hope Foundation.
Garrett, Ray Romano, Elizabeth Perkins, Mimi Rogers, Dennis Phillips, and Karina Jett are among those already confirmed for the event. The tournament buy-in is $250 with $100 rebuys and add-ons. The winner will receive $10,000 in cash, and there will be other prizes for those that reach the final table.
Garrett recently talked to VegasSeven.com about the event, which benefits families who have children with life-threatening illnesses.
"Simply put, when I had two healthy children, I was just so grateful. And there were people in my personal life who weren't as lucky," he said. "There's nothing scarier than having a child who is ill, and working with Children's Hospital and other foundations, I just said, 'I really want to help out these families, because this has to be the biggest nightmare to have to deal with.'"
Check out the full interview at VegasSeven.com, and find out more about the event itself at maximumhopefoundation.org.
Jennifer Tilly in France
The World Series of Poker Europe kicked off in Cannes, France, on Friday. Sarah Grant caught up with Jennifer Tilly, who discussed her birthday, her month-long trip without Phil Laak, and more.
Follow PokerNews on Twitter for up-to-the-minute news.