Five Thoughts: Loaning is Risky, But Will Never Leave Poker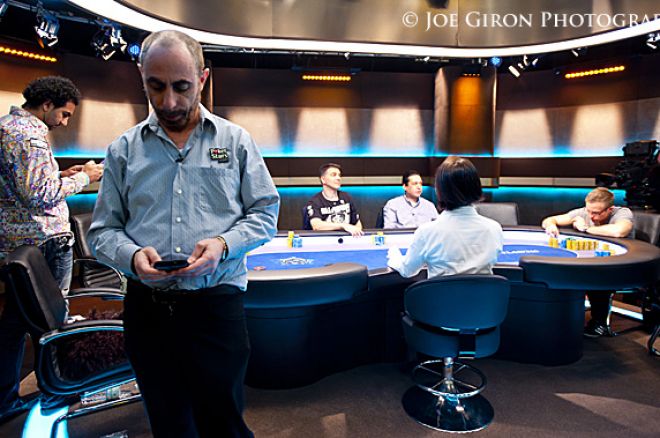 Nineteen players owe Groupe Bernard Tapie $16.5 million, Daniel Negreanu calls for old-school Vegas punishment for Howard Lederer and Chris Ferguson, a former Zynga engineer is spilling some secrets over on reddit.com, and the Super Bowl was yet another super fail for the Pigskin Diaries.
Let's get to it.
1. Pay that man his money
Borrowing money among friends — or even acquaintances — is far from unusual. A perfect example of this would be at a bar. It's Friday night, you're with two buddies, and it's crowded. It would make absolutely no sense for all three of you to push your way to the front and order, so you take turns buying rounds. At any given moment, someone is probably owed, but it doesn't really matter because it all evens out in the long run — except when your one buddy starts ordering shots. Then you're freerolling.
In poker, borrowing money is also common. Another example: you and your friend hit up a local brick-and-mortar casino to play $2/$5, and upon arrival you see three whales playing $5/$10. With only one bullet, you decide to take a shot in the game, while your friend, who brought much more money than you yet is more conservative, decides to stick with $2/$5. You get coolered in the first hour by set over set, and ask your friend to borrow a buy in. If he really knows you, and you're good for it, he'll fork over a dime without much thought.
To a serious poker player, these two scenarios are identical. To the average person, the second scenario is outrageous — what if he loses again? Will I ever get my $1,000 back?
Perhaps we should listen to the layman, because borrowing and staking in poker tend to lead players down the rabbit hole. John "Nicolak" Kim talked about lending money on the most recent Strategy With Kristy Podcast, saying that it's his biggest leak.
"What started out as a 2k loan escalated to — I don't want to say the number. It makes me cringe thinking about the amount of money I loaned out."
It seems to have been Full Tilt Poker's biggest leak, as well. According to Laurent Tapie, 19 players owe a combined $16.5 million in gambling debts. This number is substantial and could block the deal between FTP and Groupe Bernard Tapie, meaning that players' funds remain in jeopardy. Barry Greenstein, who was singled out by GBT lawyer Behnam Dayanim, admits he owes money and has paid some back but is wary about paying the whole sum.
"I didn't borrow money from Tapie," he told PokerNews in an exclusive interview.
Greenstein wants to make sure that if he pays Tapie, the money will go back to the players. Tapie counters by saying that the players can only be refunded if the shortfall is accounted for and GBT takes the deal.
Borrowing and staking will always be a part of poker. Those who give will eventually need to take, and those who take aren't always black holes. However, while dealing with virtual assets and credit may be easier, it can also lead to forgotten payments and huge headaches. The FTP/GBT saga is an extreme example of that — it's exponentially larger than your average deal and it's among more than a dozen players — but it's still eye-opening.
You never know when your buddy is going to bail before buying that last round of drinks.
2. Nothing like a few swift of a baseball bat to the groin
Team PokerStars Pro Daniel Negreanu took to his blog on Saturday, and, per usual, he didn't pull any punches:
"They [PokerPlayer Magazine] edited down my comments about Ray Bitar, Howard Lederer and Chris Ferguson, but they definitely got the gist of my vitrol toward them. I'm disgusted by them and what they've done to smear the game with putrid decision making. Ray is a buffoon, Howard is arrogant, condescending, and incompetent, and Chris is a liar and has the warmth of a snow pea ... You guys suck. I hope to never see any of your faces at the WSOP anymore, and I hope you live with the shame you deserve for the rest of your lives ... You are scum and each of you absolutely deserves a few swift baseball swings to the groin area, old school Vegas style."
Well, damn.
Besides crushing Bitar, Lederer, and Ferguson, Kid Poker also discusses bubbling the Aussie Millions $250,000 Super High Roller, having his PokerStars account hacked, random personal musings, and the need for poker ambassadors.
When discussing the Aussie Millions, Negreanu said that Phil Ivey was "really into" the tournaments he played, and that he "seemed fired up for a big 2012, which should make poker fans happy."
Yes, very.
The poker ambassadors paragraph in his blog is the most interesting one to me, however, because we need good, trustworthy representatives in the coming future. People may dislike Negreanu because he talks too much — even I agree that some things are better left unsaid — but Negreanu would rather stir things up and be wrong then let something inadmissible pass by. That's fine by me, because Daniel doesn't care about gaining an edge; he cares about providing a fair and balanced game for all players. That's paramount.
With a hellacious political debate about poker on the horizon, we need players like Negreanu and Phil Galfond leading us because they genuinely care about the game, not just about themselves.
3. Zynga engineer goes AWOL
A poster on reddit.com named mercenary-games, who claims to have been an engineer for Zynga, recently started a thread about the company after quitting his job. He claims that he and fellow programmers "skewed gameplay for the sake of profit." They did this by "making a feature more fun." Zynga Poker is one of the games that mercenary-games discussed:
"Yeah ... the poker thing is kind of devious. They shuffle the deck for hundreds of millions of people. Expect stupid results."
"That sh**, with skewed decks, happens too often."
"It has a bias. It's not poker. The deck is rigged."
If any of this is true, then it's alarming, to say the least. I've personally never played on the Zynga client, so I don't have any stories of quads over quads, but obviously if the hands are more exciting then there will be more return customers — Zynga players aren't trying to grind, they want to pass some free time and have some fun.
It doesn't matter that Zynga is a play money site. The average person will see this as another poker client manipulating its customers. In the wake of Full Tilt's financial negligence, and with Absolute Poker/Ultimate Bet's wrongdoings in the not-so-distant past, online poker has never had a worse image in the United States. If mercenary-games' accusations are even remotely true, then it's just another giant scandal waiting to happen, and it's more ammunition for the opposition.
For now, we only know one side of the story. Hopefully Zynga will respond to the accusations — silence is a strong indicator of guilt.
4. The Super Fail
Last Friday, in the final edition of the Pigskin Diaries, yours truly kept the trend alive. With the New York Giants winning outright, I am now 0-7 against the spread (ATS) when picking the Super Bowl. That's right kids; I can't break even until 2019.
Good times.
According to Eric Matuszewski of Bloomberg.com, $93.9 million was wagered on the game in Nevada, and an estimated $10 billion was wagered on the game worldwide. Rapper 50 Cent had a sizable wager on the game — he parlayed his winnings from a $500,000 bet he made in the NFC Championship Game and placed a cool $1 million on the G-Men.
Side note: Don't you wish that PokerStars could air a "We Are Poker" ad during the game? Or how about that epic International Stadiums Poker Tour ad? One time?
One day, I hope I can pick the Super Bowl correctly, but for now I'll settle for being the guy who always gets it wrong. 2019 here I come!
5. Wait ... how much?
Because somebody had to do it:
Follow PokerNews on Twitter for up-to-the-minute news.