The Nightly Turbo: Bwin.Party Completes Ongame Deal, Negreanu Looks for Action, & More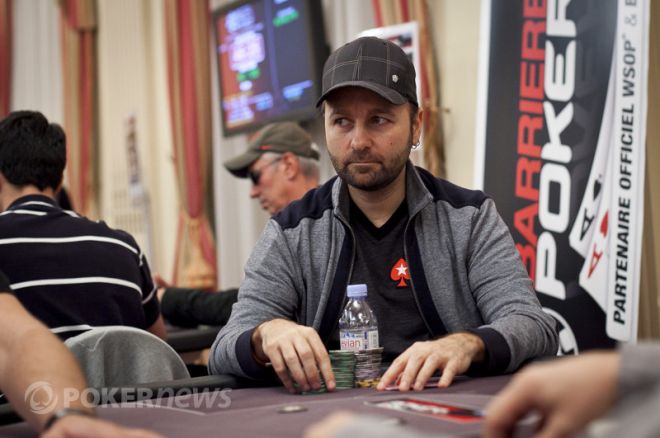 On Friday, we informed you that Bwin.Party was selling the Ongame Network. The deal is now complete, and we'll bring you the details, plus a performance bet from Daniel Negreanu, in this edition of the Nightly Turbo.
In Case You Missed It
PokerStars is ready to celebrate the 10th anniversary of the PokerStars Caribbean Adventure. The full schedule for the 2013 PCA can be found here at PokerNews.com.
Miss the World Poker Tour on the Fox Sports Network this weekend? No worries, Chad Holloway can fill you in on the finale of the $100,000 Super High Roller held at the Bellagio here.
The Latin Poker Tour Panama concluded on Sunday. Check out which Team PokerStars Pro took it down.
Jason "TeamWispy" Helder took down the PokerStars Sunday Million. See who else had success on the virtual felt in the Sunday Briefing.
The Seat Open series continues on PokerNews. Watch Part Two of Sarah Grant's interview with 2004 World Series of Poker Main Event champion Greg Raymer here.
Want to raid Tony G's house? Or win a trip to see Manchester United play Braga in a UEFA Champions League match? Head on over to the PartyPoker Weekly.
Amaya Gaming and Bwin.Party Seal the Deal
On Monday, TechCrunch.com reported that bwin.party sold the Ongame Network to Amaya Gaming. The deal is worth up to €24 million, and an initial payment of €15 million is expected to be made during the fourth quarter of 2012. If regulated online gaming returns to the United States in the next five years, Amaya Gaming is also subject to additional payments of up to €10 million.
In the press release, David Baazov, the CEO of Amara Gaming, stated that "The acquisition of Ongame bolsters Amaya Gaming's product portfolio, transforming Amaya into a leading provider of gaming platforms."
Amaya Gaming, founded in 2004, is headquartered in Montreal, Canada, and is present in North America, Latin America, Europe, and Asia. Before purchasing bwin.party on Sept. 25, Amaya acquired Cadillac Jack, a company that manufactures video-reel slots, wide area and multilevel progressives and bingo games for $167 million.
In February, Shuffle Master signed a definitive agreement to purchase Ongame for €19.5 million, but the company withdrew iis offer in June. According to PokerScout.com, Ongame ranks fifth worldwide in real-money ring-game traffic, and recently passed Winamax.fr and PokerStars.it in the rankings.
TechCrunch.com has more.
#DNegsGrind2013
On Saturday, Daniel Negreanu, who currently ranks 31st in the Global Poker Index, Tweeted this to his more than 200,000 followers:
I'd like to bet that I crack the top 20 in the GPI http://t.co/ZXWaumPC by WSOP 2013. I'm currently ranked 31st. Get at me for action.

— Daniel Negreanu (@RealKidPoker)
I'm also willing to take 3.5-1 that I crack the top 10. You can also have action on ANYONE behind me.Whoever ranks higher by WSOP wins #GPI

— Daniel Negreanu (@RealKidPoker)
The GPI measures a player's performance over six half-year periods, so Negreanu's ranking will be based heavily on his results over the past two years and not just the one to come.
Here are the bottom five members of the top 20 and Negreanu:
| Rank | Player | Points |
| --- | --- | --- |
| 16 | Erik Seidel | 2259.55 |
| 17 | Mohsin Charania | 2242.37 |
| 18 | Samuel Chartier | 2235.87 |
| 19 | Bryn Kenney | 2230.50 |
| 20 | Tommy Vedes | 2218.54 |
| | | |
| 31 | Daniel Negreanu | 2040.91 |
Negreanu was still alive in the WSOPE Main Event as of press time but has told PokerNews that he has yet to receive action on his offer.
Obama is "Bluffing"
On Sunday, the Washington Examiner ran a piece by opinion columnist Hugh Hewitt titled "Obama's poker tells." Hewitt waxes poetic about how he soul-read U.S. President Barack Obama at a campaign rally at Desert Pines High School in Las Vegas, Nevada, saying that the President gives off "a number of 'poker tells.'"
One of the tells Hewitt discusses is when President Obama gets upset because people interrupt or question him. Hewitt says, "When this happens, his countenance displays a disapproving sneer and his voice clouds with displeasure."
We can only wonder what Hewitt's read would be on Phil Hellmuth after taking a bad beat – "When this happens, he throws his hands high into the air and calls loudly to his wife, often times claiming that he can 'dodge bullets, baby.'"
To our surprise, Hewitt never gets around to discussing how often President Obama four-bets, his VPIP, or his all-important fold-to-turn-check-raise frequency. In fact, there is no mention of whether or not Obama is even bluffing!
We're completely left in the dark regarding President Obama's skills on the felt. Maybe Joe Navarro can save us.
If our readers in Sin City bump into the POTUS, maybe they can ask him about how he plays small pairs out of position – President Obama will be in the Silver State through Wednesday, preparing for his first presidential debate against Republican presidential candidate and former Massachusetts Gov. Mitt Romney.
Read more in the Washington Examiner.
Jones, Lacey Jones
To celebrate the 50th anniversary of Dr. No, the first of the soon-to-be 23 James Bond films, Las Vegas Magazine created a spy adventure of its own. The Sept. 30 issue of the magazine will include a cover story about what life may have been like for Bond actor Ian Fleming if had he been born in Vegas rather than London.
The story will include some of the Strip's most popular landmarks and feature T.J. Degenhardt, Taylor Makakoa, Denise Pernula and professional poker player Lacey Jones.
To compliment the tale, Las Vegas Magazine has created posters featuring all three ladies. The poster that receives the most votes before midnight Thursday will be printed as a full-page poster in the Las Vegas Sun on Friday.
You can vote for Jones, who has two career WSOP cashes, or either of the two other ladies at the Las Vegas Sun.
Brandon Cantu Isn't Happy
After finishing second to Jonathan Aguiar in WSOPE Event #5: €10,450 Mixed Max - No-Limit Hold'em, Brandon Cantu was very upset. The two-time WSOP bracelet winner, and now three-time WSOP runner-up finisher, attacked both Aguiar and the WSOP on Twitter, then caught up with PokerNews' own Sarah Grant to let off some steam.
Cantu then challenged Aguiar to a rematch for the difference between first and second prize money.
@jonaguiar I beg you to hold true to your word that you said on the live stream that you will play me heads up (as you offered during

— Brandon Cantu (@brandoncantu)
I would like to play for at least the difference of first and second that was rightfully stolen of mine and I swear on a stack of

— Brandon Cantu (@brandoncantu)
A challenge that Aguiar accepted.
We'll keep an eye on this rematch and bring you up to speed if any details surface.
Follow PokerNews on Twitter for up-to-the-minute news.