Five Thoughts: All In — The Poker Movie Review, Negreanu's Ban and More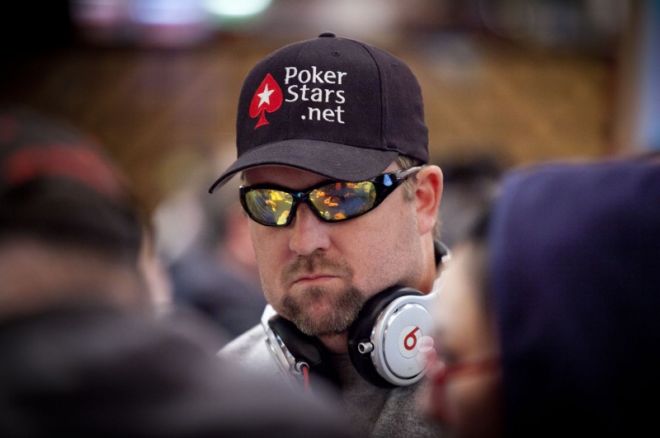 Producing and directing a documentary is difficult. It's easy to find subjects, shoot interviews, and compile stock footage, but once you hit the editing room, that's when the challenge arrives. When producing a documentary, nothing is worse than having a major event occur after you've finished your primary shooting, and that's exactly what happened to producer-director Douglas Tirola's All In: The Poker Movie.
1. Two thumbs up
The opening sequence of the movie is very artistic and very visually appealing. Tirola skillfully grouped shots of modern-day poker tournaments with both classic Hollywood gambling scenes and stock footage from old casinos and riverboats. The link between the American persona and the game of poker is forged from the onset, and it lingers throughout the movie as one of the main themes.
One of the most interesting anecdotes comes from World Series of Poker Media Director Nolan Dalla — who is one of the greatest, most enthusiastic storytellers in the industry. It's about the influence of World War II. During the war, playing cards were distributed among American troops, and during downtime there wasn't much else to do other than play cards and smoke cigarettes. Well, when the war ended and many of the returning soldiers began running weekly card games, the game spread like wildfire.
I was very pleased that there wasn't a single narrator; rather a chorus of different voices carrying the story. That's poker in a nutshell — as long as you can pony up the money, you can play. And as long as you're playing, your voice matters. You're an equal to everybody at the table. The mixture of voices gave the story both great context and, are you ready for this — variance. Non-poker fans wouldn't be moved if a bunch of professional players bragged about how much money they won after the boom, so the movie offers perspective from television producers, marketers, legislators, historians, writers, and more.
Storytelling isn't just about facts and numbers, however, so Tirola decided to use the ultimate poker protagonist to drive the point home: Chris Moneymaker. Tirola juxtaposes the growth of poker in America with Moneymaker's story of desperation and degenerate sports gambling, and the two stories climax when Moneymaker wins the 2003 WSOP Main Event. However, the high from the Moneymaker effect doesn't last long, and after a brief discussion about the benefits of online poker, Black Friday is introduced.
The sequence about Black Friday is short, but it's candid. There is no conclusion to the issue, because we're still searching for conclusions as you read this. I'm sure Black Friday threw a huge wrench into Tirola's movie, forcing him to change much of it in the eleventh hour, but that's documentary-making in a nutshell.
I would highly recommend All In: The Poker Movie to any poker fan. You'll learn a lot, you'll have some laughs, and, for once, you'll see the game we love in a positive light.
2. Negreanu vs. TwoPlusTwo
Last week was either a really slow news week or we need to limit our obsession with Daniel Negreanu because his one-day ban from TwoPlusTwo spawned numerous threads, attracting over 100,000 viewers combined. The temporary ban came after Negreanu posted his weekly vlog — which has it's own, official, moderator-approved thread — because the video leads with a promo for iSeriesLIVE. A TwoPlusTwo moderator dropped the banhammer because the terms of service clearly state that posters should not "upload, post, email, transmit or otherwise make available any unsolicited or unauthorized advertising [or] promotional materials."
Was this a nitty ruling? Yes. Was it the right thing to do? Absolutely.
As Gene Wilder put it in Willy Wonka & the Chocolate Factory, it's all there. Black and white. Clear as crystal. Negreanu broke the rules; therefore, he should get punished. After making a few North Korea jokes on Twitter, Negreanu eventually recognized his mistake but then began to argue about the TOS itself. Look, TwoPlusTwo may not be perfect, but it has successfully hosted and moderated a forum of knucklehead poker players and fans for over a dozen years. I'm fairly certain that its TOS is both well thought out and effective.
The only merit to Negreanu's argument is that he's constantly representing a multitude of platforms. The vlog was a clear violation — although I think if the iSeriesLIVE commercial was toward the end he would've gotten away with it — but the line is a little less defined than you think. Mason Malmuth, the self-appointed "Top Dog" of TwoPlusTwo, has since released a statement about the banning.
3. PokerNews Fan Bracket
Holy Phil Hellmuth, Batman!
Sitting at 64th in the Global Poker Index rankings, Hellmuth was the last player to make it into the PokerNews Fan Bracket. I thought he was a favorite to beat David "Doc" Sands who hasn't quite "arrived" on the scene yet, but I didn't think he would make it out of the bracket. Initially, I thought Allen Kessler would give him fits because Kessler has a strange, cult-like following, but Hellmuth blew through Chainsaw with ease. Now, with only one day of voting remaining in the Round of 8, he has a 60-40 advantage over Vanessa Selbst.
Now that's stunning.
If he holds on, can Hellmuth beat Jason Mercier in the Round of 4? Matt Waxman made a great point on last week's PokerNews Podcast about Mercier, and how he really doesn't try to be popular. He just is. Maybe this puts him at an advantage over Hellmuth because the Poker Brat is always name dropping, but perhaps this puts him at a disadvantage because he's more forgettable.
Negreanu seems to have a clear path to the championship match on the other side of the bracket. He's crushing Matt Glantz right now, and neither Chris Moorman nor Olivier Busquet are pulling away from each other, and they are dead even in votes.
If you haven't already, head on over to The Muck and vote.
4. SCOOPing pots
The preliminary 2012 Spring Championship of Online Poker schedule was recently released. The action, which starts on Sunday, May 6, features 38 events over two weeks, culminating in the Main Event (low: $82, medium: $700, high: $7,500). Sami "Lrslzk" Kelopuro shipped the SCOOP Main Event (high) last year, banking over half a million dollars after a five-way chop.
If I could pick three events to play in, they would be Event 24-H: $1,050 Triple Draw 2-7, Event 33-H: $2,100 NL Omaha Hi/Lo, and Event 38-M: $700 Main Event. Personally, I think triple draw is one of the purest forms of poker, because there is no information available other than betting patterns and the number of cards exchanged, everybody needs a little bit of no-limit, four-card bingo in their life, and the value in the medium Main Event is better than the high.
Of course, being stuck inside the United States, I won't be able to play in any events, but if you are more fortunate than I am, and plan to get in on the action, you can check out the entire schedule, and plot your road to victory.
5. Running Good
Kristy Arnett on using poker lingo in real life.
Stay up to date on all the latest news by following us on Twitter and liking us on Facebook.