Five Thoughts: Unhappy Players, Another Win for Failla and More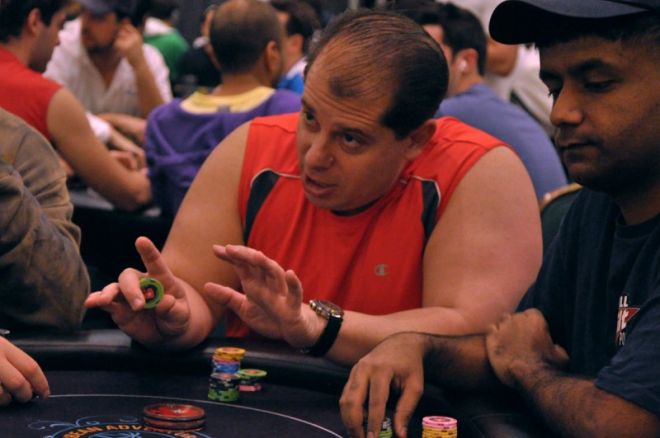 A good friend told me this weekend that "Being a tournament director has to be one of the worst jobs in the world — you're always in a lose-lose situation." And, if you really think about that statement, he's right. If a tournament director runs a series perfectly and makes all the right decisions, he may receive some praise here and there. However, that TD will still receive grief from crabby players, and, unless he's a high-profile figure like Matt Savage or Jack Effel, his hard work will go generally unnoticed.
On the other hand, if a TD makes just one bad ruling, then the players will make his life a living hell, especially if they're well-versed in social media. Sometimes this is deserved, and sometimes it's not.
1. Unhappy players want change
Since the beginning of the Wynn Poker Classic on Feb. 23, I've read a few tweets here and there about how the tournaments were being run. The first one that stuck out came from Jimmy Fricke:
Rules at @Wynnpoker are terrible. Day 2 we are forced to come back on the bubble. Then after 20 minutes level ends and we break for 15m.

— Jimmy Fricke (@jvfricke)
This is a perfect example of when it's OK to bend the rules. According to Fricke, there were four players with fewer than three big blinds when play was scheduled to end. Four. Play could've been extended for 10 or 15 more minutes, and the bubble would've been burst with ease, but the floor decided to go by the book.
Were they wrong? No, but it would've been courteous to allow the eventual bubble boy to bow out that evening. Having to come back, get eliminated, and bubble is a pretty brutal trifecta. Outcries from the players only increased as the $5,000 Main Event began:
75k going to 200/400/50. This is quite simply the worst run 5k I have ever played @wynnpoker

— David Doc Sands (@Doc_Sands)
The @WynnPoker classic starts a very unnecessary 600 blinds deep and then skips some key levels later on #whenwilltheylearn

— Dan O'Brien (@DanOBrienPoker)
RT @Kevmath: @wynnpoker is day 2 table draw info for the main event on your Facebook page?>Luv Wynn Poker but need to plan better 4 Classic

— Randy Dorfman (@RandyDorfman)
The inmates shouldn't run the asylum, but there has to be a give-and-take relationship between the players and the floor. Players are obviously quick to criticize the staff — and as we discussed before, one mistake can balloon into something huge — but the floor should make their decisions based upon what's best for the integrity of the game and the enjoyment/sanity of the players. There is clearly a lot of grey area in poker, so just going by the book and avoiding change is counterproductive.
The Wynn Poker Classic is a very popular, must-play series, and if the staff works with the players, then the series is bound to grow and attract new players.
This is certainly doable, it'll just take a little bit of innovation.
2. A Thrill-er at the River City Casino
The Heartland Poker Tour celebrated it's 100th event at the River City Casino in St. Louis, Missouri, this past weekend, and a few notables, including Will "The Thrill" Failla, Allen Kessler, and Phil Hellmuth made an appearance. One of those players actually shipped the event and later admitted that it was Kessler who dragged him out to St. Louis.
No, Kessler couldn't drag Hellmuth anywhere.
Failla defeated a field of 328 runners, banking $119,064 for the victory. Since the 2011 World Series of Poker, Failla has won a World Poker Tour event (Legends of Poker, $758,085), a WPT preliminary event ($560 freeze-out, $21,987), a Borgata Poker Open event ($500 re-entry, $165,053), and now, an HPT event. The Thrill also reached the final table of a WSOPE event, finishing runner-up in the €5,000 six-max turbo for €64,589 ($86,282).
It's safe to say that Failla is on fire. He's made over $1.7 million in the last 15 months after making $1.7 million in the previous six years. The native New Yorker is also ninth on the Global Poker Index Top 300 (as of March 15,2012).
Failla will always be known as one of the loudest players in the room — no matter what room he's in — but now, it's fair to say he's also going to be one of the most dangerous. With this win he, should be in contention for the GPI Player of the Year, even though it may be impossible to catch Jonathan Duhamel.
That guy's on fire.
3. Hup Holland Hup
Like the HPT, PokerStars celebrated a milestone this past weekend — the six-year anniversary of the Sunday Million. Stars guaranteed a $6 million prize pool and a $1 million first-place prize, and on Sunday morning, it still hadn't hit the guarantee.
An hour before game time and still 18K players short of the #SundayMillion $6M guarantee. #possibleoverlay

— Shane Schleger (@ShaneSchleger)
There was no overlay, however, because a whopping 33,732 players registered, creating a prize pool of $6,746,400.
As an U.S. citizen, I've never felt so insignificant in my life.
The $1 million top prize was not met, however, because the top eight players decided to make an ICM chop, leaving $120,000 in play for first place. That extra money went to slyfox151 (Netherlands), who defeated blodders03 (United Kingdom) heads up. In the final hand, slyfox15 won a race with two red fours against his opponent's ace-queen. The board ran out
, and the Dutch player banked $480,761.38 in total.
The lion's share of the prize pool went to a Finn,toode, the chip leader at the time of the chop, who received $590,482.92, despite finishing in seventh place.
There are two questions that arise from this result: (1) Is there a guarantee that PokerStars can't meet? and (2) Would you chop if you made the final table?
With the proper advertisement, and early scheduling, I'm guessing that Stars could reach a $20 million guarantee if the tournament was a $500 buy in. They would only have to attract 40,000 players — I say only because that's a 121 percent increase from the sixth anniversary event, which isn't drastic — and with so much money on the line, players would be coming out of the woodwork. There would be so much random staking, the TwoPlusTwo marketplace would probably crash.
In regard to the second question, I would definitely chop. There is so much variance and so much to lose, especially if you're one of the chip leaders. I'm sure "toode" is very happy with the fact that he chopped — a seventh-place finish would've been absolutely brutal otherwise.
What do you think? Could PokerStars reach a $20 million guarantee? Let us know your thoughts in the comment box at the bottom of the page.
4. Poker's going back to Aruba
Perhaps the only positive thing Ultimate Bet gave to the poker industry was the Aruba Poker Classic. The island of Aruba is stunning. It's off of the coast of Venezuela, so it's close to the equator, but the trade winds are strong, so it's never too hot. The water is warm, the resorts are beautiful, and the food and the drinks are very affordable.
The Aruba Poker Classic hasn't run since 2009, but poker will be returning in May with the Players Poker Championship. The schedule includes six no-limit hold'em events, starting with the $3,000+300 championship event on Friday, May 4. If you bust from that tournament, or you have a limited bankroll and are looking to grind smaller events, the other events range from a $300+30 buy in to a $1,000+100 buy-in — a perfect mix for both amateur and professional players.
Of course, you could also enjoy the beautiful beaches, restaurants and bars at the Westin Resort and Casino Aruba when you bust too. That's certainly not a bad consolation prize.
5. Who Has the Moves?
Kristy Arnett caught up with a few poker players at EPT Madrid to see how good their football soccer skills are. They should probably stick to playing poker.
Follow PokerNews on Twitter for up-to-the-minute news.