Five Thoughts: We'll Do it Near-Live!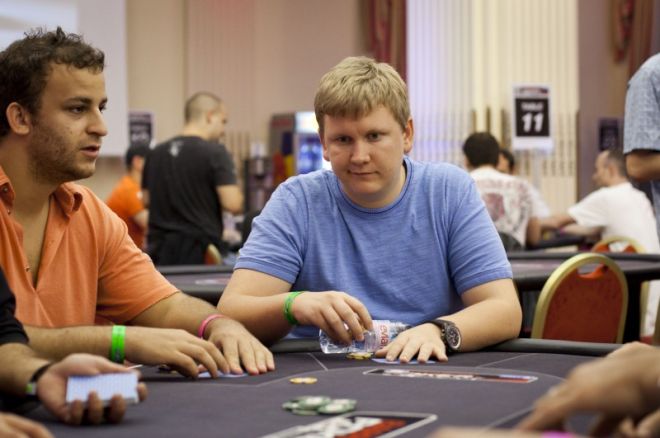 The November Nine is going (near) Bill O'Reilly, Ben Lamb is the champ, Daniel Negreanu is keeping it real, and the NBC National Heads-Up Poker Championship is busto.
As always, we are, d'uh, thinking!
1. Near-live is better than not live
Caesars Interactive Entertainment announced Sunday that the 2011 World Series of Poker Main Event final table will air near-live on ESPN, ESPN2, and stream online at ESPN3.com, on Sunday, Nov. 6, beginning at 11:30 a.m. PDT. For those of you who are inexplicably upset with this decision, I am going to argue that this is good for both the "Worldwide Leader in Sports" and the poker world.
For ESPN: The November Nine will air in the mid-afternoon (EST) on a Sunday against the biggest giant in television — the National Football League. What does ESPN have to lose? In the past, it would schedule bowling at 1 p.m. EST, but that time slot now belongs to NASCAR, which, while popular, still pales in comparison to the NFL. It makes perfect sense to take a shot with this, the most popular poker tournament in the world, especially seeing the successes of the 2011 PokerStars Caribbean Adventure final table in January, and the Main Event itself in July. The expectations are low, and there is a niche demand that can give you a decent rating.
For Poker: Exposure is paramount. Period. This calendar year has been a public relations disaster for the poker industry, so this is a golden opportunity to highlight the Main Event — the most important catalyst of the poker boom and the primary reason people care about the game.
Will it negatively affect the players?
Maybe. It certainly doesn't give anyone in particular an unfair advantage, because they will all have access to the same information. If one player capitalizes better than another because they are better at analyzing the information, then kudos to them because they've worked harder. At the end of the day, you must remember that this tournament is as much about entertainment as it is about anything else. The WSOP brand is only as strong as the popularity of the Main Event, and currently the WSOP is the Mecca of our industry. We should all want the WSOP to succeed, and airing it near-live clearly maximizes its chances for success.
2. Ben Lamb is anti-climatically the POY
I guess I should stick to "hating" on Phil Hellmuth. After a fast start at the World Series of Poker Europe the self-proclaimed Poker Brat flamed out, and Ben Lamb is officially the 2011 WSOP Player of the Year. Lamb, who currently sits fifth in chips in the November Nine, had an amazing summer, winning his first career bracelet in the $10,000 Pot Limit Omaha Championship ($814,436), finishing second in a $3,000 pot limit Omaha event ($259,918), final tabling the $50,000 Poker Players Championship (eighth, $201,338), nearly final tabling the $10,000 No Limit Hold'em Six Handed Championship (12th, $56,140), and, of course, making the November Nine. Hellmuth's three runner-up performances were also impressive, but Lamb's résumé is much more impressive, especially because he did what Hellmuth failed to do three times — win.
If Lamb wins the Main Event, then he will have capped off the greatest WSOP performance in history. Last year, Michael Mizrachi almost accomplished this feat, but fell short, and he only made two final tables. They just happened to be the Poker Player's Championship and the Main Event. Other players have had multi-bracelet years, including some three-bracelet performances, but Lamb's successes mainly came in large buy-in events with tougher fields. The smaller buy-in events may be "minefields," but defeating hoards of amateurs is much better than defeating a couple of hundred great players.
November can't come soon enough.
3. Negreanu keeps it really real
Love him or hate him, Daniel Negreanu tells you how it is. His frequent rants can be about anything from hockey to tournament structures, and he always makes sure that you know what side of the fence he's on. He recently wrote a blog post entitled "Being Real," where he explains why he boycotted a recent European Poker Tour event, why he continues to speak ill of Annie Duke, and why others should be as willing as him to speak out. Here's an excerpt:
"I'm not stupid. I realize that the EPT is sponsored by PokerStars, and I represent PokerStars. Obviously this isn't something they are going to love hearing, me speaking out against an event they sponsor, but how credible of a human being could you be if you only found fault in organizations that didn't write you a paycheck?"
At times, Negreanu can be as annoying as a gnat buzzing in your ear, but in this instance he is one hundred percent correct. There needs to be more accountability within the industry, and for years Negreanu has carried the torch for transparency. By continuously "being real," Negreanu will never need to backtrack, lie or cover up anything because he is seemingly always candid when he speaks.
We interviewed him on the PokerNews Podcast the day after Phil Ivey sued Full Tilt Poker, and he was very critical of Ray Bitar and the rest of Tilt's management — and he was right. Negreanu may not always be right — nobody is — but at least he speaks his mind and is not afraid to stand behind what he feels is right, not what's most profitable for him.
We salute you Daniel, keep keeping it really real.
4. GG NBCHU
Last week, we learned that NBC has decided to terminate the National Heads-Up Poker Championship in 2012. This invitation-only heads-up tournament was designed after March Madness, with a 64-player bracket that included professionals, celebrities and amateurs who were fortunate enough to win a seat. Honestly, the two most exciting parts of NBCHU were always the draft party and arguing over who got snubbed — not the event itself. Since it was made-for-TV, the structure was horrific, and if players were without sponsorship, it wouldn't be worth risking $20,000.
I wonder why it was canceled.
Black Friday continues to loom above the industry. Until mainstream sponsors become interested, there will be little to no poker television outside of the WSOP on ESPN. Likewise, celebrities like Don Cheadle are probably more weary about having their names attached to poker — especially with the whole Toby Maguire debacle. We need some kind of positive push in the near future, whether it's from advertisers or politicians, or else our industry will continue to suffer. NBCHU is just another victim in the post-Black Friday world.
5. lol xMONSTERxDONGx
Check out this party from the WSOPE in Cannes, France where Jonathan "xMONSTERxDONGx" Karamalikis steals the show.
Stay up to date on all the latest news by following us on Twitter and liking us on Facebook.