The WSOP on ESPN: Welcome to the Main Event!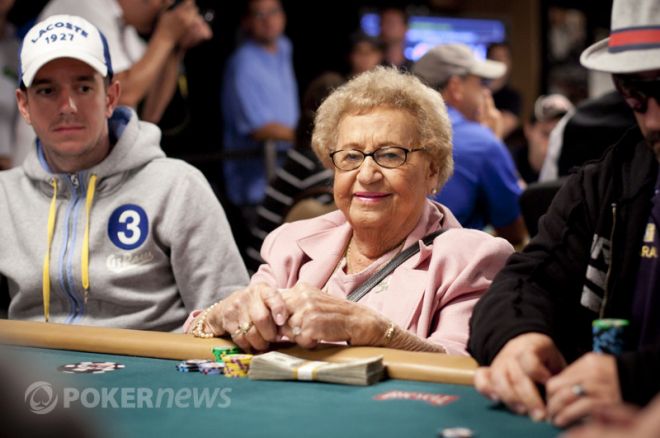 It seems like just yesterday that the 2011 World Series of Poker reached its coveted November Nine and went on hiatus for four months; however, this past Tuesday, ESPN continued its broadcast of the WSOP with the first two episodes of its scheduled 24 leading up to the final table in November.
The 2011 WSOP Main Event exceeded expectations by drawing 6,865 players and creating a prize pool of $64,531,000. That field was broken into four starting days, which combined as two Day 2s. The ESPN broadcast caught up with the action on Day 3, with Ben Lamb starting as the chip leader with 551,600. Interestingly, Lamb had emerged as the chip leader on both his Day 1 and 2 flights. Here's a look at the top ten chip counts with 1,866 players remaining at the start of Day 3.
Day 3 Top Ten
| Place | Player | Chip Count |
| --- | --- | --- |
| 1st | Ben Lamb | 551,600 |
| 2nd | Kevin Saul | 542,200 |
| 3rd | Aleksandr Mozhnyakov | 478,000 |
| 4th | Ryan D'Angleo | 462,300 |
| 5th | Tuan Vo | 434,500 |
| 6th | Guillaume Darcourt | 410,500 |
| 7th | Nicolas Fierro | 405,000 |
| 8th | Narendra Banwari | 404,800 |
| 9th | Stephane Albertini | 400,100 |
| 10th | Dong Yang Yan | 383,400 |
Let's Get It On: Action started with the blinds at 800/1,600 with a 200 ante, and one of poker's most popular characters was seated at the feature table. We're talking, of course, about Daniel Negreanu. Here's a look at the rest of the feature table:
ESPN Feature Table
| Place | Player | Chip Count |
| --- | --- | --- |
| 1st | Thomas Koral | 259,200 |
| 2nd | Ky Skyles | 168,600 |
| 3rd | Henry Tran | 121,100 |
| 4th | Daniel Negreanu | 114,100 |
| 5th | Richard Kirsch | 110,000 |
| 6th | Dale Robinson | 104,000 |
| 7th | Hai Le | 60,000 |
| 8th | Sue Doyle | 18,900 |
| 9th | Andrew Rose | 17,000 |
In the first hand, Andrew Rose limped from middle position with
and Negreanu limped holding
behind. Henry Tran then woke up with a raise to 3,500 from the button, and both limpers made the call. It was three-way action to the
flop, and it checked to Tran, who bet 4,100. Rose got out of the way while Negreanu made the call. The
saw Negreanu check-fold to Tran's bet of 6,100. Co-host Lon McEachern took to opportunity to note that while Negreanu has close to $4 million in WSOP earnings, he has only cashed in the Main Event twice.
Celebrities in the Field: Everybody Love Raymond star Brad Garrett entered Day 3 and was rewarded with an early double, which prompted a look back at some of the other celebrities who had come and gone in 2011. Among the notables to hit the rail in the early stages of the tournament were Ray Romano, Nelly, and Paul Pierce. Likewise, poker "celebrities" and former Main Event champs who failed to survive included Day 1 eliminations Greg Raymer, Doyle Brunson, Jerry Yang, and Chris Moneymaker; and Day 2 rejects Scotty Nguyen, Dan Harrington, Bobby Baldwin, Jamie Gold, Joe Hachem, Johnny Chan, and the defending champion, Jonathan Duhamel.
Hellmuth Makes His Entrance: ESPN aired footage of Phil Hellmuth making his entrance on Day 1c. The "Poker Brat" ditched his trademark black getup for a suit and button-up shirt to serve as an "ESPN correspondent." After switching outfits and taking his seat, Hellmuth went on to survive Day 1 as a short-stack, arrived late on Day 2, and proceeded to hit a heater to make it to Day 3.
It was then that Hellmuth check-called all-in on a flop of
holding
against the
of his opponent. Neither the
turn nor the
river changed a thing, and Hellmuth shot his arms up in celebration as he doubled to 65,000. "First hand you ever won," asked his opponent mockingly.
Harman Eliminated: Jennifer Harman got her short stack of 18,000 all-in preflop holding
and was up against French boxer Johan Zaoui's
. The board ran out
and Harman was KO'd. While Harman was out, there were still plenty of notables remaining, including former world champs Huck Seed, Joe Cada, Robert Varkonyi, Carlos Mortensen, Berry Johnston, Tom McEvoy, and, of course, Phil Hellmuth.
Mercier Hits the Rail: As the first hour of the broadcast came to a close, Jason Mercier found himself all-in holding
on a flop of
. He was up against the
of Andrey Zaichenko, and was actually a 53 percent favorite. With 67,800 in the pot, the
turn delivered Mercier a flush, but the unmerciful
river gave Zaichenko a full house. Just like that, the two-time bracelet-winner hit the rail.
Kings Lead to Racener's Demise: Last year's runner up, John Racener, got his money in good preflop when he committed his last 50,100 holding
. He was up against Harold Wasson's
. Unfortunately for Racener, the
flop delivered Wasson a set and the lead. Racener began gathering his things even before the
hit the turn, followed by the
river. Racener had two final tables at the 2011 WSOP, but the Main Event was not one of them. Additionally, ESPN informed viewers that both Tom McEvoy and Greg Mueller had been eliminated during Day 3 action.
Grandma!: ESPN featured a segment on Shaun Deeb and his grandmother, Ellen Deeb. The former was kind enough to buy his grandma into the tournament, making her the oldest player in the 2011 Main Event at 91. Unfortunately, grandma Deeb was among the Day 1 casualties.
Main Event Snapshot

# of Entries: 6,865
Prize Pool: $64,531,000
1st Place: $8,711,956
Min. Cash: $19,359
Oldest Player: Ellen Deeb (91 yrs old)
Youngest Player: Logan Deen (21 yrs 0 days)
Male/Female: 96.5%/3.5%
Countries Represented: 85
Deeb vs. Negreanu: Speaking of Shaun Deeb, he was moved to the feature table and became involved in a hand with Negreanu. It began when Deeb raised to 5,500 holding
and Negreanu called from the small blind with
. The
flop appealed to both players, but nonetheless it went check-check. The
turn saw Negreanu bet 8,200, Deeb call, leading to the
on the river. Negreanu had the check mark and fired out a bet of 18,700. Deeb had missed his flush but still paid Negreanu off with his nines.
Champ Down: In 2009, Joe Cada began Day 3 at 99th in chips out of 2,044 players. Obviously he survived and went on to win the Main Event. That wouldn't be the case in 2011. Cada found himself all-in preflop with
and behind Omri Sason's
. While the
gave Cada the lead, the
turn delivered Sason a straight. The
river changed nothing and Cada went bust, leaving five former world champs in the field.
What a Laydown!: Sam Barnhart, who won the WSOP-Circuit National Championship in May, four-bet to 55,000 preflop with
only to have Denilson Menezes move all-in for 150,000. Barnhart hit the tank for a long time, intently staring down his opponent. "This is tough. Sorry guys," Barnhart said before folding his hand face up. Menezes then table his
. "I just had a feeling he had aces," Barnhart explained with a sigh of relief. Now that's a laydown reminiscent of a National Champion.
Sick Beat for Deeb: Over at the feature table, Josh Kay opened for 4,600 holding
only to have Shaun Deeb look down at
in the small blind and three-bet to 15,600. Max Heinzelmann was in the big blind and opted to four-bet to 31,300 with the mediocre
. Kay quickly folded, Deeb five-bet to 68,600, Heinzelmann moved all-in for 208,400, and Deeb called the additional 139,800.
The
flop meant Kay would have flopped a set, but as it was, Deeb's aces were out in front. The
turn changed nothing, but the
spiked on the river to give the young German pro the 424,100 pot, leaving Deeb crippled. Not long after, Deeb was eliminated from the Main Event and brought about the end of this week's broadcast.
Tune in Next Week: Every Tuesday leading up to November, ESPN will air episodes of the 2011 WSOP Main Event. Be sure to either check your local listings or come back next week for our recap of the action.
Be sure to follow us on Twitter and like us on Facebook.